---
---
---
---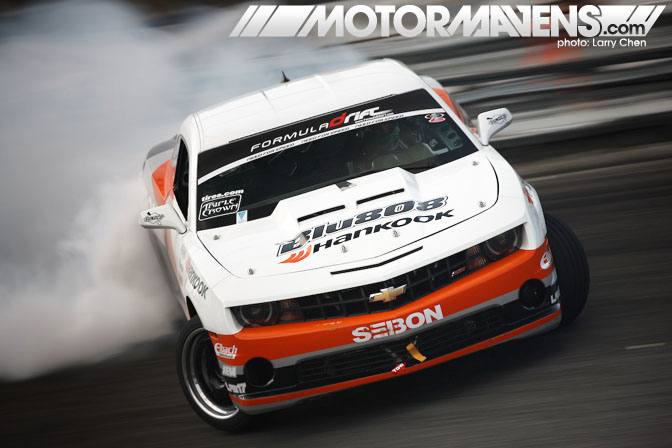 Formula Drift
at
Wall Speedway
in New Jersey was definitely fun to watch. For me, it's always fun to travel and attend all the events in the tour, but this past weekend, I had some other commitments and couldn't make it to New Jersey. Luckily for us all,
Larry Chen
was out in New Jersey representing MotorMavens and capturing all the action!
Thanks to our friends at
YoParts
and
Belle 1 Communications
, we were able to watch Formula D live; the DriftStream live feed was really fun and entertaining! It was like an old school AOL chat room with tons of drifting fans blurting out information and opinions; I was impressed at how many people got involved in the live chat, cheering for (and sometimes clowning) drivers and teams! All in all, it was super fun - and I quite honestly was pretty disappointed that I had to shut down my computer in the middle of the Top 16 so that I could drive to my friend's house for a party/bbq (it was my fault - I should have just driven over there early so I could watch the entire thing at his house).
Wall Speedway is a pretty interesting track. It was originally built for circle track cars, but somehow was able to re-purpose itself for drifting, thanks to a lot of phone calls, legwork, and planning by the Formula Drift staff. Wall Speedway is also the most extreme banking that Formula Drift competition cars run on, with the most extreme sections of the track being 30 degrees - a really big difference in comparison to Irwindale Speedway's 18 degrees of incline.
Read more...
---
---
---
---