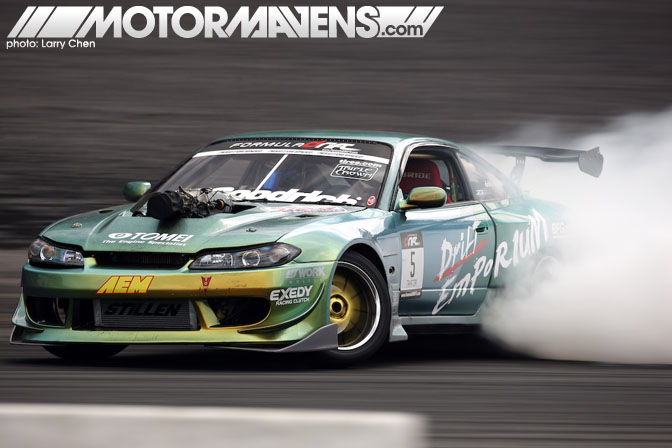 Formula Drift at Long Beach is just around the corner. Yes, it is already April again.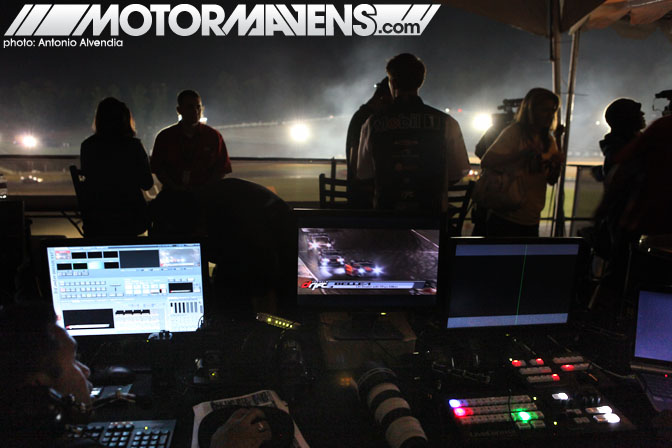 As the MotorMavens Crew gets ready for another season of tire smoking excitement, we wanted to take a look back on the 2010 season and recap the big moments as well as showcase some of the shots that didn't make it into some of the posts.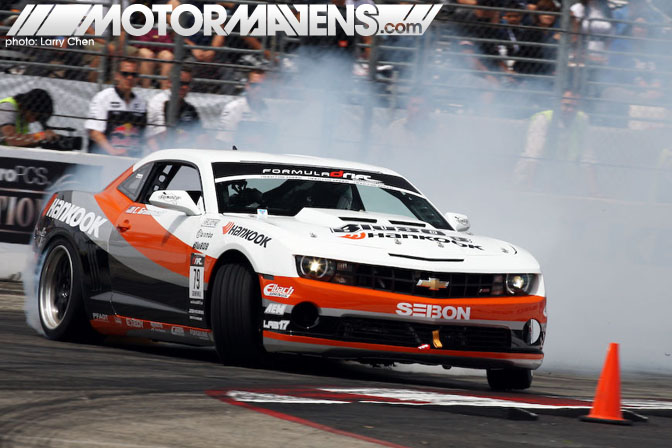 Conrad Grunewald debuted his Blu808 Camaro at Long Beach. Ridiculous angle and gobs of power, a perfect combination for the first and only 5th generation Camaro in Formula Drift.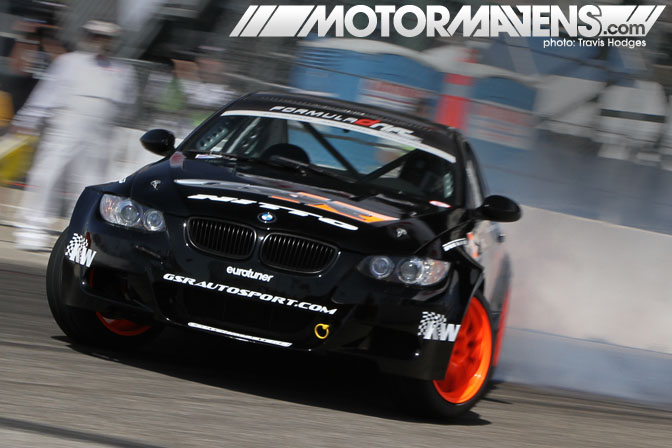 Another big debut was Michael Essa's 3 Series E92 BMW with a S85 V10 out of an M5! This might be one of my favorite sounding cars in the field.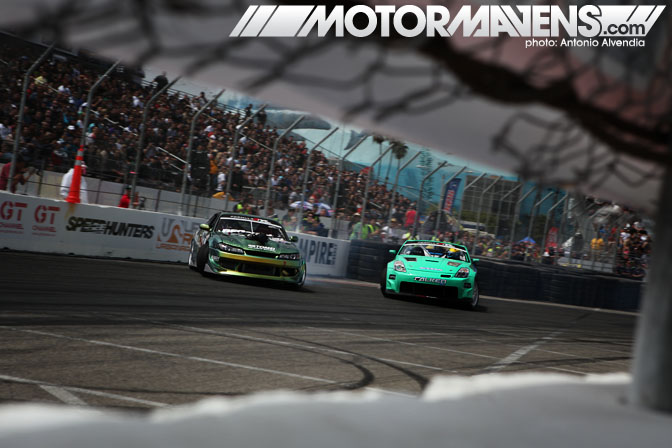 While browsing through our Long Beach photos I kept coming back to this one shot by Antonio.  It's not your run of the mill slow shutter drifting shot, and that's why I like it.  At events like Long Beach where spectators and media are in close proximity to the course, high fencing and safety are paramount.  While this is good at keeping everyone safe from any tires or parts that decide to defect from their vehicles, it can be problematic when it comes to taking photos.  Rather than trying to cram into one of the prescribed "photo holes," Antonio used the fence itself to frame his shot. +15 skill points!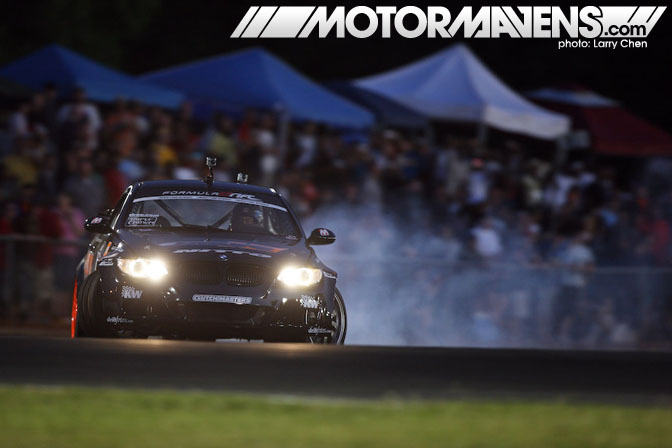 Speaking of using your environment to your advantage, tele-Jedi Larry Chen used the hill at Road Atlanta to give Michael Essa's BMW an extra level of angry.  Right after this was taken Essa probably shifted up into 4th and initiated the smoke screen back down the hill.  At least that's what I do in Forza.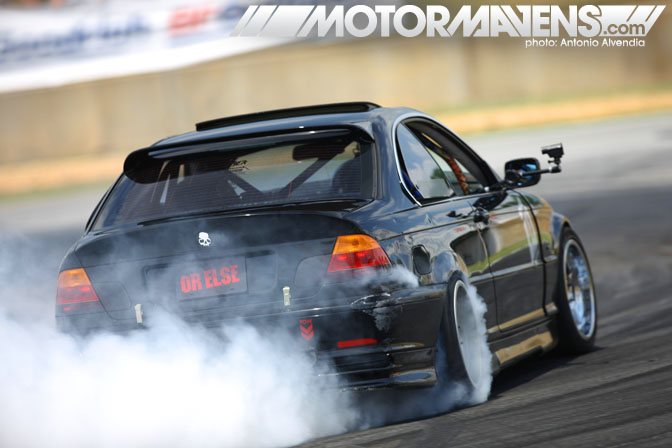 Our very own mysterious art director Andy Sapp got out on the track in his BMW e46 pirate ship for Pro Am portion of the competition at Road Atlanta.  Growing up around Atlanta, when I was first introduced to drifting, Andy Sapp was one of the names that I heard to watch out for.  In fact, his documentary: "Slide America" coupled with Antonio's Drifting book (at the time there was no connection), got me hooked on it altogether.  Funny how now I'm working with them both at something we all love!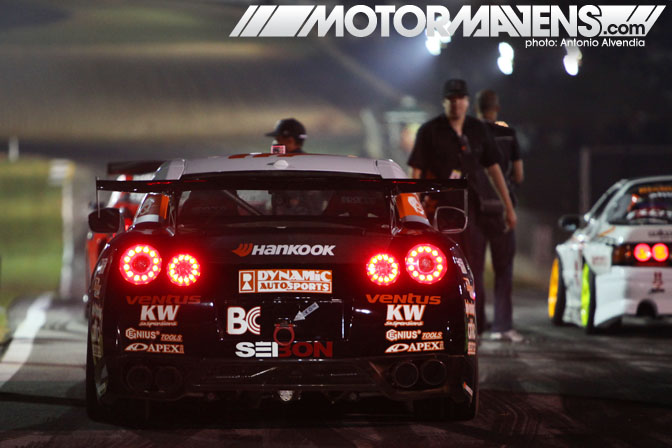 If you happened to read my perspective story from Road Atlanta, you would know what I think about the starting grid.  You can feel the energy in the air as cars line up and drivers get prepared for the upcoming runs.  It must be experienced to be fully understood.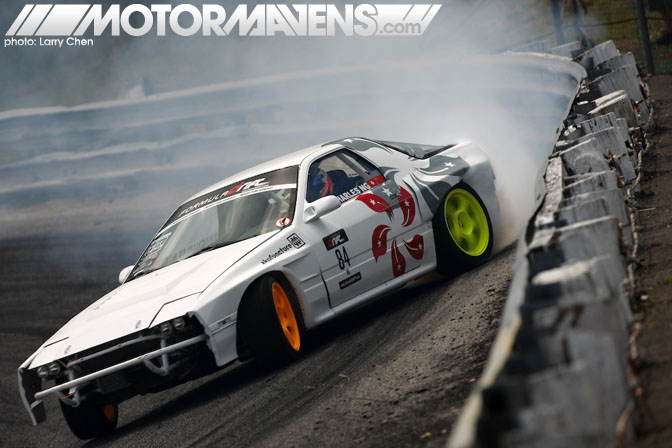 At Round 3 in New Jersey the guys were running the famous bank with authority.  Charles Ng driving Michael Essa's old FC RX7 powered by an LS6 made it to the top 16; not bad for his rookie season.  Ng would continue on to be the runner-up rookie of the year behind Fredric Aasbo.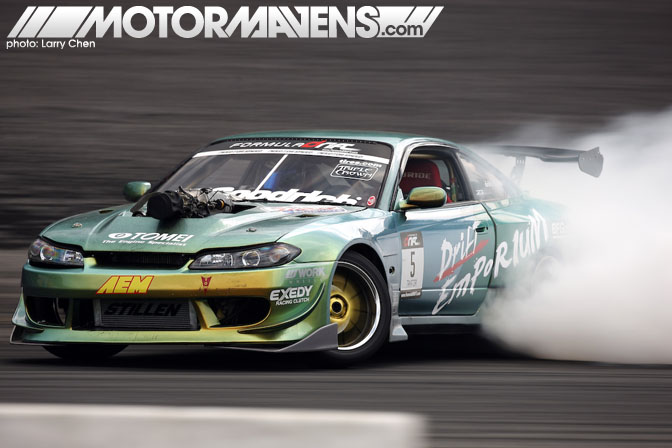 For pure aural joy, a close second to Michael Essa's screaming V10 was Drift Emporium's S13.5 with a supercharged VK56 driven by Michihiro Takatori.  In front you get the whining supercharger and in the rear the roaring V8.  No matter which way the car is traveling your ears are treated to glorious noises while your eyes feast on sparkly-pearlescent green dragon with a tail of smoke.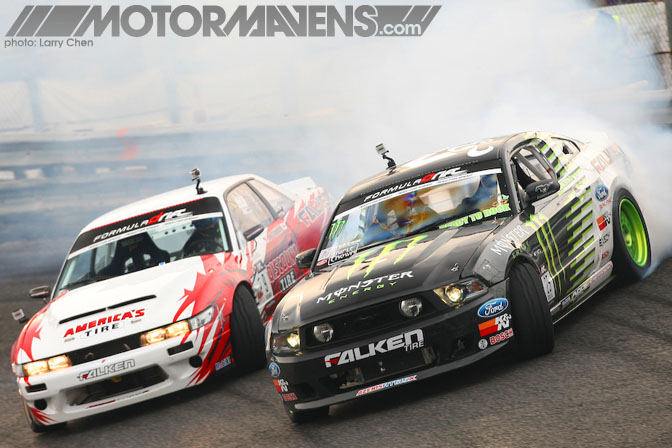 Dai Yoshihara finished off Vaughn Gittin Jr. in the finals for his one-two punch at Atlanta and New Jersey.  At this level of competition in a sport where anything can happen, winning once can be difficult enough, twice in a row is beyond outstanding.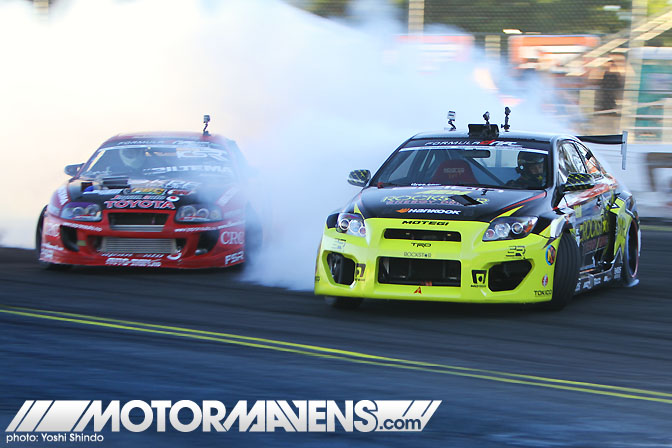 After the tour of the East Coast, the series made its way back to the other side of the country for its stop in the Northwest.  Here two camera-laden superstars, Fredric Aasbo led by Tanner Foust, cover the first sweeper at Evergreen Speedway in Washington.  This shot taken by Yoshi Shindo shows what your visibility is like when following a car like Tanner's NASCAR Toyota V8 powered Scion TC: not ideal!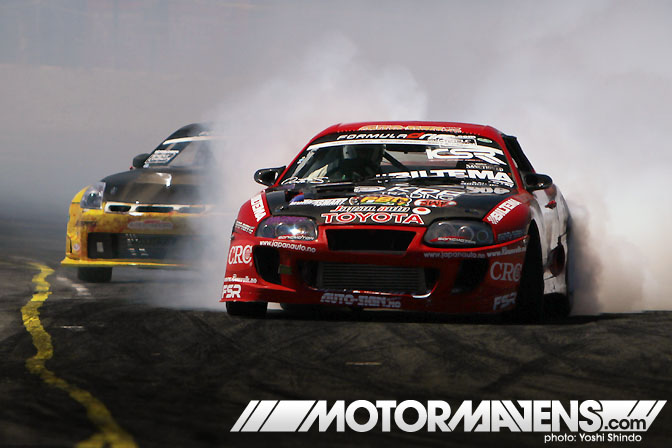 The same can be said for following Aasbo.  His absurd angle and aggressive style leaves a thick cloud of tire smoke over his opponents.  I can remember multiple occasions where going through a transition I was almost certain that he had changed directions too quickly and lost it, but he handles it like a pro.  Gets me every time.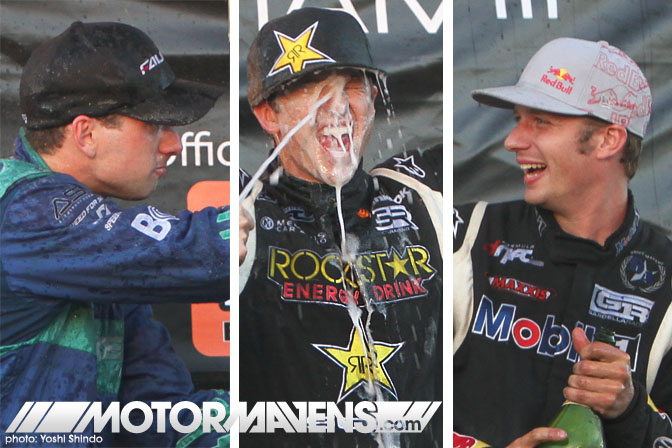 Who could forget this glorious capture of the podium celebration?  I could sit here and try to comment on what is happening, but trying to do so AND avoid any/all innuendos would be an endless pursuit.  So I'll let the picture speak for itself.  Everything about this photo is fantastic, including the look on Darren McNamara's face.  One of the priceless images from 2010.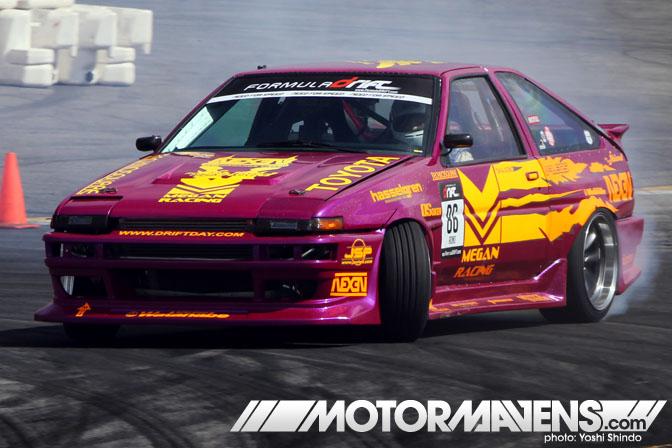 Not going to let something like a broken leg stop him, Taka Aono was back out in Vegas after his crash in Seattle.  Some metal braces on his tibia kept his Formula Drift Perfect Attendance intact.  That's worthy of our Passion Principle Gold Star!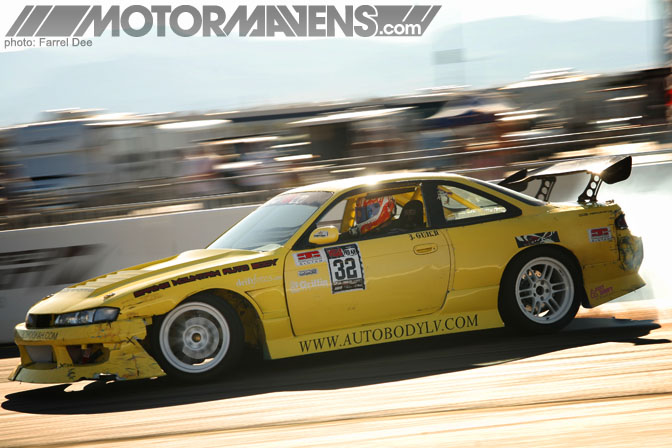 The drivers of the VegasDrift Pro Am series made a strong showing at Formula D Las Vegas too, proving that blistering heat couldn't stop them from shredding their tires with the best of the best. This is Vegas local driver Josh Guild killing it in his S14.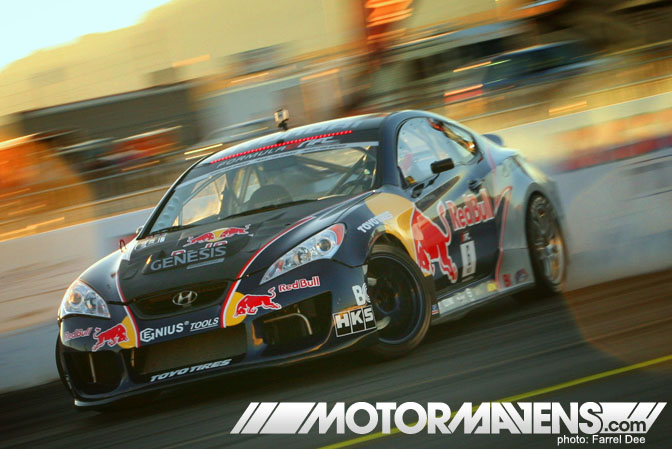 Looking clean and crisp as always is Mr. Rhys Millen's Hyundai Genesis.  With such attention to detail like the painted letters on the tires and his uber-precise driving style it's obvious why big names like Red Bull want their name attached to the RMR brand.  You can only make big things happen by consistently concentrating on details.  Write that down.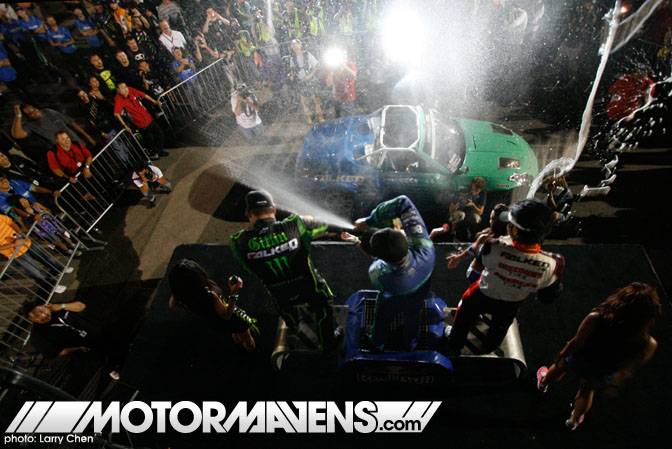 Speaking of consistency and doing the little things, Tyler McQuarrie had a solid year in 2010 and it paid off in Vegas.  McQuarrie topped the podium to crown Falken Tire's 1-2-3 finish, a very impressive showing from the teal and blue.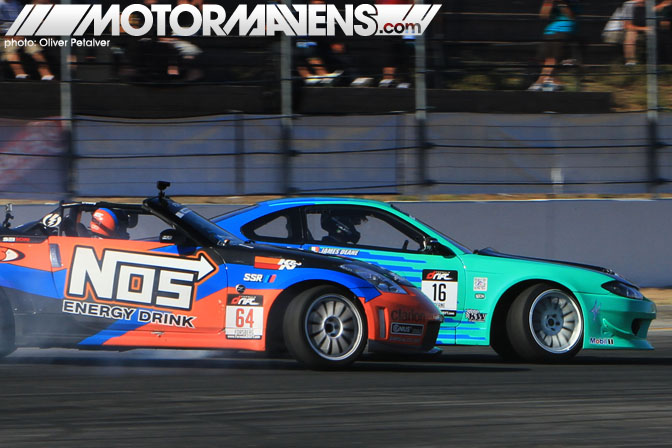 In the sunny hills of Sonoma, Chris Forsberg sticks on James Deane on the high speed entry.  Following this close while going sideways at speeds approaching 90mph is an impressive feat and really shows the skill of drivers at the Formula Drift level.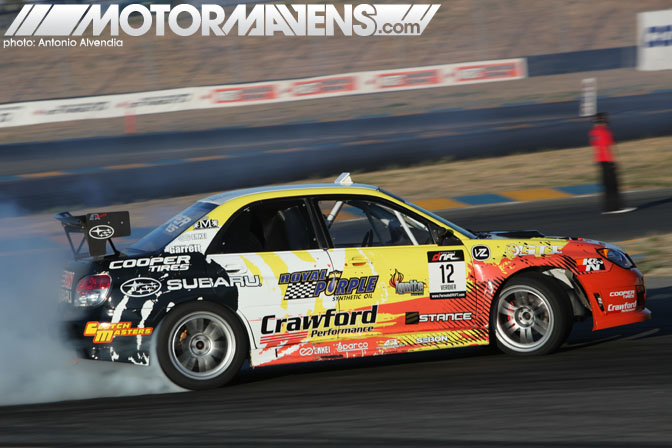 Of course, who could forget Stephan Verdier killing it in Sonoma with his Royal Purple-sponsored Crawford Performance Subaru Impreza WRX STi.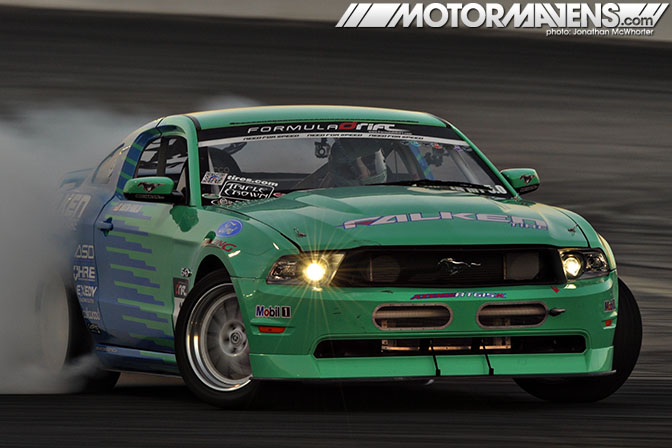 At the final round in Irwindale, California, everyone was going all out.  With multiple crashes during the weekend, the field was getting thinned via natural selection and it became a classic case of survival of the fittest.  Before this run I told Justin Pawlak to tilt his head to the side for some more drama in the photos.  I think he did an alright job.  However, that may or may not be a true story. Everyone thinks JTP kicked tremendous ass driving his green FC3S RX7 (RIP), so making the transition to driving a big V8 Mustang was no problem for him either.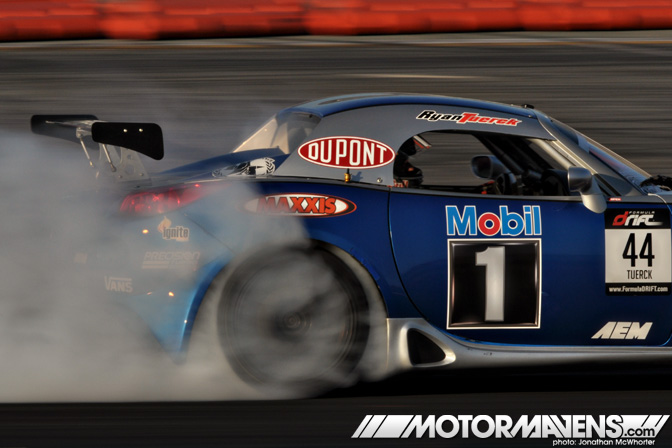 Ryan Tuerck capped a solid season by finishing 3rd in points.  This particular shot is one of my personal favorites because the Mobil 1 Pontiac Solstice has a pretty aggressive profile and the cloud of smoke and motion blur only makes it look meaner.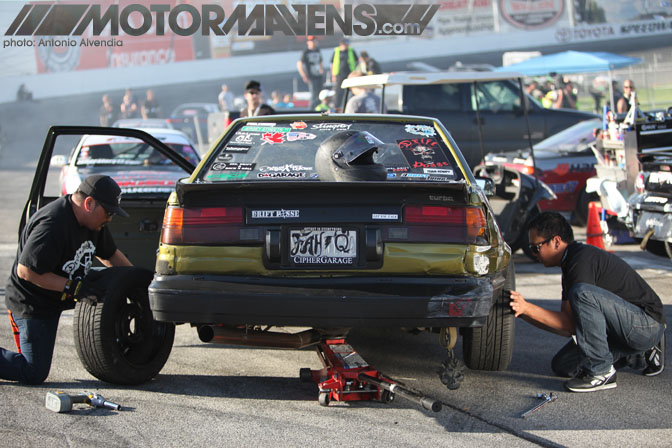 From Irwindale, one of the sights I remember best was Pat Cyr and his Drift Posse working hard on his AE86 Corolla.  These guys came all the way from Toronto, Ontario (Canada!) to dominate the Formula Drift Pro/Am Nationals and earn an FD license.  I'm looking forward to seeing this car at Road Atlanta this year. I just love to see privateers like Pat Cyr killing it.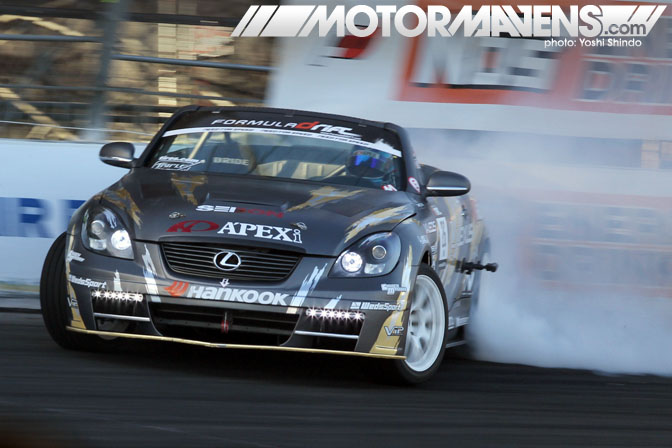 Although it made its official debut at Formula D Seattle, the Apex'i Lexus SC430 looked nothing short of classy at Irwindale, driven by D1 Grand Prix star driver Ryuji Miki.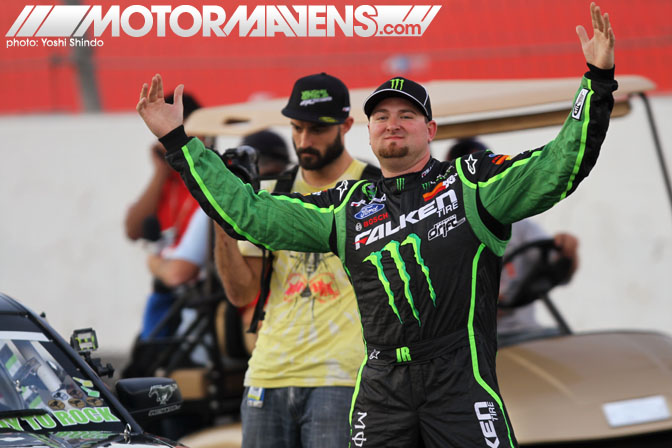 To finish off our reminiscing we have the neon green Monster himself, Vaughn Gittin Jr.  Piloting his big budget Ford Mustang battle vehicle, he ran away with the series championship last year, but can he do it again?  Keep your browsers pointed to MotorMavens dot com as we give you a close look at Formula Drift 2011 in the coming days! We can't wait for Long Beach!
:: Jonathan McWhorter
Andy Sapp
,
Antonio Alvendia
,
BLU808
,
BMW
,
Camaro
,
Charles Ng
,
chevrolet
,
Cipher Garage
,
Dai Yoshihara
,
darren mcnamara
,
Drift Emporium
,
Drift Mechaniks
,
Drift Posse
,
Drifting Book
,
E46
,
E92
,
Evergreen Speedway
,
Falken Tire
,
FC
,
Ford Mustang
,
Formula Drift
,
Formula Drift 2011
,
Fredric Aasbo
,
Genesis
,
GSR Autosport
,
GTR
,
homepage
,
Hynudai
,
Irwindale
,
Jonathan McWhorter
,
Justin Pawlak
,
Larry Chen
,
Las Vegas
,
Las Vegas Motor Speedway
,
Long Beach
,
Mazda
,
Megan Racing
,
Michihiro Takatori
,
Mobil 1
,
New Jersey
,
Nissan
,
Pat Cyr
,
Patrick Mordaunt
,
R35
,
Rhys Millen
,
Road Atlanta
,
RX7
,
Ryan Tuerck
,
Seattle
,
slide america
,
Sonoma
,
Tanner Foust
,
Toyota Speedway
,
Travis Hodges
,
Tyler McQuarrie
,
Vaughn Gittin Jr
,
Wall Speedway
,
Washington
---