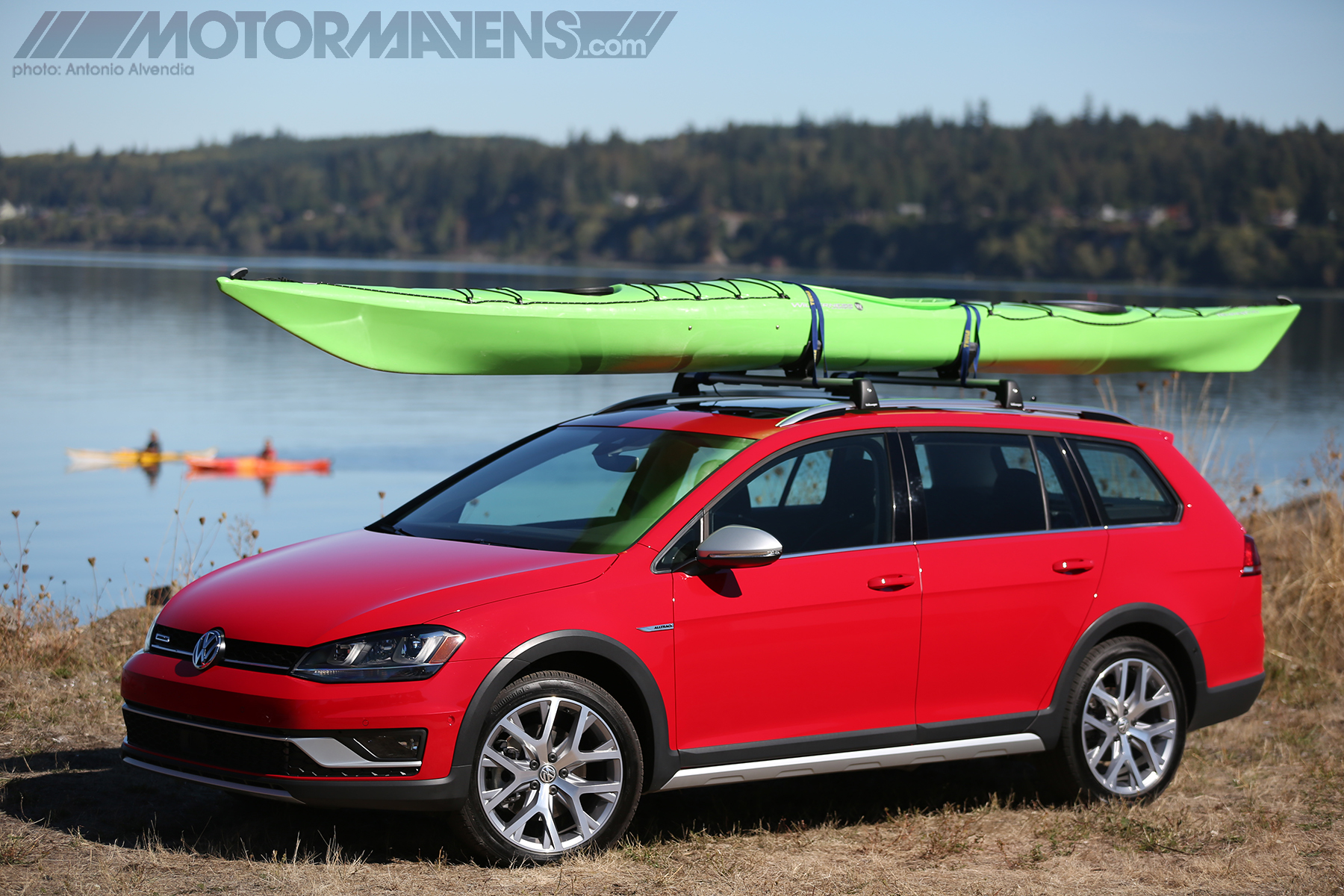 We recently had the opportunity to test drive the Volkswagen Golf Alltrack – an all new vehicle in the VW Golf family that combines the cargo capacity and ground clearance of a compact SUV and the 30mpg fuel efficiency of a VW Golf Sportwagen. Oh, and it's All Wheel Drive and turbocharged too. We absolutely love boosted vehicles, so driving this thing was fun!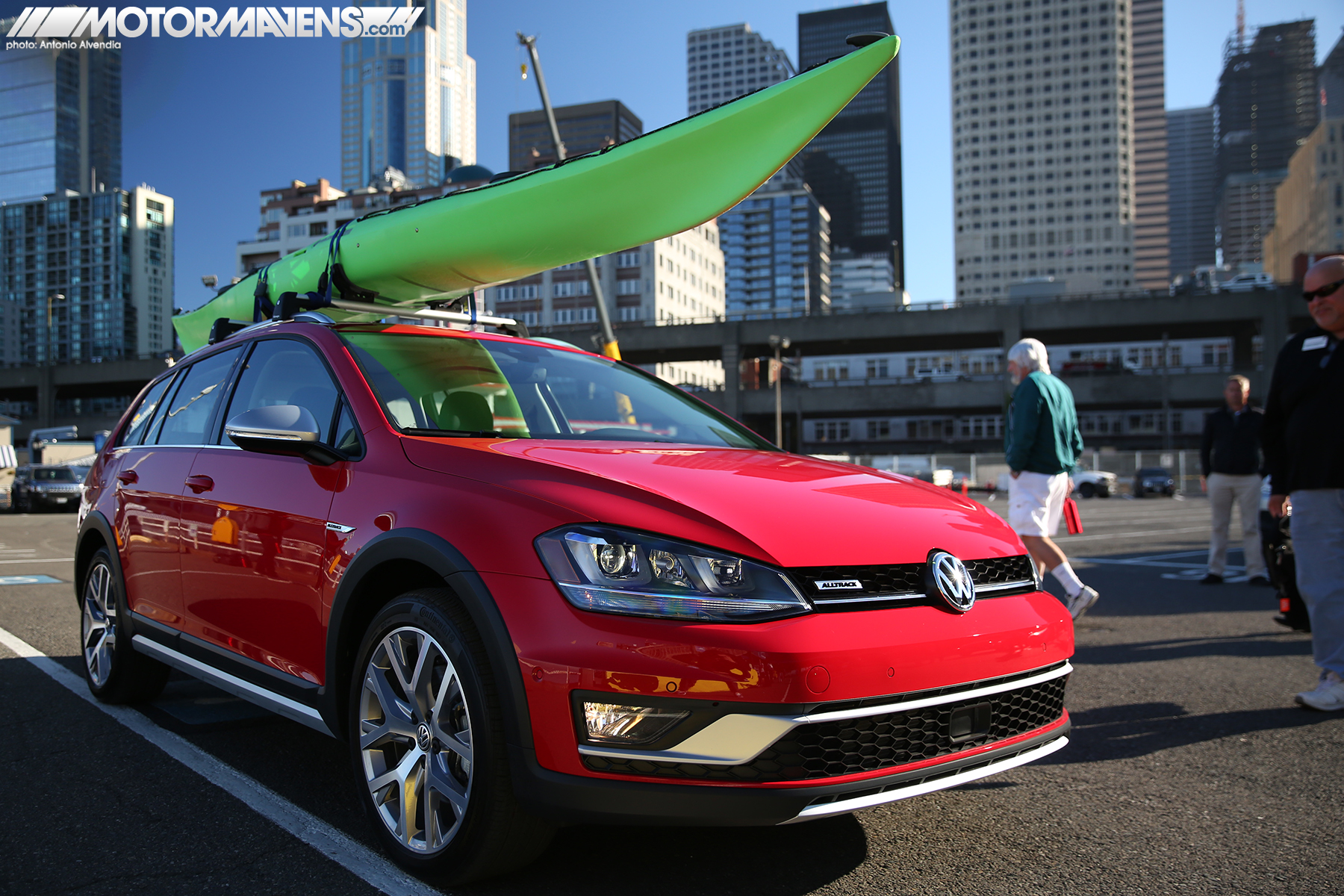 Since we first laid eyes on the car when we were in Downtown Seattle, we decided to take the Alltrack to a place where we could better test out its go-anywhere features and functionality – Bainbridge Island! However, in order to get the car to Bainbridge, we would first have to take the car across the Puget Sound on a ferry.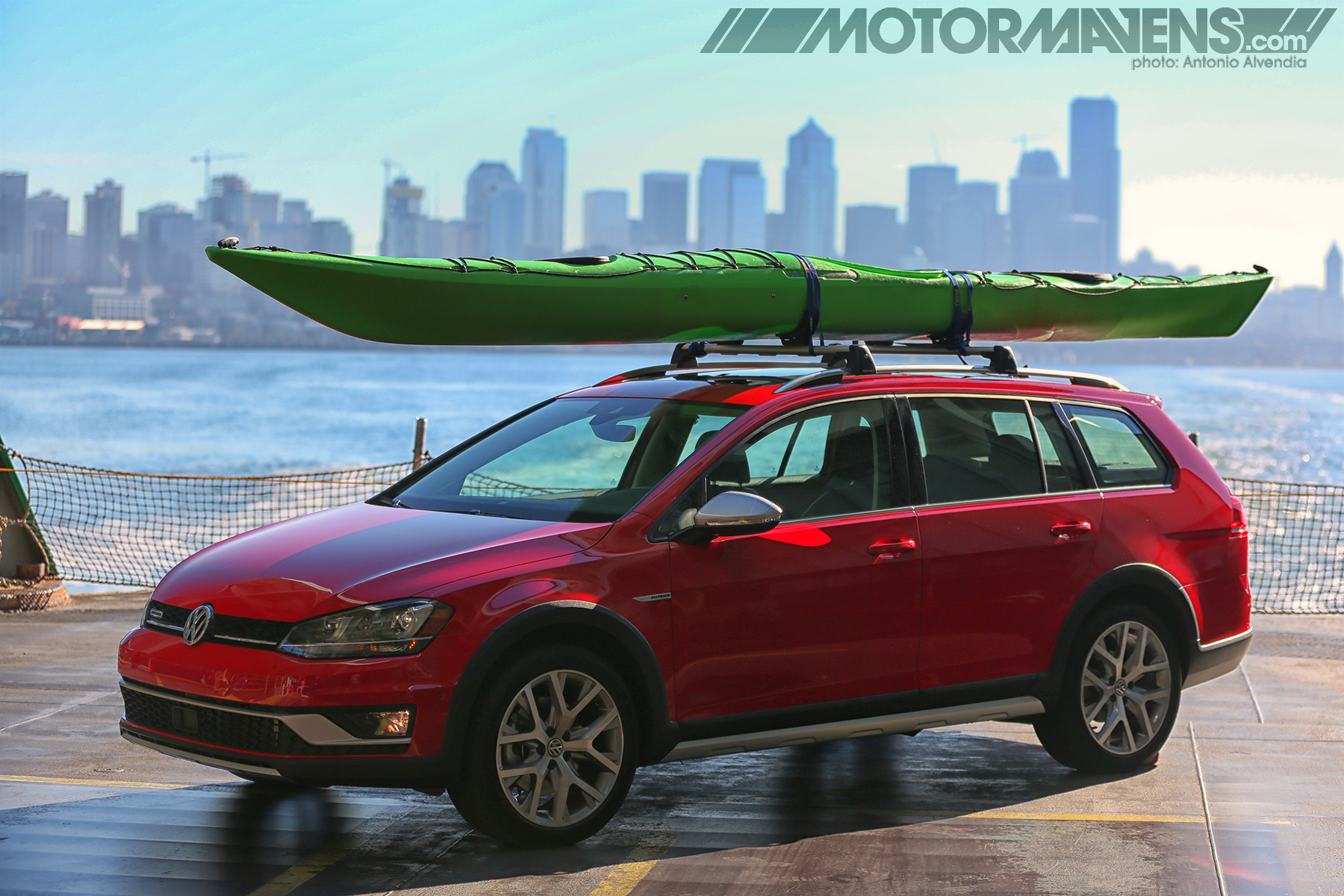 By the looks of the Alltrack's ride height and other specific exterior design features like the black plastic flares on the fenders, we believe that Volkswagen's intention in building the Golf Alltrack was to provide a few more options to people who might be shopping for a rugged, AWD wagon like a Subaru Outback.
Since we think both the Outback and Golf Alltrack are good options for people with outdoor hobbies, we decided to go kayaking at historic Port Gamble, using the Golf Alltrack as our kayak transport vehicle.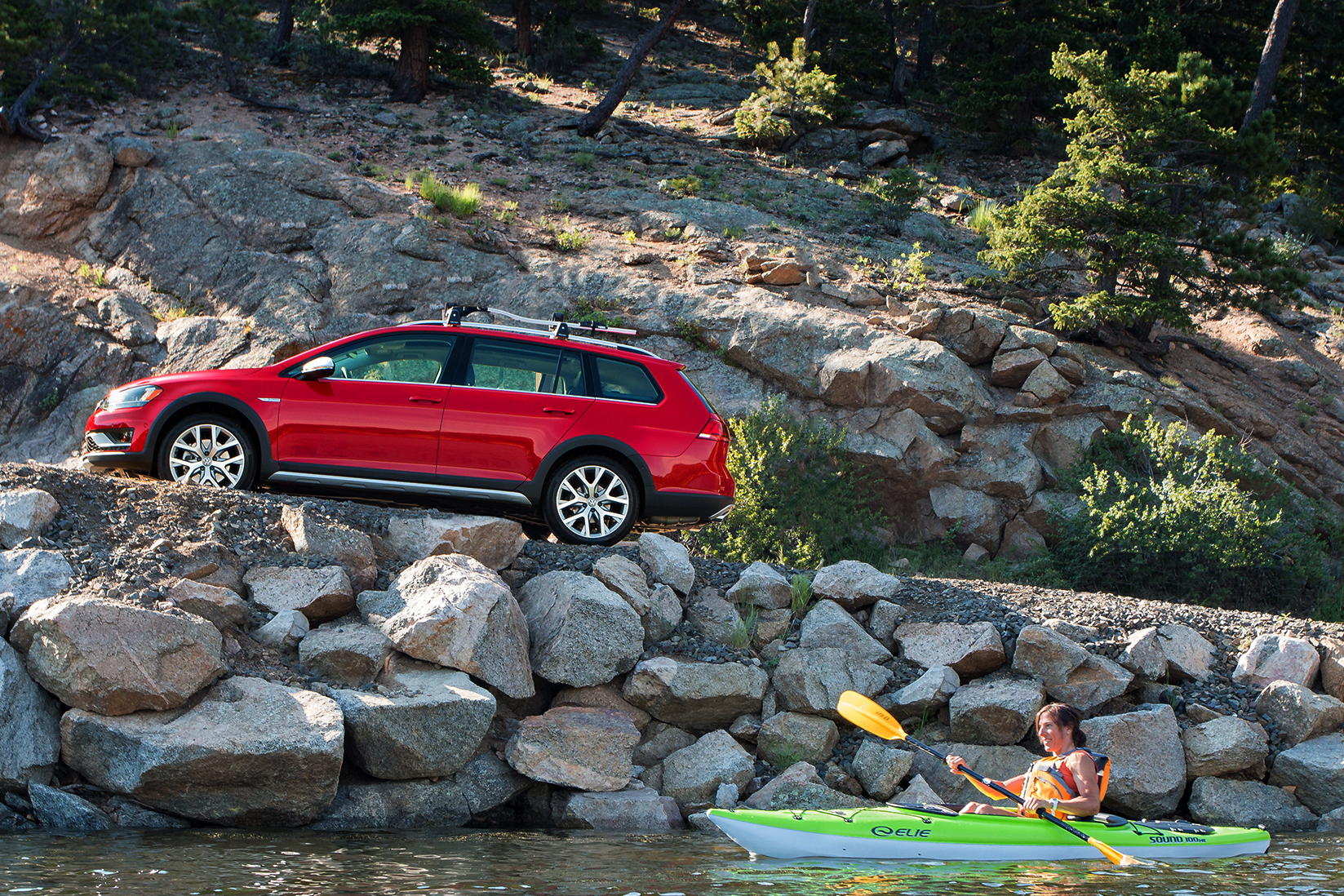 One thing that we noticed immediately is the fact that the Golf Alltrack's roof height is A LOT lower than the Subaru Outback's. According to VW Golf Family Product Manager Megan Garbis, the Alltrack's roof rack height is only 59.7 inches, compared to 66 inches on the Subaru Outback. This makes it a hell of a lot easier for vertically challenged people (or people with less upper body strength) to load things onto the roof of the car.
The kayak we had on the top of the VW Alltrack was pretty light, but just imagine loading up heavier items like bicycles on top of a taller vehicle with the roof height of an SUV – that's gonna be tough. Those Subaru Outback owners better practice their bicep curls and military presses if they're planning to lift heavy bikes and transport them on top of their cars!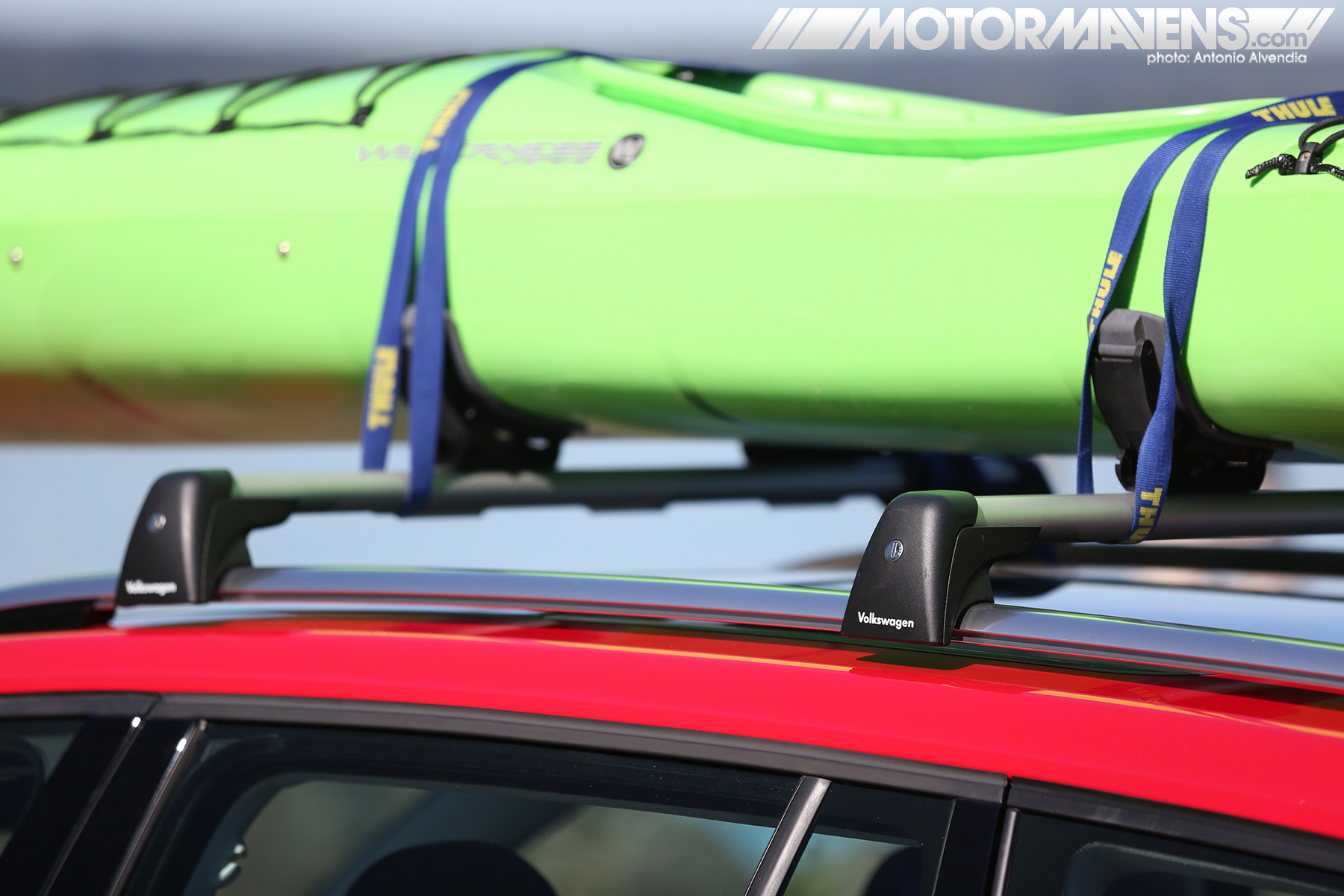 This detail photo shows the optional Volkswagen-branded roof rack attached to the standard silver roof rails. The VW roof rack looks like it's made by Swedish company Thule, so you know it will be well constructed, and work with all the Thule accessories readily available at retailers like REI or Amazon.com.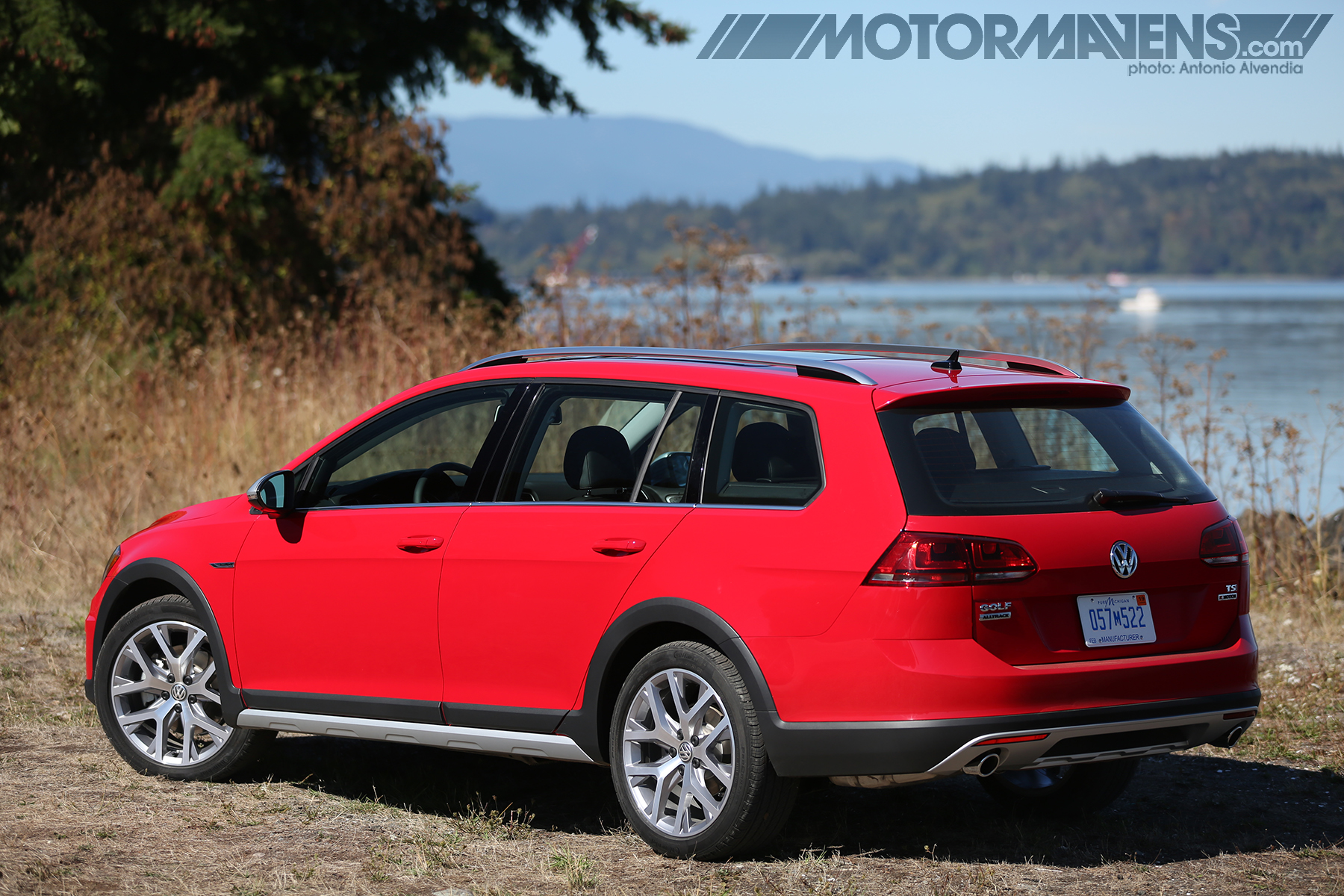 Aside from the heightened ride height and black exterior trim on the fenders and lower rocker panels, some of the other distinguishing features that separate the VW Alltrack from the Golf Sportwagen are the silver accents on the side mirrors, standard roof rails, lower side skirt/scuff plate, and rear bumper valance/diffuser.
Even though this car was designed to have a high ride height, we still think it would look pretty awesome slammed to the ground with an aftermarket coilover/air cup setup. This way you could drive the car at whatever height you want in the city, but then raise it up for clearing driveways in the city or difficult terrain for offroad adventures!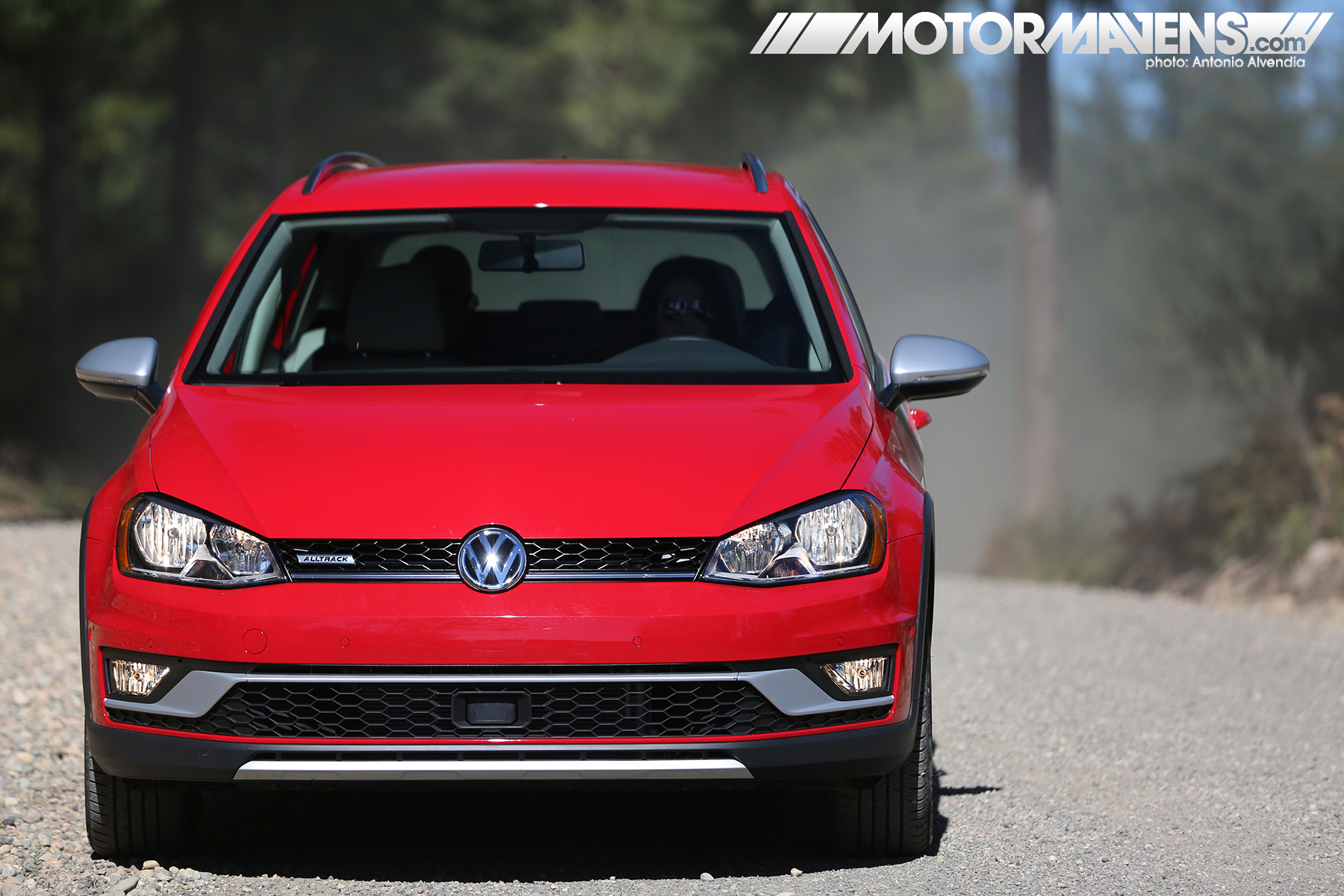 Speaking of offroad adventures, the car IS after all called the Golf Alltrack, so we decided to drive it off road to test out the climbing and braking on unpaved surfaces.
We managed to find some trails with dirt roads and loose pebbles, and the Alltrack's 5th generation 4Motion AWD system handled the subtle climbing and hard braking just fine. This fifth generation version of 4Motion uses electro-hydraulically controlled clutch discs in the differential instead of just using torsen gears. What a great upgrade – clutch type diffs really help put the power to the ground, and are A LOT safer to use in case of differential failure!
We even channeled our inner Tanner Foust as we tested the loose gravel cornering – much to the dismay of our friends that were sitting in the passenger seat trying to type things onto Instagram. We found that the Alltrack's AWD system feels like it has a FWD bias, which makes it perfect for normal driving. (Obviously, we love RWD biased vehicles because we like to screw around with cars and kick the tail out around corners, but it's not like most responsible consumers would attempt to take this car drifting anyway, so a RWD bias isn't exactly necessary.)
In this photo, you can also see that the car comes standard with foglights, even on the lower trim levels.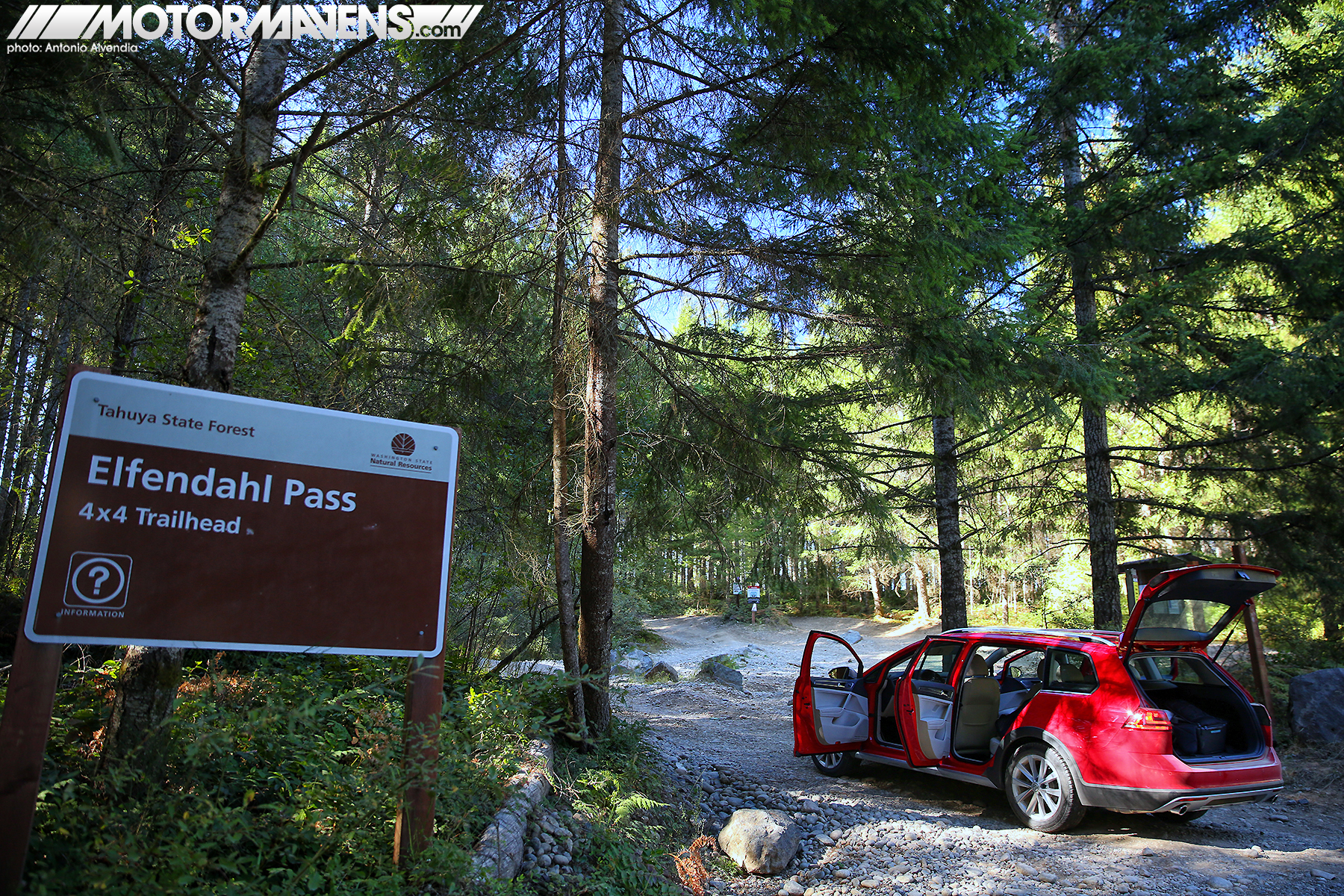 We drove the Alltrack through several twisty gravel roads in the mountains and eventually came across the Elfendahl Pass in the Tahuya State Forest, which is a bad ass 4×4 trail where one can do some serious damage to their vehicles if they aren't careful! We decided to dig out the GoPro to document our rock crawling adventures while testing out the Alltrack's Off Road Mode, which can be easily selected by going through a quick menu of Driving Mode options. We'll be posting the video up on the MotorMavens YouTube Channel later!
By the way, the Alltrack has a TON of cargo capacity – 30.4 cubic feet, in fact. That means the Alltrack can carry as much cargo as many compact SUVs – but it drives like a car, so you don't get the sloppy handling of a big truck, and you won't be going through brake pads and axle bearings often like most big SUVs do.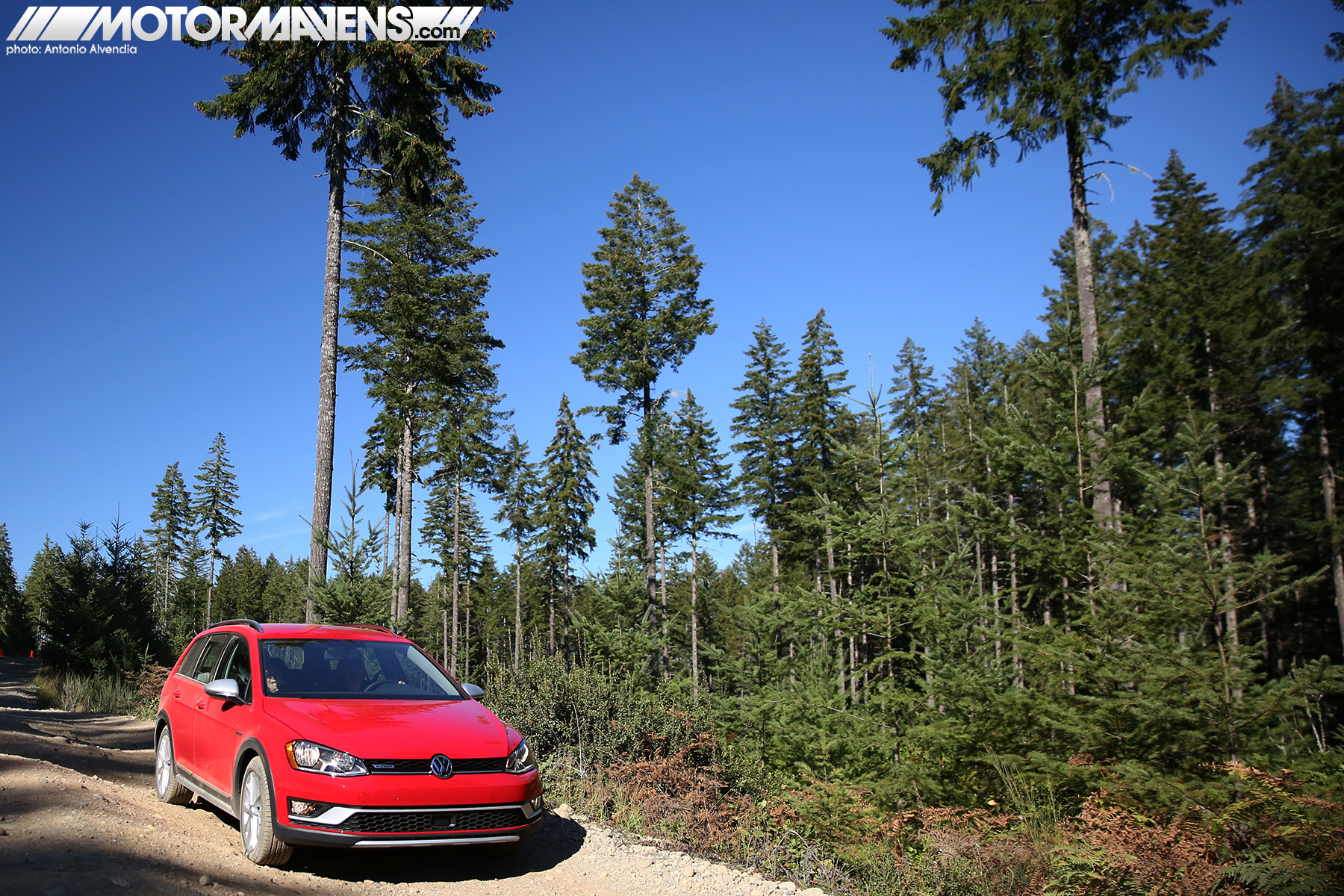 Even though we typically love lowered cars, having a slammed Vee Dub isn't ideal for navigating through rocky terrain and elevation changes and things you have to crawl over. The increased ride height and Off Road Driving Mode helped us A LOT as we struggled to climb up certain trails with loose rocks and even mud. To be honest, we got stuck in the loose rocks for a bit while the car was basically doing burnouts in the rocks, but after we eased back on the throttle pedal pressure and rocked the steering wheel back and forth (no pun intended – but that was a pretty good one), the Off Road Driving Mode helped pull us out of a position where we were literally stuck between a rock and a hard place. (Sorry, just can't stop the puns when you're on a roll. LOL)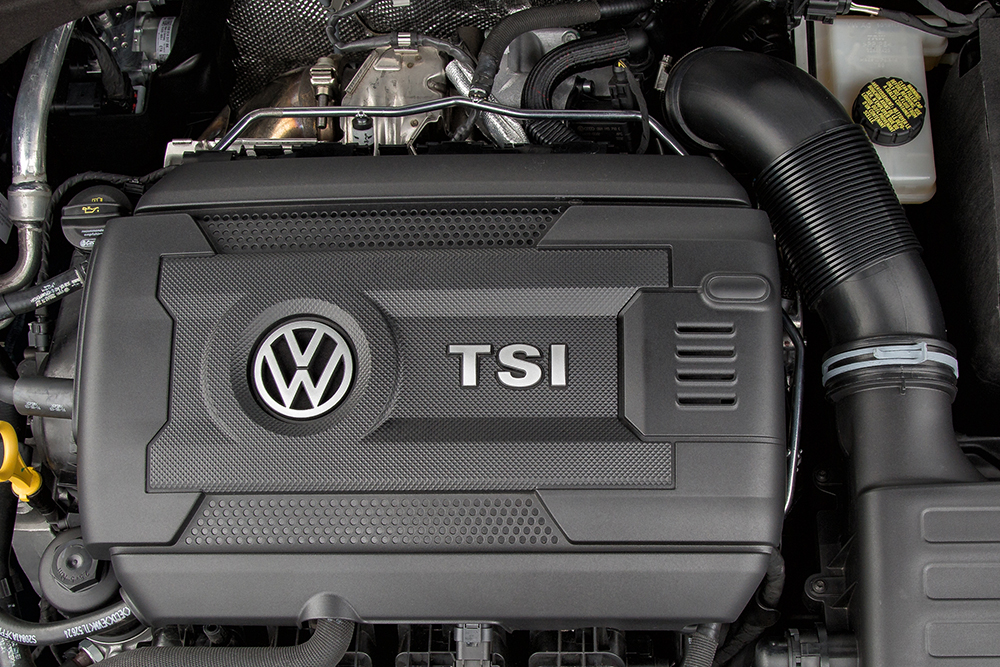 Under the hood, we found that the Alltrack is powered by the popular and reliable 1.8L direct injected and turbocharged Volkswagen EA888 4-cylinder TSI engine, which puts down 199 lb-ft of torque between 1600-4400 rpm, and produces 170hp at 4560-6250 rpm. Not bad, but we all know that these numbers can improve further with things like ECU tuning, intake, exhaust, etc. Easy.
The Alltrack is available with a 6-Speed manual transmission ($25,850) or a DSG dual-clutch automatic transmission ($26,950), and is rated at 30 mpg on the highway, and 22 mpg in the city.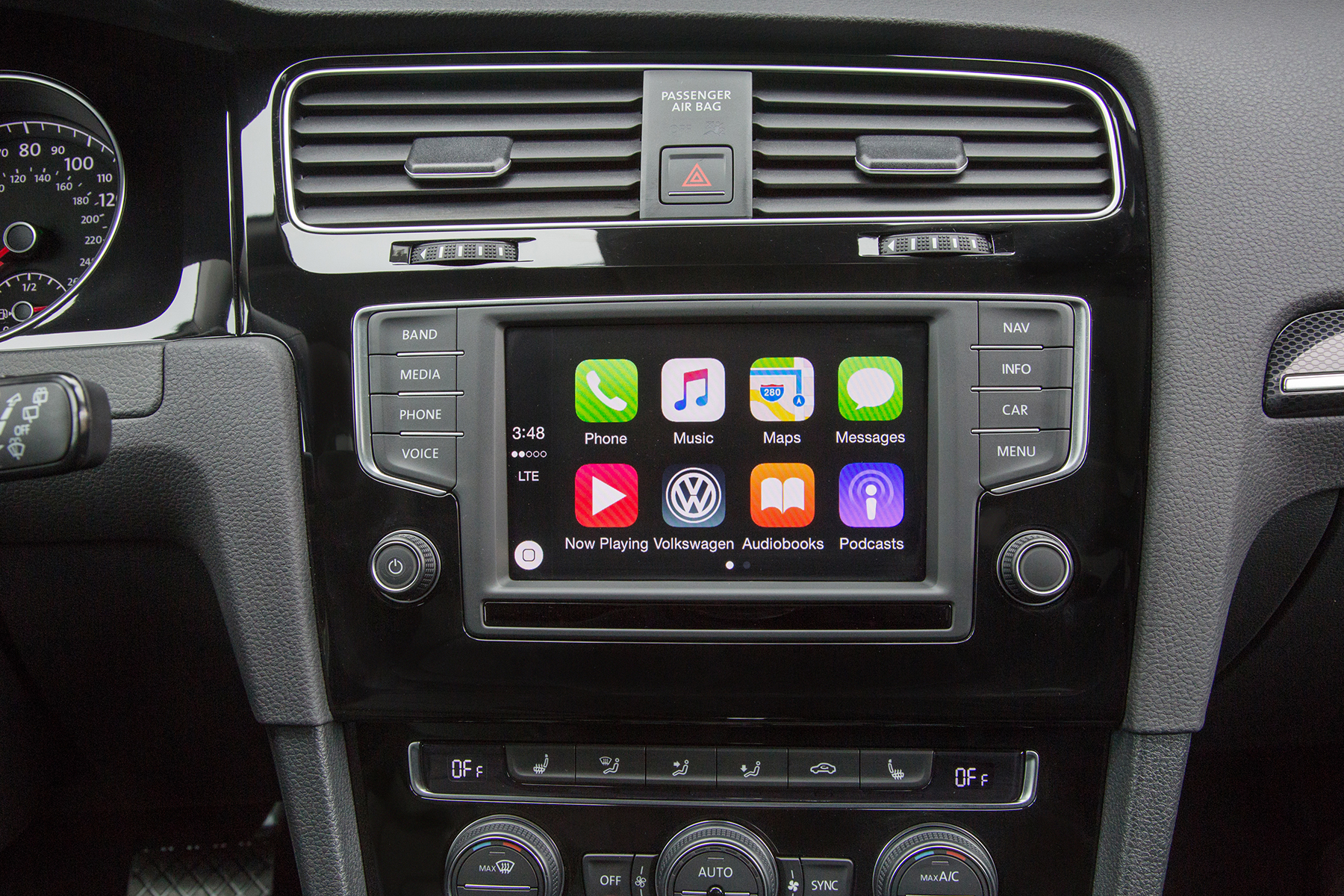 One of the things we absolutely LOVED about the Alltrack was the sound system – especially in the SE trim, which adds the Fender Premium Audio system, which will give you booming bass and clear mids and highs so you can really hear the details of your music!
However, even the standard trims of Golf Alltrack come with the VW Car-Net smartphone integration, which means you can use Apple Car Play to display and use your iPhone's apps via the head unit's touch screen. Oh, and if you actually decided to buy an Android phone instead of iPhone, it works with Android Auto too.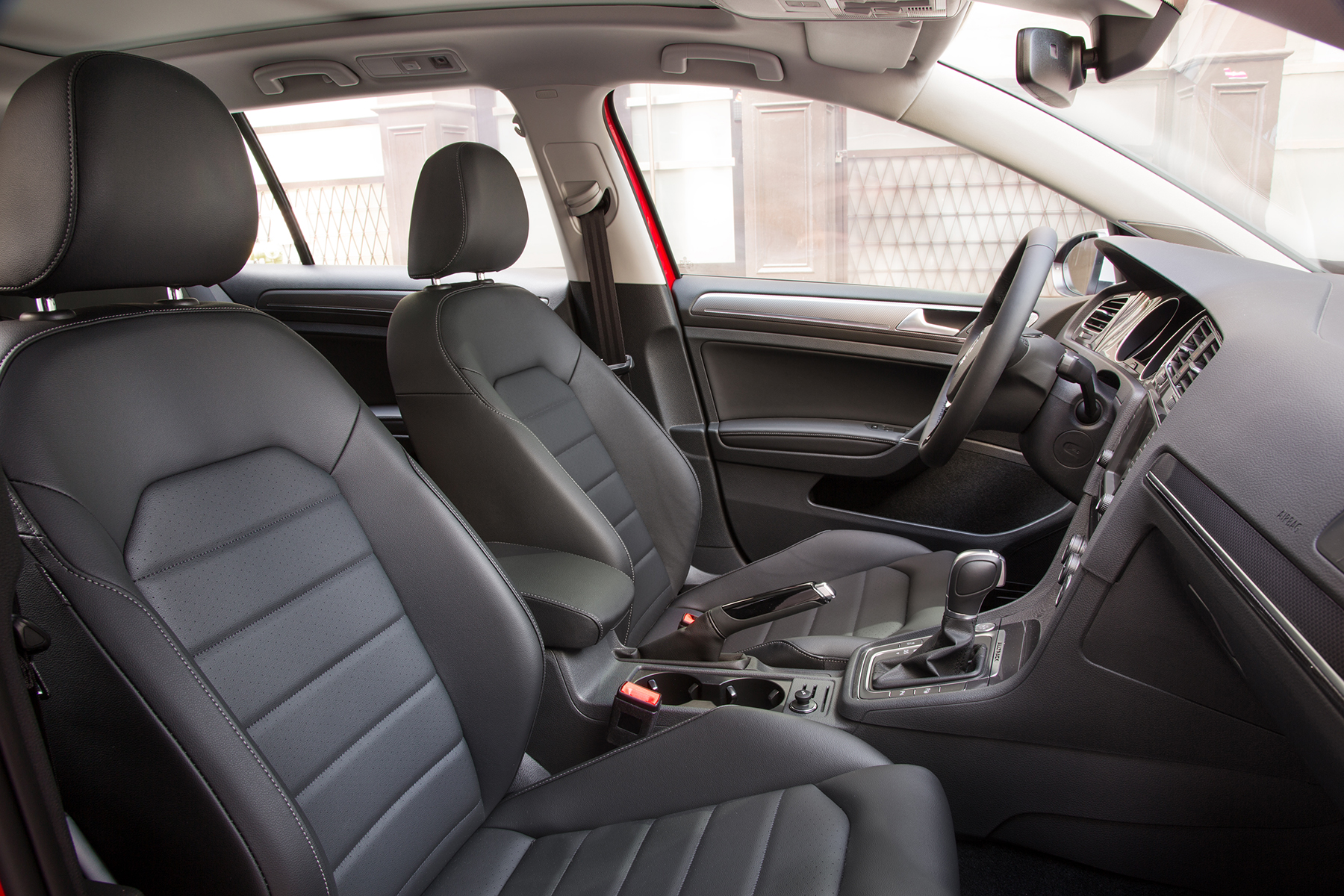 The Alltrack S models and above come with V-tex leatherette surfaces on the seats. This leatherette proved to be super convenient when one of our co-drivers on the trip (who shall remain nameless) spilled coffee all over the seat while we were driving!
(We would like to clarify that WE would never spill coffee in a vehicle because we don't typically bring drinks other than water inside our own cars, and besides… coffee is acidic and leads to unbalanced body pH, which leads to things like diabetes and cancer. But that's another story for another day.)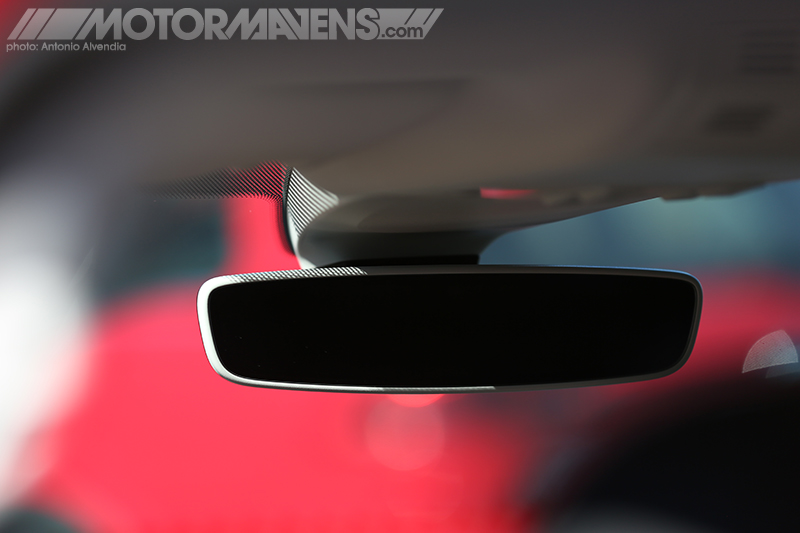 The Alltrack SEL trim is the top of the line, and it includes this auto-dimming, thin framed rearview mirror as seen here. Nice touch.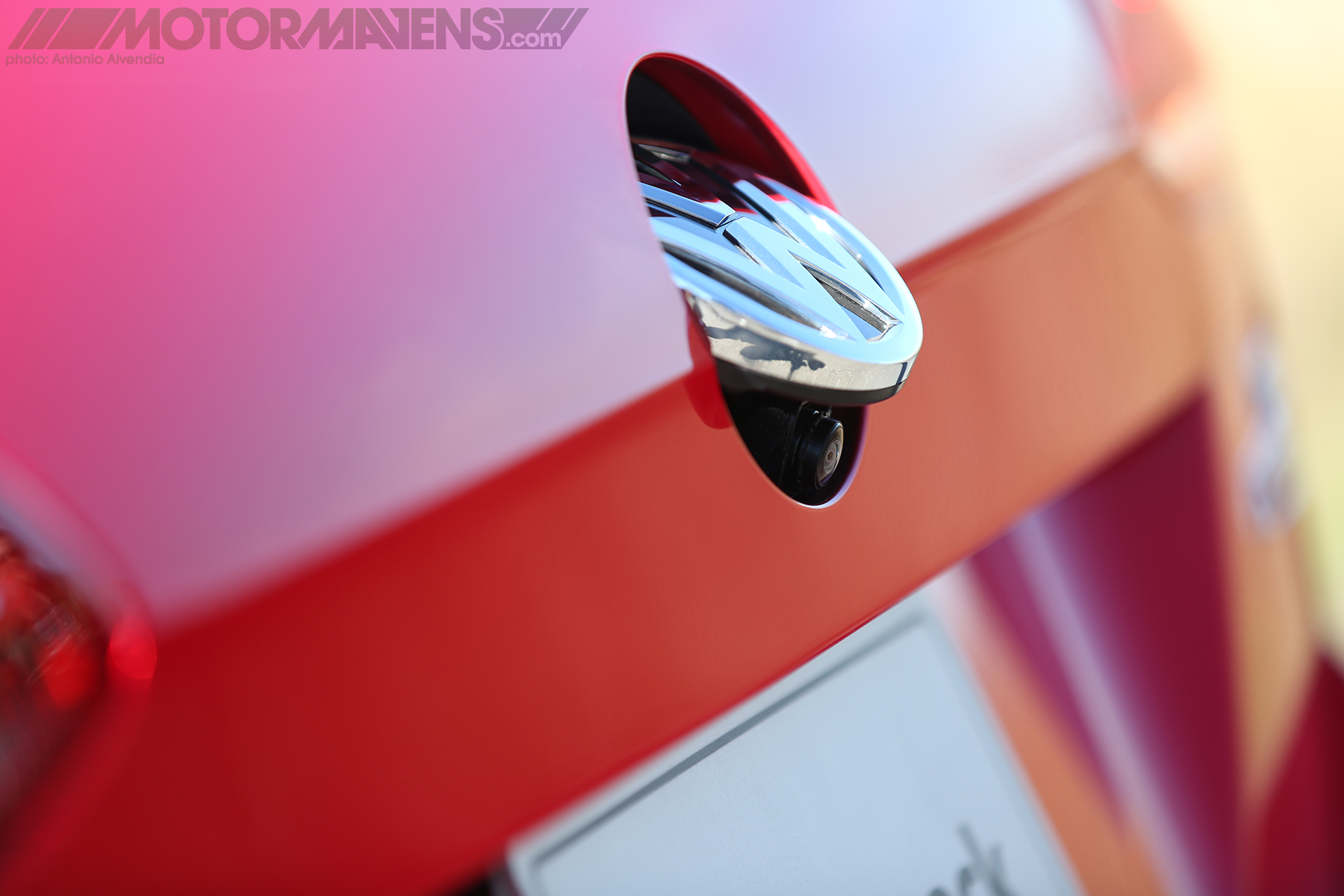 Everyone loves the fact that all modern vehicles now have back-up cameras. However, you don't see any lenses sticking out of the back of the VW Golf. Have you ever wondered where they hide the camera?! Well, we found it! This is so clever – the back up camera is hidden behind the Volkswagen emblem! Major respect to the VW designers! This is just one of the reasons why many magazines constantly praise the vehicles in the Volkswagen Golf family for having the best interiors, and best design, ergonomics, etc. So cool!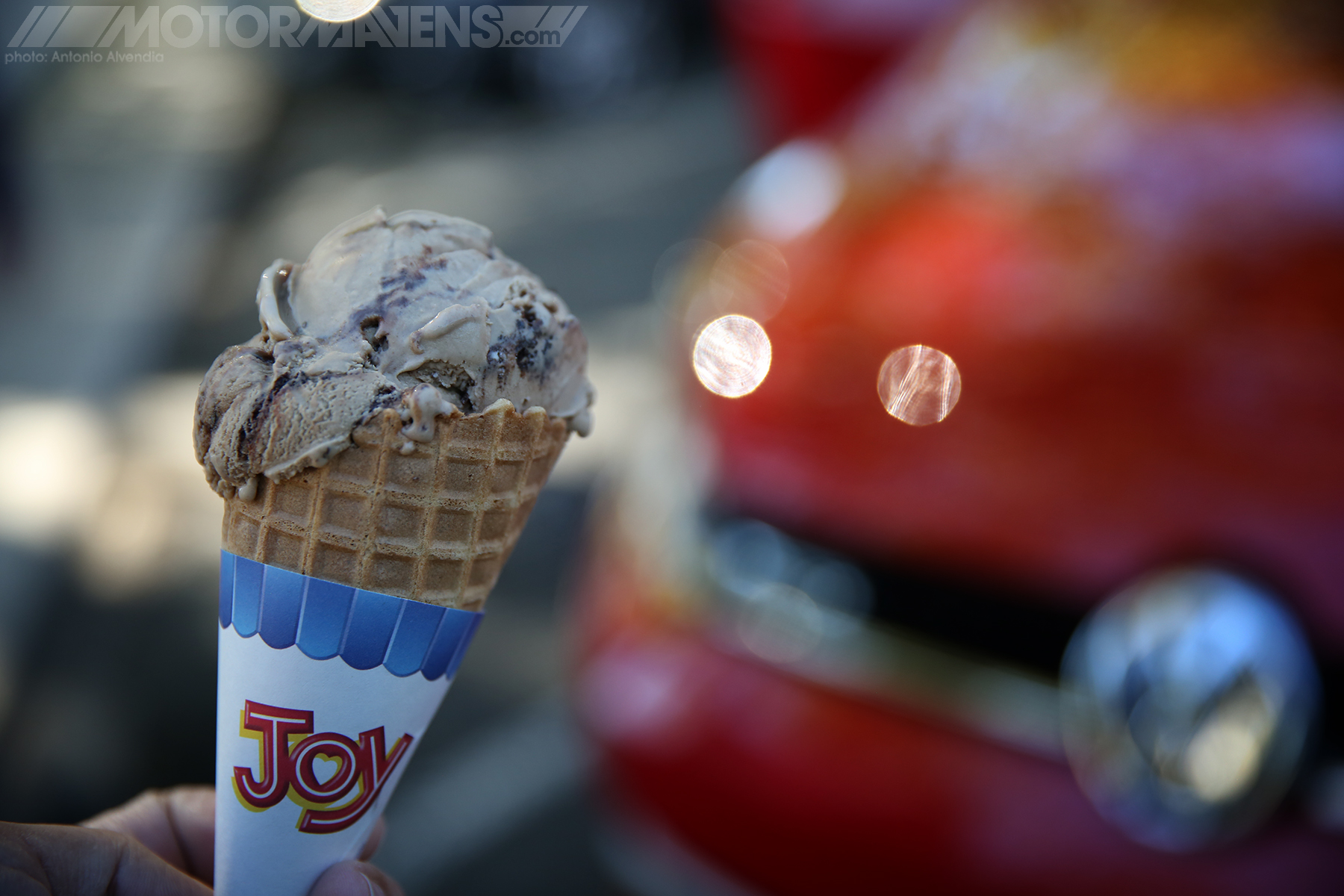 All in all, driving the Alltrack through Downtown Seattle, Bainbridge Island, Port Gamble, and the Tahuya State Forest definitely brought us joy. We love to create memories and share our experiences with fun cars, so we can't wait for the next adventure!
:: Antonio Alvendia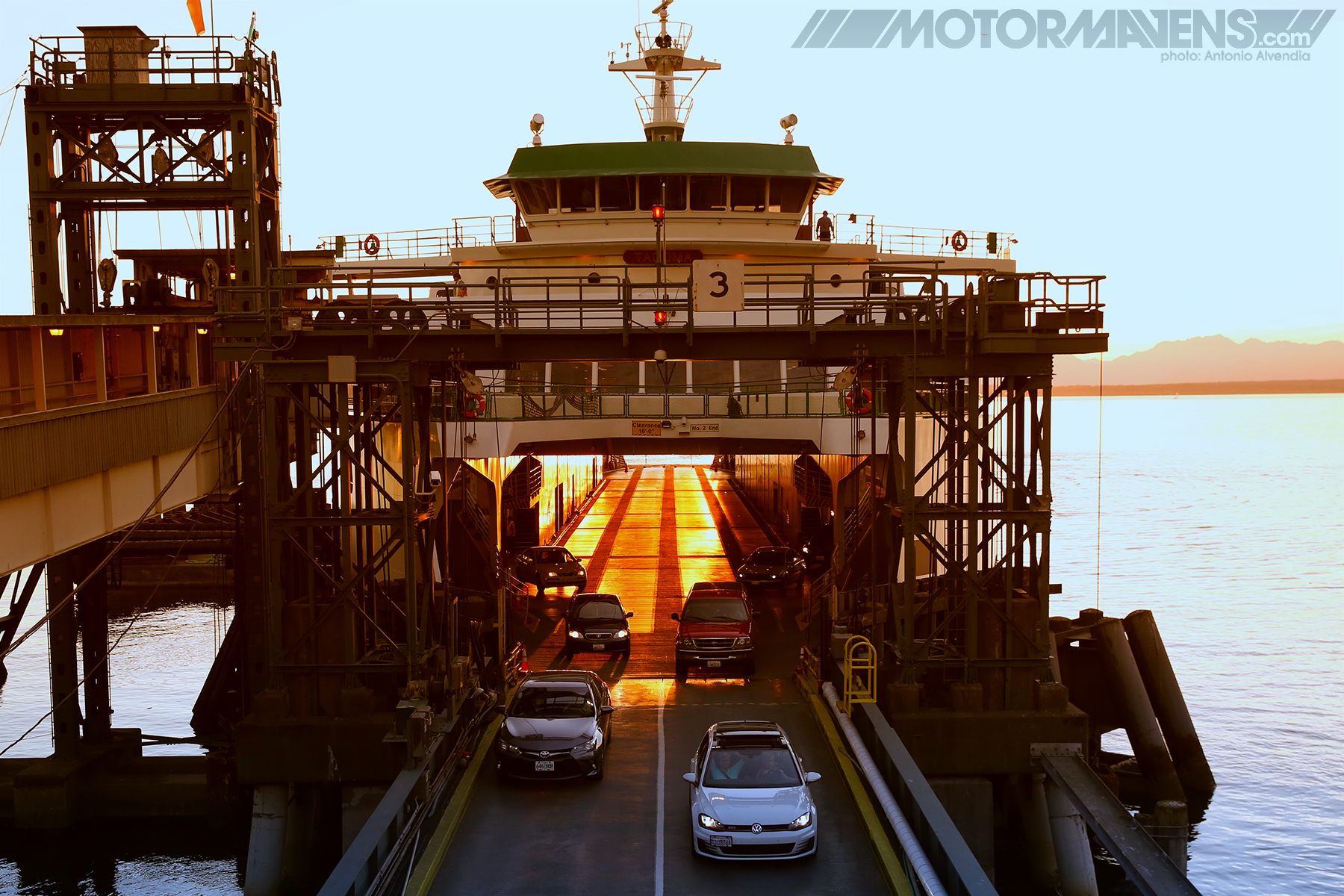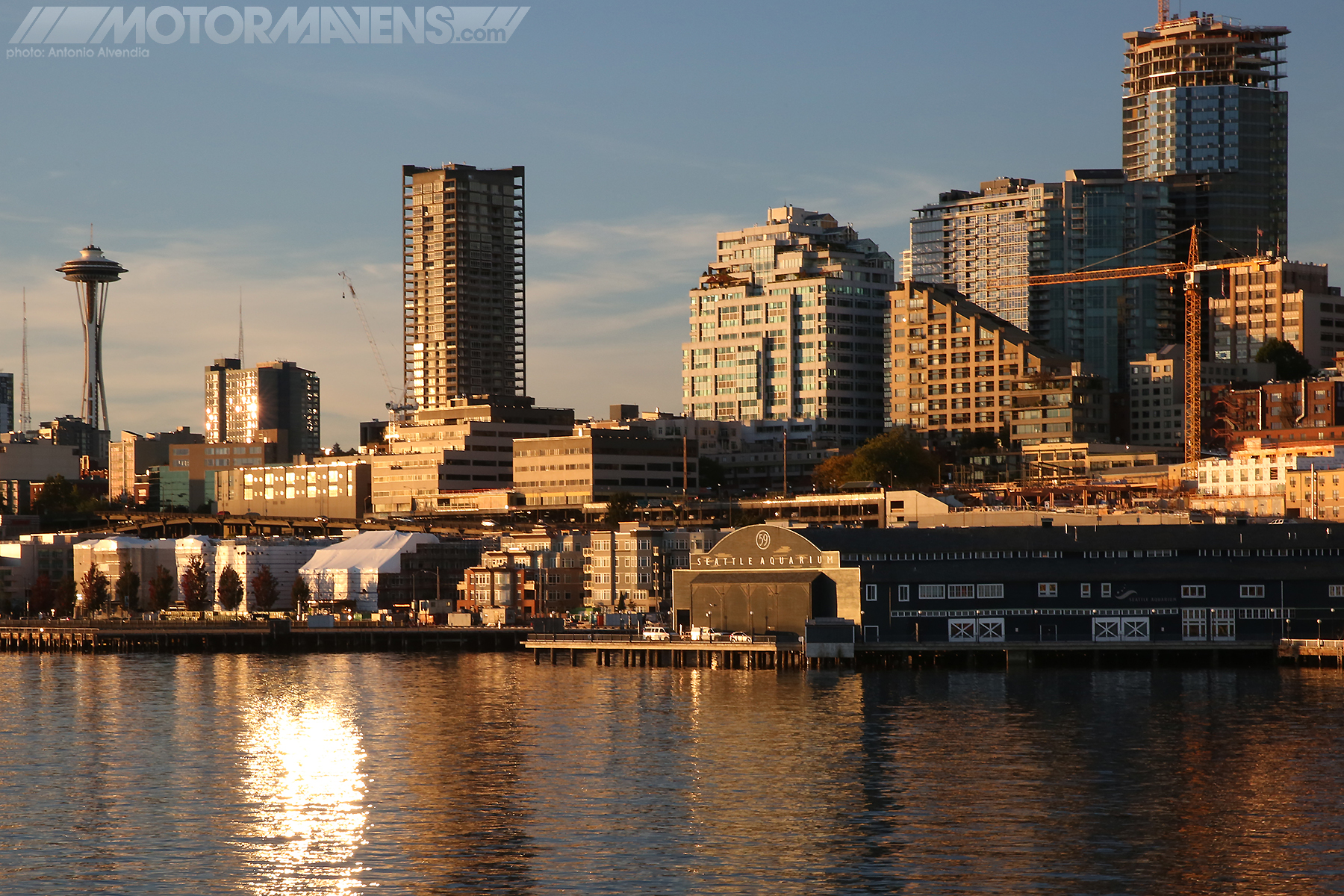 PS: Thanks to the hospitality suite that VW set up, I also met a lot of cool new friends on this trip! Check their websites out: GearLive • Latinaology • NatyMichele • RiaMichelle • CoolAdventures
---