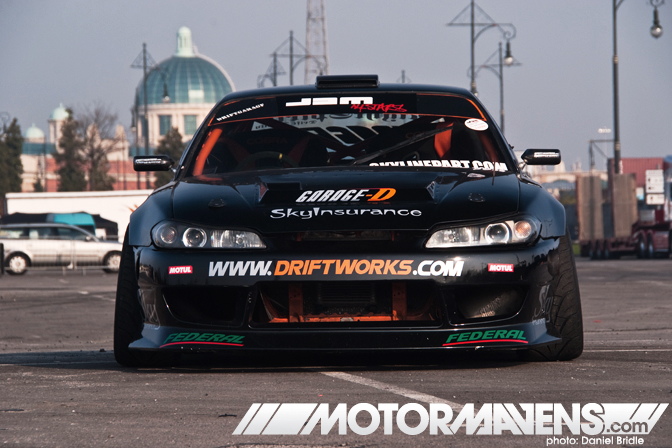 Ag-gres-ive
–adjective
1. characterized by or tending toward unprovoked offensives, attacks, invasions, or the like; militantly forward or menacing: aggressive acts against a neighboring country.
2. making an all-out effort to win or succeed; competitive: an aggressive basketball player.
3. vigorously energetic, esp. in the use of initiative and forcefulness: an aggressive salesperson.
4. boldly assertive and forward; pushy: an aggressive driver.
5. the Driftworks S15.
As it's been mentioned on other car blogs before, the latest guise of the Driftworks S15 has made it look angrier than ever, and I'm inclined to agree. It now looks like it wants to punch you in the face and eat children for breakfast.
I heard many rumors before Round 1 of JDM Allstars that this famous car was undergoing some changes and was to have a new look for the event. This car has always been a personal favourite of mine. I'm not a huge fan of a lot of pro competition cars these days, as they seem to have lost their "street car" roots – which (in my opinion) is what makes drift cars so cool in the first place. However, the Driftworks S15, as extreme and track orientated as it may be, has managed to capture the right mix of street and competition style. So as you can probably tell, I was extremely excited to see it in the flesh at Manchester! I had a feeling that our readers would want to see more of this incredible car, so I spoke to Phil Morrison (owner of Driftworks and the S15) and managed to organise a time in the morning before the final day of the JDM Allstars event kicked off to get some exclusive shots for MotorMavens.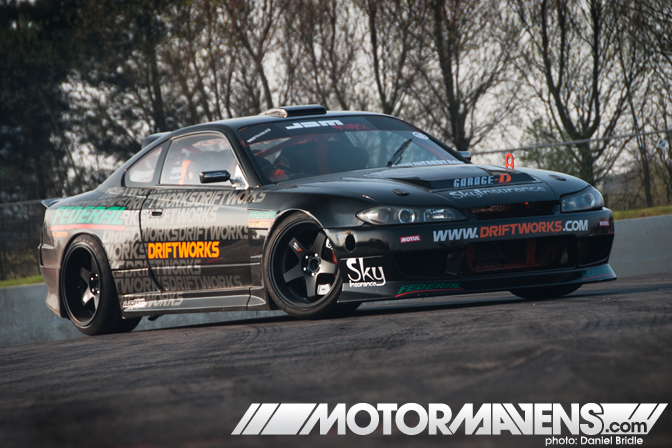 When this car was rolled out for the first time in 2007, the UK scene exploded! It was by far the most extreme build Driftworks had ever done, and to this day, still is. Not only is it a high spec drift car, but it's also the test bed for a lot of Driftworks products that are on sale today – and in the near future. There is so much I could go into about the specs and build of this car that there just wouldn't be enough space to write, so I highly recommend checking out the full build thread over on the Driftworks Forum. There you'll find the full story of how a standard Nissan Silvia S15 Spec R was transformed into the monster that is the Driftworks S15!
So… on to the fresh new look! The new changes for 2010 have been subtle, but just enough to make a big difference to the overall look of the car. Off came the high mount GT wing, and in its place a D-Max roof and bootlid spoiler were fitted, along with a brand new set of Rota GTR-Ds in satin black. These two simple things have completely transformed the way the car sits – it looks even wider than before! However, I was a little curious as to why Phil decided to change the look of the car, as the old style wasn't exactly what I'd call bad. Here's what he had to say…
"It actually stemmed from Federal Tyres now being able to make the incredible 595RSR tyre in a 285/30/18. This meant we needed new wheels. So working with Rota Wheels UK, they made us some 18×12 Rota GTR-Ds. The graphics and wing change were something I wanted to do for a while."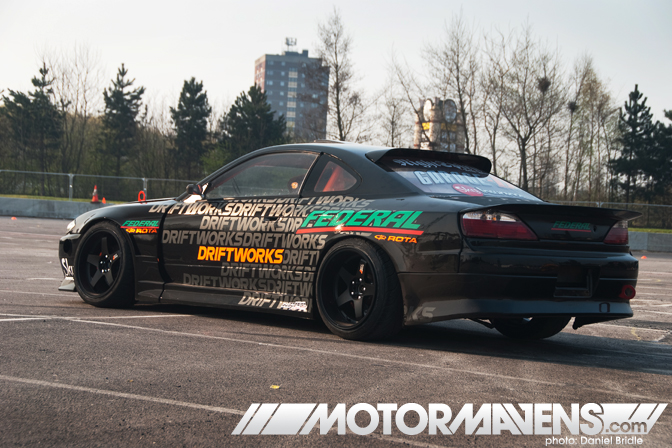 The new graphics design is mostly based on the one that can be seen on some of Driftworks' latest products – like their zipper hoody and their coffee mug (ahaha). It's had mixed reviews but personally I think it's pretty awesome. What do you think?
Still curious, I asked Phil what the inspiration was behind the new look. "I basically made it look closer to how I'd have it look if I daily drove the car. Most of my street cars are black and aggressive… and to be honest, I get tired of looking at drift cars trying to be race cars."
That attitude towards cars is music to my ears – and he's right. I think, if you stripped the stickers off, it wouldn't look far off from something you could see on the street!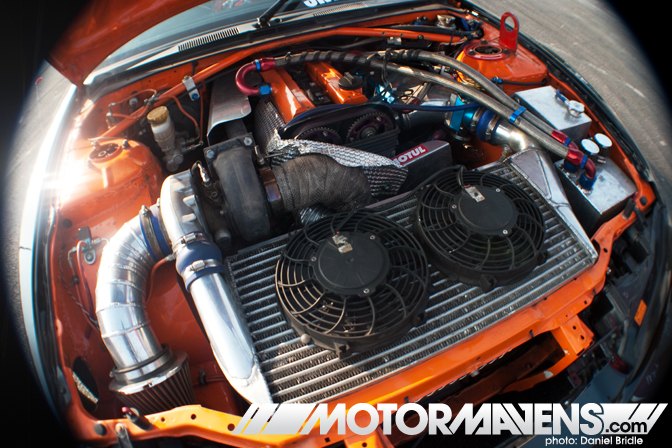 Speaking of music, I thought I'd show you the gorgeous sounding heart that powers this car. Usually, under the bonnet of an S15, you'll find the SR20DET that has powered many breeds of Nissan Silvias throughout the years they were built. However, under the bonnet of the Driftworks S15, you'll find a Toyota Supra 2JZ-GTE!
You may have noticed that the engine sits farther back than you would normally see it sitting. Chalk it up to the masterful fabrication skills of Julian Smith from Garage-D. As the 3 litre engine weighs a fair bit more than an SR20, the entire thing was pushed 8 inches through the bulkhead to regain some of the balance the car had. I'm not going to lie, I don't know an awful lot about engines (and I'm still learning) but I think to anyone's eyes this engine bay is a work of art.
The engine itself has been tweaked and changed over the years since it was built, but the biggest change for 2010 comes from the new ECU by a company called Syvecs that's been tuned by Driftworks's friends Protuner, resulting in an engine that's running better than ever.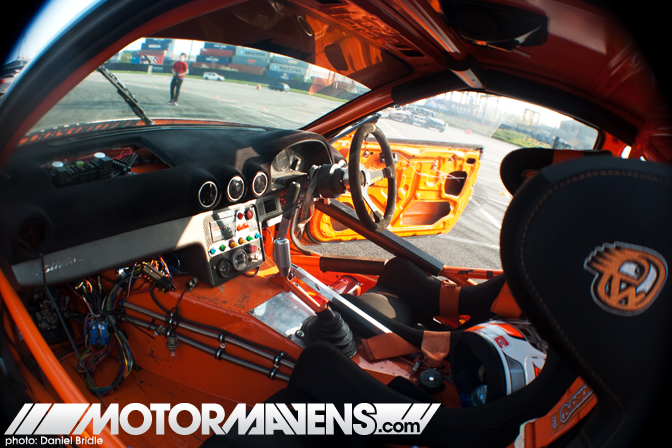 Inside, things have stayed pretty much the same… but it's still much too cool of an interior not to show you. The cockpit is filled with parts you can buy from the Driftworks shop like the 4 point harnesses, Sparco Monza steering wheel, hydraulic handbrake, and lots of other little bits of hardware.
As I mentioned earlier about how far the engine was pushed back, you can see the massive custom gearbox tunnel that Julian fabricated to house the 6 speed Getrag gearbox!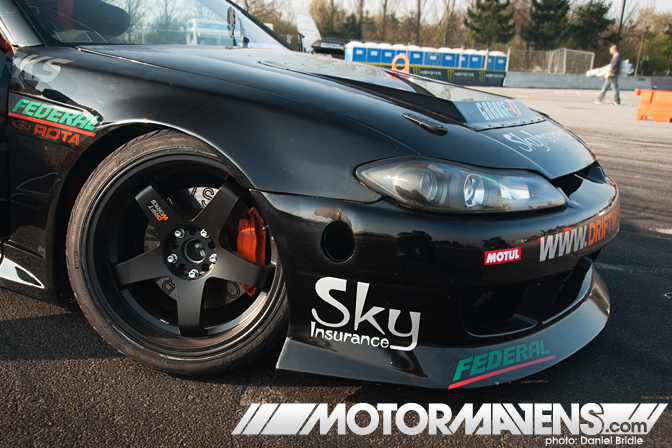 I love the little details that you don't always pick up on until you take a closer look. Take the side exit exhaust for example. It's a seriously cool touch that makes this car stand out even more – especially when flames are spitting out of it! Also, check out the brake discs. They've had the word DRIFTWORKS engraved into them!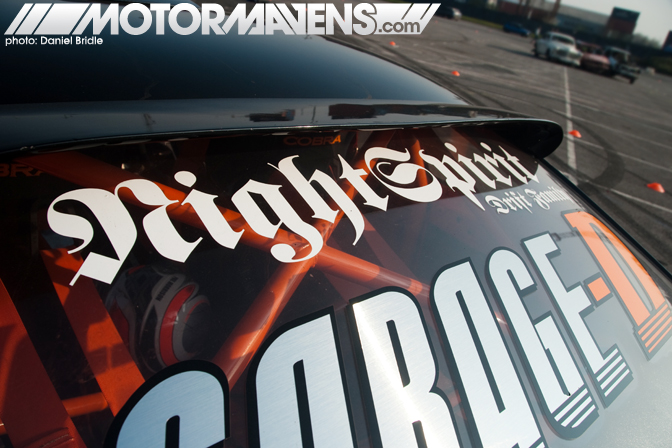 Here's something you'll see on a lot of the cars that Driftworks has built over the years – the NightSpirit Drift Family sticker. NightSpirit is made up of the friends who pretty much brought drifting over to the UK – and without NightSpirit and Driftworks, drifting here in the UK wouldn't be what it is today! However, I'll save that slice of drifting history for another time…
Bringing things back to 2010, I asked Phil what kind of plans Driftworks has for the car over the remainder of the year. "Well we might tweak the look a little more. Unfortunately black wheels don't do me any favours in competition, as it's really hard to see how much steering angle I have, according to the judges. I may revise the radiator and intercooler setup, as I'd like to see how the car stands up to some grip driving, and its current V-mount set up isn't working as well as I'd like."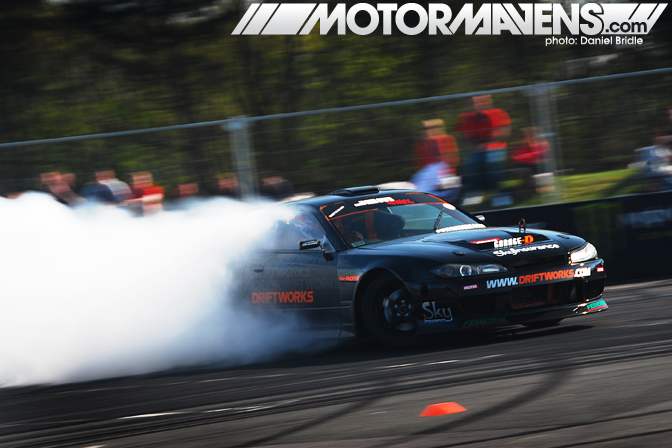 I thought I'd leave you with a shot of  the S15 doing what it does best – filling up the track and the lungs of spectators with gigantic plumes of smoke! Pictures really don't convey how crazy it is to watch this car in person as it hits the track with Phil behind the wheel!
I realised it may have been a little early, but I asked what we could possibly expect to see from the car in 2011? This is what Phil left me with…"I'm always looking to keep things fresh, but reading ahead 12 months is difficult when the scene is exploding as it is. 2010 is a big year for Drifting in the UK. Who knows, in 2011 we may look to build something even better than the S15 with the support of a manufacturer."
Can you imagine how cool that could be!? Well, whatever Phil and the rest of the Driftworks team decide to do in the future, I'm looking forward to seeing how they get along with the car for the rest of this year's season. I wish them the very best of luck with it!
:: Daniel Bridle
---