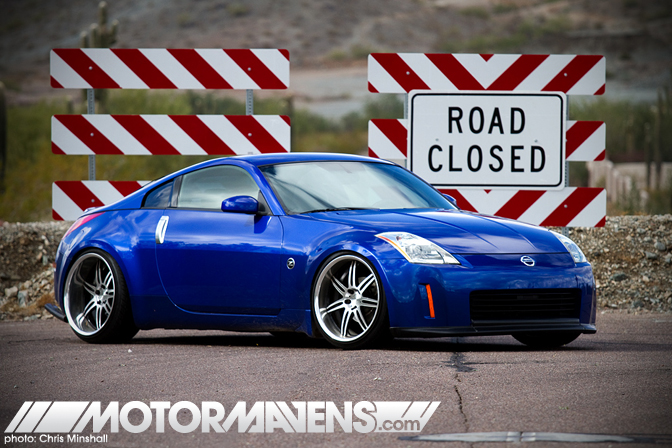 First, let me introduce myself since I am newcomer to the MotorMavens Crew. My name is Chris Minshall; I live in Phoenix, AZ and I've been a freelance photographer for about six years now – shooting mainly automotive and a little bit of model/portraiture here and there.
I have a long history in the import car scene which dates back to 1996 – I started out with a B16A-swapped 1990 Civic DX hatchback. I owned about seven Hondas before I moved on to Nissans – eventually taking a 1993 white S13 240SX hatchback from bone stock to an SR20DET-swapped 385whp beast sitting on 18×9.5 +12 and 18×10.5 +15 Takata green Volk TE37s with rolled/pulled stock fenders. Ever since then, I've been into the wheel fitment scene and carried over what I learned from my S13 to my current daily driver – the 350Z you see pictured here.
I have mad respect for all kinds of cars, including Hondas, Japanese classics, VIP-style, American muscle and anything with sick stance. I hope to bring a little something new to MotorMavens and expose some types of vehicles that haven't been fully showcased here yet as I uncover what AZ has to offer.
The style I was aiming for with my 2003 Z33 350Z 6MT Touring model was inspired by my previously owned S13. After putting aggressive offsets on the 240, I was hooked. I knew that when it was time to step up with my Z, I would have to take it up a notch. My Z had several sets of wheels on it before I finally ended up with what you see in these pics. None of my previous wheels were nearly aggressive enough and thus began my quest for what I like to call "gangster wheel fitment."
While browsing MY350Z.com, I stumbled upon the thread titled Aggressive Wheels and Stretched Tires….Welcome. It was like I had come across the holy grail of all wheel fitment threads. This is the thread that really opened my eyes to the stance the 350Z is capable of. Gone were my thoughts of running the Average Joe 9.5 and 10.5 +22 fitment. These guys were rolling hard on negative offsets and rolled/pulled fenders. I decided to push the envelope with 20s (where most guys in AZ with 350Zs were running 19s) and then I spent months debating widths, offsets and wheels that could support that "gangster" look I was seeking in 20s – just like The Pharcyde, I needed a fat lip. I looked at everything from Volk, SSR, Work and Weds before I finally chose the Work Varianza T1S.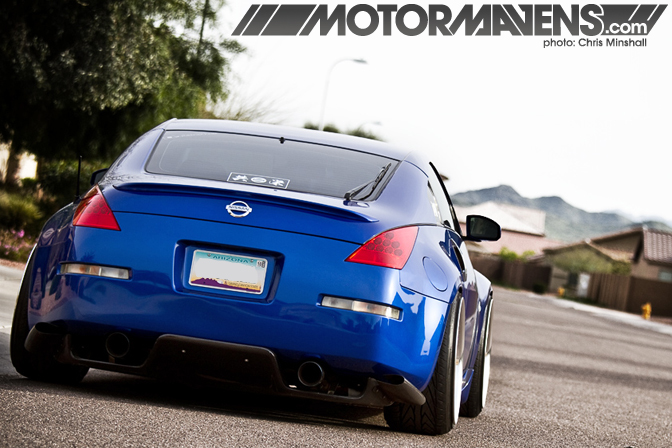 The 350Z scene here in Arizona is mainly composed of track and drift guys which left plenty of room for me to take an approach focusing more on aesthetics. Some guys are performance driven whereas I like to push the limits on a visual level. This is my daily driver and rolling around low and slow is perfectly fine with me. To me, the experience of building a car is all about how it makes you feel and nothing makes me feel better than seeing the rear shots of this car and seeing the amount of pokage and negative camber we were able to achieve while maintaining driver satisfaction. That takes WORK!
I had the car aligned several times by local shops but I was never satisfied with the way it drove. Eventually, I took it to the Honda dealership where my best friend works. He aligned and dialed it in perfectly for me. The car drove like a dream after that – even with -4.6 degrees camber out back and -2.1 degrees up front.
The funniest part of driving this car on a daily basis is the older people who pull up next to me in minivans or pickup trucks and tell me I have the wrong size tires on my rims and that they're going to fall off. I always just reply "Nah, it's all good – I wanted the tires to look like that". They give me the most confused look ever, shake their heads in disappointment and drive off. HAHA! Either that or they ask, "Does it rub?" To which my reply (said with an almost inappropriate level of enthusiasm) is always,"Why yes – yes it does…and I don't care!!" I have to say, this part is even more satisfying than the compliments from the people who get it.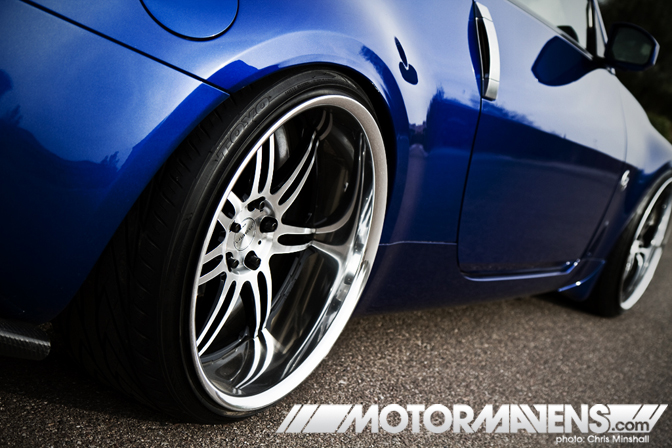 The wheel and tire specs are: 20×9.5 -5mm R disk up front and 20×11 -5mm O disk in the back. The tires are Toyo Proxes4 in sizes 225/35/20 front and 255/30/20 rear. Luckily, the shop I used to work for got used to mounting and dismounting stretched tires on my previous car and a lot of my friends' cars. There is no way in hell you can just walk into your average Discount Tire and try to have these tires mounted. They'll tell you you're crazy right before they tell you to get lost.
The finish I chose for the Work Varianza T1S is called Black Polish. It just pops with the Daytona Blue color of the car and the polished/machined face of the spokes. The lip sizes are 3.75″ front and 5.5″ rear.
The rest of my suspension consists of K-Sport coilovers, rear camber arms and rear toe arms. The main reason I chose to go with K-Sport is that I personally know the owner and Ksport is a local AZ shop – plus, it always feels good to support local businesses. Not to mention it's just easier to work closely with people you can trust and who live nearby – and the killer pricing didn't hurt!
Another note worthy of mentioning is that the K-Sport coilovers are a true rear coilover as opposed to using an OEM separate shock and spring. My research led me to understand that, if I wanted to ride slammed, I would need a true coilover. I added stiffer 10kg (as opposed to 7kg) rear springs since I knew I would need the car to be as firm as possible to be able to drive it every day with this stance.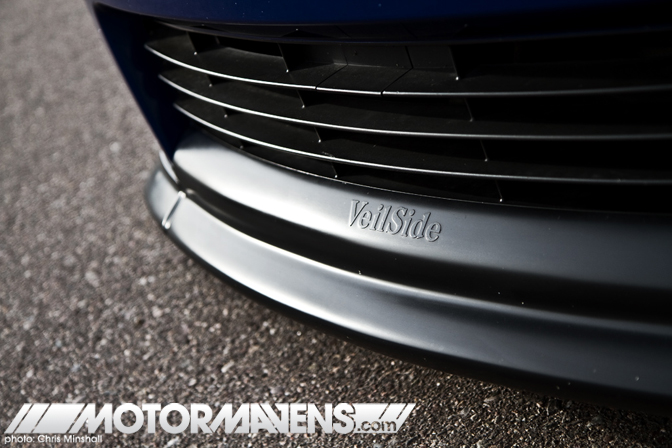 I searched forever to find a front lip that I liked for the 350Z. This Veilside Version 1 front lip in urethane is actually the last part I added to the car. I considered other options but I found this through a post on a local forum. It was the last one in stock at a local shop and I immediately drove down there to check it out and test fit it on my car. In fifteen minutes or less, they were counting money and I was on my way. Thanks to my boy Pete at Intense Power in Gilbert, AZ for the awesome deal. I ended up leaving it with its original finish which flowed with the matte black. And the best thing about this lip is that it's made of super flexible urethane – so, even though I seem to scrape the damn thing everywhere, I never have to worry about it cracking on me.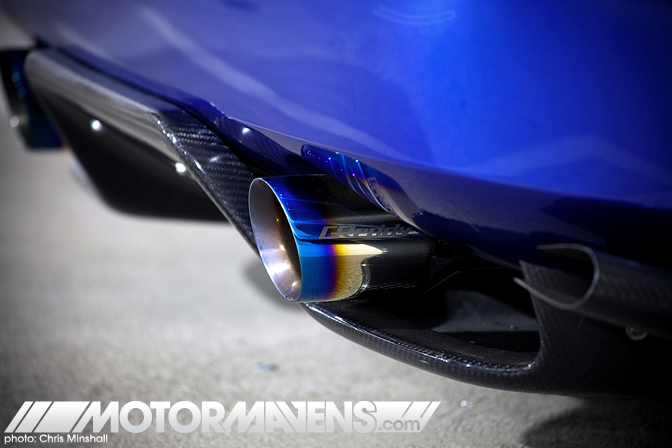 The exhaust system pictured here is actually the second exhaust for this car. Originally, I had the Greddy Ti-C single exit which is by far the BEST sounding exhaust for a Z that I have ever heard. Pair the single exit with a set of test pipes and it sounds even better. Although I did love my single exit, I eventually came across a sweet deal on a Mastergrade carbon fiber rear diffuser that a buddy of mine was selling.
I immediately jumped on the deal and bought it but the diffuser sat in my garage for almost three months before I could figure out a different exhaust to go with. The reason I didn't want to use my single exit is because I would have had to cut the hell out of the diffuser in order to clear the muffler. I didn't want to hack up the diffuser just in case I wanted to sell it in the future. I finally ended up deciding on a different Greddy exhaust called the Spectrum Elite.
I really liked how the burnt titanium blue edge of the tip flowed with the single exit which is another reason I chose the Spectrum Elite. It really compliments the color of the car (aesthetics, remember?). I also wanted to go back to a dual exhaust because I don't think the diffuser would have looked as good with only one tip sticking out. I had to compromise and give up the awesome sound of the single for the more aggressive look that the diffuser adds to the rear end of the car.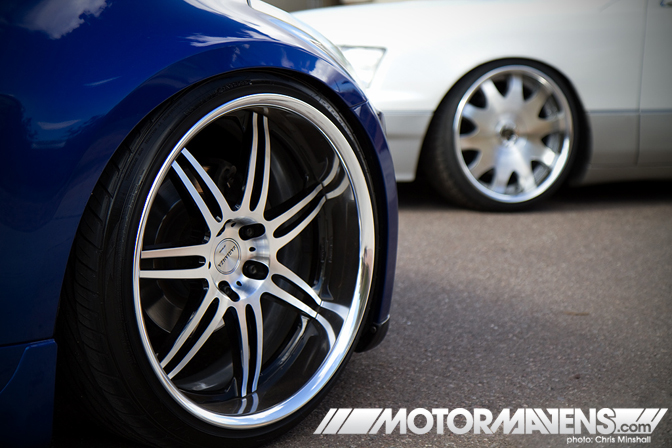 I don't want anyone to get the impression that my dedication to looks means that the guys in my scene pamper their cars – there are no weekend garage or trailer queens here. This is how my friends and I do it in Arizona. We live aggressive offset and ride slammed all day, every day, in our daily drivers. Pictured in the background is my roommate's 1996 Lexus LS400 sitting on aggressive offset 19″ SSR Vienna Kleid wheels and coilover suspension.
The only drawback to running 20s on my Z is that the stock brakes remind me of that dude with the tiny hands in the Burger King commercial. As you might be able to figure out by now, aesthetically that bothers me. I have considered downgrading to 19s and switching to a lower disk size to get the maximum amount of lip humanly possible. What do you think? Stick to the 20s and go for the big brake kit or downgrade to 19s and blast out the lips? Keep in mind that I don't track the car (daily drive only) so stock brakes work just fine performance-wise.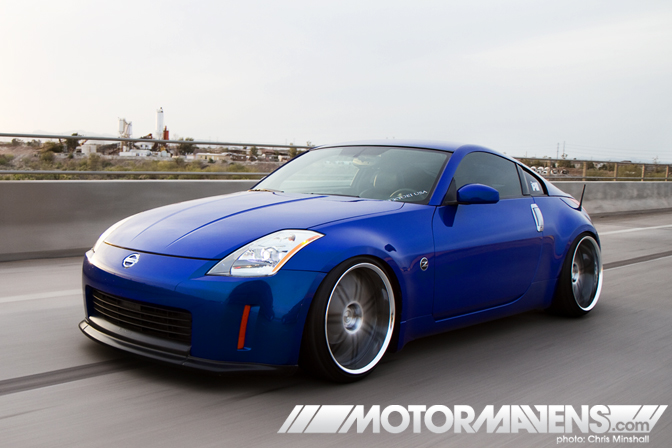 Some other mods that I have done to the car include: OEM Nissan 4.083 gears, OEM Nissan 2008 350z LED taillights, Fujita intake, Powerlab 3/8″ plenum spacer, Megan Racing test pipes, Motordyne XYZ pipe w/resonator, Luxer1 LED lighting for interior and exterior, Alpine IVA-W505 7″ head unit, JL Audio 500/1 amp, JL Audio 10W7 single sub in Zenclosure box, Alpine 4 channel amp, Infinity Kappa components front and coaxials rear, Acura RDX short antenna and 6000k HIDs.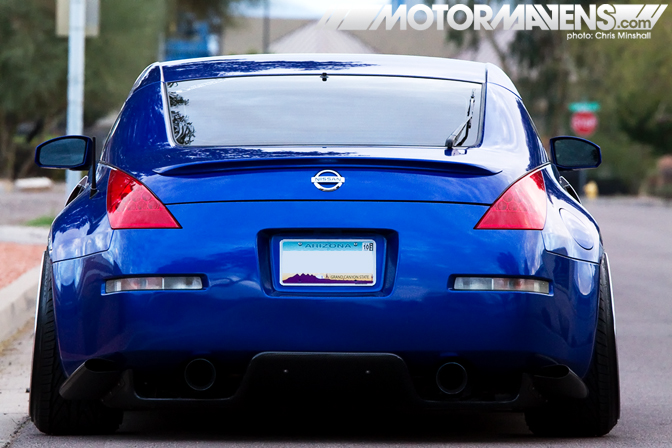 I have been putting a lot of thought into what type of car I might do next and I just can't decide right now. I look at all the pros and cons of switching cars and I keep getting drawn back into the sexy body lines of the Z and the crazy aggressive wheels you can run with very little mods to the fenders. All the VIP style sedans are extremely nice but there is just something about having a 5.5″ to 6″ lip in the back and the overall sportiness of the car and how it drives…
I'm thinking that I want to begin phase two of my Z. There are a lot of little things about my present set up that I would like to do differently a second time around. So, stay tuned because I have some things up my sleeve to make my Z even more gangster than it is now. 350Z version 2.0 is now in effect.
:: Chris Minshall
350Z
,
Avon Bellamy
,
chris minshall
,
fujita
,
GReddy
,
intense power
,
ksport
,
mastergrade
,
motordyne
,
offset
,
phoenix az
,
powerlab
,
t1s
,
takata green
,
TE37
,
toyo
,
varianza
,
Volk
,
Work
---