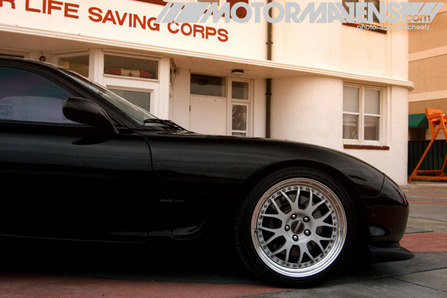 It was a sleepy Saturday morning in Florida with a dreadfully overcast sky. Florida gave us what it is known for at this time of year – rain, and a whole lot of it. It didn't stop until late afternoon, with dismal skies and a hazy mist hanging overhead even after the downpour stopped. Even with the weather in "doom and gloom" mode, when I saw David Hayes' black Mazda RX7, I was simply stunned. As it drove through the city streets, you could just see all the heads turning to watch it weave through traffic. If only they knew the journey this car took to get here.
The story of David's FD3S RX7 starts way back in 1994. He is the original owner of this black beauty – he took it right off the showroom floor. And since he's the only owner of this car, he actually knows everything that has gone into the car and everything it has been through. Here's a little mind blower to start us off. With the exception of the Pettit rear flares and 99 spec front end, the car's paint is as completely original as the owner.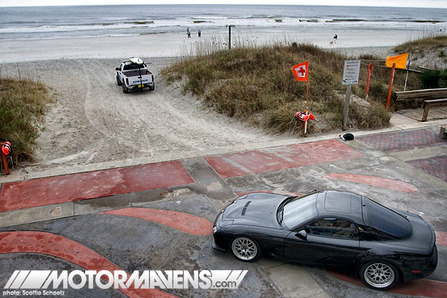 I was no stranger to the story of David's epic tale, as I have been following it since the beginning. All the details of his journey are logged in the RX7club.com forum. If you decide to look it up, be prepared to invest a few days of reading – it's a long story and completely surreal. In fact, his story seems even more surreal than reading his daily updates in the 7club forum thread when you actually get the chance to hear him tell it. But, since you probably won't get that chance, I'll tell it. I promise I'll keep it short. Well, as short as I possibly can with a story like this one.
The real journey began in July 2004 (remember this start date), which is when David took the car to Pettit Racing in Florida to begin his 20B, three rotor swap. Pettit did the 20B conversion rather quickly but had issues fully tuning the EMS on a twin turbo setup. He was promised 15lbs of boost but he actually got 12lbs running 400 RWHP and (adding insult to injury) ended up blowing the secondary turbo while still trying to break the motor in. This gave David the idea to scrap the twins and go for a big single turbo.
He decided to let Gotham Racing (which no longer exists, by the way) have a go at completing his car. However, before he shipped it to them, he was contacted by Wolf EMS USA who offered to finish his swap, tune on their EMS system, use the car as a project for their own company and do it all for a low low price he could not refuse. So, off goes the FD to California in August of 2005. Remember how I said Pettit started the swap in July of 2004!!!
The plan, as all plans do, had evolved and now called for a big GT42R single turbo and all the associated parts to upgrade the car which would be fabricated by ASE Engineering in Australia. They gave him a projection of roughly two months of work time to finish the whole project, which sounded great. David even planned to drive the car back home (cross-country) with his wife in the passenger seat. But, as you may be guessing by now, this plan was short lived at best.
For what it's worth, Wolf kept in contact with David but the turbo kit did not arrive until late January 2006. (Wait, wait, what happened to that two month quote, you ask?) Let's just say David had some issues with Wolf and in May 2006 he gave them a thirty day ultimatum to finish the project. Knowing what we know about ultimatums, it's a no brainer that thirty days later David was making arrangements for a transporter to pick up his car. However, on pick up day, the transporter (no, not Jason Statham) called to notify him that it would be impossible to take the FD. Why, you ask? Apparently, it was in "a million pieces" spread all about the shop! With no other options, David agreed to give Wolf another thirty days to wrap it up.
Right now, if you're like me, you're probably thinking: "I hope to God he hadn't paid for any of this mess." Sorry. I knew someone had to be keeping these shops afloat, I just never guessed who that someone might be – until now.  We can all be reasonably sure that they're not getting government bail-outs, LOL!
Continuing the story, Wolf still had the car. Unfortunately, David was unable to reach anyone at the shop and decided it was time to send the transporter again. This time the transporter told David that he really needed to get the car out of the shop – I guess it must have been in two million pieces by then. So, with the help of some local 7club members who staked out Wolf to check on the FD and gave David some peace of mind that his car was not in boxes headed for the border, they finally packed the car up and it was sent off to Gotham Racing in August 2006 – and time keeps ticking away.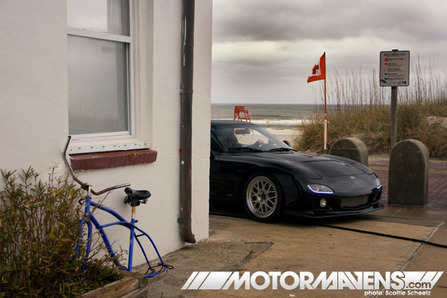 With Gotham Racing now in control, they had a two month backlog before they could begin to tally the list of needs for David's FD. When Gotham finally began work on the car, they were greeted with a fail list of shoddy workmanship – bad wiring (check), missing fuel lines and clips (check), wrong injectors (check), his supposed HKS GT42R turbo was, in fact, a dual ball bearing T51R (fail). They even discovered brass shavings during a simple oil change (FAIL). This is just a small glimpse into what was wrong with his original built motor. Thankfully, he never got the chance to get the car home and have everything fail on him after driving it for a week. You see, it could always be worse! I think my head would have literally exploded if that happened to me. In fact, if any of this ever happened to me…but we're not done. Here's the part where we take a brief intermission to give you enough time to say, "HOLY SHIT – WE'RE NOT DONE?!?!" No, my friend – more misery awaits.
Let's just say that "issues" arose at Gotham – key issues like theft and non-payment of rent which eventually led to the company's demise. Time keeps on slippin' – into the future and just like that it's winter 2008. Once again, David found himself jumping through hoops to have the car pulled (this time from Gotham) and sent to Jotech, a non rotary tuning shop for safe guarding until he could pick it up with a final dyno tune. With a rebuilt motor and now running a Precision Dynamics T76 dual ball bearing turbo, David waited outside as his car was dyno tuned. On the first run, the car made 650 RWHP and 475 lb/ft of torque – not too shabby after his long journey. There were issues with this so they backed it off to the 550 range for their next run. On run three, the 20B climbed to 7k RPM then, pow!, the motor goes. Does anyone else need a drink?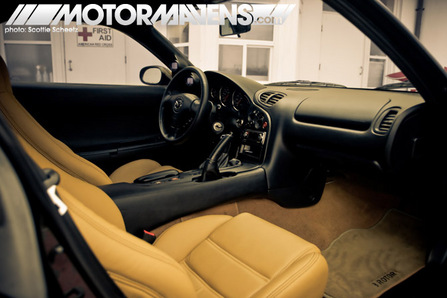 At this point, David decided he had come too far to back down now – it was time to take it to the next level. So, he packed up his problem and trailered it straight to Jesus. That's Jesus (pronounced "Hay-soos") Padilla at Kilo Racing, a rotary shop in Orlando, FL.
Jesus ripped through the car, rewired everything that was shoddy, rebuilt the motor with a Precision PT 78mm GTS turbo and gave it a solid tune. Wow. Five years of epic struggle and the automotive equivalent of "disasters of biblical proportions" and all he had to do was call on Jesus. Is there some hidden meaning here? Is that Carrie Underwood singing Jesus,Take The Wheel in the background? Hmm…
As of today, Jesus is pretty much finalizing the little things that David has left and he'll give him a final maximum tune in the next couple of weeks. He will be looking for another solid run, at around 650 horsepower. Even at his current 555 whp and 476 lb/ft of torque, the car is incredibly fast and somehow tame at lower speeds… nothing like you would expect from a big-power rotary. I was expecting a bucking bronco, but I got a nice, comfortable ride through some back streets.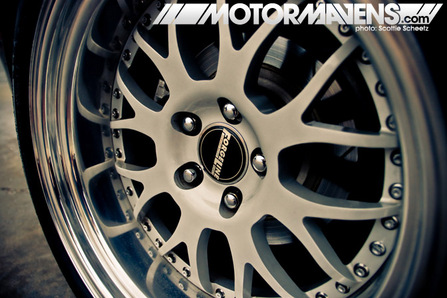 Amazing how these 3 piece Forgeline wheels traveled with the car through all the years of its epic journey and still remained in perfect shape. The polished lip looks great with the silver center. In case you were wondering how wide the wheels under the huge Pettit Racing rear flares are, they're 18×12.5 (+7.5), wrapped in 335/30/18 tires.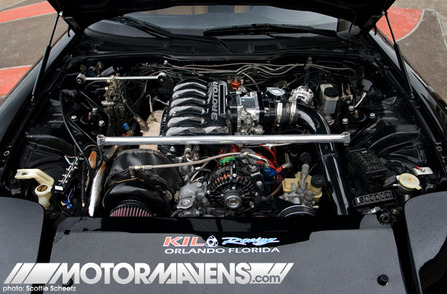 Let us all bow to the final product which Jesus (and Kilo Racing) made possible!!! There's a whole lot packed into that engine bay, but would you expect anything less from a 650hp capable motor? I can't imagine the headache if David decided to wire tuck that bay. Frankly, I would be scared to even try it after everything he has gone through.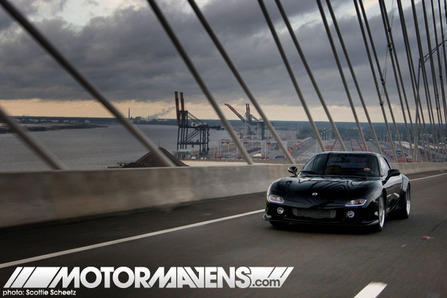 One of our last points of attack was the Dames Point Bridge in Jacksonville. As the sunlight was disappearing, the clouds dispersed enough for the sky to peak through.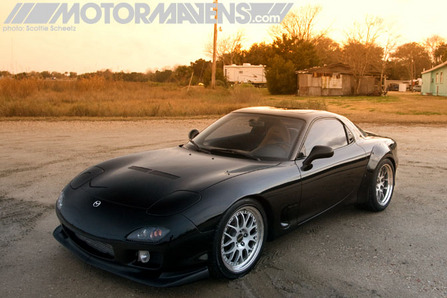 To close out, this was the last shot I was able to grab before the sun completely disappeared. I plan to revisit with David in the coming months to reshoot the car on a bright, sunny day. I know the right sunset will make this car pop like it should.
::Scottie Scheetz
20B
,
3 Rotor
,
Avon Bellamy
,
FD
,
FD3S
,
Forgeline
,
Kilo Racing
,
Mazda
,
Rotary
,
RX7
,
Scottie Scheetz
---