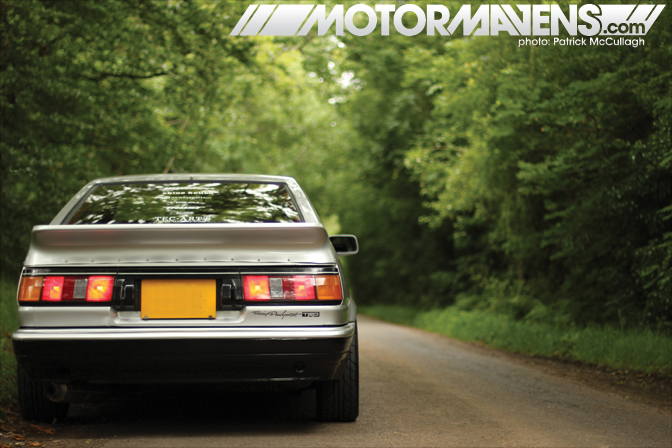 There is probably no better way to introduce myself to you guys than by sharing with you, on 86 Day, a recent shoot I did of a friend's Toyota AE86 Levin GTV. As Daniel Bridle has shown you with the Team Tekno article, the AE86 is alive and well here in Ireland!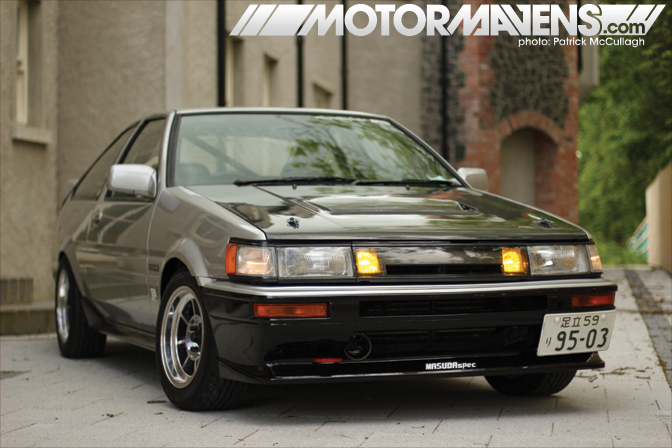 Usually the AE86 comes in two different guises: the Japanese drift spec with drift body kits and crazy camber; and the UK spec with Superlites and Cibie spot lamps. However, there is another type that is rarely seen on these shores and that is – the grip spec AE86.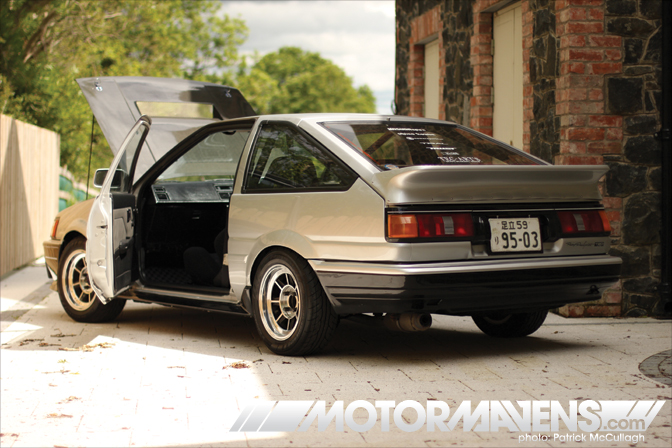 Chris Gray is one of those guys who is living the dream when it comes to Japanese performance cars. He has owned numerous 180SXs (one that I can still recall being very sideways at a junction), Silvias and Skylines (one that was an ex-TRIAL demo car no less!). Until quite recently, Chris seemed to spend his time living in Japan and Ireland and making all of us jealous when he posted photographs on Facebook. Now he has gone all out and made the move to live full time in the land of the rising sun – which means he'll be taking that jealousy-inducing thing he does from a hobby to a full-time occupation as well.  In fact, here's proof – I know Chris is at Fuji Speedway for 86 Day!!! That green on my face? You know what that is…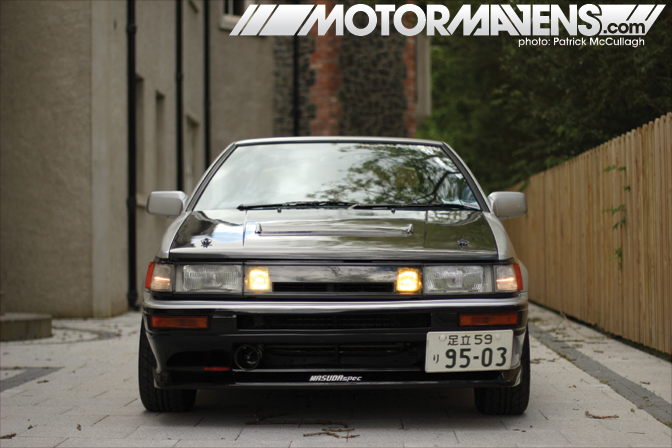 What I love about this car is that it doesn't brag about itself too hard – it does all the right things with an understated class. The car is draped with front and rear custom "Masuda" bumpers with an Aero tray to help in that pursuit of grip. The bonnet is a vented J-Blood Carbon Fibre item and looks amazing but, more importantly for this AE86, it's light (Function over Form Folks! or "F.O.F.F"). The front end also has a Kouki glass grill with JDM yellow fog lights.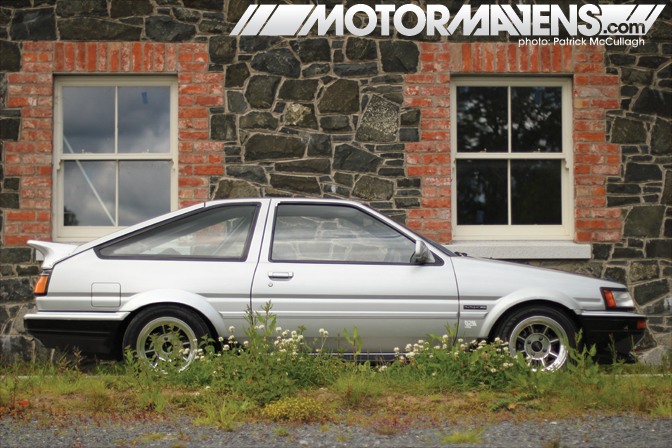 The front arches have been rolled and,  on the rear steel, flared arches have been fitted to accommodate the 14x7J Hayashi Racing Streets wheels with an offset of  zero – giving the track on the rear a wider stance. The Advan Neova grip tires provide the all important contact to the asphalt. The rear of the car is finished off with a TRD Spoiler with the rear wiper removed.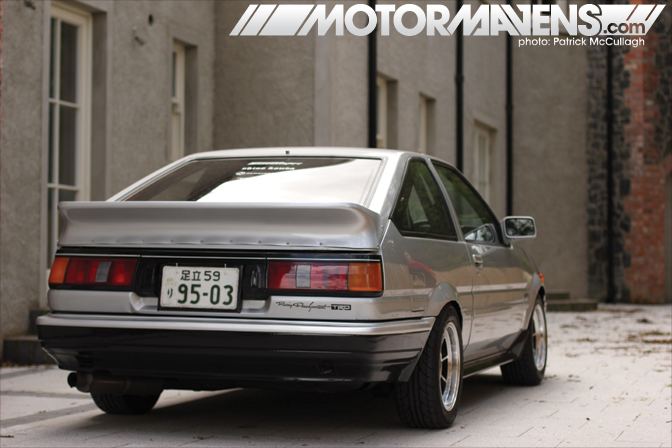 Chris is very much an AE86 fan and this continues in the engine bay as Chris tells me "Having lived in Japan for a while, I'd fallen in love with the real AE86 scene. I drove plenty, from supercharged, to 20v and SR20 but, for us 86 diehards, it has to be N/A 4AGE 16V – that is the heart of the 86…"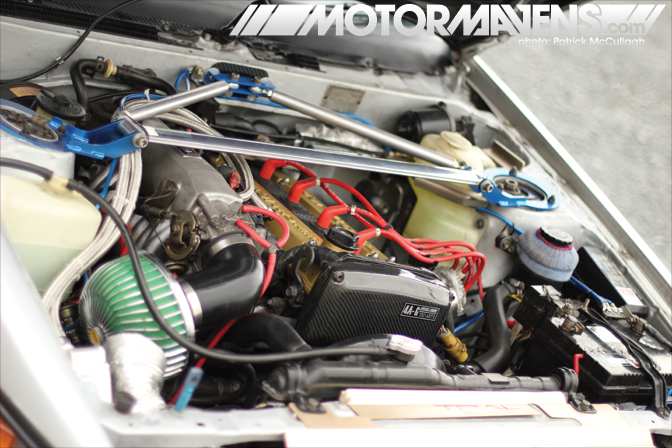 The engine is a fully rebuilt AE92 1.6 4AGE 16v with countless upgrades such as a TODA 82mm High-Compression Piston kit, HKS 264° Camshafts, Greddy TRUST 4-1 Exhaust Manifold, Custom straight 'Masuda' Titanium Muffler system, Greddy E-manage ECU, Trust Airmax intake with Billion cold air feed, Walbro Fuel Pump, NGK Iridium plugs, TRD Ignition leads, HKS Timing Belt…. the list is almost endless.
The T50 5-speed is held in place with TRD mounts and has a TRD 2-way LSD. A short shifter by TRD is also installed and a single plate clutch from Cusco.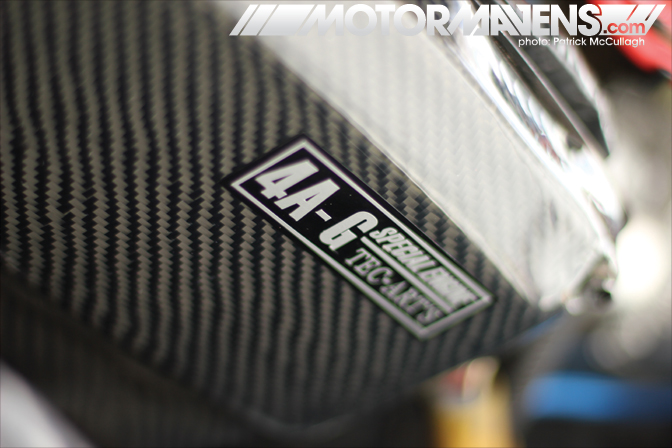 When Chris opened up the "hood" I just smiled – you know that feeling? I am so used to dreary engine bays that have nothing to tell about the owner – which says a lot about the owner. This engine bay, to me at least, speaks volumes.
It isn't over the top or in your face and everything there has a practical use. And yet…touches like the carbon fibre timing belt cover show flare as well. Often, details like this on a car are overlooked. I think it complements the rest of the engine so well – which brings us back to "form". Sure, function precedes form – but that doesn't mean that form is completely irrelevant. Style is important and has its place, too. As I mentioned, it speaks volumes about the owner.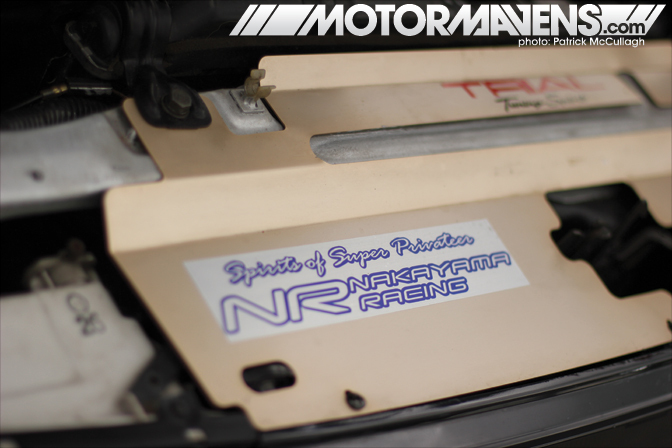 This Nakayama Racing decal caught my attention almost instantly when Chris opened up the bonnet (should I be calling it the "hood"?? let me know guys haha). It reminded me of watching Jeremy Clarkson talking about the direct English translations of Japanese phrases and how they always end up sounding odd – "Spirits of Super Privateer"! Excellent!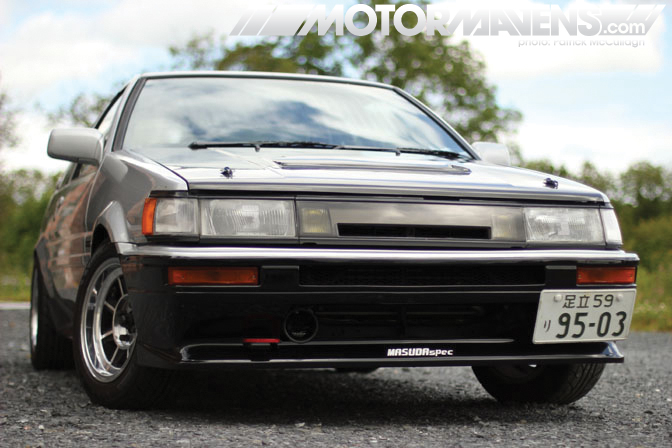 In comparison to the Team Tekno cars, featured earlier this week on Motormavens, Chris' car is virtually a monster truck. Again, using the FOFF rule, the car is setup to Grip and not Drift so function determines form.
The suspension and brake spec list is, at this stage, typical of what the car is all about. The two front corners are setup on TRD coilovers with adjustable top mounts and the rear on TRD Blue shocks and springs. TRD front and rear Anti-roll bars are also used. A Cusco roll cage, Cusco rear strut brace and Cusco "oval" front strut brace (with a T3 Tri-bar add on) have also been installed to add stability and strength to the shell. And, in an act akin to redoubling his efforts to make this AE86 not do what we are used to seeing it do, Chris added 4-link Rear Traction Straps & Bracing while the Brembo discs and Endless SSS pads help bring the car to neck snapping stops.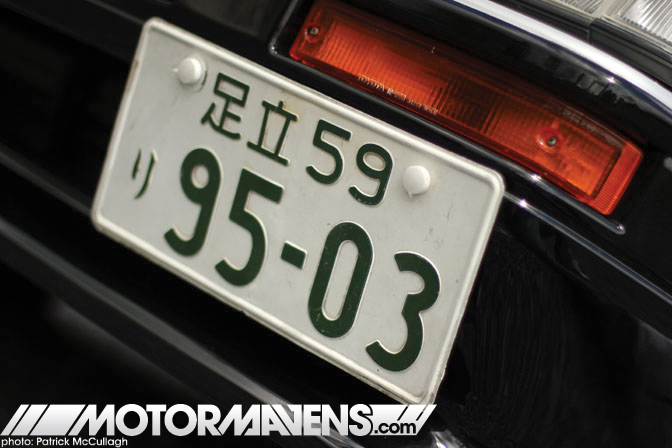 Chris' Japanese number plate looks to be just that: a Japanese number plate, but wait, there is more to it. You see, nine is kyu, five is go, zero is rei and three is san. Kyu-go-rei-san. Now, say it quickly! You-Go-Ra-Cer…ahhhhh, you see??!!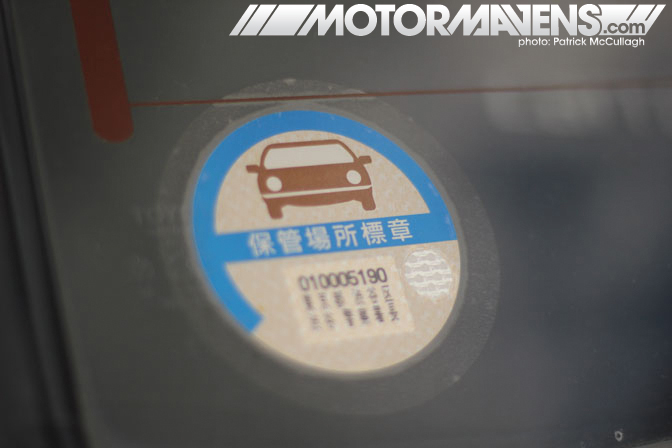 Details like the license plate and the authentic Japanese parking permit give the car "soul" and give me a warm fuzzy feeling about a car that has traveled halfway around the globe to start a new life in Ireland.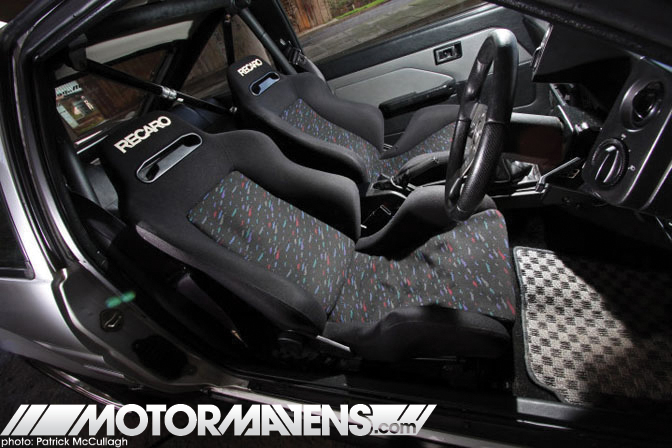 Recaro Speed Recliners from a Toyota Supra are situated in between the Cusco Roll cage with an original black dash and original dials with upgraded bulbs. The rear seats have been removed and the interior is fully carpeted and has Tatami "checker" floor mats so that Chris can hear his friends when the custom straight Masuda exhaust is having a chat.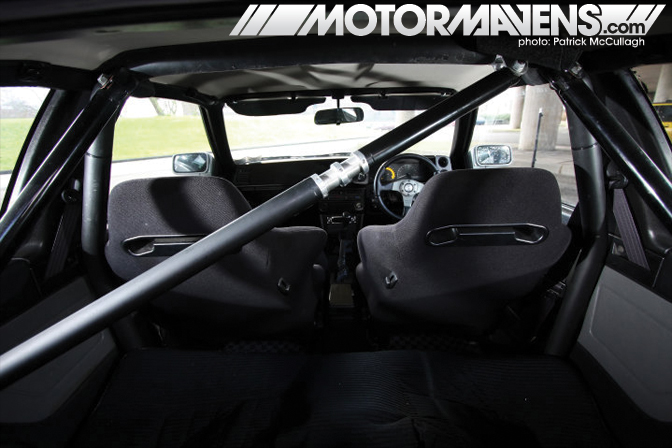 Here you can see what dominates Chris' rear view mirror: the Cusco roll cage. All of the performance modifications that have been carried out could be seen as expensive extras or unnecessary but this car isn't simply hard parked. Chris uses the car properly at track days at Mondello Park and is not afraid to drive the car to the edge using all the different modifications to full effect. It is at times like these when you would be very happy to be encased by a roll cage.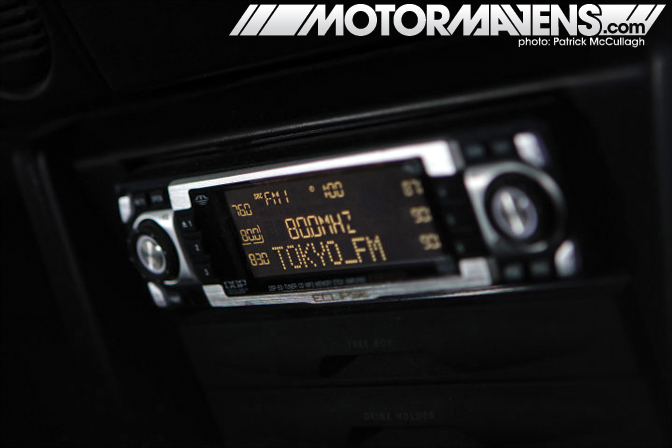 The car is also fitted with some Carozzeria Rear speakers, Eclipse Audio front speakers, an amplifier and an MP3 CD Headunit so he can listen to Toyko FM – haha!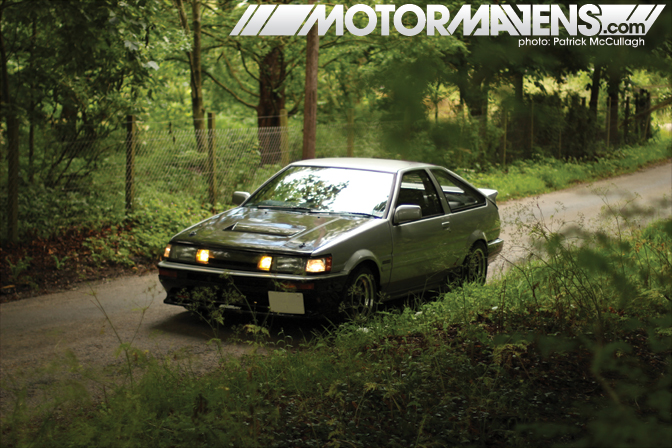 The AE86 is in its element on a typical Irish B-road – tight, twisty, crests and changes of camber. It's everything you could possibly want for one of those weekend blasts in the countryside.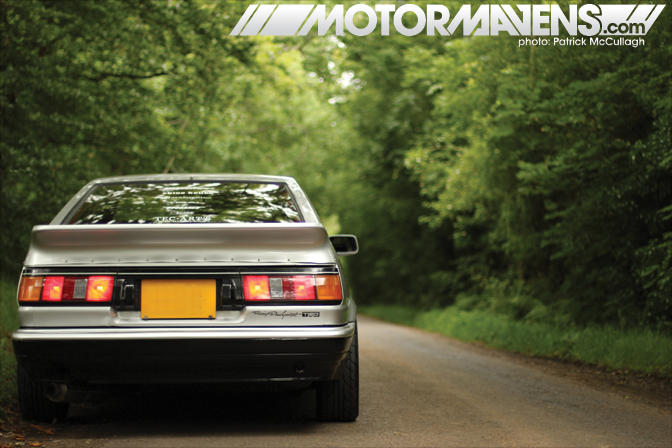 On 86 Day, and my first post here on MotorMavens, I am going to run the risk of some AE86 Blasphemy. I have to admit that when I first saw this car a few years ago I was not all that impressed for two reasons. First, I was blissfully unaware of the allure that the Levin or Trueno had and second, I was totally ignorant of the number of modifications and upgrades that this car hides in plain sight! The engine, the suspension setup, the transmission and the subtle styling make this car not only a great car to drive but also the first AE86 that made me sit up and take notice of how much of a classic and cult car the AE86 actually is. Chris and this car made a believer out of me and have even brought a new holiday into my life. Thanks for the valuable lesson Chris! And thanks for 86 Day!
:: Patrick McCullagh
4A-GE
,
86 Day
,
AE86
,
AE92 1.6 4AGE 16v
,
Brembo
,
carozzeria
,
Cibie
,
Corolla
,
Cusco
,
direzza
,
Dunlop
,
Eclipse
,
Endless
,
FOFF
,
GReddy
,
Grip
,
GTV
,
HKS
,
ireland
,
J-Blood
,
Kouki
,
Levin
,
Longchamps
,
LSD
,
Masuda
,
nakayama racing
,
ngk
,
Patrick McCullagh
,
Recaro
,
SSR
,
Superlite
,
Tatami
,
Team Tekno
,
Toda
,
Toyota
,
TRD
,
Trueno
,
Trust
,
Walbro
,
XR4
---