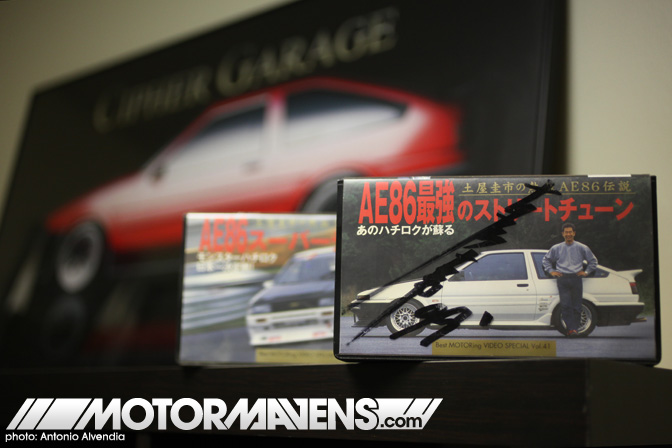 You requested it so we rewind… Following up on our posts on the Drift King's birthday, some of our readers mentioned that they would be interested in seeing a sneak peek at some of the Keiichi Tsuchiya-related fanboy memorabilia that has been archived as part of the Cipher Garage Collection.
As some of our readers may or may not know, I've spent the past eleven years of my life chronicling as much as I could about the history of drifting in Japan, and its progress as it grew in the United States and spread to all the other countries of the world. As you might imagine, this has been an incredibly difficult and arduous process, and I've only been able to do as much as a single person without corporate/financial backing could possibly afford to.
However, because of personal qualities that include my relentless passion for Japanese car culture, my ridiculously resourceful/persistent/determined nature, and the fact that I often find myself (most of the time, accidentally) in the right place at the right time… I've been able to amass quite a collection of Japanese car memorabilia that some might consider historic. (I know I do.) Whether my personal collection of Japanese automobilia may be considered by some to be overrated or not… it is very personal to me. For every rare item in my collection, I have great stories to tell about how I found it and how it came to be in my collection. To me, THAT is the real treasure… even more so than the individual items in the collection.
Those who don't know as much about the subject matter may think it's just a bunch of magazines, stickers, toys, steering wheels, horn buttons, patches, and misc car junk stuffed into boxes, shelves, and cabinets… but over the years, I've come to realize that I've never in my life seen a collection like it – items related to Japanese drifting history… with much of it revolving around AE86s, TE27s, and vintage Toyota memorabilia. Please don't think I'm bragging – that isn't my intent at all. For the most part, I've kept all the items I own very, very private. I don't really advertise what I have or invite people to look through my things, as I never intended to collect stuff to "show off" to others. Instead, this is all just a bunch of things that I personally consider important or cool. And if you don't agree, then you don't know what's up. And I really don't care.
At the top of this page is a photo of my copy of the ridiculously EPIC Best Motoring Video Volume 41 and 42. Like I mentioned in my previous post, this video has provided much inspiration to me over the years. I found it at the Kinokuniya Bookstore in Japantown San Francisco in 1998 when it was new. That was the first time I had ever seen Keiichi's white/black TRD AE86 Trueno. Legendary. I brought the case to Japan with me in 1999 (don't ask me why… I'm such an idiot I even brought my photo album to Japan!), and when I met Keiichi Tsuchiya in person for the very first time, I asked him to sign it. You can see his signature on the case… it's from January 1999.
Above, here's an excerpt of the actual video, which has been uploaded onto YouTube.
Behind that Volume 41 VHS box is the Volume 42 box, and behind that, a rendering of my kouki AE86 with SSR Mark III wheels that my friend Jeff Huang did (in 2002?) while he was a student at Art Center College of Design in Pasadena CA.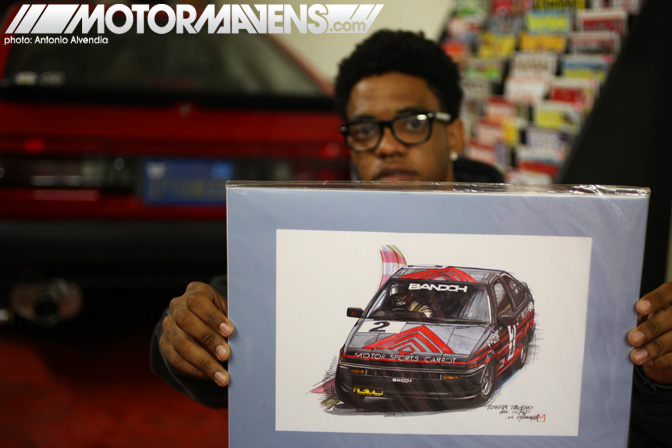 While we were digging through the boxes in my garage, I asked MotorMavens writer Edward Uche if he would hold up this piece of artwork for me. This is a (watercolor?) piece that I bought on a trip to Japan. I thought it was bad ass because it features Keiichi Tsuchiya's Advan Carrot zenki AE86 Sprinter Trueno 3door at the famous Fuji Freshman Race in 1984… a pivotal race that marked the beginning of his fame as a racing driver.
Behind Ed is a magazine rack that I bought from Tower Records in LA when they went out of business. I absolutely LOVED Tower Records, and in my teenage years, I spent just about ALL my money buying cassette tape and CD singles from Tower, which had all the best limited release editions of hip hop albums that came out in other countries. (Anyone have the original Souls of Mischief "93 Til Infinity" blue plastic cassette single? Tribe Called Quest "Midnight Marauders" limited edition European CD with different cover art than the US version? Tribe Called Quest "Revised Beats for the Seasoned Traveler" CD? I got all that stuff at Tower.)            That particular rack is filled with magazine covers that I've shot and issues of magazines with my photography in it… magazines like Super Street, Battle Magazine (Jp), Carboy (Jp), Daytona (Jp), Speed (Aus), Drift Battle (Aus), FHM, Modified, Grassroots Motorsports, 0-60, Max Power (UK), Power Techniques (Greece), and a whole bunch more.
… and behind the magazine rack? The Cipher Garage kouki AE86 that I built prior to its appearance at SEMA in 2000.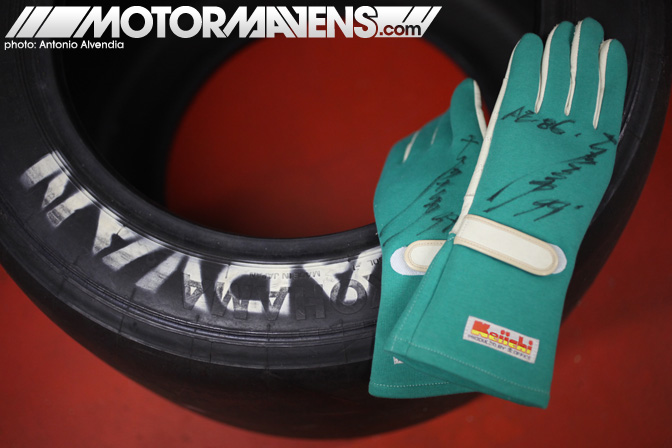 Does anyone recognize these green gloves? Keiichi graciously signed them for me on my first trip to Japan in 1999, at the height of my Dorikin fanboyism. He also wrote AE86. Hell yeah, AE86 represent!
The Advan tire came from an open wheel Formula Atlantic race car. Yup, the kind with the 4AG Formula Atlantic engine. I wanted to steal the engine, but all I managed to bring home was the tire.
This is a rare 1/43 die cast from the early 2000s… 2001 or 2002 maybe? It was a limited K/T run from MTech/Epoch. I got this in Japan, with the help of a good friend in Japan named Makoto Yokoo, who worked on the original Nissan engineering team for the S13 Silvia.
Years later, I asked Keiichi to sign this diecast at one of the early drifting events in the USA. Actually, it might have been on August 31, 2003 at the first D1GP USA event… or it might have been at the D1 Driver's Search. I don't remember now.
The wheels on this die cast are wrong… they should be SSR/Modex Dori Dori mesh wheels. But you knew that.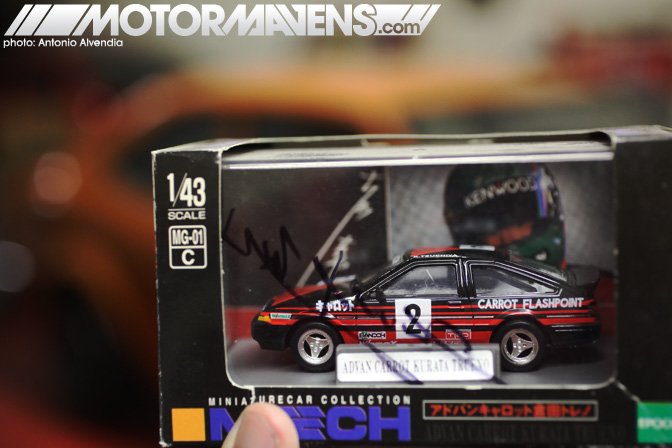 Here's the Advan Carrot version of the MTech/Epoch 1/43 die cast AE86… I had Keiichi sign this one too. I think this stuff is gonna be worth $$$ one day! Especially when he eventually kicks the bucket. LOL (I know, I'm like the AE86 version of the 40yr Old Virgin, but I'm not scared of a big box of pron.)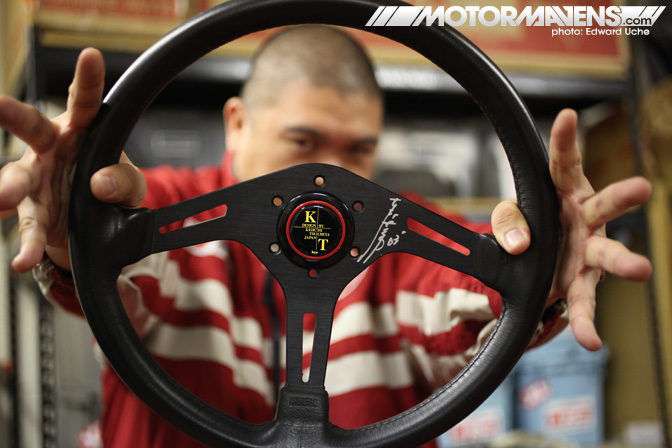 Recognize this steering wheel? These K/T Design steering wheels have always been retardedly expensive!!! What the hell. Even when it was new in 2000-2001, it was A LOT more expensive than most other steering wheels on sale at the time. I  didn't actually buy this one new… I actually traded Super Street editor Jonathan Wong a brand new black Nardi Classic 360 for it after the first Nisei Showoff in Little Tokyo/Downtown LA. 2000 maybe? 2001?
Anyway, I asked Keiichi to sign it during the first D1GP USA event at Irwindale in August of 2003… yeah, the one where Taniguchi slammed into the wall and Ueo beat him with his AE86!
One day, I'll use this on my car. Too bad the K/T Design shift knob that matches it looks wack.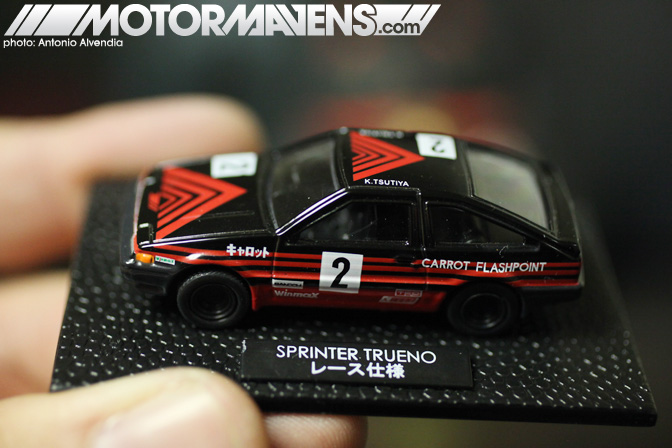 I have a lot more Keiichi/Advan AE86s in different sizes/scales, from different makers…. ChoroQ, Tomica, Tomica Limited, Radican, etc… but it would take a million years to shoot pics of them all!
I don't have time for that, so I'll just close this with a pic of my newest addition to my "Keiichi/Advan Collection." I didn't check after taking the photo, but I'm pretty sure this particular Advan Trueno is a 1/72 scale… I bought it at my favorite die cast shop in Japan on my last trip there! (Notice anything odd about this particular car?)
Okay, so there you have it. 1/200th of my collection. Hope you found something about it slightly interesting, and if not… I'm sorry for rambling. Show n Tell is over… back to our regularly scheduled Motor Mavens stories!
:: Antonio Alvendia
1/43
,
1/72
,
Advan
,
AE86
,
Antonio Alvendia
,
Art Center
,
Cipher Garage
,
Cipher Garage Collection
,
D1GP USA
,
drifting
,
Epoch
,
Fuji Freshman Race
,
homepage
,
Irwindale
,
Jeff Huang
,
Jonathan Wong
,
K/T Design
,
Keiichi Tsuchiya
,
Makoto Yokoo
,
Mtech
,
Sprinter
,
Super Street
,
Taniguchi
,
Tower Records
,
Trueno
,
Ueo
---