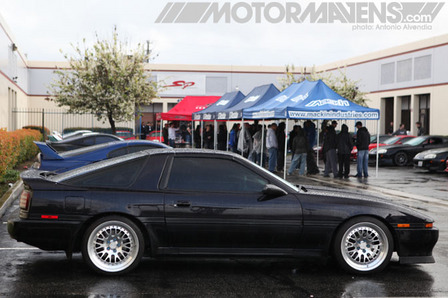 This past weekend, something like 70+ Toyota Supras came out to the Supra Appreciation Event at SP Engineering in Industry, California. I was pleasantly surprised; I couldn't believe how many Supra owners braved the rain and the bad drivers on the freeway with their high horsepower monsters. All the parking lots surrounding SP Engineering were packed to the hilt with Supras and other cars that had variants of M and JZ engines under their hoods. Most of the cars in attendance were JZA80s, but there were also quite a few MA70/JZA70 Supras that caught my eye… I even spotted an MA60 in the lineup!
The JZA80 Supra Turbo is normally regarded as Toyota's "top of the food chain," but at the SP Supra event this weekend, I was honestly jocking the MA70/JZA70s more. Now THAT is a big statement. Let me explain… I've been a big fan of JZA80 Supras since the very first time I laid my eyes on one… and I never really gave the JZA70 much thought (that is, until I started hanging out with the late Mike Urbano [RIP homie] and his always late brother Brian). However, this past weekend, at least in my eyes, the MA70/JZA70 Supras took the win in terms of sheer style.
You might be thinking, "What?! Are you crazy? We're talking about JZA80s here," so I should explain my opinion. I think MA70 owners need to do a lot more in terms of restoration and "clean up" than the JZA80 guys do. The JZA80 Supra is such a good looking car that all you really need to do to accentuate the already gorgeous body is lower it, get proper fitting wheels and tires, a good looking exhaust and a front lip spoiler. That's not much at all. Meanwhile, MA70 owners have to think about getting a clean body (or fixing dents and whatever), painting the car, cleaning up the engine bay, piecing together a clean interior, making sure everything works, making the car run right… and only then can they turn their attention into making the car look good.
This being said, I was happy to see Kevin's clean black/dark purple MA70 from SocalSupras sitting out front as I walked up to SP Engineering's parking lot. It's sitting on CCW Racing wheels and a Shine Auto front lip spoiler, which definitely accentuates the look of the car. I normally hate tinted windows, but Kevin's nana-maru Supra definitely makes tinted windows look dope, with his dark paint. Such a great looking side profile.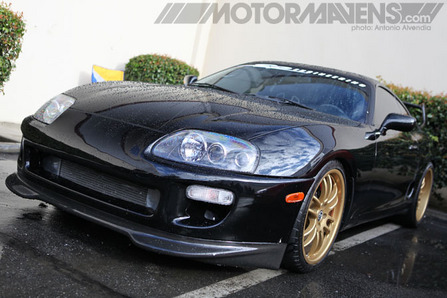 Let's take a look at another black Supra. There were a lot of JZA80 (I refuse to call them MarkIV Supras) in the lot, but this particular hachi maru caught my eye because its wheels came closer to the fender than most.
What we're looking at is a set of gold I-Forged wheels, which are apparently very popular within the Supra community. I'll be honest – I actually had to ask someone what kind of wheels they were, because I'm normally only familiar with Japanese wheels, and I didn't recognize these ones.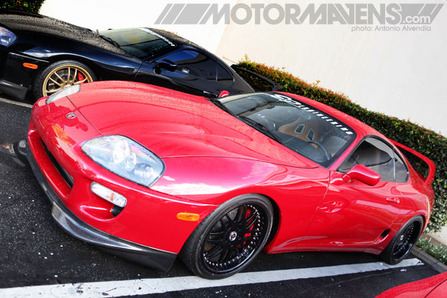 This GORGEOUS (aka: damn near perfect) JZA80 Supra Turbo belongs to a guy named Ken Henderson. I didn't get a chance to meet him since I was in a hurry to shoot pics of all the different Supras before they left, but from what my friend Nick tells me, Ken's one of the most well known/most popular guy on the Supra Forums… and with good reason. How can you not like a guy who has built such a clean car? I really like this car because it's relatively SIMPLE and the body looks immaculate and close to stock/OEM. Totally my style.
Ken's red Supra streetcar also wears a set of I-Forged wheels. I think this particular wheel face looks pretty good. Nick tells me that in the photo, Ken's car is displaying a Titek carbon front lip, which was made from Ken's rare HKS Kansai Service front lip spoiler. I'm sure Ken still has his Kansai front lip spoiler sitting in his garage for safe keeping and for rocking on special occasions.
Hmm… come to think of it, I have an HKS Kansai Service horn button and emblem set that I got in Japan back in 1999… too bad I never bought a Supra to go with them. I fail.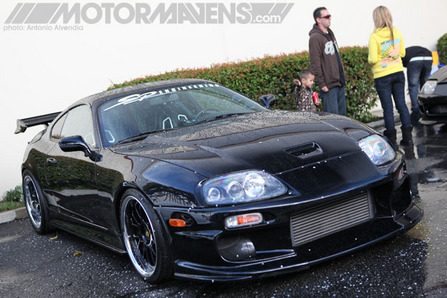 This fully Do-Luck kitted Supra also belongs to Ken Henderson. I think this guy might have a problem. It also apparently has 1200 horsepower… which makes me realize that if one were to tie ropes to ALL of the cars I own, and have them pull a stagecoach or something, adding up the horsepower of all my cars… Ken's Supra would still be more powerful. Sonofa… I think I'm gonna have to switch my line of work. That's it. We're gonna have to shut down the site next month, and I'm going to put in an application at Ken's company. WTF does one do with TWELVE HUNDRED horsepower anyway?! Damn, I'd like to find out.
This next Supra is just kinda whatevs… but I promised him I'd put a photo of it up on the site. HAHA! Just kidding, Nick!!! This super sick JZA70 belongs to Nick Stonawski. I'm a fan of this car because it features an authentic Stout carbon fiber hood, which adds to the Bomex front lip spoiler and whale tail. In my opinion, the JZA70 front lip spoiler is the single best piece of aero that Bomex has ever made. They should stick to simple, classy designs like the JZA70 front lip.
Since everyone must be staring at them and wondering, the wheels are 18×9.5 (+28)F and 18×10.5 (+28) R Work Equips, which were ordered brand new from Nick's JZA70 Supra mentor, Mike Urbano, before he passed away.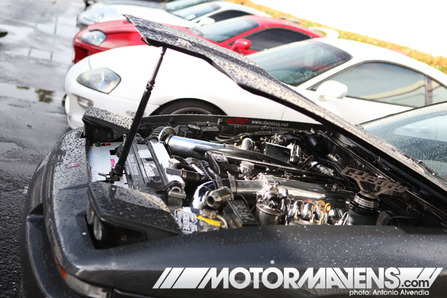 Under the hood of Nick's Supra, you might notice the big obvious GReddy emblem sitting on top of the brake master cylinder… that's actually a GReddy trophy, which was awarded to Nick's car by the GReddy USA staff because it had more GReddy parts on it than any other car at the GReddy Festival at El Toro Airbase in 2008.
Another thing that caught my eye were the Hella lights on the front of Nick's Supra. Those aren't foglights mounted in the OEM headlight location; these are actual Hella 90mm headlights with high beams and low beams. Nick says the headlights alone set him back $400, and he spent an additional $300 back in 2004 to have audio installation/ fiberglass expert Ryan Uchida from Creative Car Audio in Santa Fe Springs CA make custom fiberglass covers for the sides of the headlights to make them look and fit like OEM.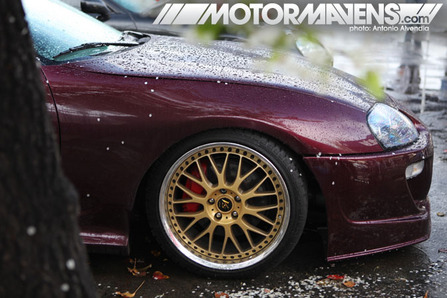 Walking around the parking lot, I also spotted this JZA80 Supra, which was rocking a less common Ridox front bumper and gold Work 3pc wheels. I think the burgundy paint and gold wheels go perfectly together; it's a nice combination.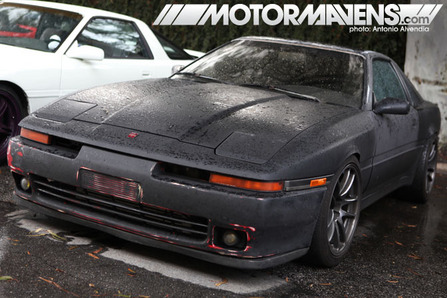 This particular Supra might not have nice paint or expensive 3 piece Works, but it does have a mean stance and an aggressive look to it! It makes me not even care that the paint is coming off the front bumper… I think it looks great thus far. Fitment first. Great looking car.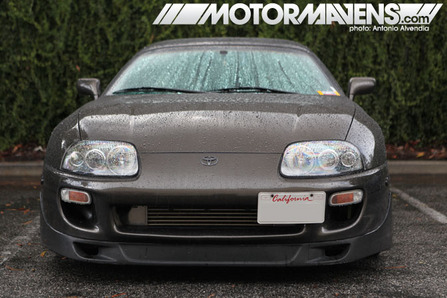 Speaking of great looking cars, I spotted this JZA80 parked on the side of SP Engineering, with OEM Toyota Anthracite paint. This is my absolute FAVORITE color of Toyota Supra! I think the color is so unique, classy and gorgeous. The awesome color is perfectly matched with a GReddy front lip spoiler, which looks awesome in black. On this particular car, I think it looks better in black than color matched to the car. It just works.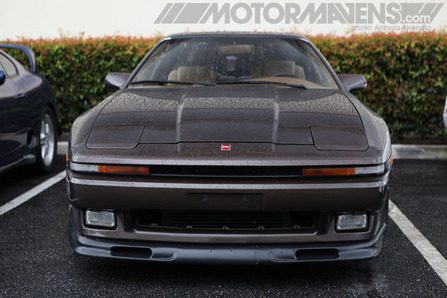 Speaking of brown Supras, this MA70 also had gorgeous brown paint, accentuated by a black East Bear front chin spoiler. Damn! Just look at how awesome that front end looks! The color shows really great contrast in the car, and accentuates the OEM body lines perfectly. How great would it be to have both the brown JZA80 and this brown JZA70 in your garage?!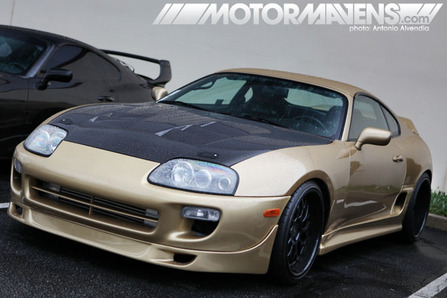 This particular JZA80 also had a nice paint job; I'm sure this color makes you think of the famous Top Secret cars from Japan. In fact, this particular Supra is rocking a Top Secret hood to provide contrast to its Ab-Flug rear wing and DPE SP16 wheels.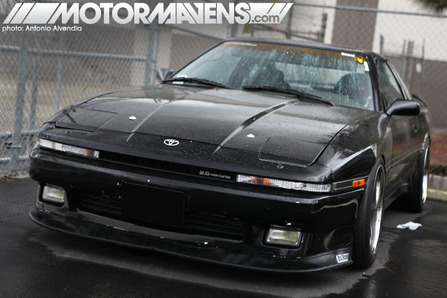 This particular Supra wasn't even in the meet. I saw it parked across the street in another lot, just as a spectator car… but it should have been in the show area for sure! This car had the best stance of any Supra I saw at the meet, and it doesn't even look like it was trying to impress anyone – that makes me like it even more! This car is actually pretty budget… it doesn't have a rare front lip. It actually has a ghetto hardware store garden trim front lip, which somehow looks pretty damn good on this car.
I like the crystal clear bumper lights too, but what makes this car look good? Aside from the stance, it's the shoes… The shoes? It's gotta be the shoes. And how they FIT. Outstanding.
I'll admit… I'm normally not the biggest fan of purple wheels, but for some reason they work on this car. Oh hey, see the DSTROYR sticker on the front lip? It indicates that the owner of this car has good taste. Nice.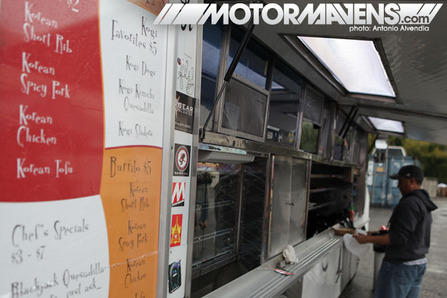 Speaking of good taste, I gotta give it up to the SP Engineering peeps for their hospitality. They actually arranged for the famous Kogi truck to come out to the meet, and hooked up meat to all the people at the event! They had all you can eat Kogi BBQ tacos and burritos at the event. In case you don't know what Kogi is yet, you better try it out asap! Roach coach tacos, burritos, and sliders (hamburgers) filled with Korean BBQ beef (bul kogi, hence the name… Kogi), chicken and pork.
Off the f*cking hook! Follow @kogibbq on Twitter to find out where their trucks are setting up shop next!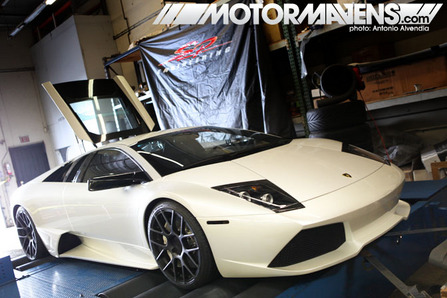 Speaking of setting up shop, SP Engineering has a pretty nice shop setup. I had the chance to walk back into the warehouse, to see what kinds of cars they had on the lift and on their dynos. They had a few GTRs back there (R32 and R35) and another exotic piece of machinery I didn't expect to see… a Lamborghini.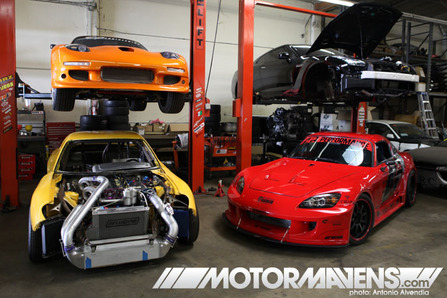 Here's a really quick snapshot that shows only SOME of the cars that were sitting in the service bays at SP Engineering. Disregard the +500 offset wheels on the orange car, and feast your eyes on that yellow masterpiece! It might be fitting that we take a closer look at SP and its projects… what do you guys think?
:: Antonio Alvendia
1JZGTE
,
2JZGTE
,
7MGE
,
7MGTE
,
Ab Flug
,
Antonio Alvendia
,
Bomex
,
Creative Car Audio
,
Do Luck
,
DPE
,
East Bear
,
Equip
,
FD3S
,
GReddy
,
Hella
,
HKS
,
i Forged
,
JZA70
,
JZA80
,
Kansai
,
Ken Henderson
,
Kogi BBQ
,
lamborghini
,
MA70
,
Mike Urbano
,
Nick Stonawski
,
Ridox
,
RX7
,
Ryan Uchida
,
SP Engineering
,
Stout
,
Supra
,
Top Secret
,
Toyota
,
Work
---