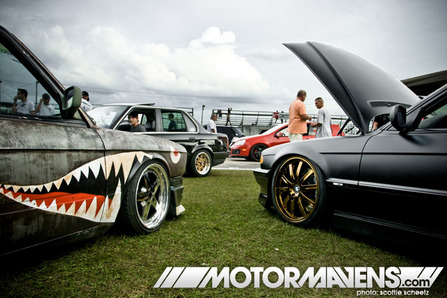 For my first post on MotorMavens, I hope I can entertain you.  My name is Scottie Scheetz and I have only recently become a Florida resident.  I grew up in Northern Virginia, just a few miles south of D.C.  Cars have always been in my life, as I am one who only looks to shops for alignments and welding work (for now, but I will remedy that shortly).  I frequently enjoy taking my car apart just to give me something to do when I am bored.  One thing I am passionate about is drifting.  I have been following it since 2000-2001, and I absolutely love how it has grown. Many late nights and exam study times were spent watching drift videos on any sites I can find.
That's enough about me… Let's talk about the car scene in Florida. Before moving here, I heard lots of talk about Florida having a terrible car scene.  I must say, since I relocated to this amazingly warm state, I'd have to disagree with that completely. My view point has completely changed. There is quite a large scene for car enthusiasts that are into Hondas, VWs, Toyotas, Nissans, etc.  There are car events every weekend, from huge blowouts to smaller 60 car beach meets. I legitimately mean every weekend something is going on.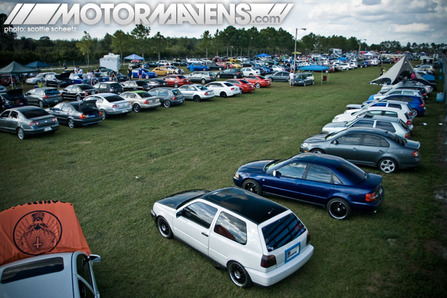 FixxFest is a huge euro car event for the South East and was presented by APR Tuned and USP Motorsports (you know, the guys with the beast mode 9 second Audi S4 featured previously on MotorMavens).  The event was held at Bradenton Motorsports Park, just south of Tampa, Florida.  FixxFest 6 was HUGE. So many cars showed up!  My picture only shows about 1/8th of the total cars on site.  The drag strip was completely consumed on all sides by Euro cars and of course a couple Honda/Mazda/Toyota fan boys, but we had to park elsewhere.
Having met up with my Euro caravan in the morning we enjoyed a rather fast paced drive over the I-275 Skyway and made one final stop at Publix (it's a grocery store) to pick up hotdogs, hamburgers, beer and other goodies.  The only known incident we had at this point was the random older gentleman who somehow managed to back through the first parking space and bump into one of our cars.  Now, just to make you understand how absurd this is, this was not your normal sized one car parking space.  No, this whole parking lot offered the super spaces; the ones which can fit a F-350 dually quite comfortably.  So how this guy managed to back through a full space and then halfway into the next was quite amazing.  Beyond that, road construction offered a beautiful dust cloud to drive through with a freshly washed car.  Perfect example as to why you never leave home without some quick detailer when attending a judged car show.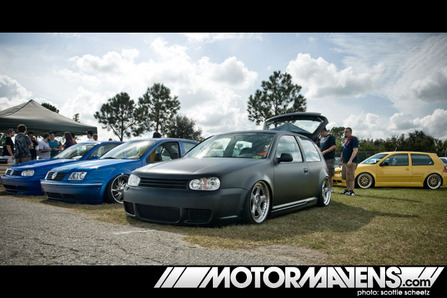 One thing I love about these open shows is the ability to set up a few tents, bring out the grill and coolers (not wine coolers, but since we're talking about it, I find strawberry kiwi tastes the best) and just have a good time with friends.  Just remember something next time a grill is brought to the event.  When people choose which items they will bring, make sure someone selects mustard, ketchup and a spatula.  Dozens of hotdogs and hamburgers were consumed by us, with no condiments… and we were using a flattened tall boy can to flip them.
Anyway, enough of my rambling, onward with the dope status.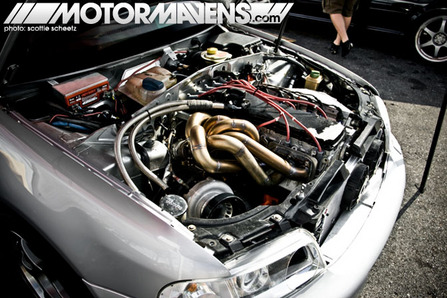 USP Motorsports so kindly brought a couple cars with them.  One of them being their silver B5 Audi S4.  From the utterly stock exterior, one would assume the car is nothing special with the exception of the SSR Competition wheels.  Take a long hard look at the motor and you will be convinced otherwise.  They are using a swapped turbo VR6 motor as their power plant.  Their fastest time slip so far is 9.7 @ 147mph.  Since the last coverage on it, some slight changes have occurred.  The biggest change you will notice in the picture is the manifold, which you can tell has some serious fabrication work.  The sound the Audi created while destroying the drag strip was utter insanity.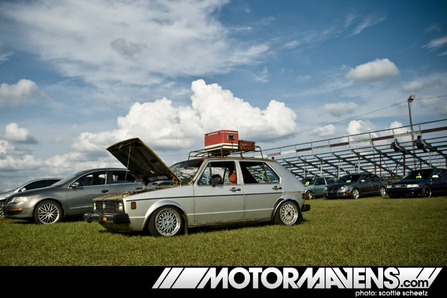 The Volkswagen enthusiasts were definitely in full force at FixxFest.  All models and generations were on site.  In usual VW class, well done rusted cars with patina were afoot.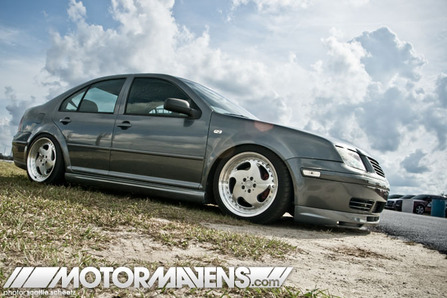 There was not a shortage of clean, slammed cars.  Some were on air and others static.  This beautiful dark grey Jetta sat nicely on polished MAM MT1 wheels.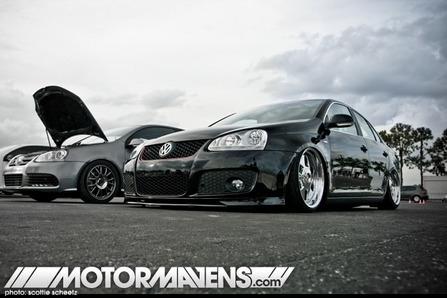 Now I am a fan of drive it like you park it. But I must say, some of these cars on air look amazing.  This fully blacked out Jetta on polished MAE one pieces maintained a great stance with a small amount of wheel tuck. Look at how low this Jetta is! Awesome.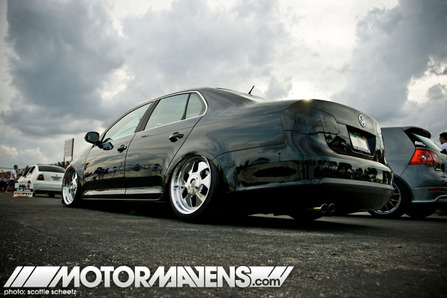 Here's the rear view… wheel tuck for days!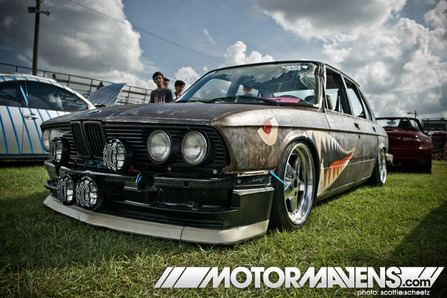 Here is an old E28 Bimmer that many have seen online before.  While the Flying Tiger teeth paintjob has been done before, it fits quite well with the exterior… and this particular car has exceptional attention to detail. The Bimmer brought quite a constant crowd of onlookers during the day.  Not to mention the wheel fitment was spot on and worked wonders with the slammed stance.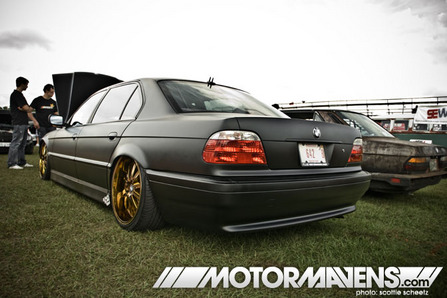 Trying not to steal the show, was an amazingly painted (*note: not vinyl wrapped) satin black BMW 7 series.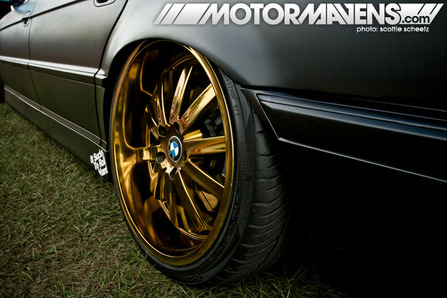 The satin paint matched with the well fit gold painted 20's and a stance which BMW never imagined a 7 series to maintain were just the beginning.  Yes, it does suck to roll hard.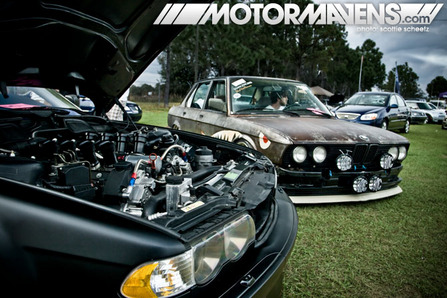 What you do not see until you raise the hood is what beautiful motor work has happened.  The motor was swapped from an M5, transmission included.  A few bolt-ons and ITBs later, the car sounded like a raped ape.  And let me tell you, this car following behind you at highway speeds sounds like nothing you could possibly imagine.  All I know is this car's trip down from Chicago had to be amazing.  Holiday travelers must have been raging when their kids were incapable of sleeping due to the nightmares this Bimmer created!  I seriously wish I could have one for my own (the car, I don't want any children right now). Imagine pulling into the office parking lot every morning, making all your fellow co-workers angry from your 7:30am ruckus.  I'll take one in pearl white with teal wheels please.
Well to close, for anyone who loves the Euro scene don't miss FixxFest next year.  Sure they moved the date back a bit so it would be later in the fall.  But this is Florida; it is still pushing high 80's into December.  Shorts, flip-flops and clean cars just before Thanksgiving, thank you please.
So, are you not entertained!?
::Scottie Scheetz
Audi
,
B5
,
BMW
,
E28
,
E30
,
GTI
,
Jetta
,
MAE
,
MAM MT1
,
S4
,
Scottie Scheetz
,
SSR Competition
,
USP Motorsports
,
Volkswagen
,
VR6
,
VW
---