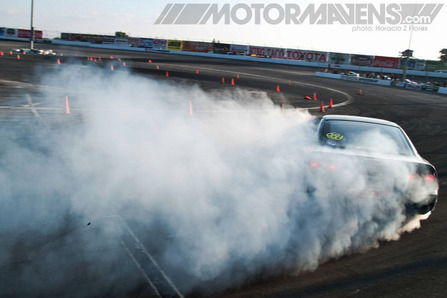 It's true. I'm overdue again on posting my event coverage. This time, the coverage is from the Formula D Pro Am that took place at Irwindale Speedway this past weekend. However, I don't think it's a bad thing necessarily.
While all the other media people that attended the event (let's be honest; there weren't that many) rushed home to be the first to post photos on their websites, blogs, Twitters, and whatnot… I decided to spend time hanging out with my friends instead. I love that I was able to do this and not feel bad (this would be absolutely unacceptable behaviour if I was writing for a different website). But everyone in the Motor Mavens Crew understands. Hell, some of them were even there with me for all the non-car related stuff we did that weekend… like rolling 30+ heads deep to Dino's in Covina for some spicy grilled chicken; or taking Yoshi on a wild goose chase to meet up with some import models at a cafe in OC; or using trucks and trailers with drift cars loaded onto them to make parking difficult in the small parking lot of Flappy Jacks on Route 66, just so that Ray from Garage Autohero could get his traditional American style Sunday breakfast and complain that coffee in California sucks compared to Seattle's. LOL. Oh yeah, but somehow in between all the chillin we did with all our out of town friends that came to Pro Am, we did somehow manage to squeeze in a little bit of time to take some photos.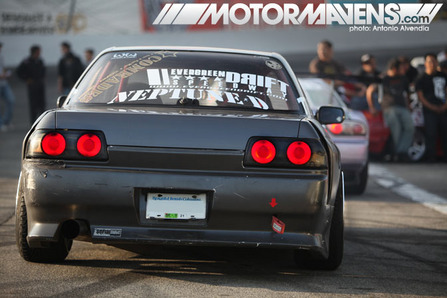 On the grid, one of the cars with the most presence had to be Ian Fournier's R32 Skyline 4-door. It gives us new faith in British Columbia. (That's Canada, for all the ign'ant Americans who are wondering which state I'm talking about) Why does it look better than a normal R32 4-door? Aside from the battlescars, the "R32 style" boxy overfenders make it look tough, as do the wheels, which have polished lips sticking out of the tires. Perfect.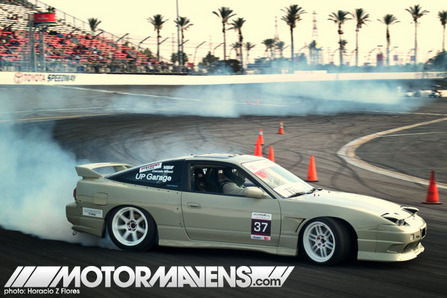 Our regular readers might recall seeing this beige colored RPS13 in our Formula D Seattle stories from earlier this year. The driver is Nikolay Konstantinov, who is a Seattle based drifter with a really good sense of automotive style. Nikolay's car sports a super clean RB engine swap and Japanese OEM aero, and it was great seeing his car (and the smoke trails it leaves) at Irwindale competing in the Pro Am.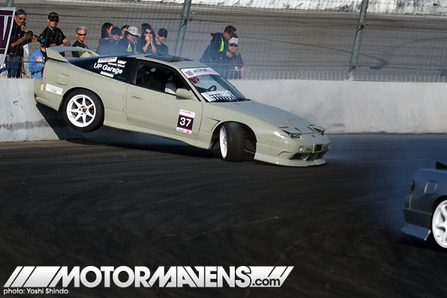 Here's a timely capture by our boy Yoshi Shindo, who happened to be pointing his lens in Nikolay's direction when his RPS13 decided to mix drifting with action sports or parkour (parkour!) and rode up the wall, grinding up the gorgeous freshly painted bumper on Irwindale's hard cement barriers.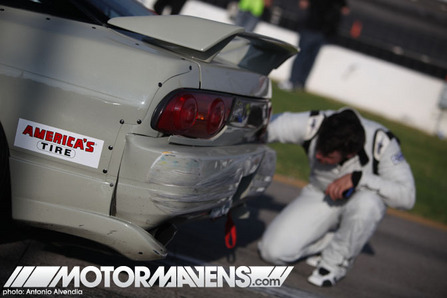 Luckily, Nikolay had his seatbelts on, and emerged unscathed… but his bumper, exhaust and aero definitely felt the effects as he joined the ranks of the many drivers to join the Irwindale "Wall Club" that was founded in 2003. Here's Nikolay checking the car out back in the pits. Luckily, the damage wasn't too bad. Looks like it was just confined to the rear bumper, JDM center panel underneath the kouki taillights, and the exhaust (as far as we can see from the photo). I'm sure this car will be gorgeous again in no time flat.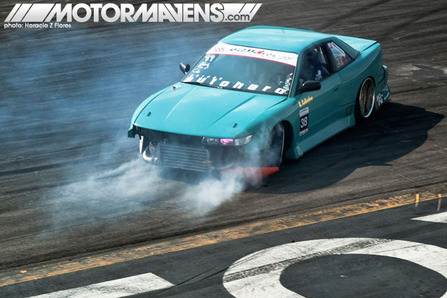 Speaking of Seattle drivers joining the "Wall Club," Team Instant Party's Roland Gallagher used his teal S13 to sign his name on the wall on the Friday practice before the main event. Roland had many people wishing him well after seeing his car's recent write-up on Motor Mavens, but unfortunately he drove a bit too aggressively during Friday's practice after he switched to a different set of wheels and tires.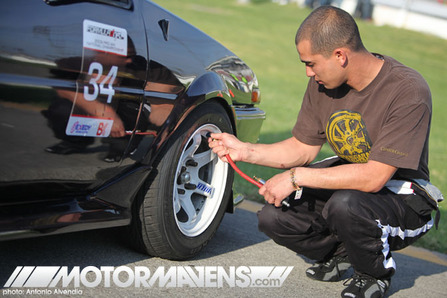 It was great to see all the progress being made by Just Drift driver Keith Wong, who Lives The 86 Life for sure. Keith is a cool guy from Redondo Beach CA who has been honing his drifting skills for quite a while. I remember him because he always used to buy AE86 related shirts at the Cipher Garage booth whenever we would sell stuff at events, and the I began seeing his OEM blue kouki AE86 (OEM blue was before he painted it) out at events like Just Drift at Willow Springs. It's awesome that he has made it so far (getting to Pro Am isn't easy!) in so little time.
RESPECT, Keith!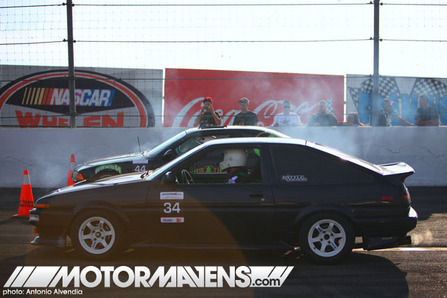 Here's a shot of Keith's kouki AE86 lining up at the grid with an E36 BMW M3. Keith's AE86 probably has half the torque that the M3 has… but it does have a set of light weight Volk Racing TE37 wheels in 14×7 with 0 offset, which reduces unsprung weight and makes up for the lack of torque… err, just kidding! They just look cool. But yeah, they are pretty light. But I dunno about making up for torque. I was just making stuff up at that point.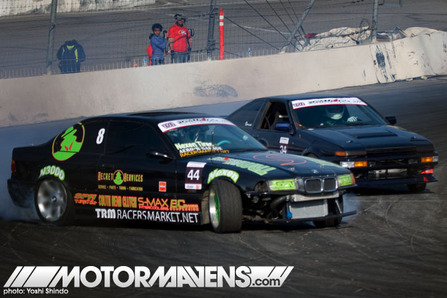 Regardless of how much power and torque his car has (or doesn't have), I was impressed that Keith was able to keep up with the M3 and chase him into the infield! At the end of the battle though, the Texan E36 BMW driver Chelsea Denofa won the bout and advanced to the next round.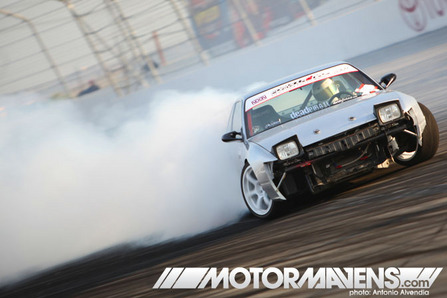 One car that seemed to just impress the hell out of me was Stewart Leask's LS1 powered S13 Onevia. Such an awesome looking car – super clean and driven hard! I don't know too much about Stewart or his car, and I was hoping he would bring his car to meet up with us for breakfast with the other drivers, but he decided he wanted to GTFO of Cali and go back to all his exes in Texas ASAP!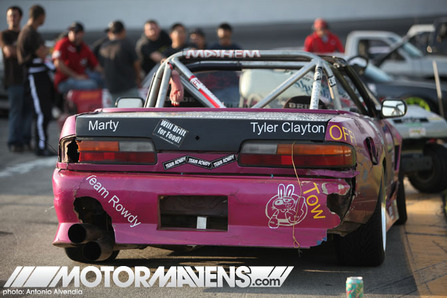 I kind of chuckled when I saw this car… The Motor Mavens crew thinks Team Rowdy is just awesome, and by the looks of this S13 convertible, they sure picked a good name for their crew. This whole car looks like it's held together by more stickers and zipties than actual bolts. Team Rowdy also has some pretty awesome "team stickers." You need to get yourself some.
That's it for now… check back for a lot more photos from Irwindale very very soon!
:: Antonio Alvendia
Photos by Antonio Alvendia, Horacio Z Flores, and Yoshi Shindo
More Irwindale Pro Am photos, stories, and videos on MOTOR MAVENS
---