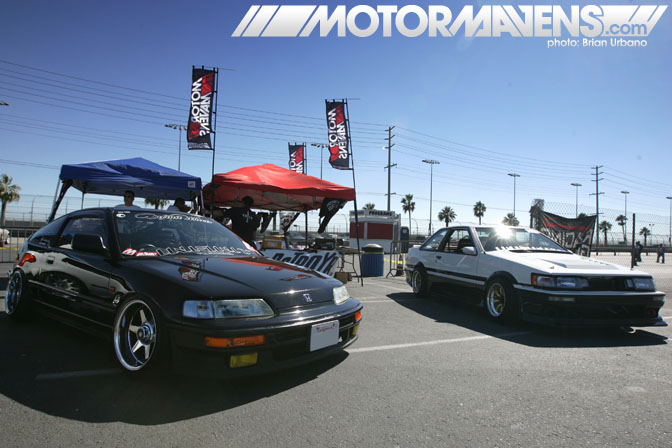 This weekend, the members of the MotorMavens Crew were straight up hustlin. (When are we not?) As a collective, we spread out to cover FIVE events in different geographic parts of the world. In Southern Cali, the first event we hit up was the IDRC Finale at California Speedway in Fontana, CA. We knew this weekend was going to be hot… real hot. At California Speedway, deep in the Inland Empire, the temperatures reached 107 degrees, but on the track it felt even hotter, with heat bouncing up off the tarmac, penetrating through sunblock and clothing to sizzle the skin of event goers. To be honest, hardly anyone from the MotorMavens collective was super excited to bake in the sun on Labor Day weekend. We wanted to chill out in the air conditioned comfort of our homes, or head to the beach to hang out and enjoy all the beautiful scenery of Southern Cali's last days of summer.
However, a couple weeks ago, we received a call from DSPORT Magazine's Marketing Director, Tobin Honda, asking for MotorMavens help in promoting the event, and we made a commitment. In the automotive aftermarket industry, there are often times when people make a lot of promises, but they don't have much follow through… Motor Mavens tries not to be like that. Since we're always out at events speaking to car owners and such, we made a concerted effort to promote the car show and the drag event, and we were extremely happy to see many of our good friends in attendance, showing their support!
Parked right by the MotorMavens x DSTROYR collab booth, we had two fatlip wheel rockers from the Infinit Wheels crew. Shannon's panda AE86 Levin parked out front has been seen in previous event coverage stories we've run, and you can be sure to see more of Anthony's RHD Infinit EF8 CRX SiR on our site in the future.
With help from Ryan and Lisa Uchida from Creative Motorsports, David Huang brought out his 2JZGTE powered SXE10 IS300, which is a previous DSPORT Magazine cover car (remember the issue with Leah Dizon on the cover?. I'm sure you've seen David's car before, but I just wanted to point out the great details of this car. Aside from having it built with pretty much HKS everything, it also has every Ikeya Formula suspension piece available to the IS300. Check out the humongous purple air horn on the HKS ball bearing turbo – I can't wait for DH to get this thing dynoed so it can see some trackdays! =)
Abraham Ceja from the San Fernando Valley's Infinit Wheels crew brought out his super clean EG6 Civic hatchback, sitting super fresh on his old school mesh in front of the Infinit Wheels booth. Can anyone guess what kind of mesh wheels those are?
On the other side of the track, this old school Primer Mafia Volkswagen Beetle looked pretty cool on the dragstrip. I like the two tone paint job, minus the orange peel. (It's cool… it's a race car!) Either way, the Beetle looked pretty stylish at the track, and definitely attracted my attention.
One of the things that made me take a second look was the engine out back! Check out the huge Turbonetics turbo, turbo manifold and… a carburetor!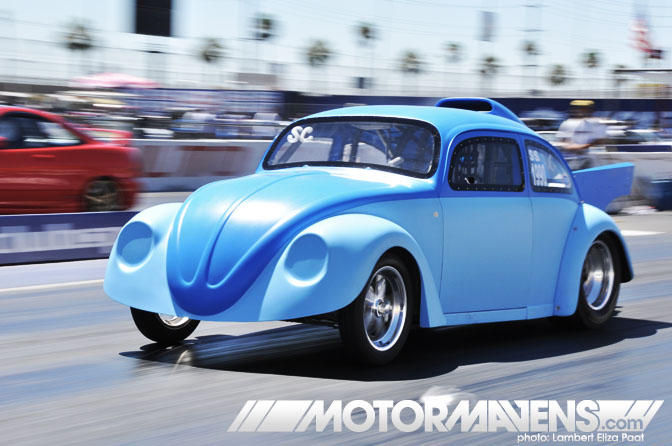 I didn't realize IDRC was such a popular event for drag Beetles! This satin blue Beeetle looked pretty interesting with its full fiberglass aero, chop top, Lexan windows huge rear wing and roof scoop. This is a nice photo capture from one of the new shooters on our crew, Lambert Paat. Good job, man!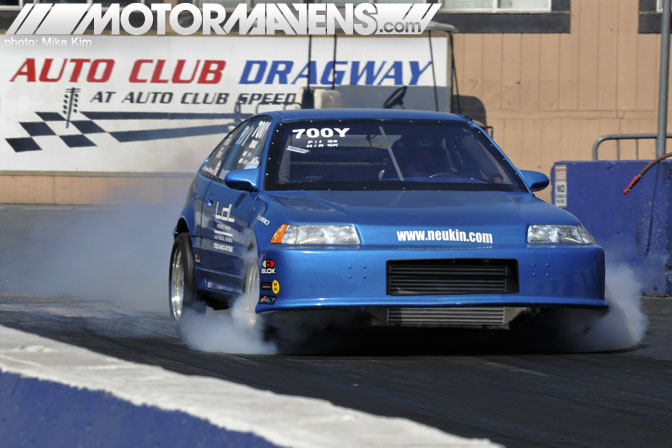 On the other side of the track, I was standing with the MotorMavens Crew's resident Apple computer expert, Mike Kim. Mike captured this burnout photo of the LDL Speedshop Honda CRX, which is a regular at Honda drag events! I've never been to LDL in Las Vegas myself, but I heard of the shop when I was first learning about cars. Back then, LDL was based in the San Francisco Bay Area, and they specialized in building old school Toyotas. (Ah! See the link now? That's how I heard about the shop… I bought an AE86 that had a knife edged crank done by LDL.)
Check out the fiberglass front end, which has no vents or openings, aside from the one in front of the intercooler, ensuring that all air rushes into the humongous intercooler, which is also sticking out underneath the car.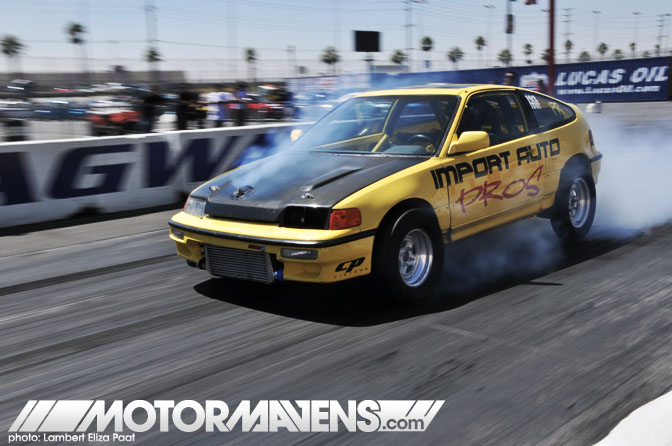 From the opposite side of the track, here's a more normal-looking CRX, from Import Auto Pros. I'm sure this car is pretty developed too, being turbocharged with an exhaust ported out the hood like that – that's pretty cool! I also like those drag wheels (What kind are they? I dunno? Are those Bogarts?), cause they look like SSR Mk-2 wheels. 😉
It's hard to imagine seeing an import drag race without seeing an EG6 Honda Civic hatchback. These cars are the staples when it comes to import drags, and it's pretty much my favorite FF Honda body style. Here's a clean white EG doing a fatty burnout. Nice!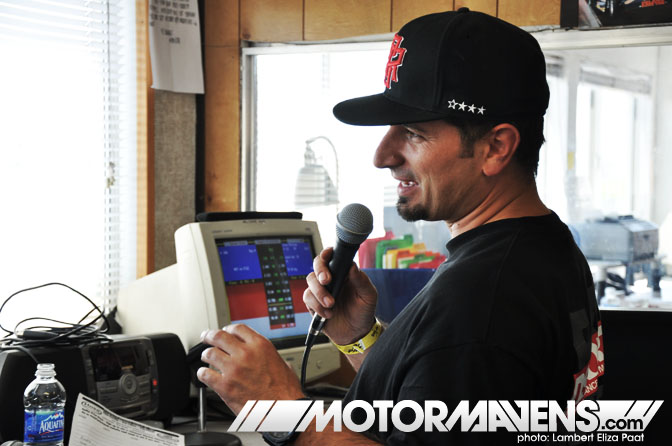 Soaking up the air conditioning and shade inside California Dragway's trailer park "timing tower" was DSPORT founder Mike Ferrara. Mike is always the announcer at IDRC events, and is seen here rocking the collaborative shirt and hat that DSPORT produced with our East Coast family, the Eat Sleep Race crew! To order ESR gear, make sure you click the link on the side of our blog.
Anyway, I gotta give Mike props. He was previously the editor of Turbo Magazine and founder of Import Tuner, but he broke away from the big publishing giant who makes those magazines, and he started his own small magazine, which focused on the drag racing industry – Drag Sport.
When it first launched, Drag Sport was kind of larger format (larger size than a normal magazine), and since it was extremely focused, it had no problems getting advertisements from all the drag specific shops who were part of the scene. It must have been tough for Mike to start up a new venture and compete against a big editorial giant (one that he helped to create and make strong), but his magazine has since grown up and expanded into more than just drag racing (hence the name change to DSPORT), and it's now a standard magazine format, with perfect bound (this means no staple on the end of the magazine) glossy covers. Now you can find DSPORT in all major bookstores and 7-Eleven stores too. Not too shabby, Mike. Respect!
I love hearing stories of people who successfully broke away from the bureaucratic BS of big corporations to establish their own, successful start up companies. It's quite the inspiration for people like me. Hmm… maybe I should start blogging about stuff like that on another website. To be honest, this is the stuff I read about frequently… I find myself more enthused to read stories about this stuff than cars sometimes, because it provides me with the inspiration I need to keep fighting the good fight!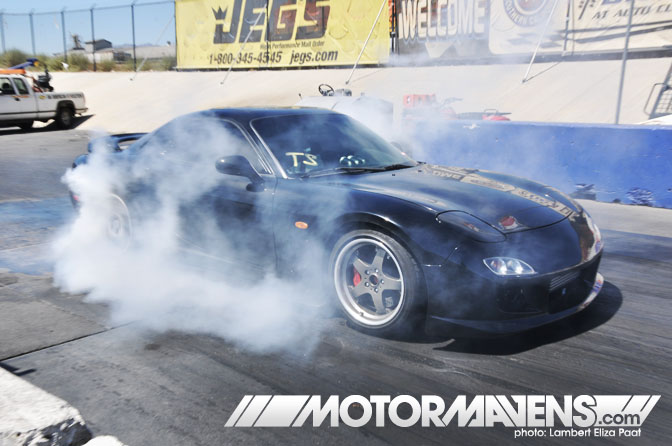 It's been a while since we've seen an FD3S RX7 at the dragstrip. I remember when drag racing was a lot more popular and seeing FDs drag was a more common sight. It was really cool seeing Adam Saruwatari and his BASF chameleon purple and yellow A&L Racing FD making high speed passes down the 1320… or even the Kaaz LSD-sponsored red FD3S from RX7.com.
This was back when drifting was still underground, and the only place you could see drifting was in old Battle Magazines and Video Option VHS tapes; this was back when people referred to drifting as a fad. Remember that?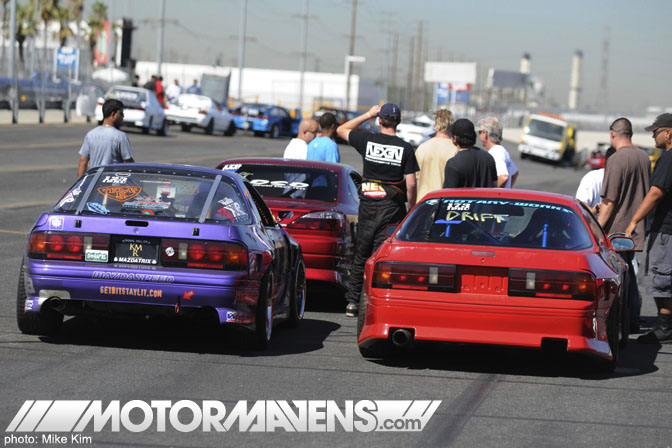 The black FD in the previous photo certainly wasn't the only rotary in attendance. Kyle Mohan brought out his purple FC3S, and Rene from the Jeff Jones' drift team brought out his red Rotary Works FC to run at IDRC and show these draggers that drift cars are fast too!
Seeing these two FCs together definitely looks cool… it's just kind of weird to see them stage up for something that isn't a drift event!
While Kyle Mohan came out to the track in the 107 degree weather wearing a full driving suit, Ross Petty from Garage Boso clearly thought, "Forget all that noise. It's my day off!" The Boso crew was out at the track, up to their usual antics. They were selling spare car parts… and sex toys from Japan at the track. LOL I'm serious!!!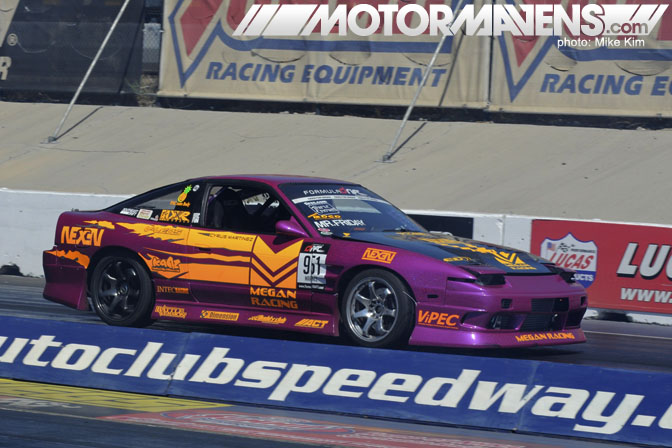 Here's Cyrus Martinez from Megan Racing lined up to drag. In case you're wondering why I'm not posting up all the timeslips of the individual drivers, it's because I've agreed to let people get that info directly from DSPORT Magazine. Gotta support the organizers!
The funny thing is, a lot of drifters didn't even know HOW to drag race. Here's our boy Pat Mordaunt at the starting line, getting instructions from the track marshal. I can just imagine Pat pulling up to the christmas tree saying, "Wait… what do I do?" haha!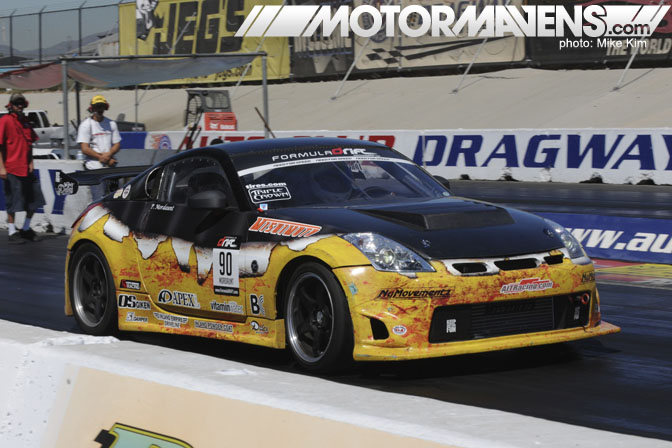 Here's Pat again, getting ready for launch. I'm sure it must have been pretty tough for drifters who have never drag raced before to get accustomed to launching a drag car! I gotta admit, I used to knock drag racing, until I tried it myself. Launching a car with a good reaction time is not easy, I can tell you that much!
I'm pretty sure that the fastest car in the drift class belonged to none other than Ross Petty. He and his partner Frank brought out the Garage Boso S15 Silvia with all its normal drift settings… except they actually got a set of slicks and mounted them to their rear tires. They shaved off all the markings on the tire, telling me that "they were a secret experimental Falken drag tire" (haha!) that helped them grip the VHT-laden dragstrip. If I remember correctly, Ross did an 11 second quarter mile pass. With a drift car!
Back in the pits, I spotted this EG Civic coupe, with a drilled out rear bumper and wheelie bar. I think seeing purpose built drag Hondas is pretty cool. I like seeing the style and technical innovations that people are using. This must have been pretty damn fast – it even had a parachute!
Towards the end of the day, I met Julio Alvarez, who won Second Place in IDRC's Honda class, with his Bisimoto-sponsored Acura Integra. Julio told me he was honestly pretty disappointed, because he was gunning for First Place, but he was having some technical issues. I guess the car has to go back to Julio's shop, L&T Japanese Automotive in La Puente and Bisimoto in Ontario for more tuning and wrenching!
Oh… and before I forget… while walking around the pits, I made some new friends. Their names are Kerryann and Michelle. If you want to see more of these ladies, please voice your opinion by leaving a comment. If enough people are interested, I'll post up some larger photos of them in the next update from IDRC!
Okay, that's it for now… stay tuned to MotorMavens for more photos from IDRC and the car show at the event!
:: Antonio Alvendia
Photos by: Antonio Alvendia, Brian Urbano, Lambert Paat, and Mike Kim
Post your photos (and see more of our photos) from Drifters vs Draggers at IDRC!
2JZGTE
,
7 Eleven
,
A&L Racing
,
Abraham Ceja
,
Adam Saruwatari
,
AE86
,
Battle Magazine
,
Beetle
,
Bisimoto
,
California Speedway
,
Civic
,
CRX
,
Cyrus Martinez
,
Drag Sport
,
Eat Sleep Race
,
EF8
,
EG6
,
FD3S
,
Garage Boso
,
IDRC Finale
,
Import Auto Pros
,
Import Tuner
,
IS300
,
Julio Alvarez
,
Kaaz
,
Kyle Mohan
,
L&T Japanese Automotive
,
Lambert Eliza Paat
,
LDL Speedshop
,
Leah Dizon
,
Levin
,
LSD
,
Megan Racing
,
Mike Ferrara
,
Mike Kim
,
Pat Mordaunt
,
Ross Petty
,
Rotary Works
,
Rotary Workz
,
RX7
,
S15
,
Silvia
,
SiR
,
SXE10
,
Turbo Magazine
,
Turbonetics
,
Video Option
,
Volkswagen
---