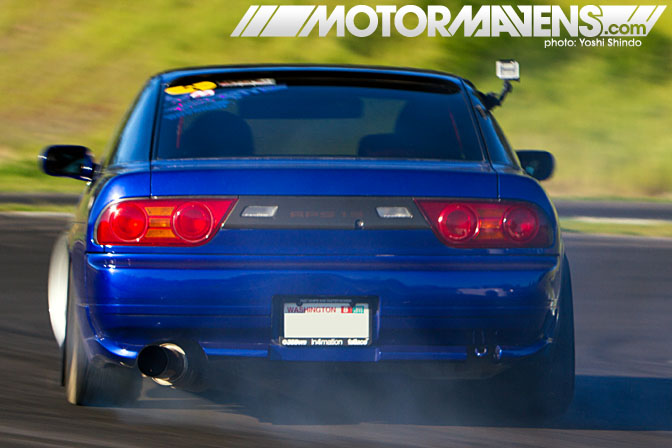 Around this time every year, school is finishing, with the stress from class and tests ready to be let out. For some, it marks a changing point; a time to move on, ready to take on the world… or off to the next phase of school after the summer.
Luckily for us, it was Rob Primo's graduation day on Saturday June 12th, because after several years of school, graduating with an MBA from Western Washington University, he went out with a bang, holding the second drift event at Pacific Grand Prix, inviting about 26 of his drifting friends and even more spectators. I couldn't think of a better way than drifting to celebrate and let loose after learning things like how magnets and rainbows work!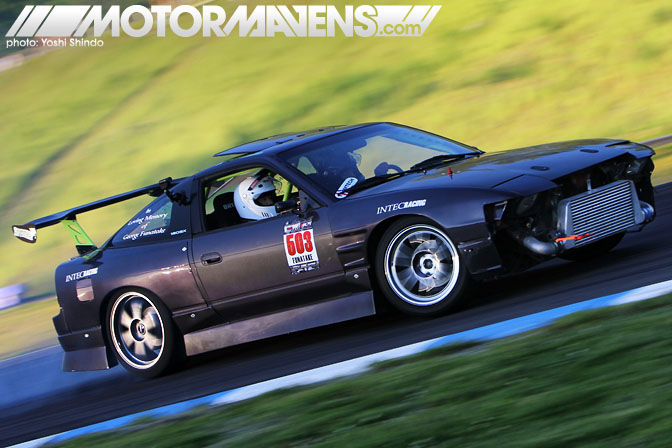 Peter Funatake from Portland, Oregon made it up for his first crack at the PGP. Ever since the events have stopped in Oregon, we have seen the dedicated guys come up to Washington more often to keep their hobby alive. Peter, like many of his peers, is competing in the Evergreen Pro Am Series in hopes of gaining his pro license. Formula D Seattle is just around the corner, and I can not wait!!
These events are quickly becoming popular in the Northwest. The excitement for the drivers combined with the proximity of the spectators is becoming second to none. There was also live music by DJ dunnDirty, concessions, and vendor booths that include clothing companies RAW(Ready and Willing) and Cakeface Clothing. Even the NOS Energy crew was in full effect.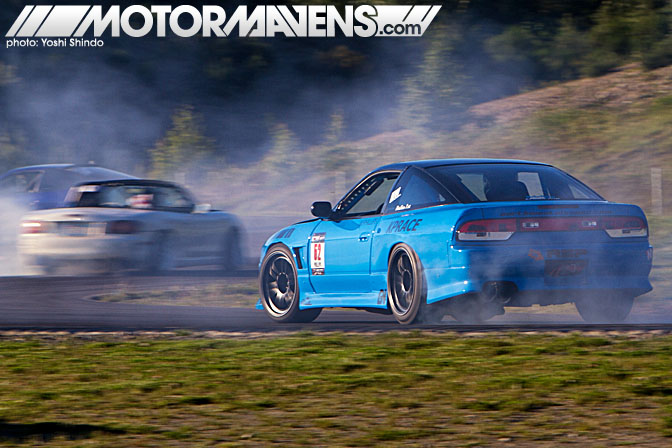 Mike Phillips made it back for his second event at PGP. His bright blue S13 hatch is unmistakable in the line of cars on the grid. Mike is always at the drift events in Washington, and getting better each year. His family always comes out to support him, and it's really great to see people support their loved ones (wish mine would, HINT HINT!). Mike will be also be in the Evergreen Pro Am series. He is no stranger to the track, as he took Second Place in the first round of the series, second only to R32 Skyline driver Ian Fournier, who is already a pro. A pro in the Pro Am series?! C'mon son! LOL Haha, the amateurs are cool with it though, since the FD licensed drivers don't get counted for any winnings or placements.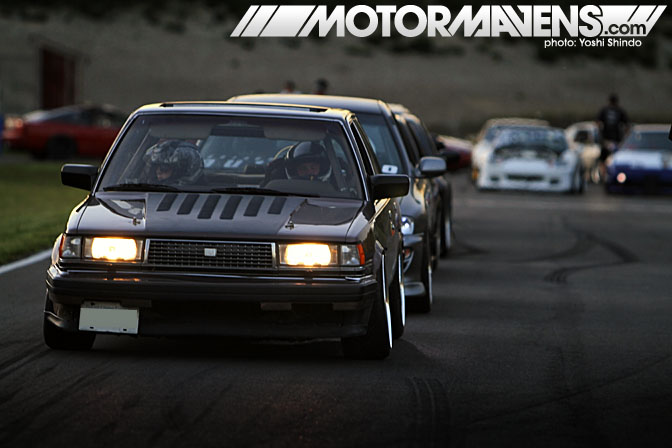 It was an even warmer day than the last event; so much so that a few car owners even took off their hoods. We usually don't have blazing hot days in the Northwest, so drifting in the heat isn't something we have to worry about too often, but even our hot days are pretty manageable. I wonder how most of our cars would do at an event down south though… they would be hittin the H on the gauge I bet.
This here is Kevin Petersen's super sick Toyota Cressida from Serial Nine crew. Damn, that car is dope.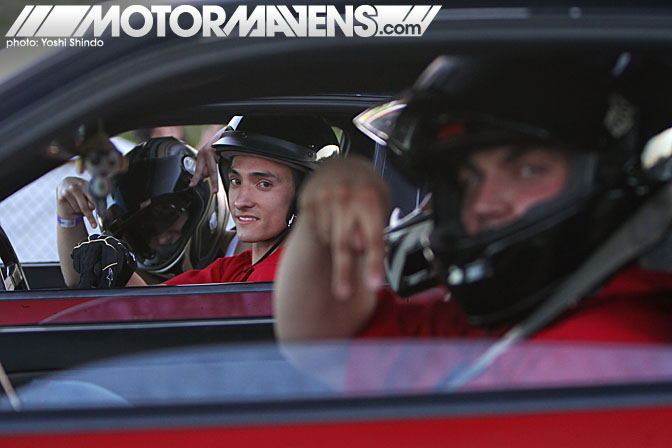 The A-Team was out in full force again, in more numbers that before. Last time it was just Chris Crisostomo and Nikolay Konstantinov who were tapping bumpers all day, but now Darren McArdel was added to the team since old school founder Earl Smith moved to San Jose, CA. You may know Earl by his truck converted FC3S covered in sparkle red vinyl. If you see him out around San Jose tell him whats up, but I digress. Nikolay, Darren, and Chris all have KA powered S13 240SXs, so they purposely went out in a group together and reminded us all of why we fell in love with drifting in the first place.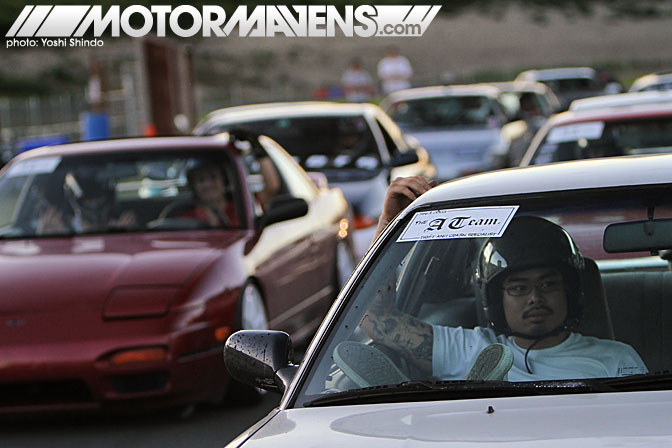 You can't see Darren himself this picture of the grid, but you can see the new team sticker he put on before the event.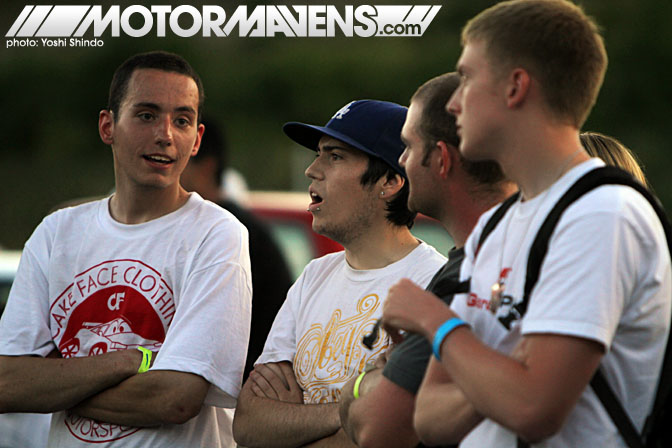 Newcomer to PGP was Tyler "Twisty" Archuleta (pictured on the left). Tyler has really been a help around the NW drift scene; always helping out wherever he can by running the tech for Evergreen and flagging. If you ever make excuses about your car's performance and it's power then you need to stop now… because I wont believe you after seeing Tyler in his single cam KA S13. To be honest, if Tyler ever gets more power (or even a turbo) I may be slightly sad, because its so awesome to see him manhandle that thing. Being new to the track did show a slight learning curve though, as twice in the same spot Tyler went off track rear wheels first and high-centered on the edge. I guess if you drive all out in a single cam that's as bad of a wreck that can happen!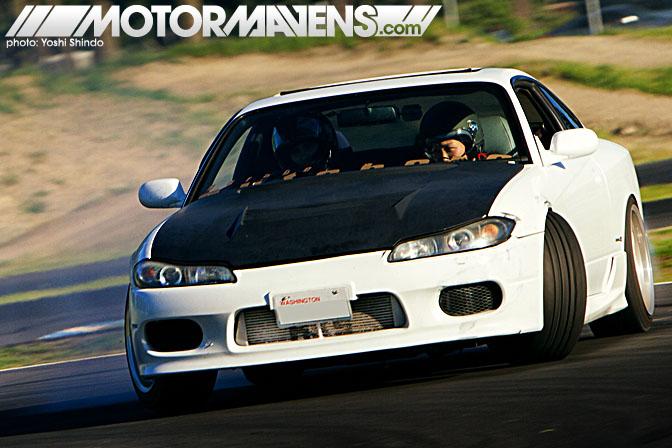 Tristan Gay returned in his S15 Silvia with the same old rear end that was in it before, but not because he didn't try to swap it. I am not all nerdy about the mismatch of Nissan rear end parts, but he needed some different input shafts or to have his current ones machined, at any rate it didn't work out and he made do with the helical. He threatened to take his Datsun 510 out to the next event, and as much as i like 510s, I would much rather see his S15 out there again. That's just me though.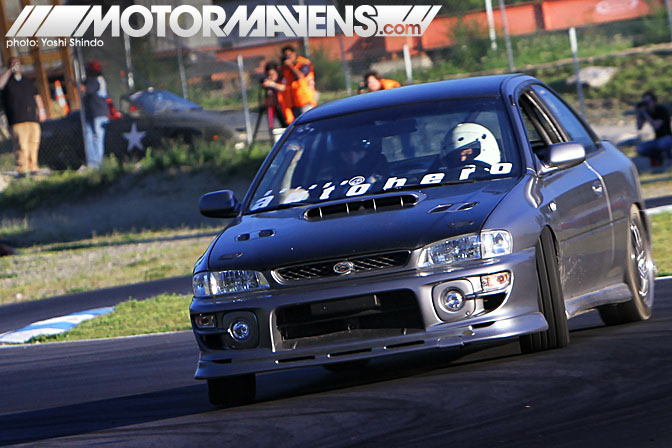 This guy made a drift car. From a Subaru. Why? Well, I asked him that question not too long ago and the only answer was because he wanted something different, and I guess you cant argue with that! Stephen Trigueiro has been around the Northwest scene for a while, but he has only recently come back into the fold of the NW drift scene. In fact, I'm sure most of you are already familiar with his previous drift car, as it is currently Gleb Antonov's blue BN Sports blister kitted RPS13. Of course, before it turned into that, it was black with a complete OEM kouki body kit on it.
This car, however, is a Subaru 2.5 RS fitted with an STImotor, with the rear modified to use an R200 rear differential from a 240sx. This car is absolutely beautiful, although try as I might, he won't listen to me when I say he should lower it and get some stretch on those wheels! Oh well, it still looks good Steven. This car is officially a drift car; later in the day, he had a run in with one of the plastic barriers and dented his door pretty well. Most was pushed back, and if he cared, it could get better… but why?! Just rock it with the scars of living.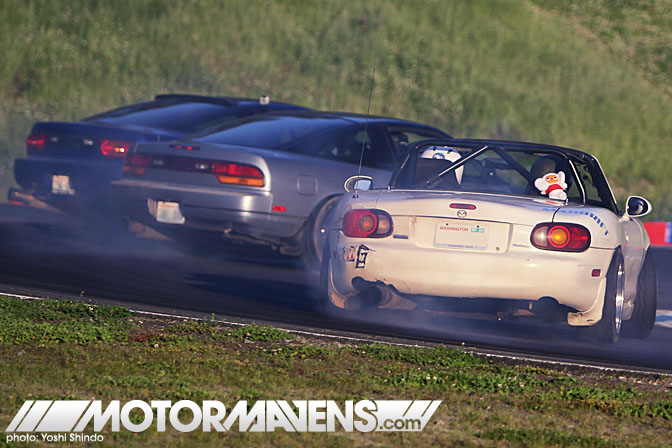 I leave you with this picture that inspires me every time I look at it. Rob Primo, Nathan Feigion, and Mike Lukomskiy. You could tell me that this picture was taken in 2001 in Japan and I would believe you if I didn't already know these guys.
Once again, we had a great day out on the track, burning rubber and having laughs. 2010 is off to a great start out here in the Northwest. Rob was able to get some special edition CakeFace shirts made for the event, and then our own Abbitt Wilkerson made some special edition stickers that were given out to the drivers. It's a real treat to get some cool stuff to have us remember the day by.
Coming up, we have Seattle Formula D where the MotorMavens Crew will be repping pretty hard. Look forward to that, because I sure am! Please stop by the MotorMavens booth at Formula D Seattle, because we'd love to meet everyone!
:: Lucas Perez
240SX
,
Abbitt Wilkerson
,
Avon Bellamy
,
cakeface clothing
,
Chris Crisostomo
,
Darren McArdel
,
Evergreen Pro Am
,
Lucas Perez
,
Mike Lukomskiy
,
Mike Phillips
,
Nathan Feigion
,
Nikolay Konstantinov
,
Pacific Grand Prix
,
Peter Funatake
,
PGP
,
Rob Primo
,
S13
,
S15
,
Stephen Trigueiro
,
Tristan Gay
,
Tyler Archuleta
,
Yoshi Shindo
---