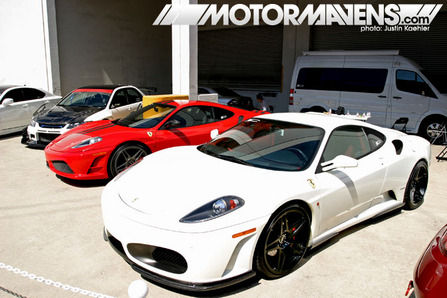 Living close to the beach, as I'm sure you are aware, certainly has its fair share of advantages, most of which I've grown numb to. Sure, I can enjoy a nice dip in the ocean every now and then, but dealing with the crowds and limited parking associated with a day at the beach does start to annoy after awhile. So much so that, despite living mere minutes from the ocean, I prefer to spend my free time sitting in the comfort of my home watching reruns of Dr. Who.
One of the many benefits of beach living I now take for granted is the constant cooling effect of the ocean breeze. The weather in my 'hood is always mild and pleasant, and if I ever see the thermometer crack 80, I panic and feel that my life, if not the world, will immediately come to a global warming-induced end. Moderate weather is good weather, and it is for that reason I humbly suggest that carbon fiber goods manufacturer Seibon ditch its grounds in Walnut, CA and move west towards the ocean.
Seibon just so happened to hold its Customer Appreciation Day smack dab in the middle of a heat wave. As the hills across California burned to the ground, the ground at Seibon was cooking me alive with an ambient air temperature of 108 degrees. The acres of asphalt surrounding Seibon's warehouse trapped this heat, melting my shoes and roasting my feet in the process. The sky-high temperatures made me want to cry like a little girl and run home, but as I made the hour-long trek from the beach to the 626, I did my best to man up and tough it out.
I showed up late to the party, and from what I've been told, the unbearable heat caused many die-hards to pack it in early and retreat to air-conditioned ground. Only the heartiest of manly men were able to bear the burden of the incredible heat for the whole day, many of whom just so happened to have been the industry's elite. Some of the big names we spotted on the Seibon grounds included Alex Pfeiffer, Chris Forsberg, Joon Maeng, "Patty Cakes" Mordaunt, and the Bergenholtz brothers.
The weekend's insane temperatures fried my brain a bit, resulting in this article about a whole lot of nothing. But I did manage to remember how to operate a camera, so I took a few snaps. Scroll down to check out the cars of Seibon's Customer Appreciation Day.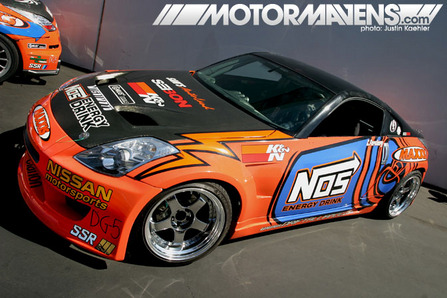 Chris Forsberg brought out his old hardtop Z33. It was great to see this car again – it felt like catching up with an old friend that you haven't seen in a while.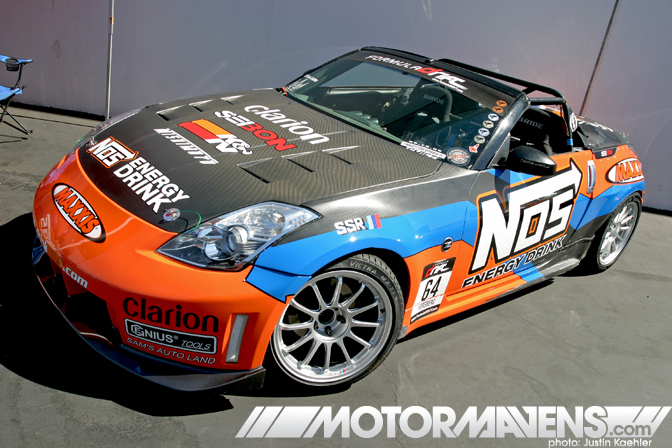 Alongside Forsberg's famous old 350Z was his current open-top Formula D machine. I'm sure everyone knows all the specs and has seen millions of photos of this car, so no need to elaborate more.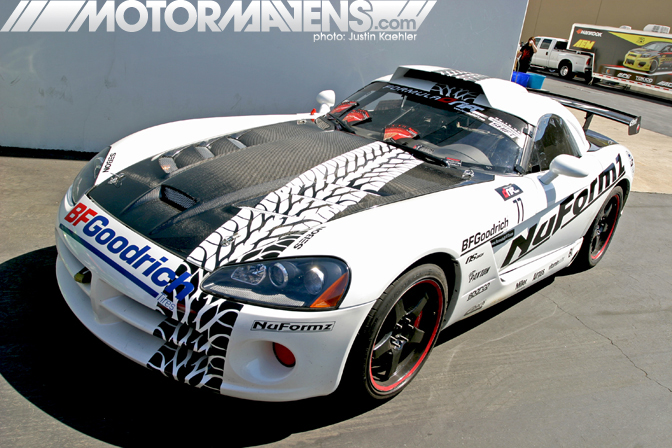 Now that Chrysler is all but dead, Samuel Hubinette's Viper now rocks a NuFormz livery. I'm probably the only one on the planet who thinks this, but I kind of miss the chrome paint. In fact I heard someone at the show voicing their opinion about how this new livery doesn't look as stylish, especially with that big tire tread going diagonally across the car, as if another car ran it over.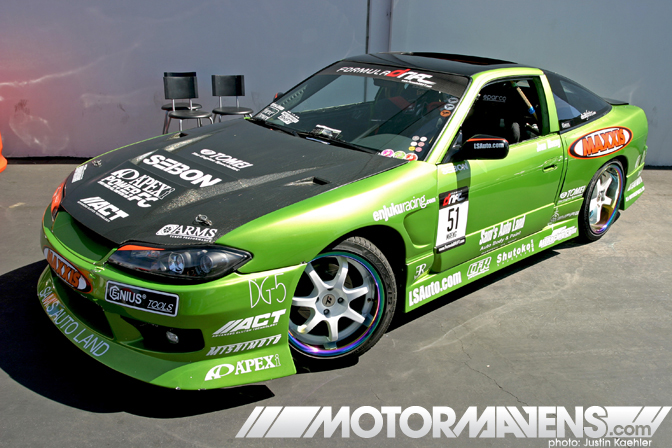 Joon Maeng brought out his S13.5. Despite being a privateer and paying for everything out of his own pocket, he makes it out to all the Formula D events and also brings his car out to special events to support his sponsors. I don't think there's anyone out there who doesn't like Joon – great driver with a great personality!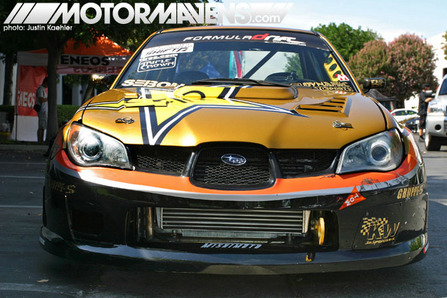 Eric O'Sullivan was nowhere to be found, but the Dynamic Autosports Hankook/Rockstar Subaru WRX that podium finished in Seattle and is the newest DSPORT Magazine cover car made an appearance at Seibon's Customer Appreciation Day. Thanks for rocking our stickers, Dynamic! =)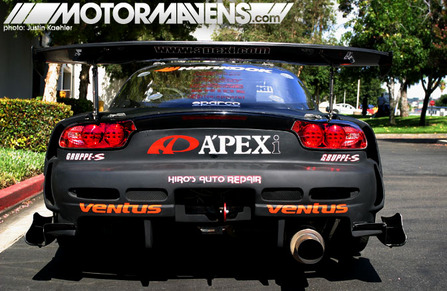 Ryuji Miki's A'PEXi FD RX-7 went from "meh" to badass when it adopted this flat black/red paint scheme for the 2009 FD season. It looks all crazy now with the R Magic aero kit too!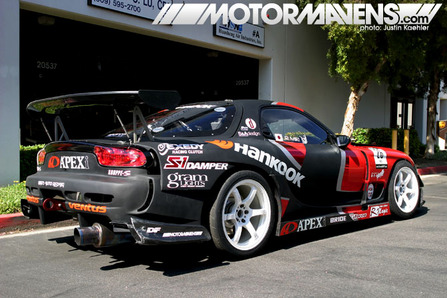 For some reason, the guys at Apex'i always know how to make their cars look good. It's definitely one of my favorite cars in the Formula D 2009 series.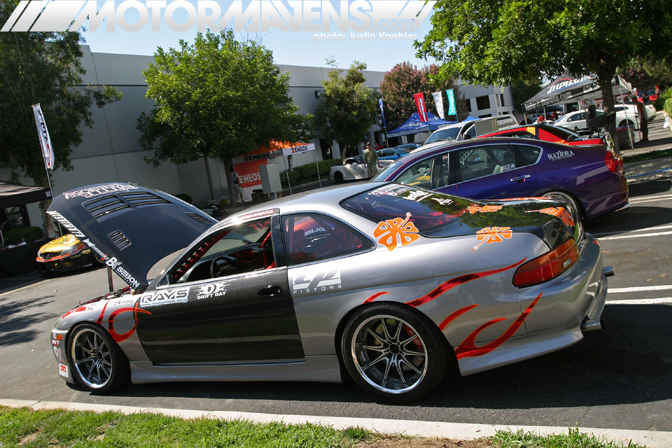 Alex Pfeiffer's 2JZ-powered Lexus SC, with a Hawaiian graphic scheme that matches his helmet. See that interior paint? It's not paint! Alex is crazy! He POWDERCOATED his car! Yup! True story! I can't wait to see it in competition.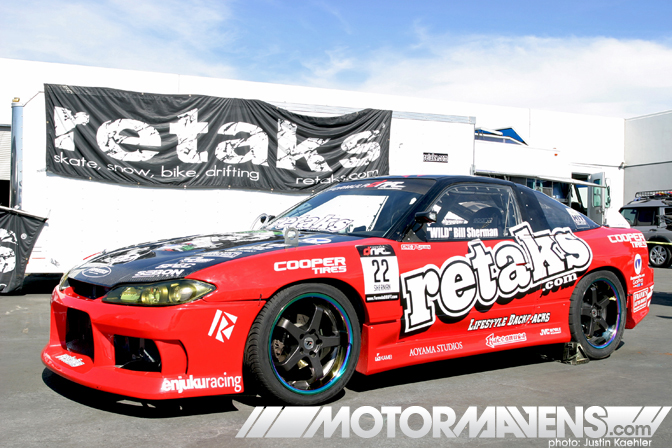 Retaks brought out Bill Sherman's S13.5. No matter how nicely I asked, I couldn't convince Dave from Retaks to hook me up with a backpack…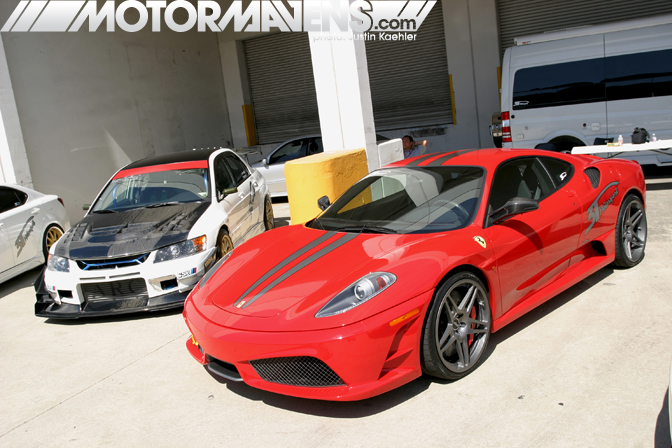 Forget the Ferrari, the white Evo above was my favorite car of the event. Too bad it was roped off – otherwise I would have crawled all over it to get some better shots. Of course, perhaps it is for the best that it was behind an imposing plastic chain, as I might have been tempted to inappropriately lick the thing. Like David Lee Roth, I was getting crazy from the heat.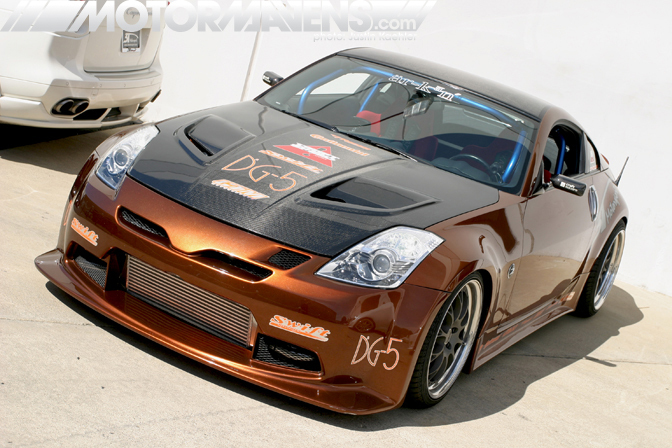 Not too sure how to spell the team name, but you say it like Arken. This Z33 350Z was rocking top quality suspension – DG5 coilovers and a Cusco rollcage. Very nice! Nice rear wheels too.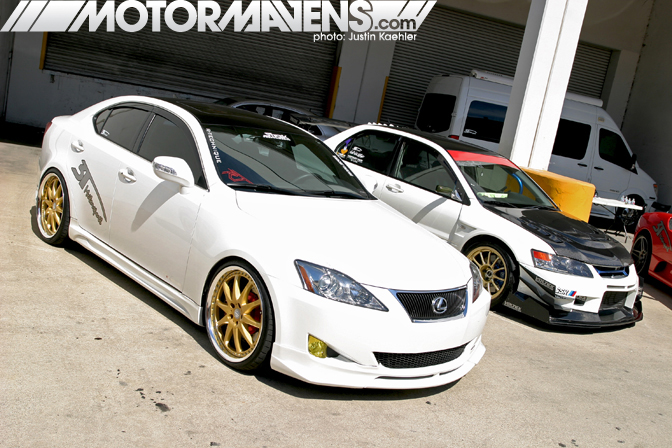 Here's my favorite Evo peeking out from behind a rather clean Lexus IS, with a few oddly placed stickers. Next time, park the Evo closer to the front and don't rope off the cars…! It's a car meet for crying out loud!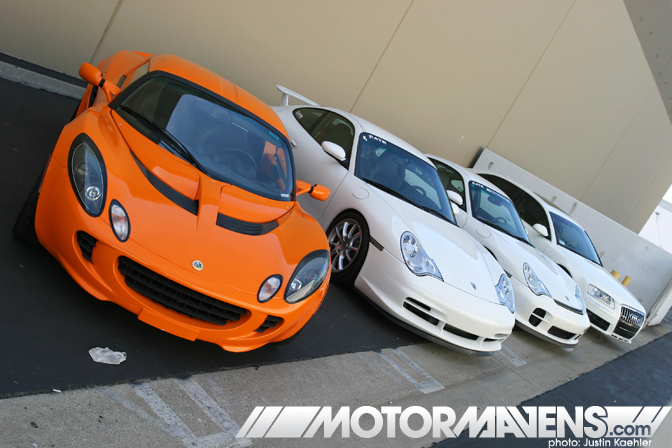 No carbon fiber to be found, but I'd still take any of these cars. Which is your favorite? Porsche for me, please!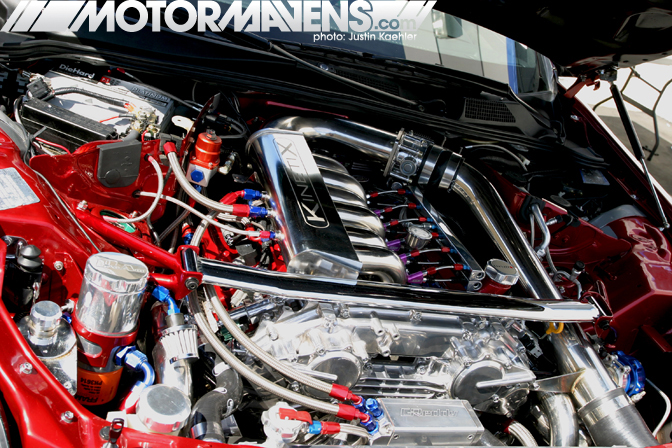 There was a pretty crazy looking Infiniti G35 on display as well; here's its engine bay.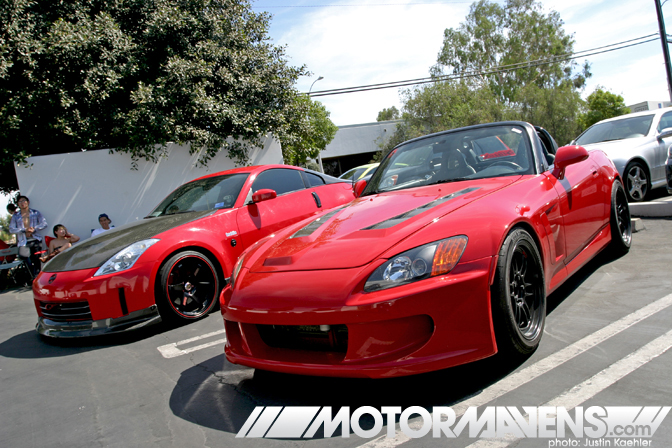 Big meaty balloon tires seemed to be the theme on this S2000. He must track it or autocross it or something. Nice 350Z in the background too… very nice cars that would look amazingly jaw dropping with less fender gap.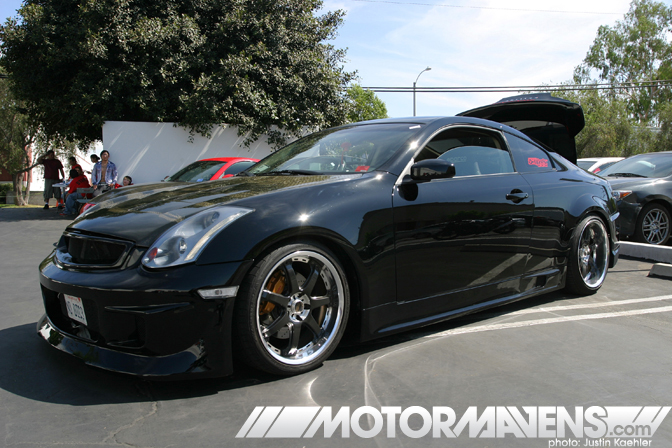 Clean aero kit on this G35… I wonder what type it is? Nice rear wheels… and with some spacers, it would look even more incredible.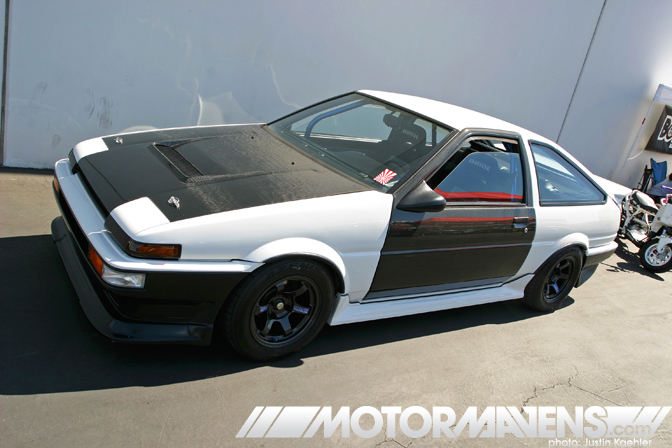 Nice looking AE86! I'm sure Antonio must know this car. It's not every day you see an AE86 with black 14 inch TE37s!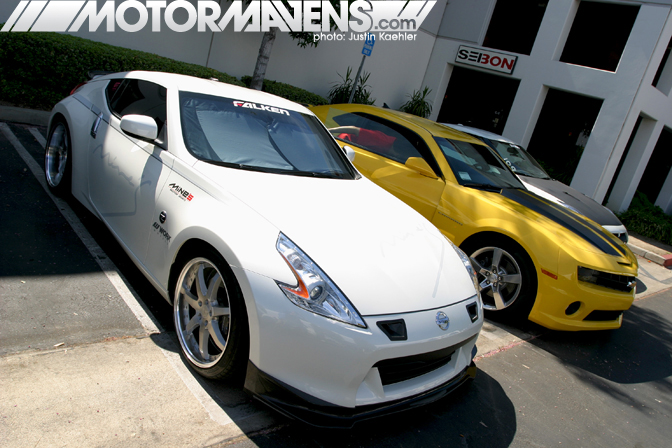 Even Mine's was in attendance with their 370Z, as was Bumblebee from the Transformers movie.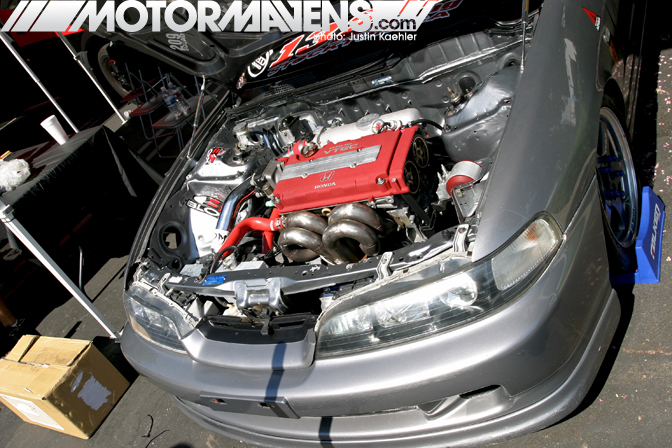 I'm still a Honda guy at heart, so I just had to shoot this Integra. Awesome engine setup!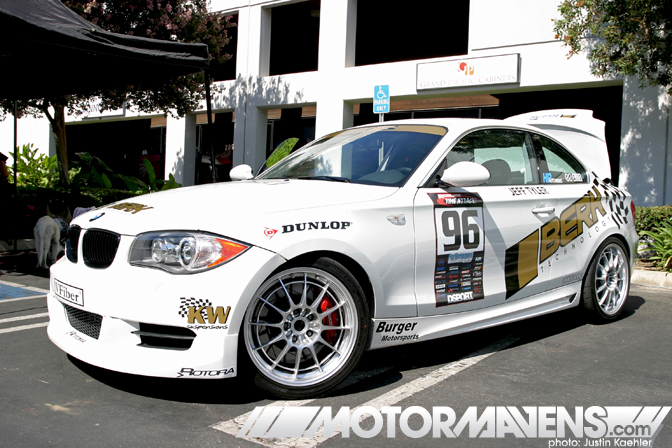 I seem to run into this Berk Bimmer everywhere!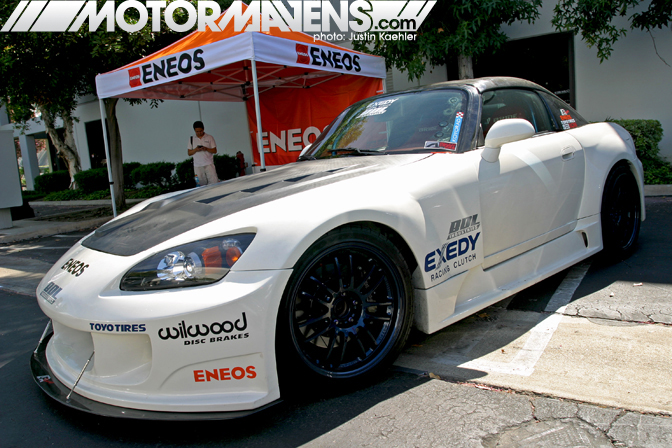 Nice S2000… does anyone know what kind of aero it's sporting?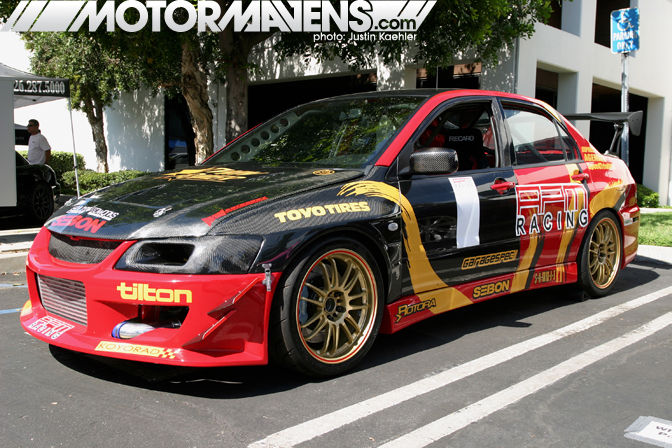 I'm sure this Evo is a monster on the track, but it needs a graphics overhaul – stat. Someone with a vinyl shop, help them out!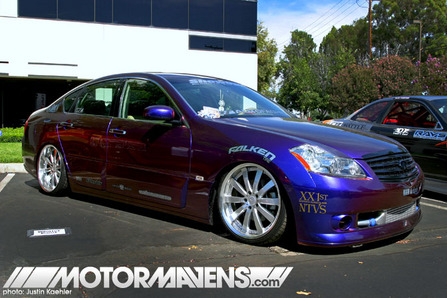 David Huang's Mazoora painted M45 seems to show up everywhere! No, seriously… everywhere. His cars seem to find their way to every single car show in North America. Crazy!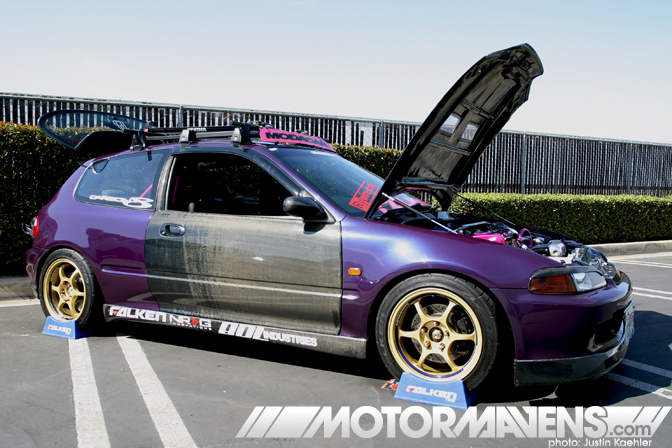 I'm normally not a fan of carbon fiber doors on cars painted any color but black, but I still think this EG Civic is cool. According to Antonio, this guy is from somewhere in Northern California, and he drove his Civic all the way up to Seattle WA just to be in the Falken booth at Formula D Seattle. As a result of that hard work, Mark Pakula shot it for an upcoming cover of AutoSalon Magazine in Australia. Good work man! I'm sure Felix from Falken is happy with that! Gotta make Felix happy.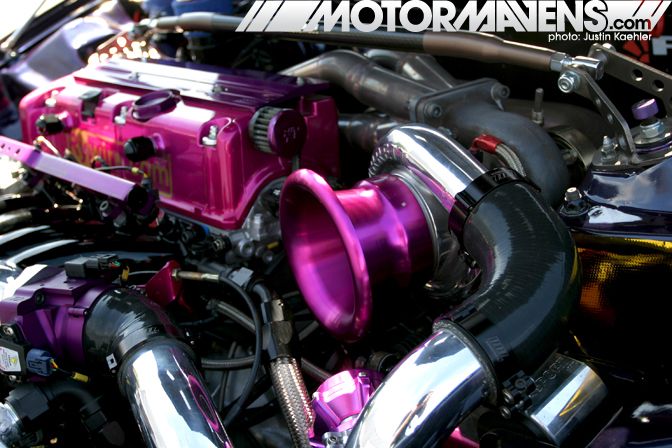 … but what makes me happy is the fact that it has a very clean turbocharged K-series swap. That's it for my pics from Seibon!
::Justin Kaehler
---