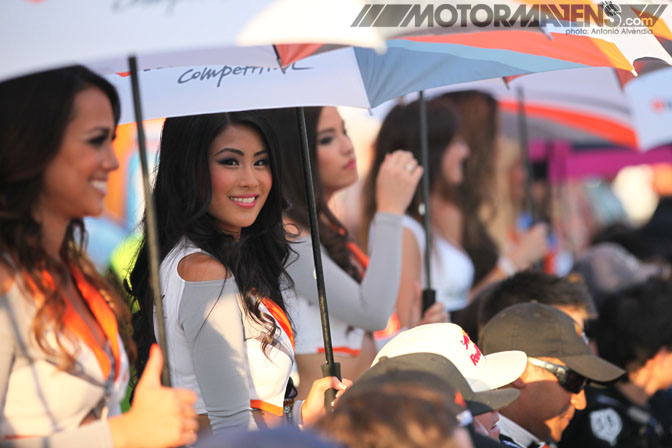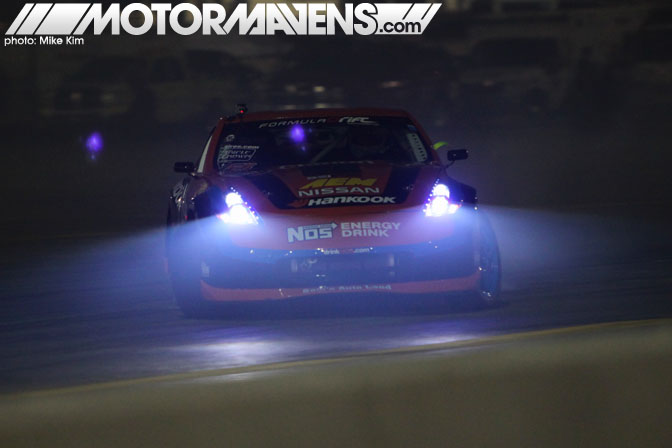 The MotorMavens Crew is once again back at the Las Vegas Motor Speedway for Formula Drift After Dark. For those of you that couldn't make it, consider yourself lucky that you don't have to deal with the searing desert heat. Luckily it's not as hot as it was last year, but we're still baking in the sun so we can bring you imagery of whats current in Formula Drift.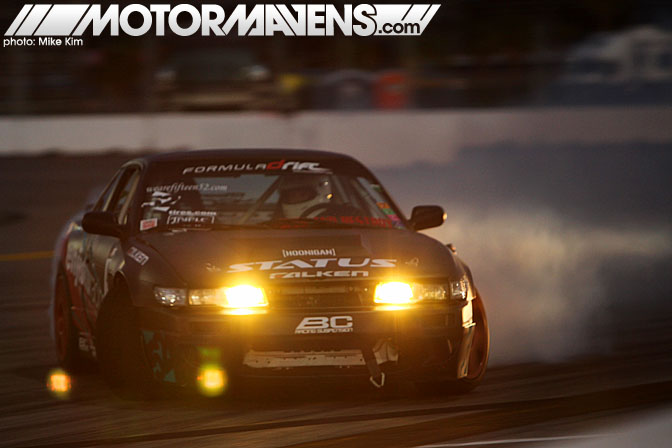 Driving this matte black S13 Silvia with Fifteen52 Tarmac wheels, 23-year old Floridian Pat Goodin is doing a great job in his first year as a Formula D pro driver. Las Vegas marked his third event qualifying into the Top 32, which is an amazing feat, considering his S13 is under 400 horsepower. If he's keeping up with the big boys with only 400 horsepower, just imagine what this guy could do with 1000hp like everyone else!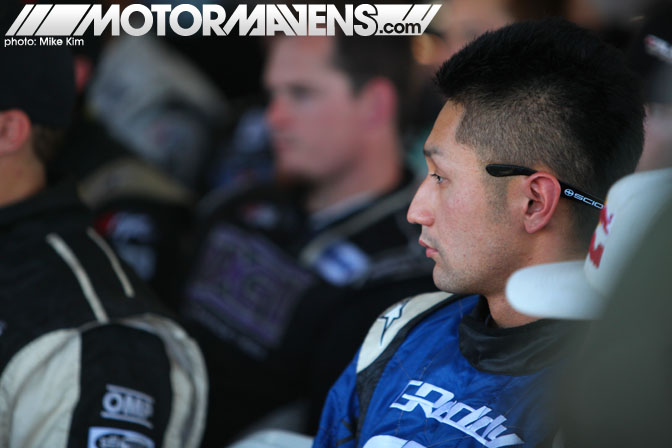 Before any of the drivers could start their practice sessions or qualifying, they had to sit through the mandatory driver's meeting wearing their driver's suits. We think the heat was affecting some of the drivers, as many found it difficult to concentrate in the afternoon heat. We spotted GReddy Scion FRS driver Kenshiro Gushi's eyelids getting heavy a couple times during the driver's meeting…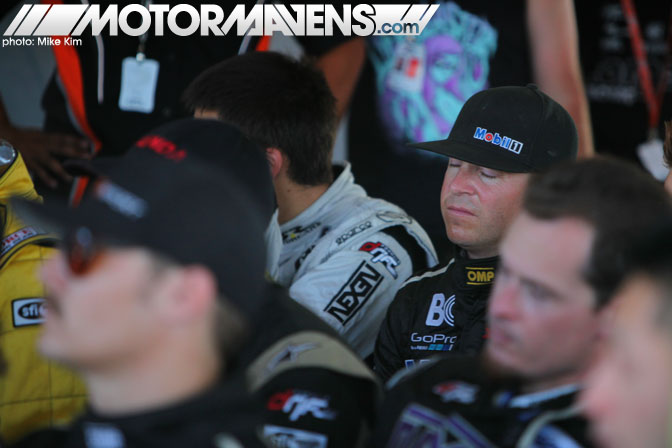 Gushi wasn't the only one getting sleepy at the driver's meeting! Mobil 1 Camaro driver Tyler McQuarrie looked like he was about to snore in the middle of the event! (Sorry to put you on blast, bro! LOL) In Tyler's defense though, he probably doesn't get a ton of sleep as a professional drifter and road racing driver that's always on the road. Even when he gets back to his Northern California home, he has a whole baby farm to contend with, so this man is always on the go!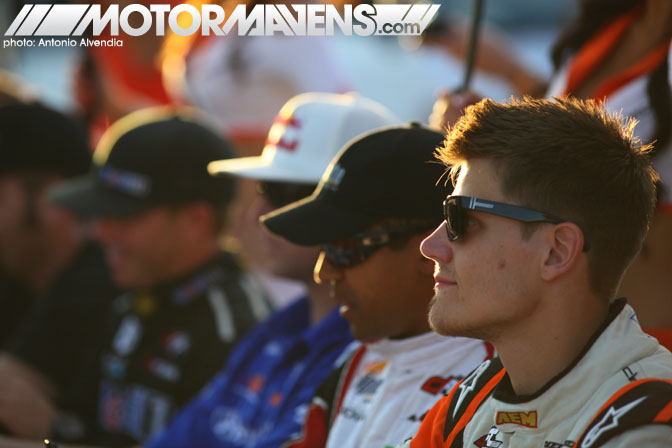 After the driver's meeting, everyone made their way towards the autograph signing. This is always a popular and important aspect of the Formula Drift series. It allows the fans to get up close and personal with all the drivers and models from the event, and allows people to get photos and signatures and even exchange short stories and conversation with their favorite Formula D personalities.
Norwegian drifter Fredric Aasbo is always consistent in his RWD converted Scion tC, but our favorite memories of Aasbo would have to be when he first started out in the series. Seeing him lay down the law, putting his foot down to the floor full throttle like a mythical Norwegian hammer in his JZA80 Toyota Supra was the best! He has a new Scion FRS/Toyota GT86 he's building now, and he says the suspension kinks are just getting worked out right now. According to Aasbo, the new FRS/GT86 he'll be driving has even better weight distribution than the normal production car. We can't wait to see it! (If only it didn't have those graphics all over it…)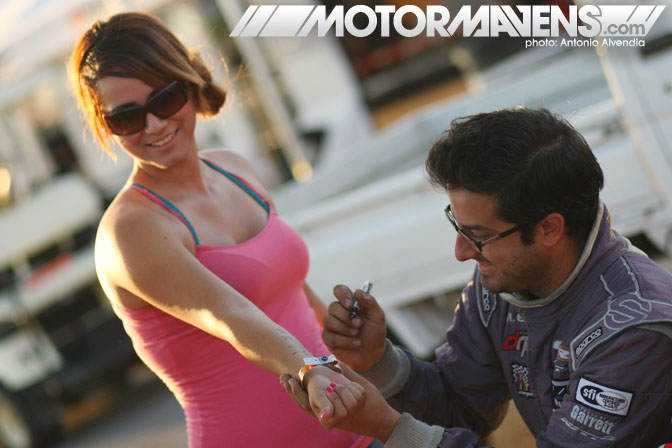 Do you liked inked girls? Apparently Mike Essa does! He was signing this girl's arm at the autograph table. I suppose it was because she didn't want to carry around another sheet of paper..? Or maybe she was going straight to the tattoo shop to immortalize his signature onto her arm? No idea…?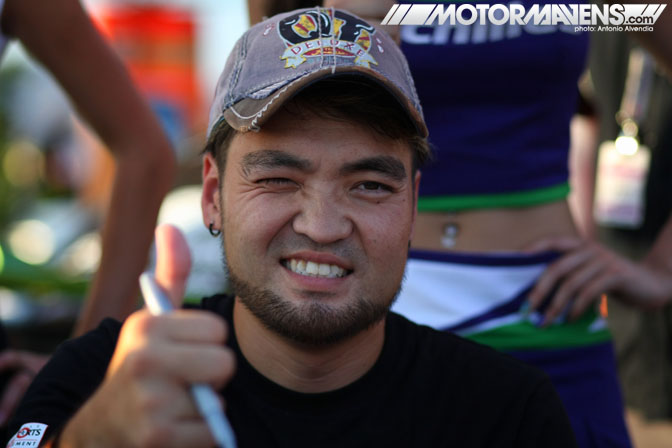 We love Robbie Nishida!!!!!!!!!! (Not in a gay way, though! Well… maybe just a little… Is that bad?) Robbie was quick to give us a thumbs up since we haven't seen each other for quite a while. We love hanging out with this guy. He is one of the most sincere, down to earth Formula D drivers, and he always has cool stories to tell. He was just telling us that he and his partner Shinji Minowa (We're talking about their AE86 drift team in Japan, not a domestic partnership. They are NOT romantically involved.) from Hey Man Products were hanging out at Ebisu Circuit last weekend for the Summer Drift Matsuri (drifting festival). Oh, Ebisu Circuit. Can't wait to return there…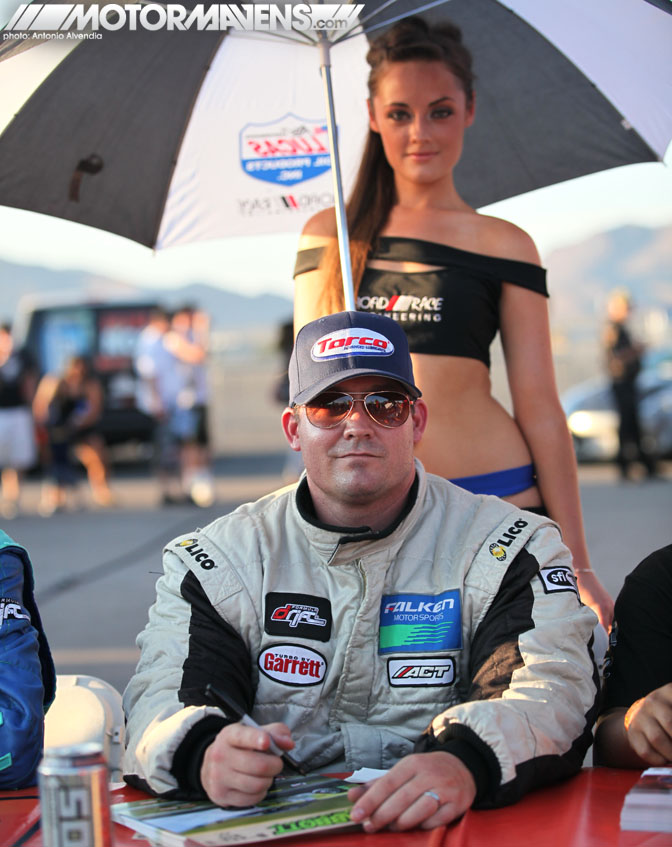 It's amazing that a big guy like Jeff Abbott fits into a tiny NB Mazda Miata MX5 – and that's with a roll cage! Jeff is definitely laying it down for Miata owners, proving to the world that Miatas are NOT feminine cars! Just look at Jeff! He's a tough guy, but at the autograph signing, we had to look past all that tough guy exterior. Because of Jeff's genuine personality? Not necessarily. We were looking past his tough guy image because we were busy looking at Sarah C Carter standing behind him. Well, hello there Sarah! 😉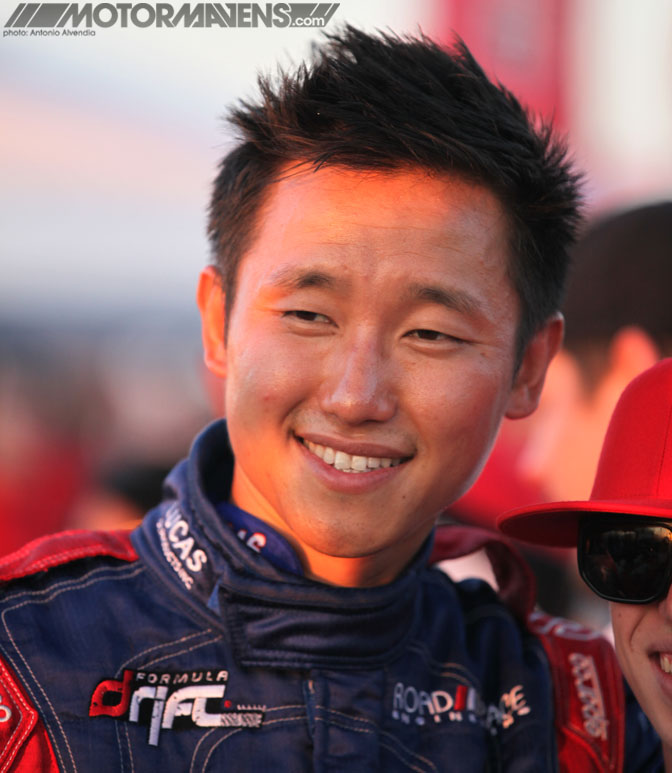 Joon Maeng is awesome – he does it all! He's a one man PR team! If you walk up to Joon and ask him how his day is going, he's likely to respond with something like, "I'm doing GREAT! My Lucas Oil S13 is running perfectly, thanks to my Nitto Tires and the awesome crew at Road Race Engineering. Please make sure you cheer for us when you see the car pass you!" What a great spokesperson this guy is!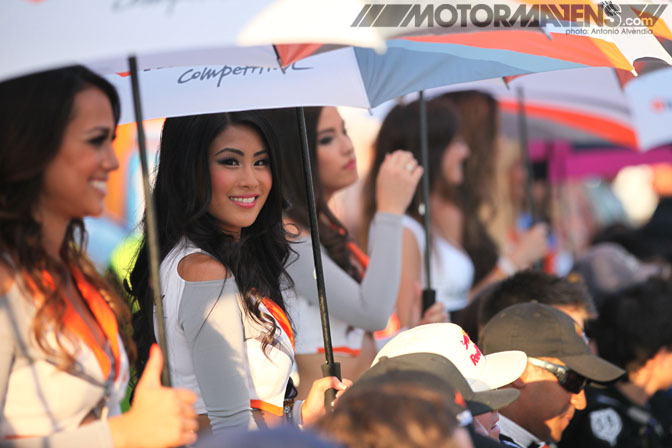 After some of the driver photos were done, we decided to turn our attention to the umbrella girls, starting with The Vivs! You can follow Vivian Nguyen online if you want to see more photos of her! Just find her profile through the @MOTORMAVENS social stream on Instagram or Twitter!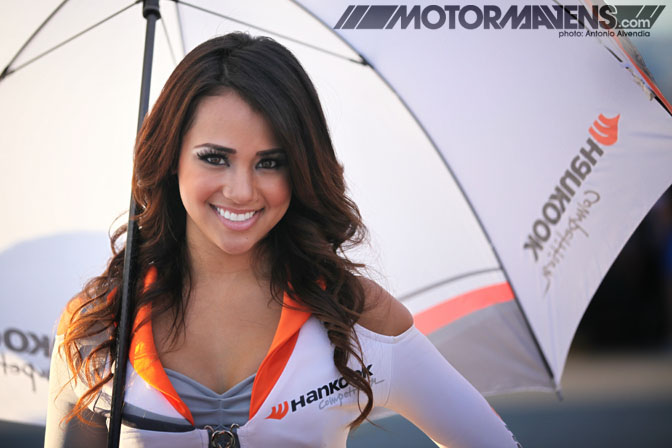 Lo and behold, this is Danielle. We met her at a gas station prior to seeing her dolled up in her umbrella girl uniform. Wait, that doesn't sound right… Anyway! Find more photos of Danielle Lo through the @MOTORMAVENS social stream on Instagram or Twitter!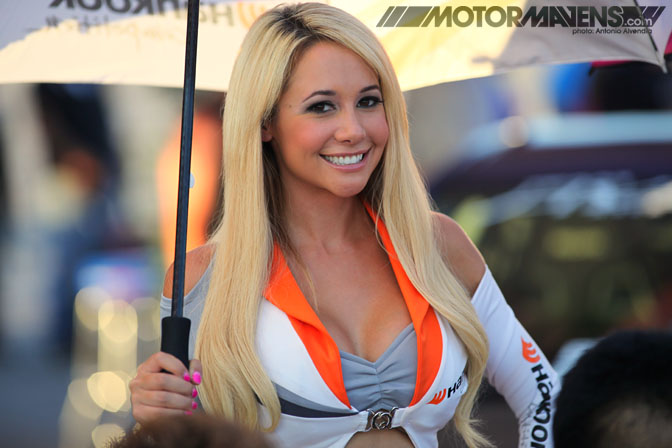 This is Megan Belet! She definitely caught our attention with her bright, bubbly personality. Find more photos of Megan through the @MOTORMAVENS social stream on Instagram or Twitter!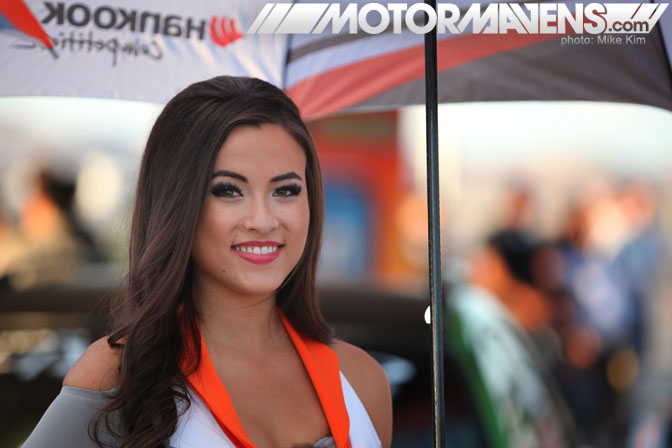 Say hello to Erica Nagashima! Is it a coincidence that Erica has a great smile and she is a Hankook Tires spokesmodel? You can find more photos of Erica through the @MOTORMAVENS social stream on Instagram and Twitter!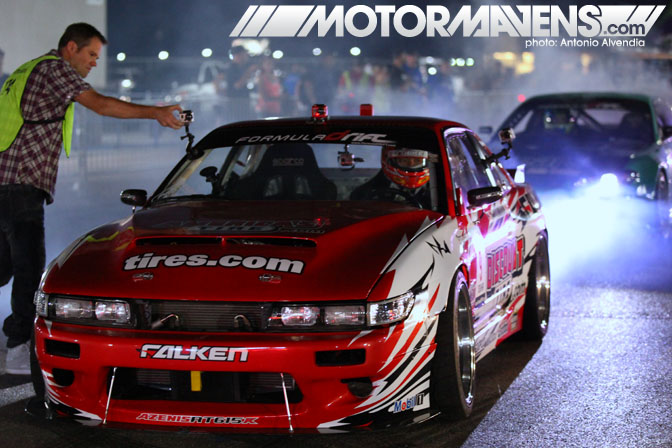 Probably the most stylish dresser out of the Japanese drifters in the Formula D series, Dai Yoshihara qualified 17th last night, driving his V8 powered Discount Tire S13 Silvia. Dai certainly has come a long way from his days of running touge roads near Tokyo in his privately owned Nissan S14 Silvia!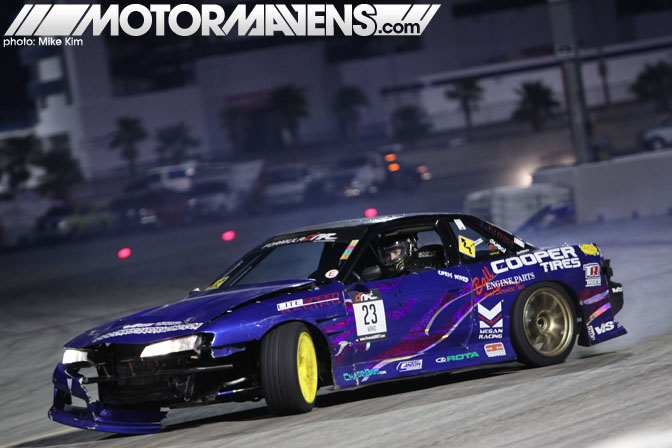 Some drift cars make you think of that song by The Roots… Things Fall Apart.
Our boy Chris Ward from Atlanta is an extremely passionate, hard working driver. He's been pushing himself nonstop to make a name for himself in the Formula Drift series. We firmly believe that when a person has that much passion and that much commitment, there's no way they won't achieve their goals.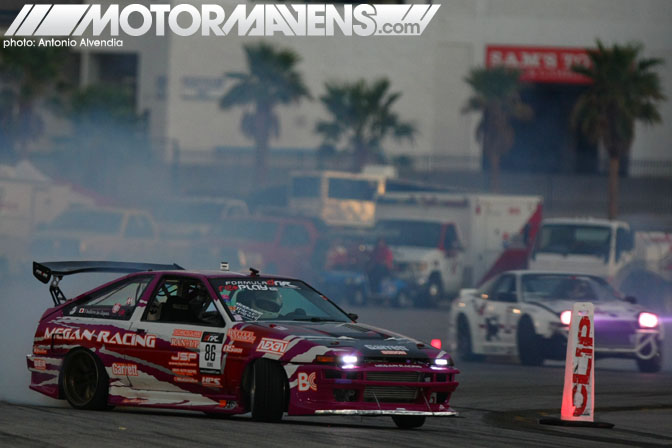 Taka Aono was rocking this new wing for added downforce on his turbocharged 2AZ powered AE86. The wing looks a bit odd on an AE86, but it must be very functional for pushing the rear end of the car down and giving the rear tires some added grip!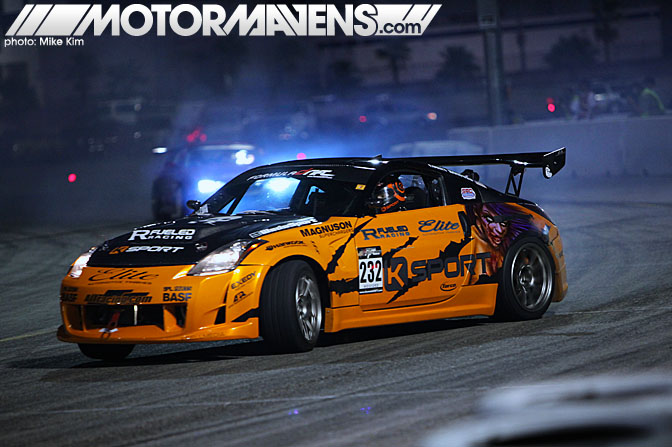 Corey Hosford is the driver of the KSport Z33 350Z. When we first met Corey, he was a driving instructor at the Bondurant School of Performance Driving at Firebird Raceway in Chandler, Arizona. Corey is certainly an awesome spokesperson and ambassador for KSport – to shut up any keyboard warriors that might express any doubts about the brand, he's bringing the car out to events and proving that KSport parts are competitive on the race track. THAT is how you do it! Great work, guys!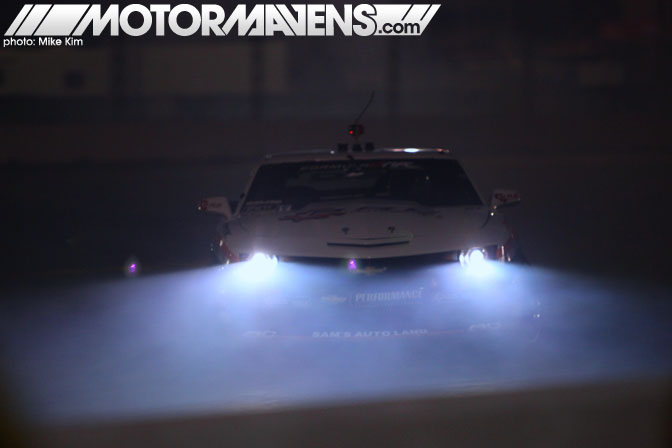 Check out the HID beam dispersion pattern and light cutoff on Conrad Grunewald's Chevy Camaro! It looked awesome as it cut through the smoke on the track surface!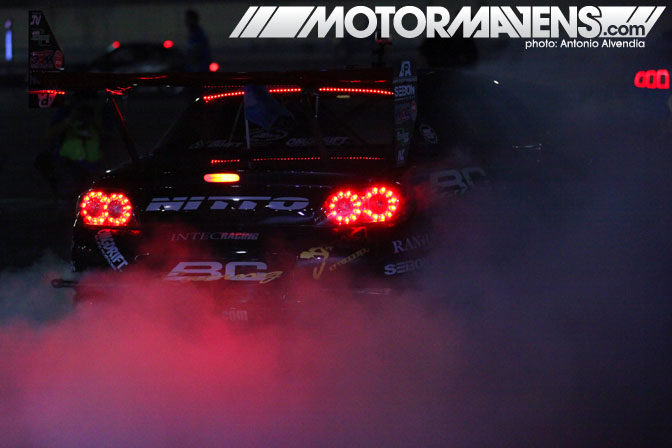 By now, everyone knows that Bergenholtz Racing replaced Joon Maeng with Chelsea DeNofa as the driver of the Nitto Mazda RX8. The car is now also sponsored by BC Racing suspension and equipped with Non Stop Tuning lightweight aluminum pulleys!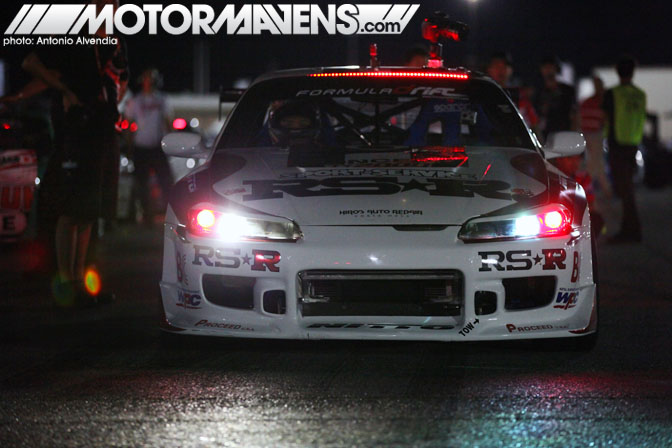 One of our favorite cars in the entire Formula Drift series would have to be Toshiki Yoshioka's RS*R S15 Silvia. These days, as V8 engines and Nascar-style tube framed silhouette cars take over the Formula D series, it's nice to see authentic, legit Japanese pro drift cars are still alive! Yoshi's VQ35 was just boosted up to around 750 horsepower by a pair of Garrett GTX2867 turbos, so hopefully that will help him compete against the big V8 torque monsters!
It's time for us to stop typing by the hotel pool and get back to the track! Follow @MOTORMAVENS on Instagram for live updates from Formula D Vegas!
:: Antonio Alvendia
2AZ
,
350Z
,
AE86
,
BC Racing
,
Bergenholtz Racing
,
Bondurant
,
Bondurant School of Performance Driving
,
Camaro
,
Chelsea Denofa
,
Chris Ward
,
Conrad Grunewald
,
Corey Hosford
,
Dai Yoshihara
,
Danielle Lo
,
Discount Tire
,
Ebisu Circuit
,
fifteen52
,
Firebird Raceway
,
Formula D
,
Formula Drift
,
Fredric Aasbo
,
FRS
,
GReddy
,
Hankook
,
Hey Man
,
Jeff Abbott
,
Joon Maeng
,
JZA80
,
Ken Gushi
,
Kenshiro Gushi
,
ksport
,
Las Vegas
,
Las Vegas Motor Speedway
,
Lucas Oil
,
Mazda
,
Megan Belet
,
Miata
,
Mike Essa
,
Mobil 1
,
mx5
,
Nissan
,
Nitto Tires
,
Non Stop Tuning
,
Pat Goodin
,
Robbie Nishida
,
RSR
,
S13
,
S15
,
Sarah C Carter
,
Scion
,
Scion FRS
,
Scion tC
,
Shinji Minowa
,
Silvia
,
Supra
,
Taka Aono
,
Tarmac
,
toshiki yoshioka
,
Toyota
,
Tyler McQuarrie
,
Vivian Nguyen
,
Z33
---