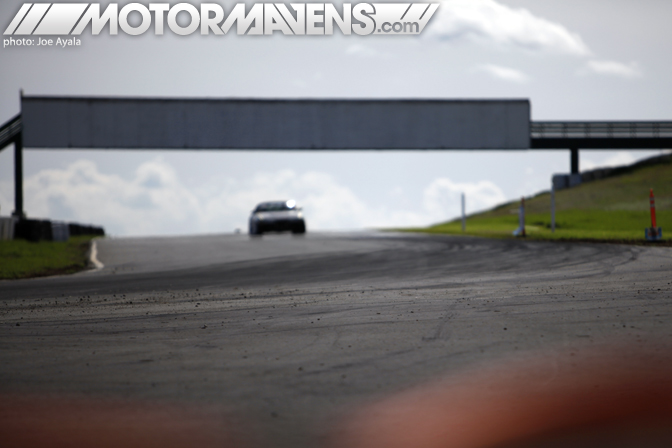 With the Formula Drift series starting up in only three and a half weeks, this means that the Pro-Am series will be starting up as well. New drivers from around the country will be competing for an opportunity to drive on the next level. One such an event, is Thunder Drift, held just outside Willows California.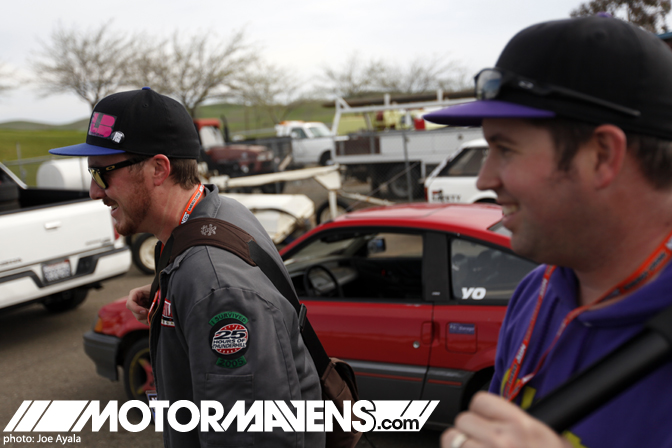 Here on the left, is the man behind the Thunder Drift operation, Geoff Pitts, walking alongside Andrew Bohan of Lab17. I absolutely love the way Geoff runs his show up there! I get a feeling of relaxation and mellowness, where at most other events, everything is hectic and stressful. Even though we were half an hour behind schedule, Geoff kept everything under control and managed a fun and fluid day.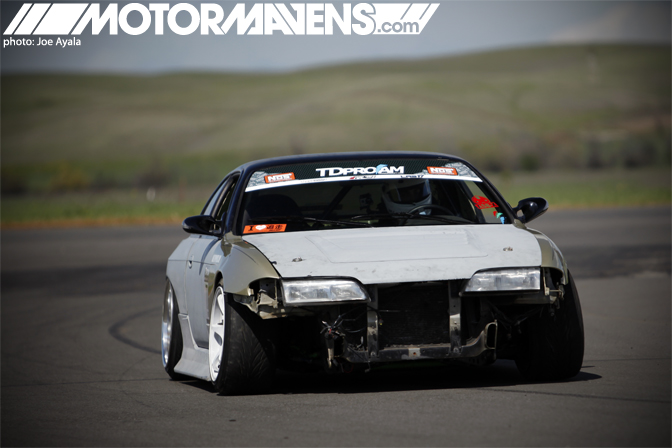 While at the track, I saw one of my favorite cars in the area, Julian Jacobs S14. Most people see off colored, unpainted, bumperless cars and are turned off by them, but what Julian's car has that those don't, is style. And lots of it. Every time I see this car, I fire away about a few dozen mental photographs, this time I took a few real ones. It seems as though that every time I come to Thunder Hill, Julian is having problems with his car and at last minute throws everything together and is able to drive. Well this weekend, I overheard someone saying that he might not be able to come out, due to more car trouble. I can't explain how happy I was to see his car roll up to the grid. I cannot wait until he gets his car running the way he wants it to. Look out for this guy.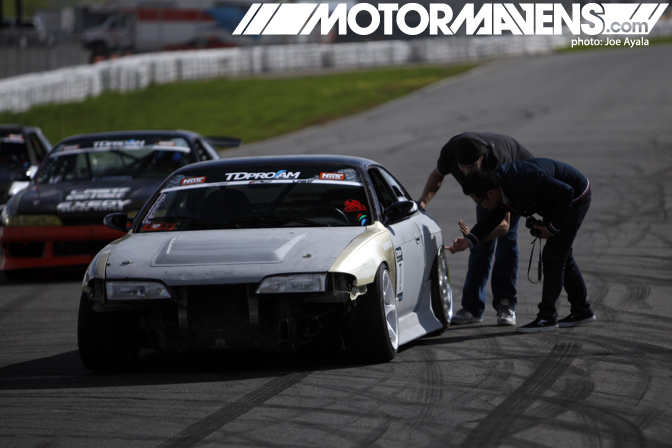 Here we see our friend Michael Cabuco of Fitted Life checking out the fitment on Julian's ride.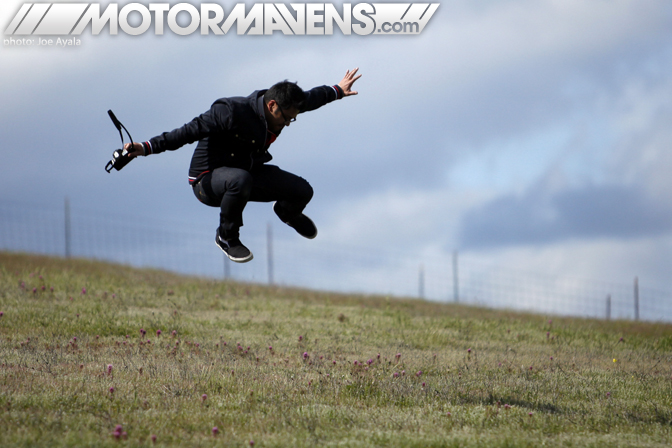 Mike was so pleased with Julian's car, he proceeded to frolic up and down the hills of thunder, which were starting to bloom spring flowers.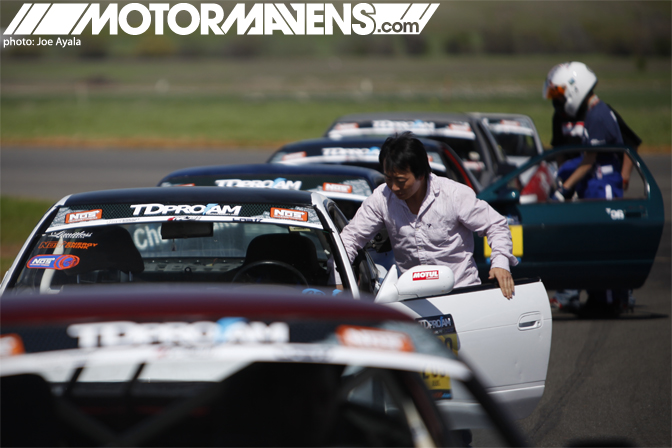 Here is Thunder Drifts own OG, Tyler Xiong getting into his car, which, along with all the other competing cars, is sporting the brand new TD Pro Am bannerpersonally designed by Mr. Bohan. You all probably know this, but Andrew is a world class graphic designer.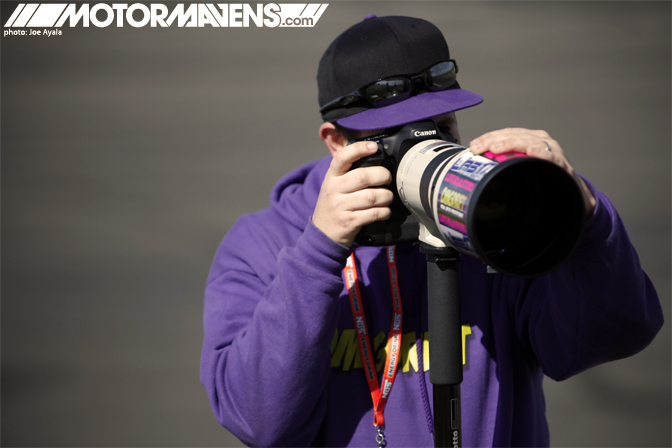 He also does photos and videos! I hear he's working on a cure for cancer right now, but that's *hush hush*.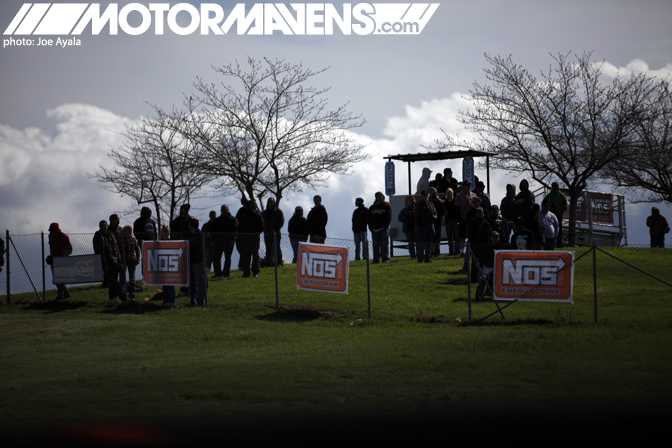 There was a pretty decent turnout there as well! Who wouldn't want to skip work on a Wednesday to watch some awesome cars rip through these beautiful hills?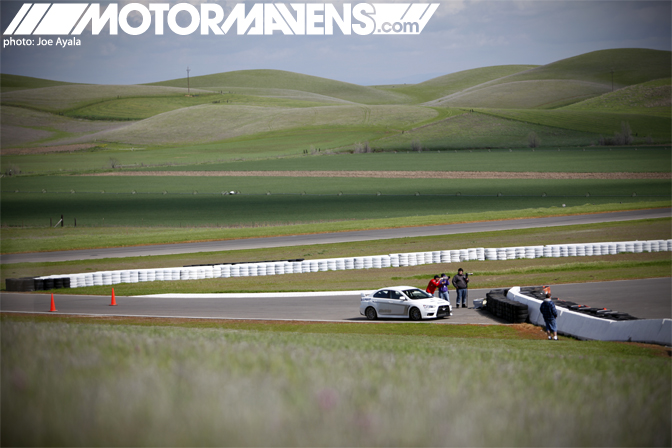 Speaking of beautiful hills, I hiked up one a little ways to check out the scenery. This place is seriously amazing! If you're in the area and have not yet come down to Thunder Hill, I suggest you do. You will not regret it! Oh yeah, that's an Evo down there.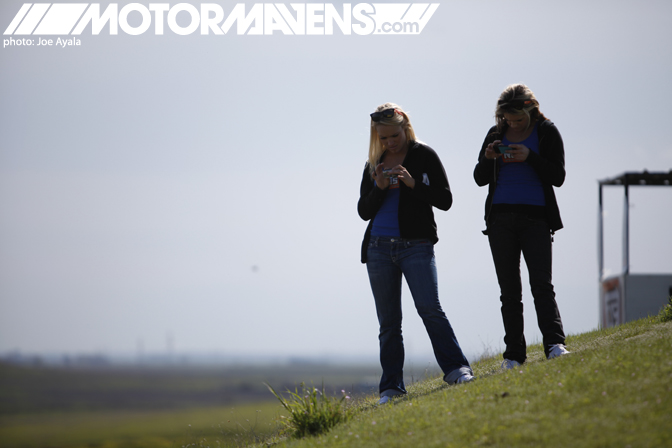 NOS Energy was also out there, providing everyone with some tasty beverages. Here are two lovely ladies, who were there with NOS, hard at work.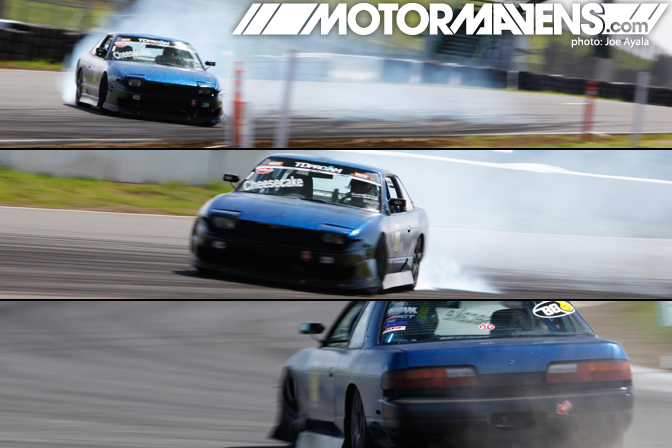 Then began the mayhem! Josh McGuire here was demonstrating some pretty aggressive initiations, the likes of which I only see in FORZA 3!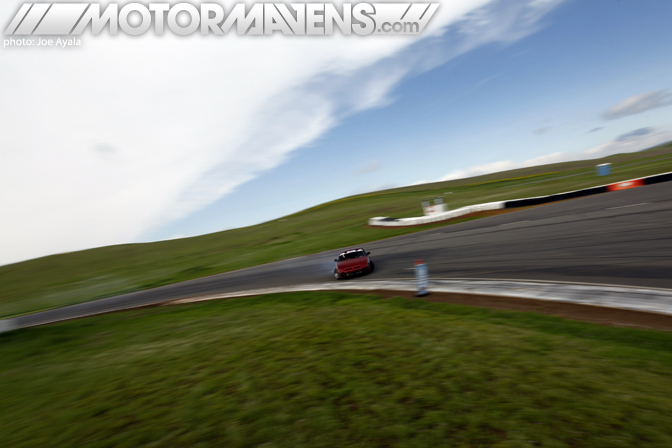 This maroon s13 hatch is owned by John Corvinus, but driven by himself and Mike Spring. Mike's car was not yet ready for this event, so John, being a bro, shared his seat.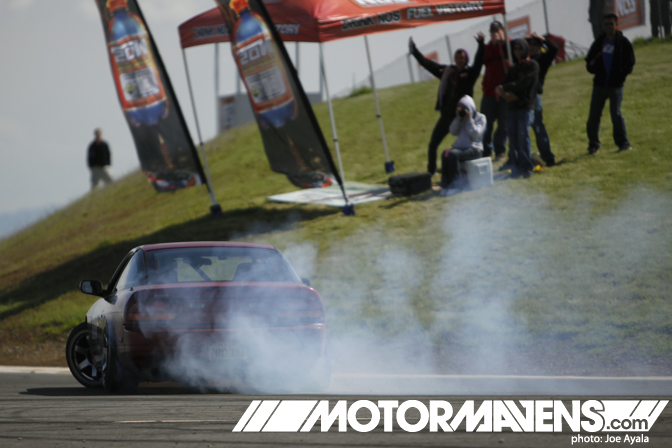 These two drivers impressed me very early in the day with their driving abilities. It seems, in this photo, as if they impressed the judges as well. This years judges for the entire Thunder Drift Pro-Am season are newly Formula Drift licensed drivers, Fabian Fernandez, Ryan Kado, and Luke Lonberger. One of the points Ryan made sure for everyone to hear was "Keep off the brake as much as possible, if you need to slow down, crank more angle and stay on the gas!"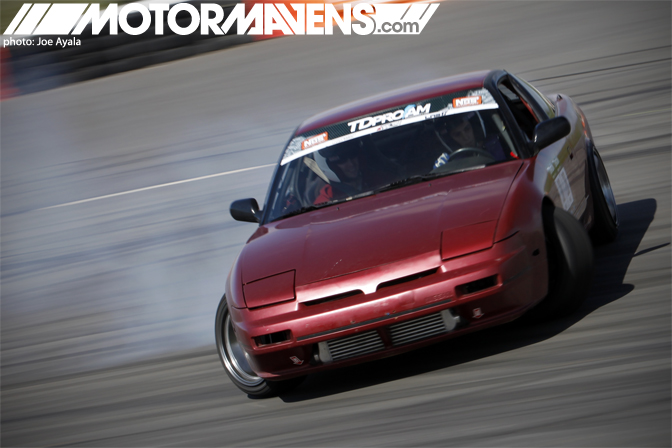 …which Mr. Corvinus demonstrated beautifully. Geoff tells me that he made his own steering knuckles himself! Props dude!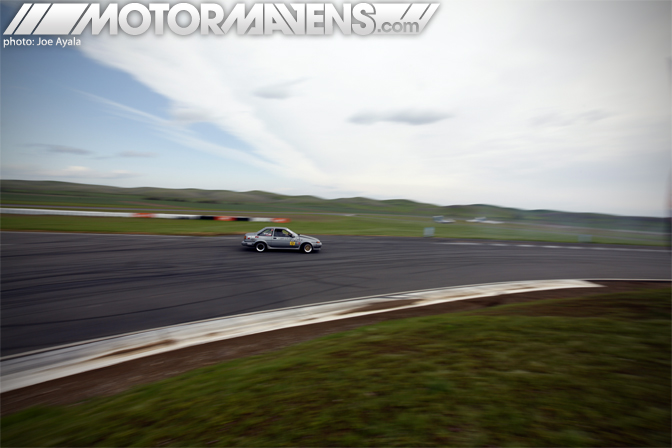 Here is Henry Van in his Corolla.
I don't know too much about him or his car. One thing I do know, however, Is that he used to drive this car with absolutely no ebrake, and you are drifting a corolla as well as this guy does with no ebrake, you are a certified man!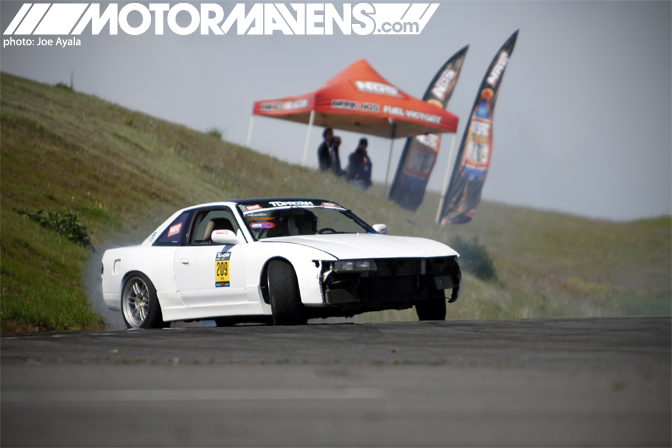 Here is Tyler Xiong sliding into the final hairpin as the judgmental judges judged him.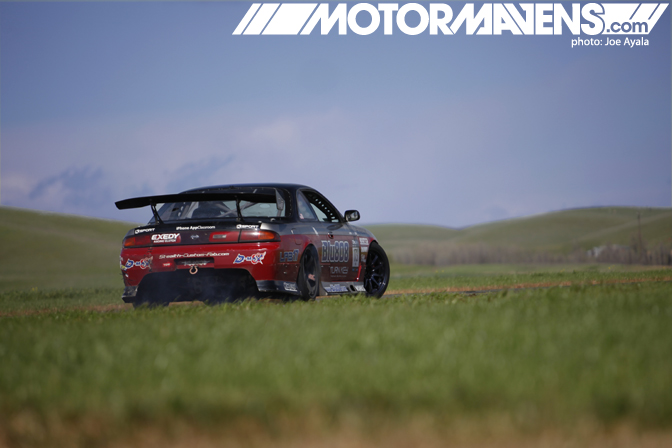 Blu808 employee, Joshua Sher, has been working so hard lately on Luke Lonberger's Formula Drift corvette, that he's had no time to finish up his Pro-Am car. Luke, being the kind-hearted soul that he is, let Josh take the Blue808 S14 for the day!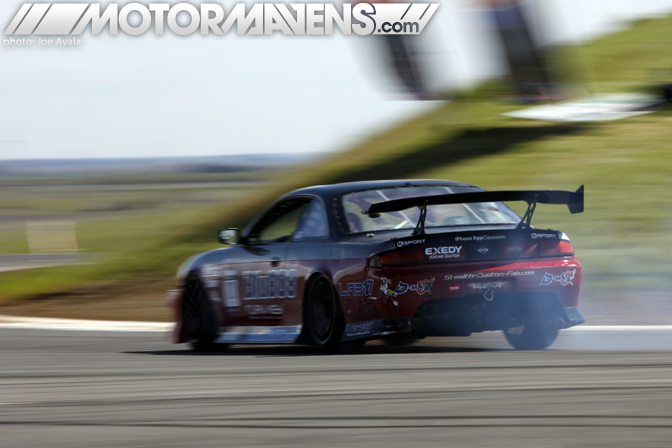 He didn't do too bad either.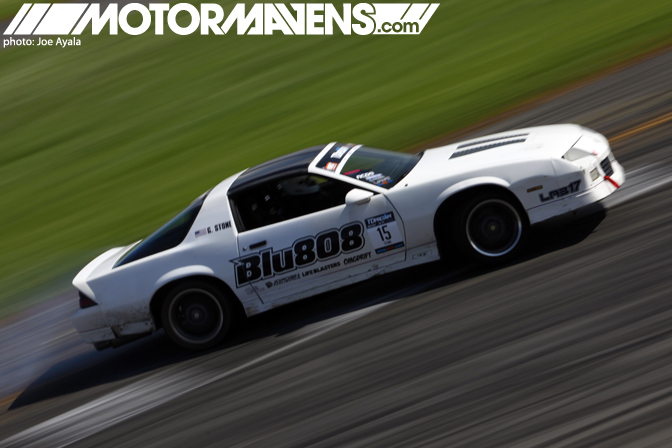 Nissan 240s weren't the only cars to come out and play. Gabe Stone showed up with is 89′ Chevy Camaro RS. I don't think this car is really anyones first choice when picking a drift platform, but Gabe made the choice for this to be his career car. To my surprise, he drives it extremely well! Gabe went on to knock out Julian and finish 4th! I believe I heard someone shout, "Looks like Grunwald is out of a job!"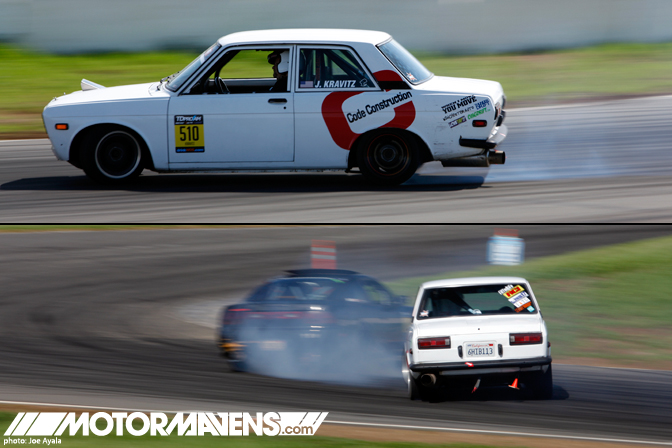 There was also a pair of Datsun 510s out there, driven by Marcus Fry and Joshua Kravitz. Above is Josh initiating and battling in one of his competition runs.
And here is Marcus with his LS1 Powered 510! Thats right, LS1 in that thing! I never did get a chance to take a look at it but hopefully at Round 2 I'll have a chance to check it out and take some pictures.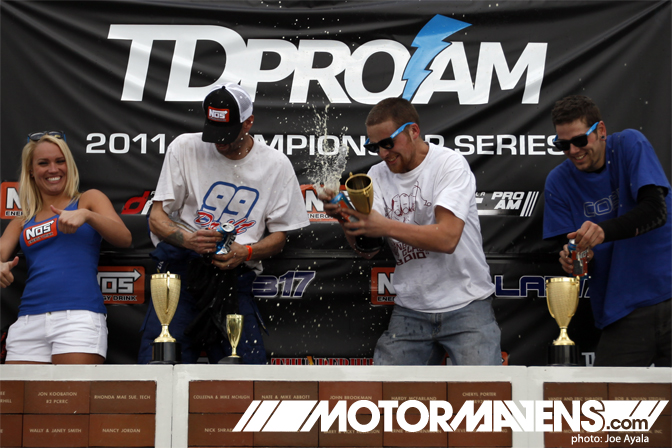 At the end of the day, Virgil Brosseau (standing in the 2nd place podium spot) ended up winning Pro-Am round 1. This is Virgil's first time winning a Pro-Am event and if I'm not mistaken, his 1st podium! Here he is getting his Charlie Sheen on. What a winner.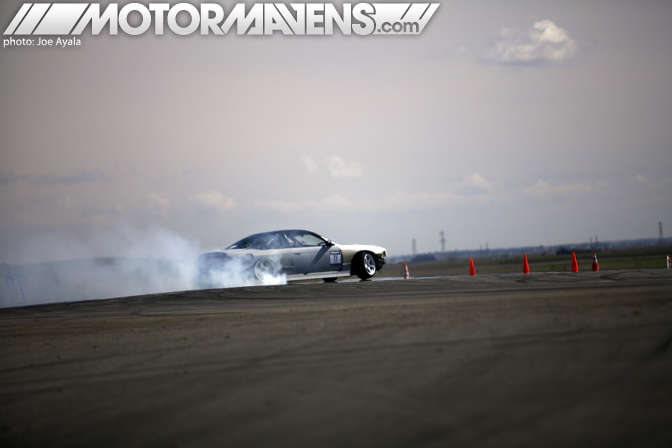 I will leave you know with my now with this shot of Julian being a gangster, as always . Until next time Thunder Drift! I had so much fun!
:: Joe Ayala
PS – Tandem of Die.
---