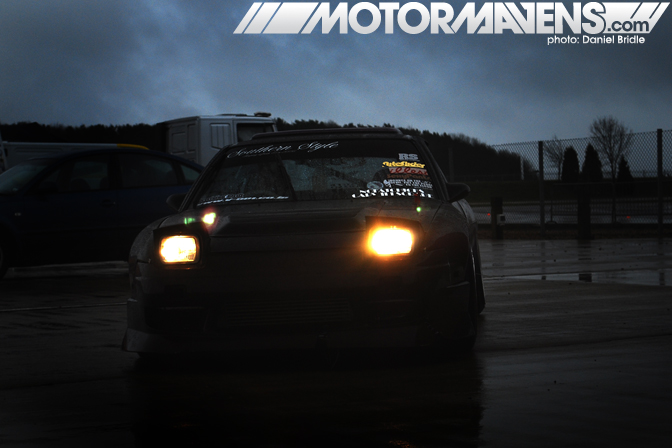 You may remember my last feature about the JDM Allstars Driver Search at Silverstone a few weeks back. Well, I failed to mention that I had a pretty interesting journey up to Silverstone, and since I was heading up with Southern Style, a group of people who own some of the dopest grassroots drift cars on the UK streets, I thought it would be rude not to show you MotorMavens readers some of the photos I took and tell you about what happened on the way!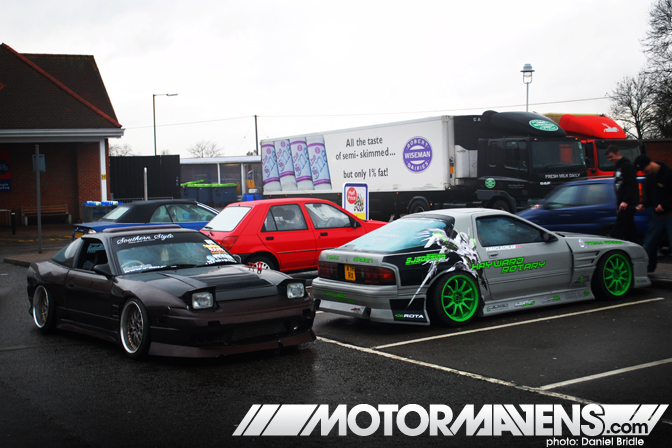 Since most of the guys in the convoy were coming up from the south, and where I live is on the way up to Silverstone, we decided to meet at about 7am in my local supermarket's car park. I managed to drag myself out of my warm comfy bed at 6AM (ugh) and head up to the meeting spot, where I decided to pick up a few "criticals" for the day – a few packs of energy drinks. I never tend to find myself getting hungry at drift events, as I'm always busy taking photos or talking to people, so I just live off the buzz of RedBull. I really should stop doing that, as it's probably not the healthiest way to go about things!
After wasting my money on said drinks, I headed back out into the car park and waited for everyone to arrive. First to rock up was Phil Maclachan from Team Green in his, uhh, not so green FC3S RX-7; it has new battleship grey paintwork, new graphics, new wheels, and new BN Sports aero… which he accidentally smacked the front of into a curb when he was parking. (Nicely done. haha) As Phil and his girlfriend clambered over a rollcage more akin to a jungle gym, Phil said something about his wheel wobbling or his nuts not being tight enough… whatever it was, it sounded a little worrisome!
Second to arrive was JFK in his gorgeous Southern Style S13. It was the first time I've seen the car in person, and my eyes immediately fixed on the wheel fitment. It's honestly some of the sweetest I've seen on a drift car from the UK. I asked how the drive up was, and he said his windscreen wipers stopped working for pretty much the whole journey up… which would have been okay, if it hadn't of been pouring with rain the entire way…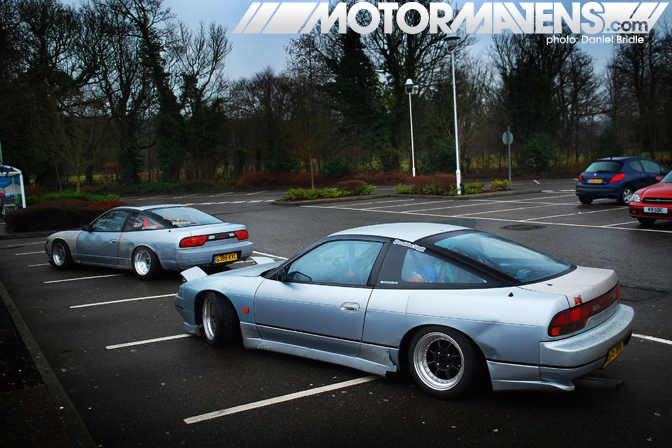 Following Jack  were two other guys from the Southern Style crew, Mark Norfolk in his RPS13 (closest to the camera) and Craig Western in his S13 Sileighty (farthest from camera).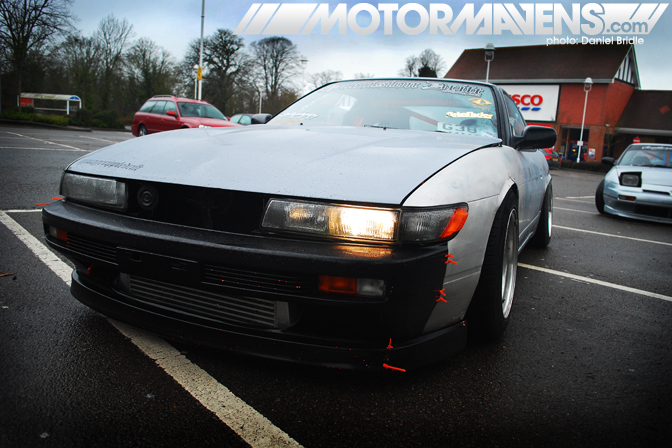 This Sileighty is pretty famous in the UK drift scene. It has been around since 2007, and has gone through a lot of stages during its life, from a standard RPS13 to the hardcore PS13 Silvia front-ended drift car that it is now. Craig bought the car a few months back, from the original owner, Dan Hammond (who is also good friends with the Southern Style guys and hopefully is going to get back into drifting soon!), and has thankfully kept it in the scene and given it a good tidy up.
I've always loved this kind of more "old school" styling being used on S13s. If you just take a standard S13, add simple bodywork mods using OEM parts, subtle skirts and splitters, then combine those with small but decent width Japanese wheels like the 15″ SSR MK3 and SSR MK1s fitted to Craig's Sileighty, and a heavy usage of the lowering stick. It's hard to go wrong, and it can be a cheaper way to make your S-body look good!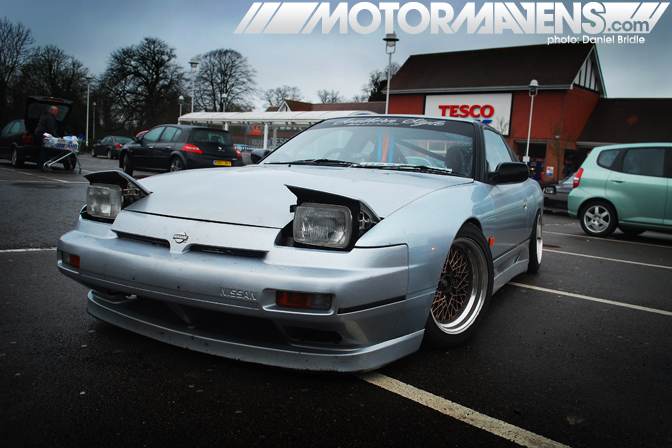 Mark's new S13 is styled in a pretty similar fashion, but I'll tell you a little more about this car later.
We stood around and chatted for a while as we waited for the final person in our convoy to turn up – Doug Harvey and his 4-Door R32. Once he finally arrived, we were running late already, so we jumped in our cars and headed off on our journey to Silverstone.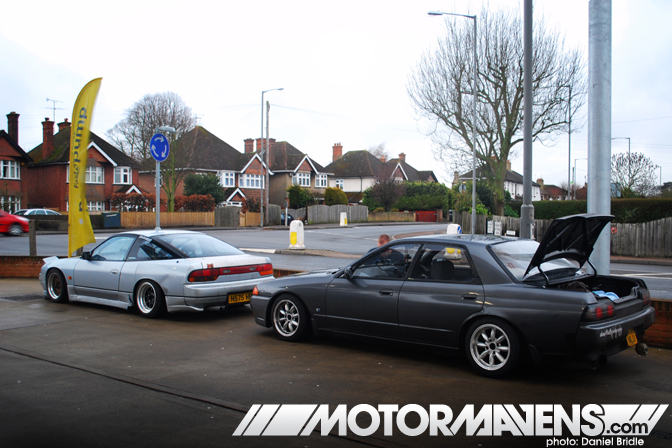 We were barely out of the nearby town Aylesbury when we had to pull up at the closest petrol station, because the engine in Craig's Sileighty had cut out while he was crossing a roundabout. Mark ran across the road with a battery charger to quickly jump start the car so we could bring it into the station.
Spitting, spluttering and sounding lumpy as hell as it drove past, it didn't seem healthy at all.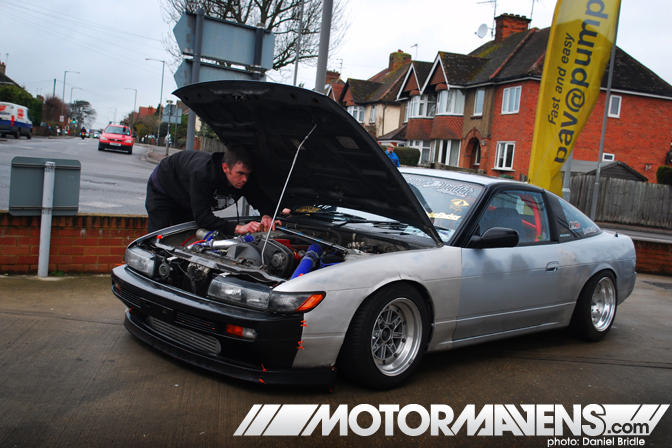 Mark had a good look around under the bonnet and it turned out that the alternator had died. Doug also mentioned that while he was driving behind Craig, he saw one of the SSRs on the rear wobbling like crazy and looking like it was about to fall off!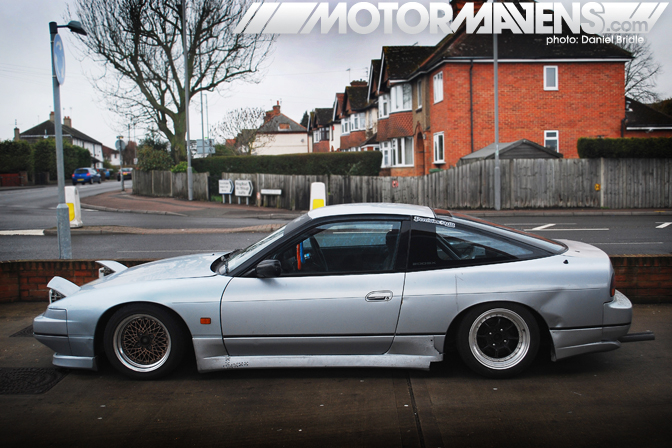 While everyone was trying to fix Craig's car and as I don't have much knowledge about fixing CA18s, I took the opportunity to grab a shot of Mark and Jack's Southern Style S13s.
After owning a series of fairly crazy drift cars that ended up being more trouble than what they were worth, Mark decided to go back to basics and have a fresh start. So he went out and picked up this cheap pre-facelift (or sometimes known as a pignose) S13. Mark just wanted a simple car he could use daily, build as cheaply as possible and just have as much fun as possible in. As you can see it isn't the cleanest S13 in the world but it has character!
The first thing Mark did when he got the car was sort the basics you need for a drift car, a welded diff went in, as well as a bucket seat and few simple engine mods. Then he got busy stripping the interior and fitting a cage. Next on the agenda was getting the car looking right. Mark wanted to go as low as possible and took it to the extreme when he bought a set of Meister R coilovers. He wound them down to as low as he could but in his eyes it still wasn't low enough, infact it was sitting higher at the front than the rear. So like the madman he is, he took an angle grinder to his fresh out the box front coilovers and lopped a few rings off to get the front dropped pretty much on the floor!
Next up was the wheel game. As Mark was building the S13 on as small a budget as possible he didn't have much to spend on fancy wheels, but still wanted a nice looking set of rims which would have good fitment. So he picked up a pair of SSR Mesh in 15x7J ET5 that were going cheap, and imported a set of Sportmax XXR 002 in 15x8J (ET 0) from the US.
Finally, Mark fitted a set of chuki sideskirts and 180sx Type-X rear spats along with a custom made twin exit exhaust.
I simply love this car, it's simple, a bit battered and rusty but it makes me smile just looking at it, and it's even more fun when you're driving along and bits of the chassis rails and sparks are flying past the window.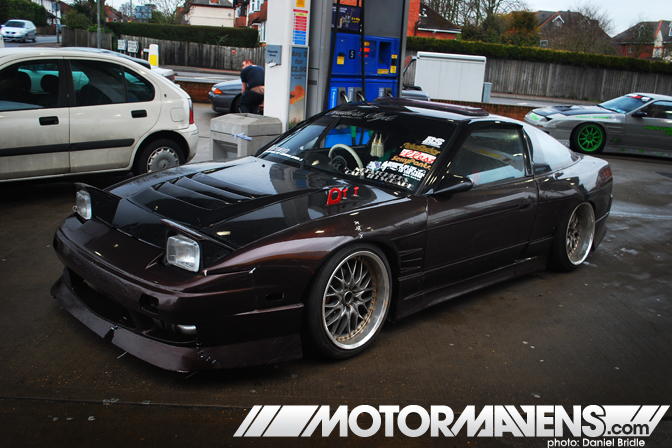 A little fancier, but used just as hard is Jack's S13. I've lost count of how many S13s Jack has owned over the years, but this is easily his best one yet!
With some of the money made from the garage he runs, Jack built an S13 that would stand out amongst the hundreds of S13s in the UK. The results speak for themselves, and I think Jack has built something truly gorgeous. The car is full of JDM goodies in and out. From the outside your eyes are hit with the Uras front bumper, Chargespeed quarter panels, Vertex sideskirts and rear bumper, Nismo hood, and a lashing of JDM wind deflectors. Keeping the S13 rolling is a set of seriously sweet Work Rezax wheels in 18×9 ET7 up front and 18×10 ET7 at the rear.
Inside, the car has been fitted with Bride Seats, Takata harnesses, full cage, Greddy gauges and an awesome CD/DVD player with a touchscreen – perfect for watching those Drift Tengoku DVDs on.
Jack has kept things under the bonnet things relatively simple, and kept the CA18DET engine that is fitted to all UK S13s. A GT28R turbo has been fitted along with a beefier FMIC and a few other basic mods, which bring the power up to an estimated 250BHP. Some might say the car is more show than go, but as it's been proved many times, you don't always need a lot of power to drift well. The brilliant HSD coilovers and adjustable arms keep the car low and well set up. Combine all this with a driver who's not afraid to give the car hell, and you're left with a pretty good drift car.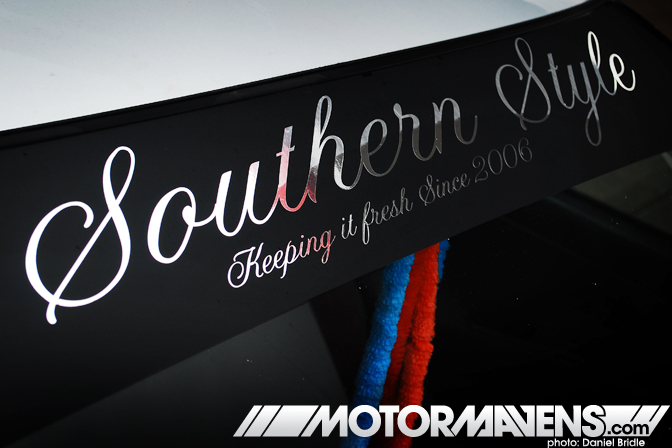 You might have also been wondering what this Southern Style thing I keep mentioning is. Well basically Southern Style is a small group of like minded grassroots style drifters from Kent, who have a similar taste in "proper" looking street drift cars. Low, wide and used! You wont find stickered up competition cars or weak offset wheels here.
In their spare time, Jack and Mark also run Garage Southern Style, which is pretty much the epicentre of drifting in the South. They fund their own drift cars by selling parts and tyres to others, as well as building and maintaining some of the dopest drift cars in the UK. However, it's more like a hang out than an official garage, with a fresh supply of beer and Xbox Live on 24/7!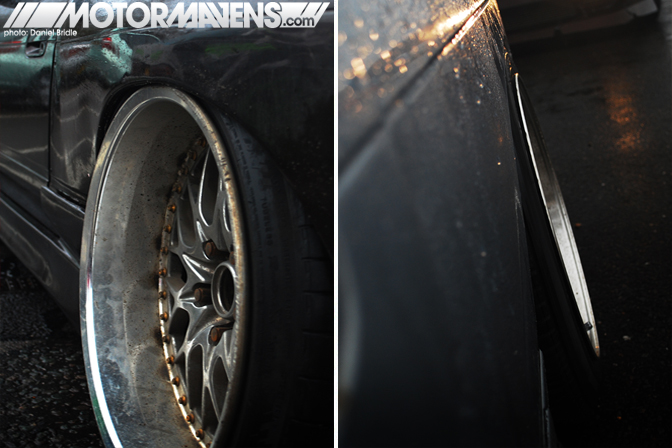 Good friends, sick cars, beer and Xbox. Sounds pretty good to me!
Jack, Mark and Craig's cars are just a few of the Southern Style cars. With the other members cars almost finished, I'll be heading down south later in the year to do a full feature on the entire crew!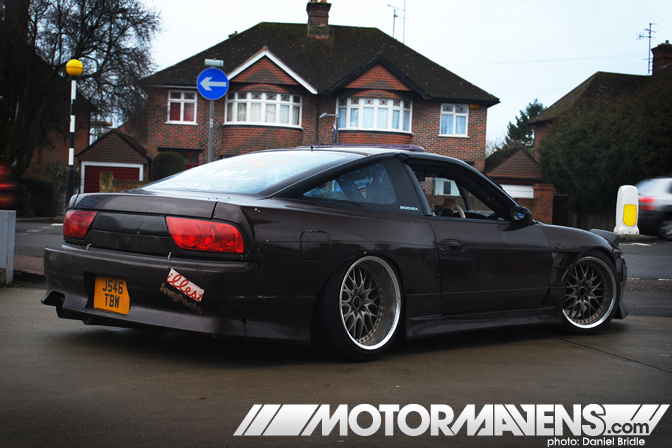 Anyway, back to the story! With no spare parts on hand, we couldn't get Craig's Sileighty fixed and as we were starting to run late for the drivers briefing at Silverstone, we had to unfortunately leave him behind.
We set off on our journey once again, avoiding potholes, scraping over most road surfaces and getting strange looks from locals… but it wasn't long before I looked in the wing mirror of Mark's S13 and saw blue smoke billowing out of the front left side of Jack's s13…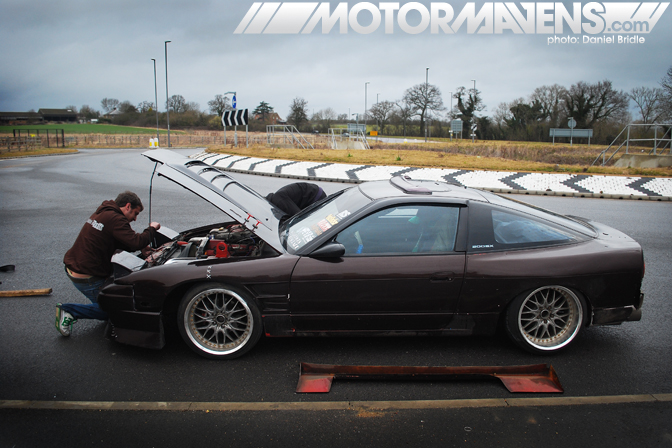 The one time everyone was behaving themselves and going steadily around a roundabout, one of the tension rods suddenly let go, putting the nearside wheel into the curb, bending the lower arm and steering arm! What the hell!?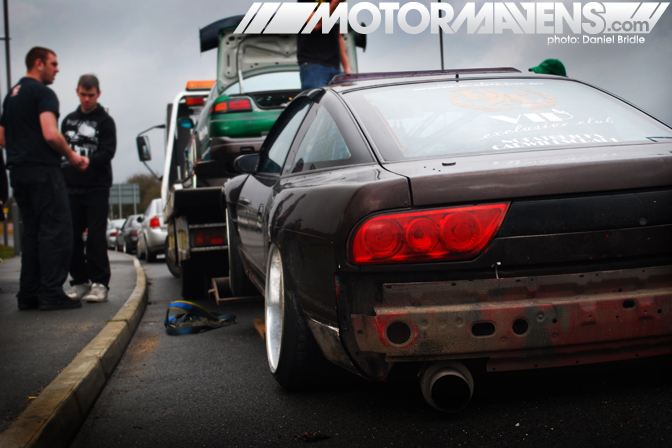 Lucky for us, lady drifter Danni Murphy and her boyfriend Paul Cheshire from Team Green were passing by, with Danni's new S14A on the back of a truck. We started jumping up and down and waving in the hope they'd stop. Fortunately they came around the roundabout and pulled up to help us! Thanks guys!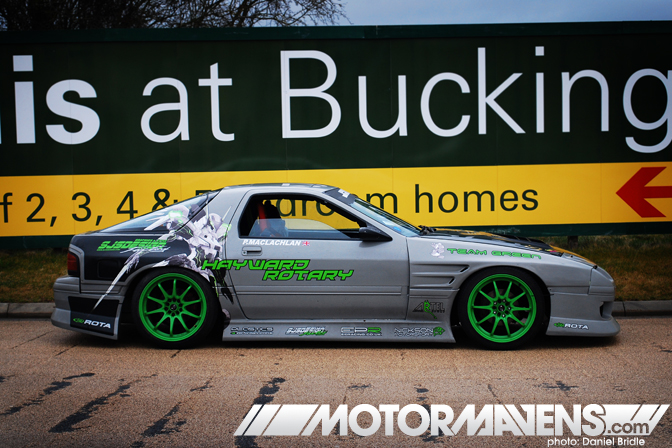 While the guys were hooking up Jack's S13 to the back of the truck, I took a quick shot of Phil's FC3S RX-7 parked up on the other side of the road.
I can't believe how far this car has come over the years Phil has owned it, with a mixture of blood, sweat and tears it's been transformed from a standard FC to the full on pro spec, bridge ported, BN Sports kitted weapon it is now. The car currently has a spec list longer than my arm so I won't go into full details, but it's easily one of the best FCs in the UK right now. It will have a few new and interesting touches added to it in the coming months to finish it off, so keep an eye out for more on this sick FC.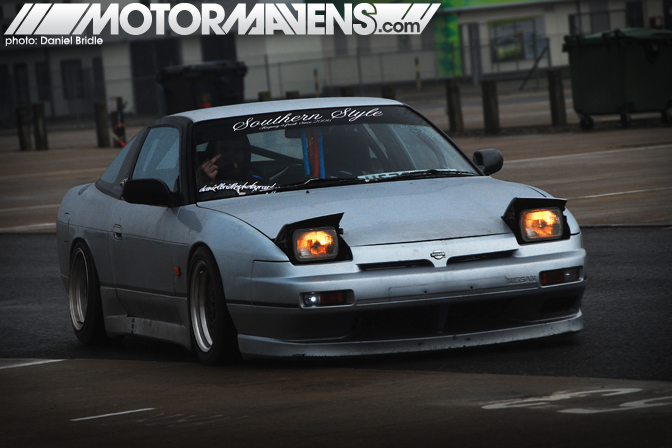 Finally our broken and slightly confused convoy made it to Silverstone. And just as we got there, the heavens opened to raise our spirits even more.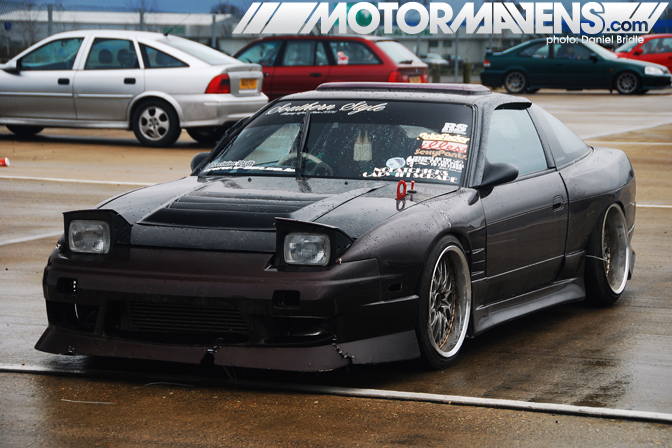 I had to take off and shoot what was going on out on the track, but later on in the day I headed back to the pits to see how Jack's S13 was looking. Not as pretty as it was but at least it was in one piece! Check the new positive camber! (haha)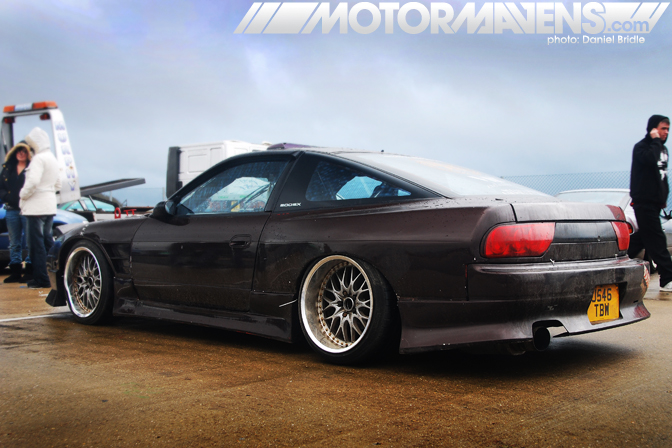 Everyone got together to try and get the car fixed, but the only replacement lower arm that they could find was that off an R32 Skyline, which has a 20mm difference in length to the S13 control arm! You can see here just how bent out of shape the wheel was – crazy.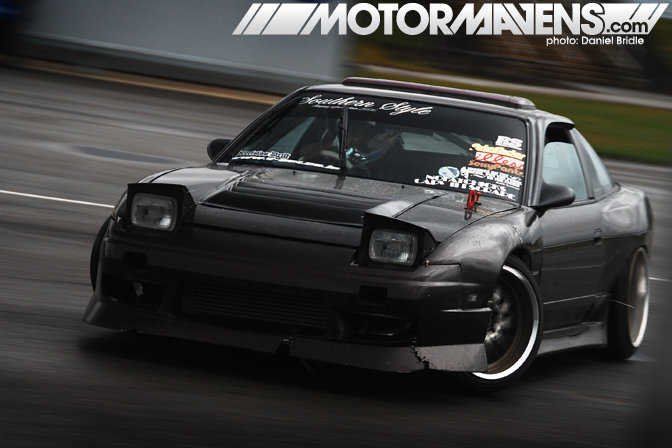 With the set up aligned by eye in a rush (and in the pouring rain), the car couldn't drive in a straight line, and wouldn't even self center. However, Jack still went out and tried his best. He just couldn't drive the car well enough in the state it was, and sadly, didn't gain his chance to drive at Manchester. It's such a shame, as when we set off on our journey things were looking great… but with all the accidents, breakdowns, plus the rain, things didn't turn out so well…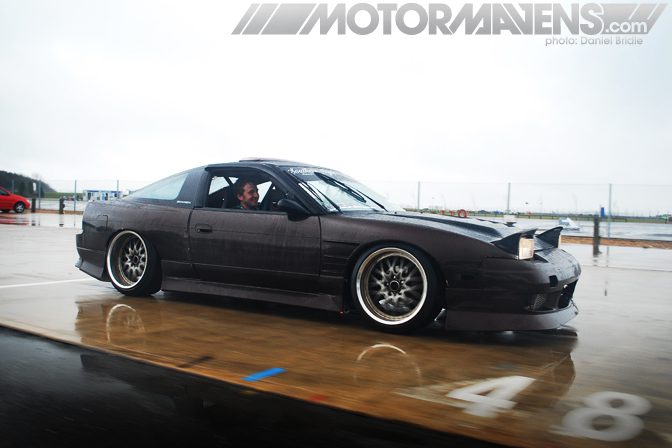 Cold, wet, bruised and tired, we all decided to head home. It may have been a slightly cursed journey but it was the highlight of my day to hang out with these guys and to see their cars.
Sadly, JFK broke and sold his S13 for parts shortly after the event, but has very recently bought an FC3S RX-7 convertible with the money made from the S13. This will be the next car added to the Southern Style lineup and I've got no doubt it'll be dope as hell when he's finished with it! Southern Style doesn't have a blog as of yet, but you can follow JFK and Mark on the Garage Southern Style Facebook page.
The grassroots drift scene in the UK is getting better and better all the time. The good atmosphere has always been there, and everyone is always helpful and friendly, but now the UK is definitely stepping it's car style game for 2010. I can't wait to see what new builds will appear this year!
::Daniel Bridle
---