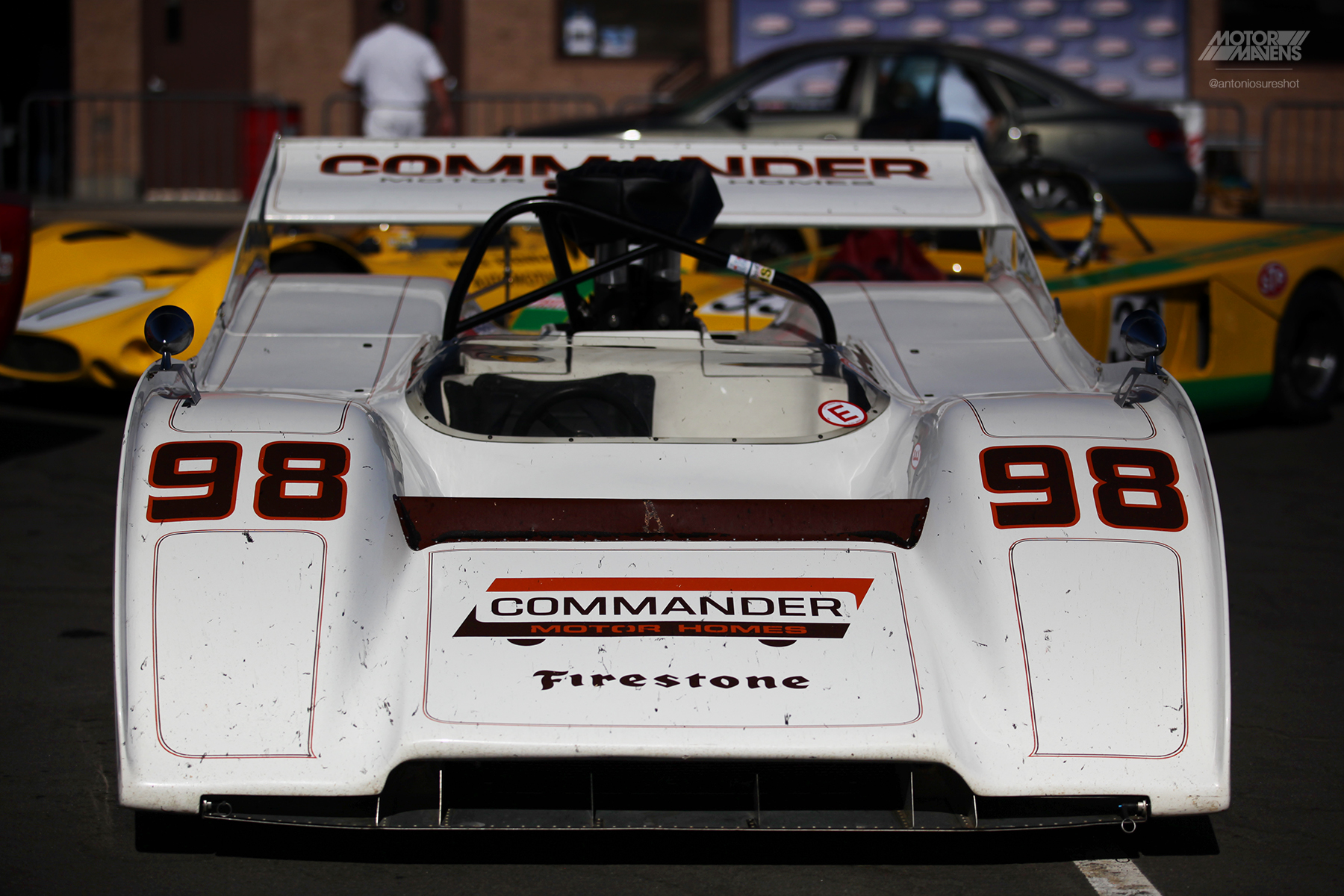 While I'm far from an expert on the history of 1960s Can Am sports car racing, I've been a fan of this era of historic sports cars for quite a while. What's not to love, anyway?
By the way, I'm not talking about those 3-wheel vehicles that you see people renting in Miami's South Beach – that's not a Can Am race car. The real Can Am racers were FIA Group 7 sports cars that ran at racetracks in Canada and the United States (Can-Am, get it?) from 1966 to 1987. Can Am cars had sleek, curvaceous bodylines, monstrous V8 engines with bad ass velocity stacks sticking up right behind the driver's head, and the wheels! Most Can Am cars ran some amazing looking, deep dish 4 or 6 spoke wheels that were the inspiration for many of the vintage Japanese wheels that all of the Japanese classic car aficionados lust after today!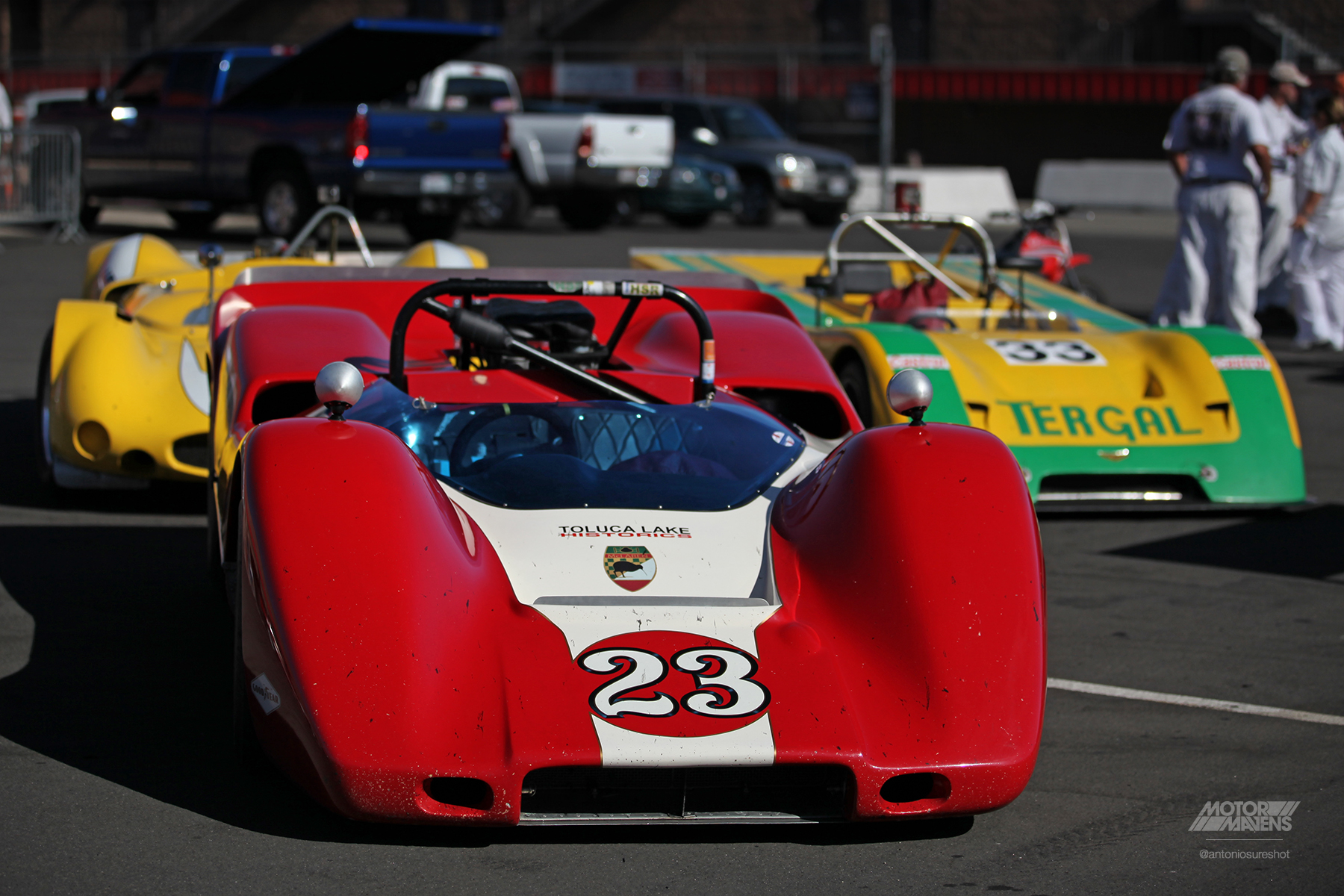 At a recent luncheon for motoring journalists, I was talking about Can Am cars with my friends Tom Stahler and Doug Stokes, and they introduced me to a gentleman by the name of Rod Campbell. Although I've been involved in the world of international auto racing for over 15 years, it's mind boggling that I had never bumped into Rod Campbell until last week! It just goes to show that the worldwide racing community is huge, and there are so many different genres and eras of racing; each with its own movers and shakers.
Calling Rod Campbell a mover and shaker is a bit of an understatement. According to Stokes, Campbell did a lot of work guiding Ford Motor Company's motorsports PR in the early 1980s, and this led him to work with people that most consider to be racing royalty – people like Formula One's Bernie Ecclestone and drivers like Sir Stirling Moss, Mark Donohue, Roger Penske, Nigel Mansell, Sir Jackie Stewart, his son-in-law Townsend Bell, and many, many more.
Rod and Stokes introduced me via email to Pete Lyons, a well respected motorsports photographer who traveled with the Can Am series to shoot photos for Britain's legendary Autosport Magazine. Since then, Pete has produced many books and calendars and videos on the subject of Can Am, and I can't wait to check them out!
We're all planning to get together soon so I can learn more about the early days of Can Am racing, but for now I figured I'd just post some photos I shot several years ago and never published – these were just sitting in one of my archival hard drives from 2012. The metadata from these photos say that I shot them with my old Canon 5D Mark II when I was developing website content as the former Editor in Chief of Nitto Tires's Driving Line Magazine. These pics are old!
Unfortunately, I wasn't able to shoot these Can Am cars in action, as I was on assignment for Driving Line, and tied up in a different area of the track, shooting photos for a story with comedian Adam Carolla and his vintage Datsun race car.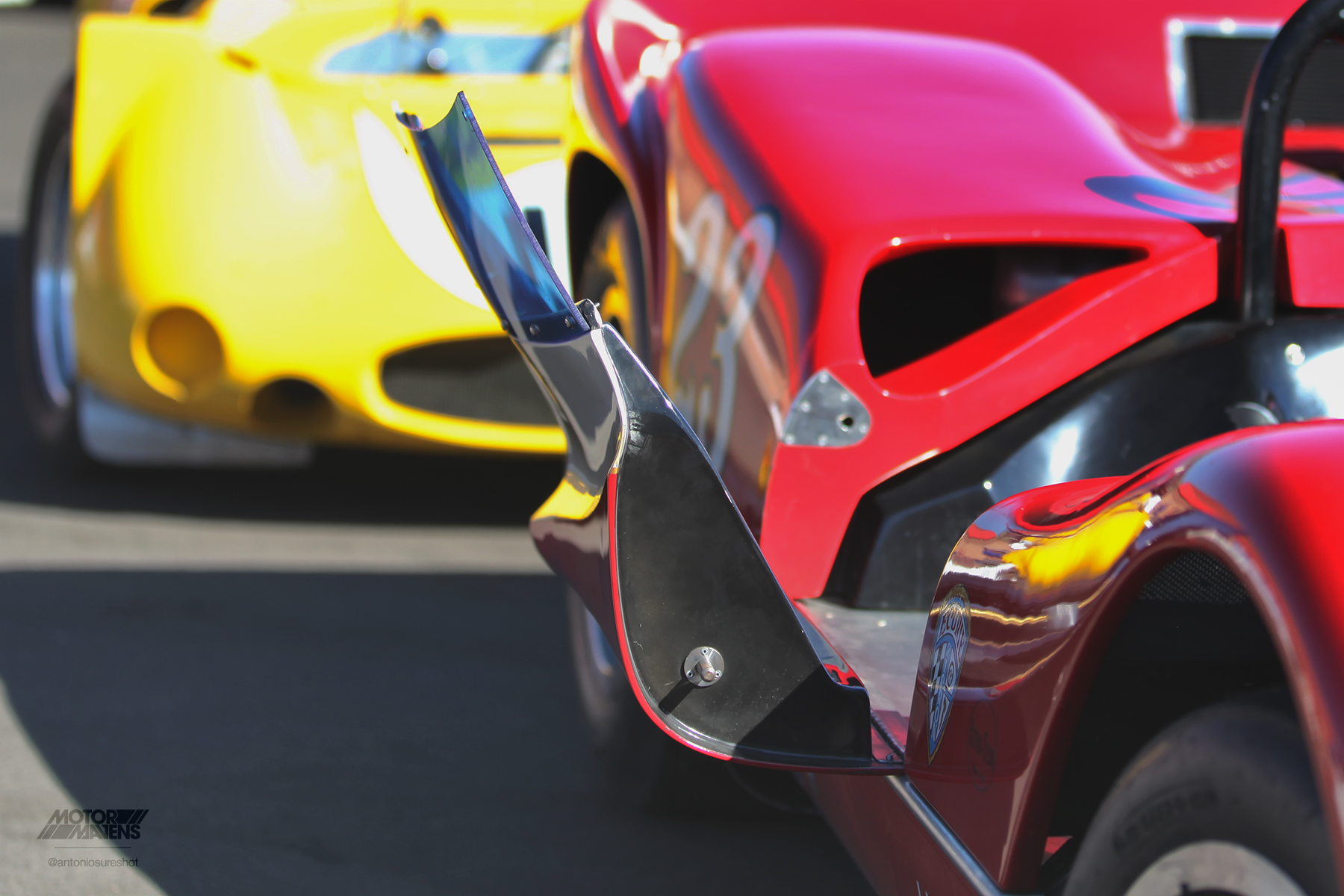 Back to the Can Am cars, check out the way the door opens on this McLaren M6B from Toluca Lake Motorsports. It hinges outward to reveal a step so the driver can slide into the super low racing seat in the cockpit.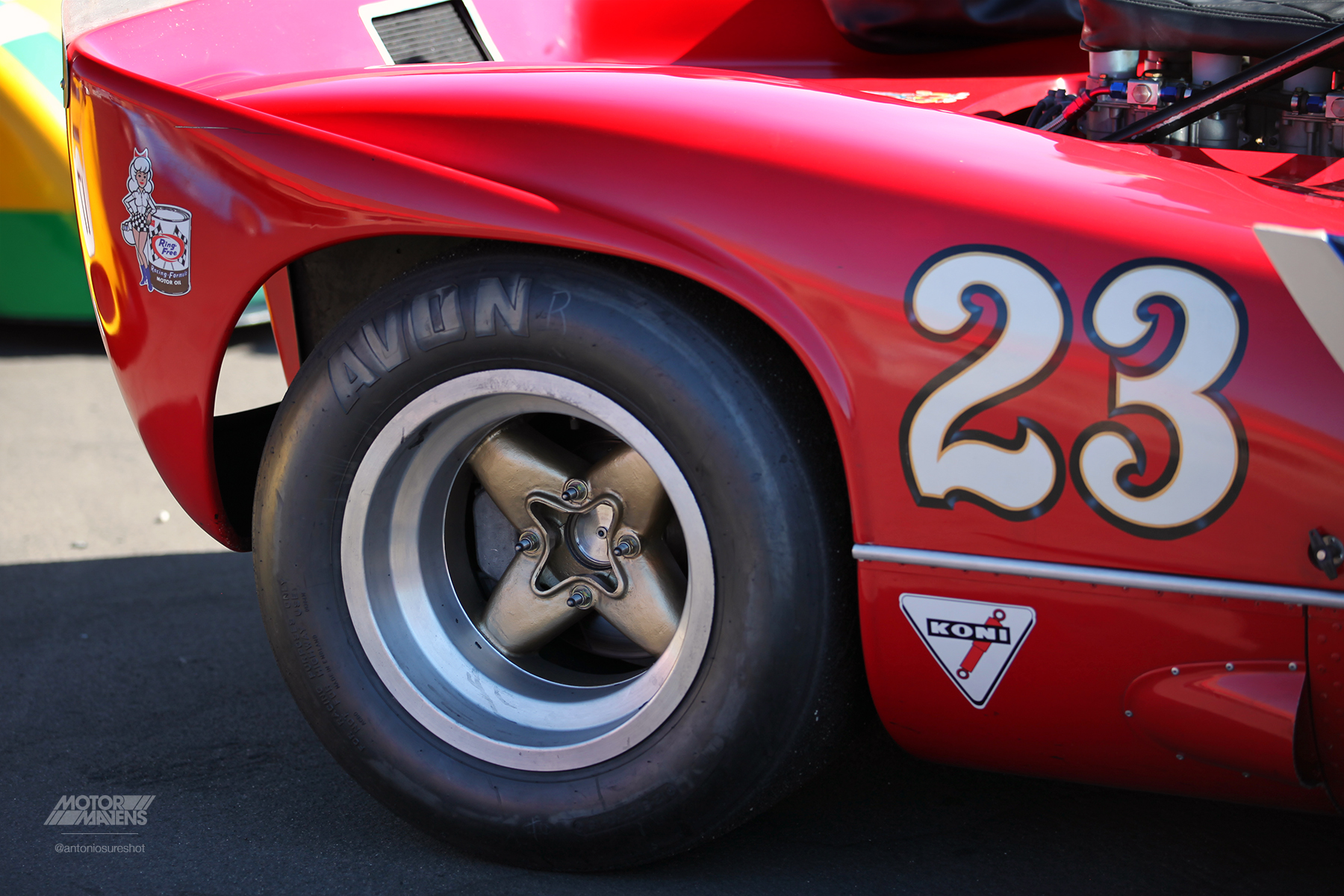 Check out the Avon race slicks wrapped around those super fat stepped lip, 4-spoke wheels. Can you name any classic racing wheels that this style might have inspired?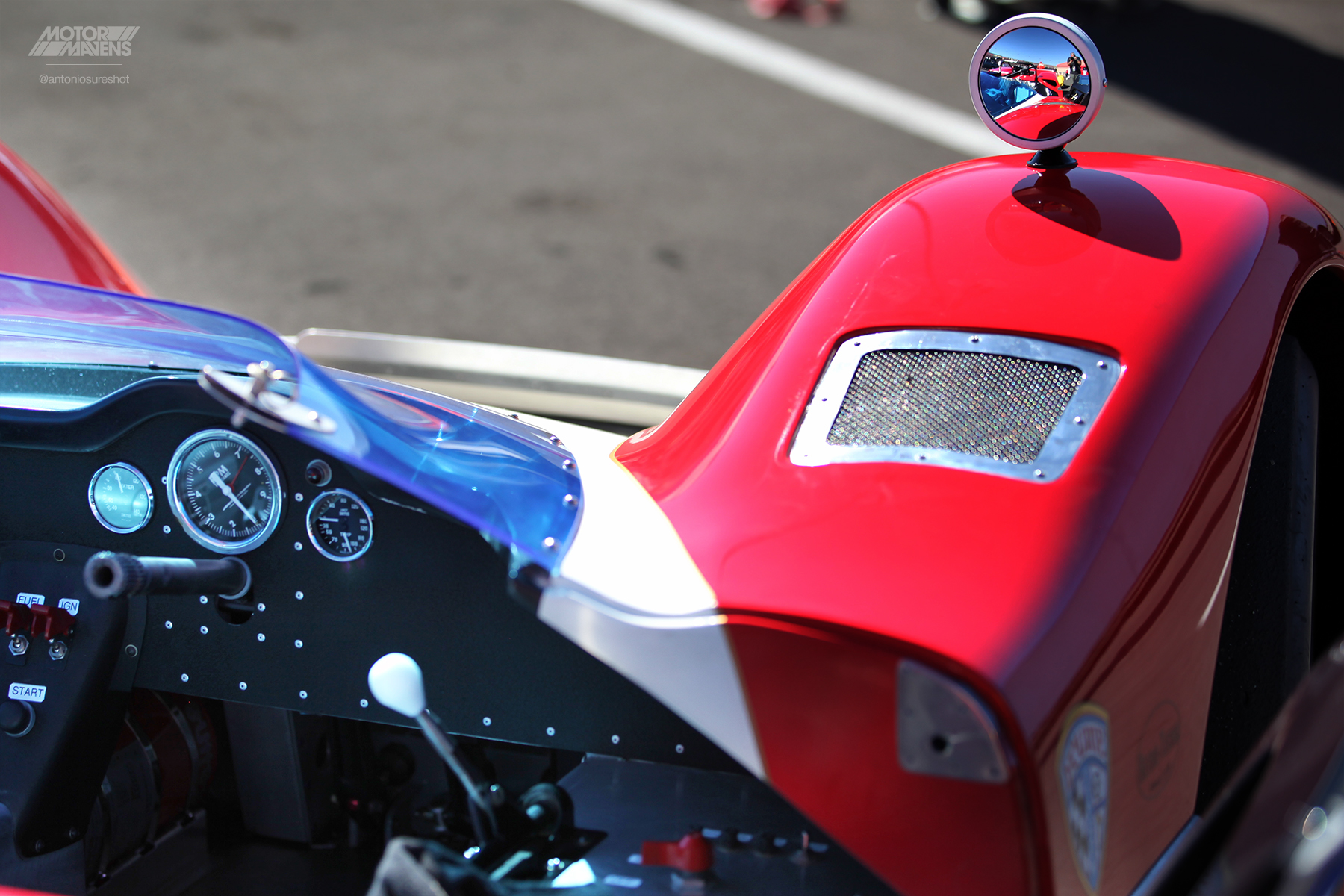 There's certainly a lot to look at in this photo. From the Smiths gauges to the Raydyot bullet mirror on the fender, to the fender vent, which helps relieve the air pressure underneath the fender and keeps the front end planted… there was a lot of race car engineering that went into these Can Am cars.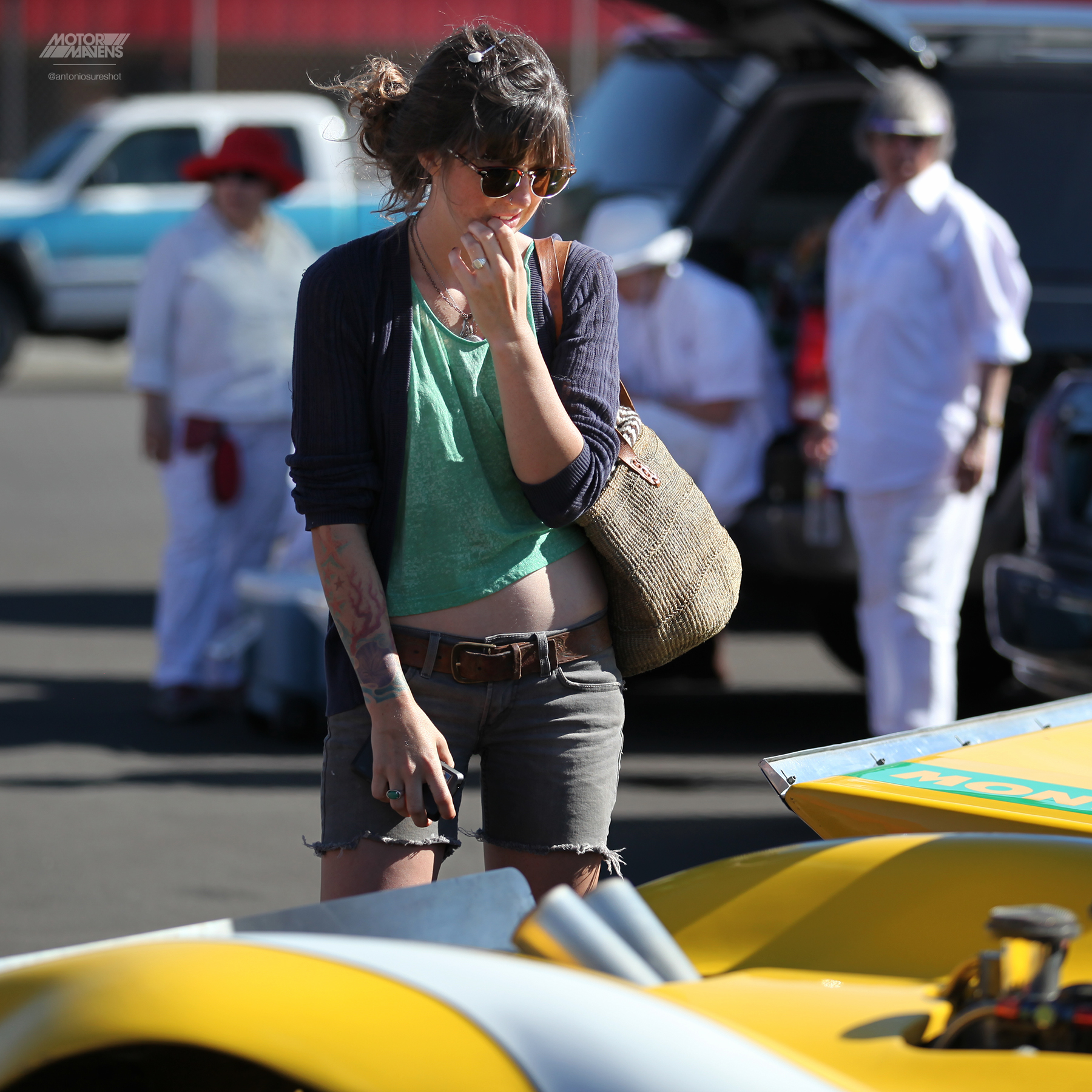 They say that women are attracted to men who can handle a fast car…
Oh wait. Guessing her approximate age from her flowy tanktop and cutoff skinny jeans, this is probably her dad's or grandfather's race car. Nevermind. Haha!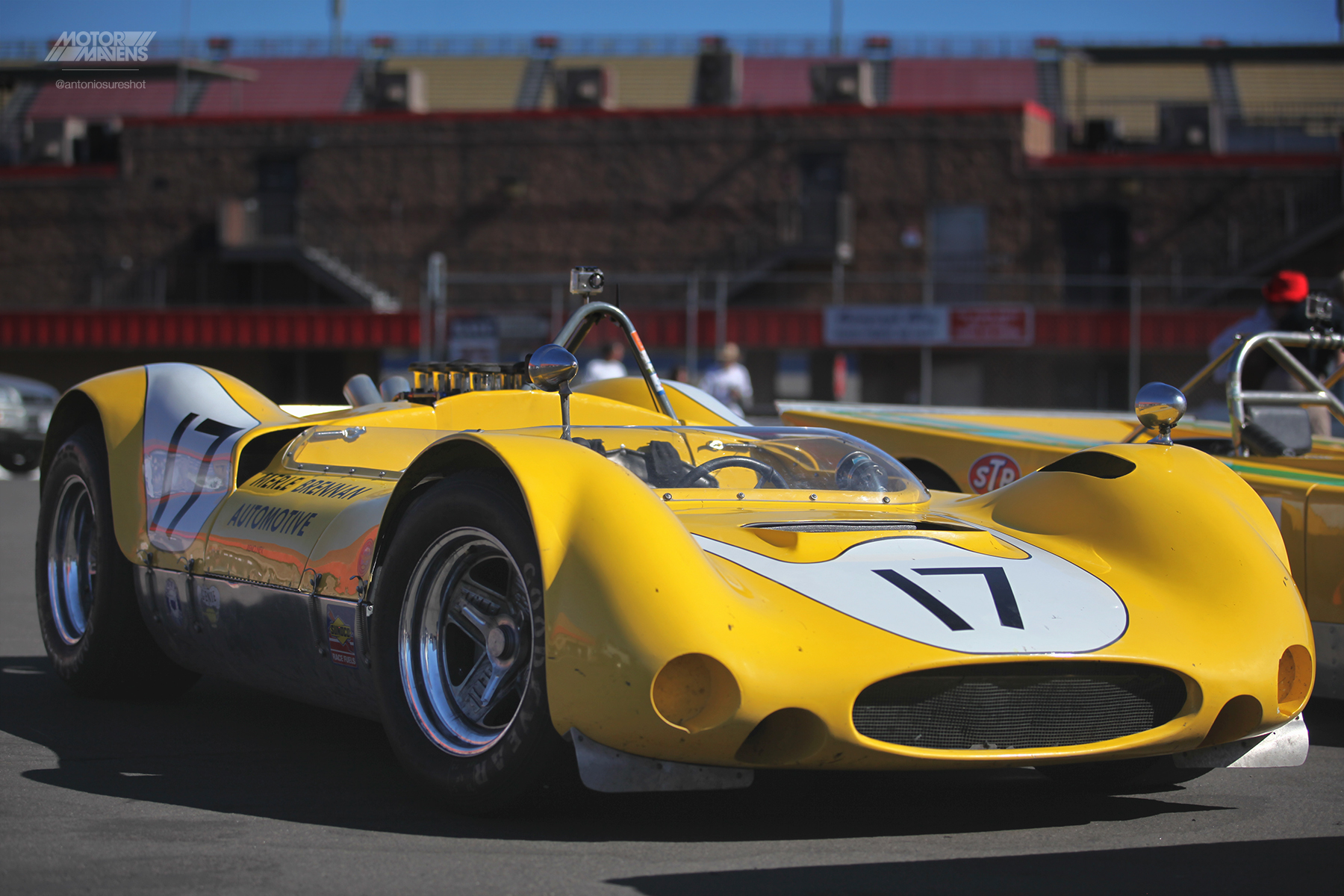 You can't dispute though… this 1965 Huffaker Genie MK10 has some awesome bodylines. The builder of this fiberglass kit car, Joe Huffaker, originally built this Genie MK10 for actor Dan Blocker from the old cowboy television show, Bonanza. These Genie race cars were made to house a variety of different kinds of V8 engines, with disc brakes and Dunlop magnesium brake calipers at all four corners.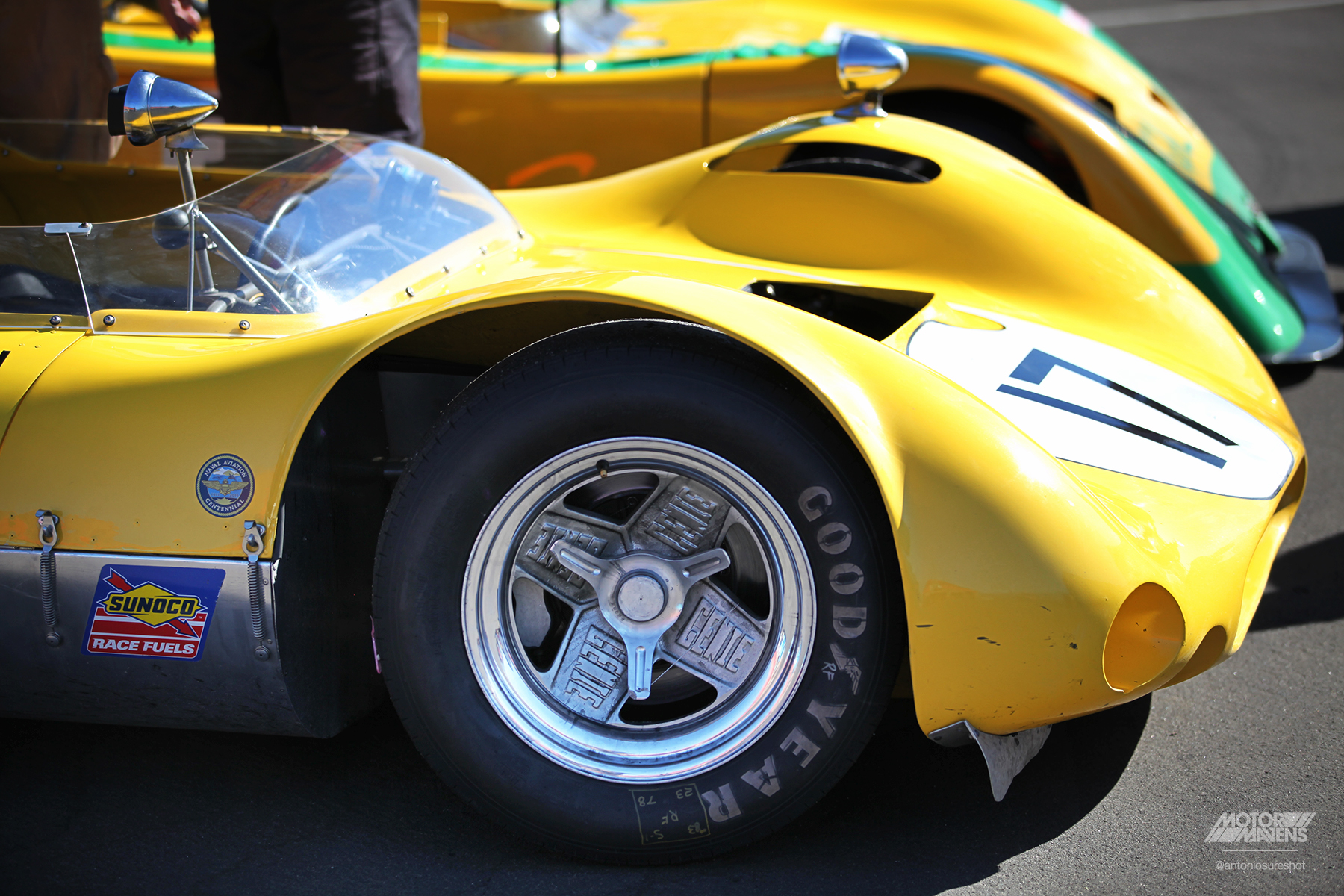 The details of this Huffaker Genie are so interesting, from the custom Genie logoed 4-spoke wheels and knockoffs to the spring clamps holding the fiberglass body to the aluminum rocker panels. Another interesting thing to notice is that there's a bullet-style mirror on the left fender, but the other mirror is actually attached inside the car instead of the right fender.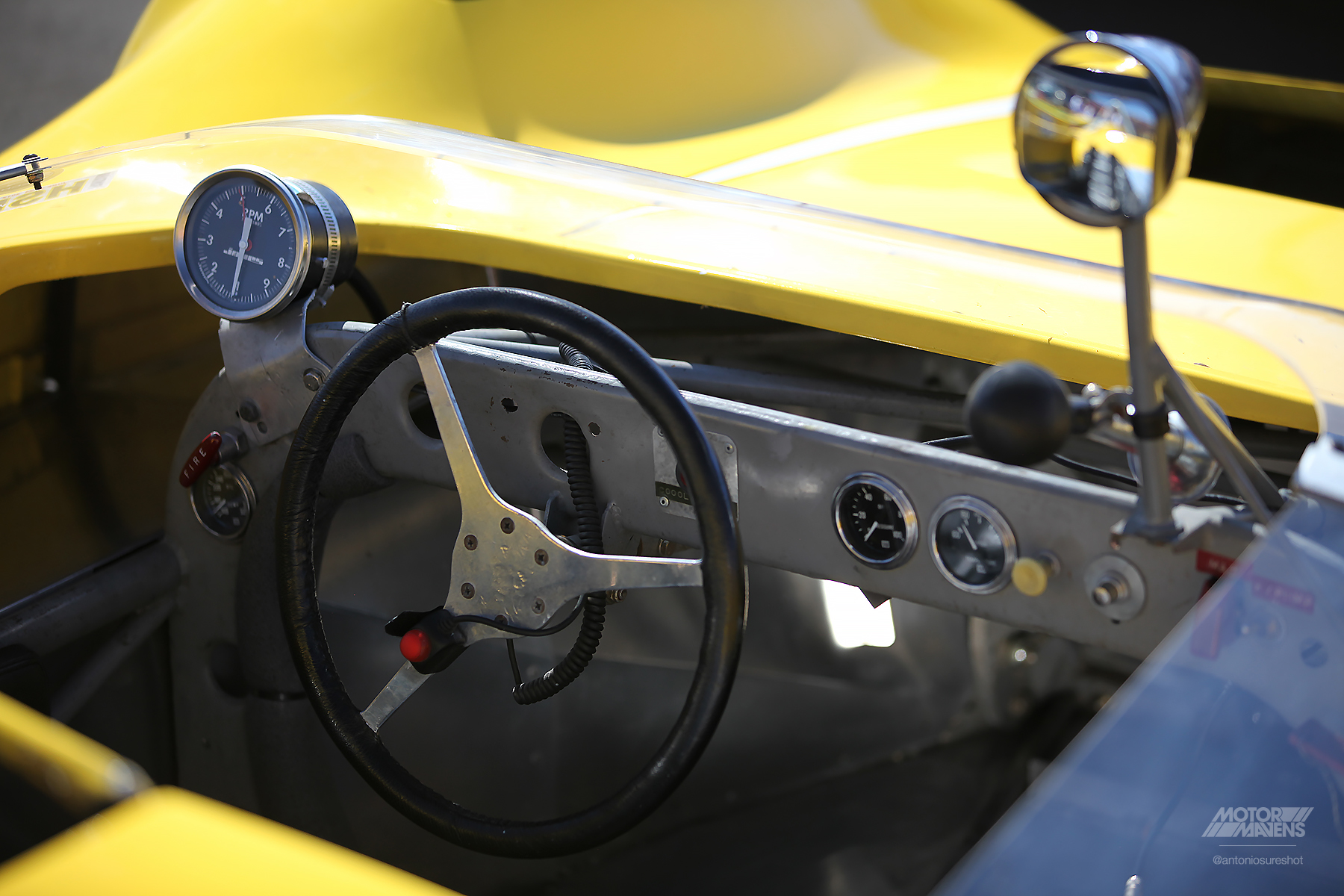 Here's a peek inside the cockpit. Look at the dashboard and how the reverse mirror and tachometer are mounted!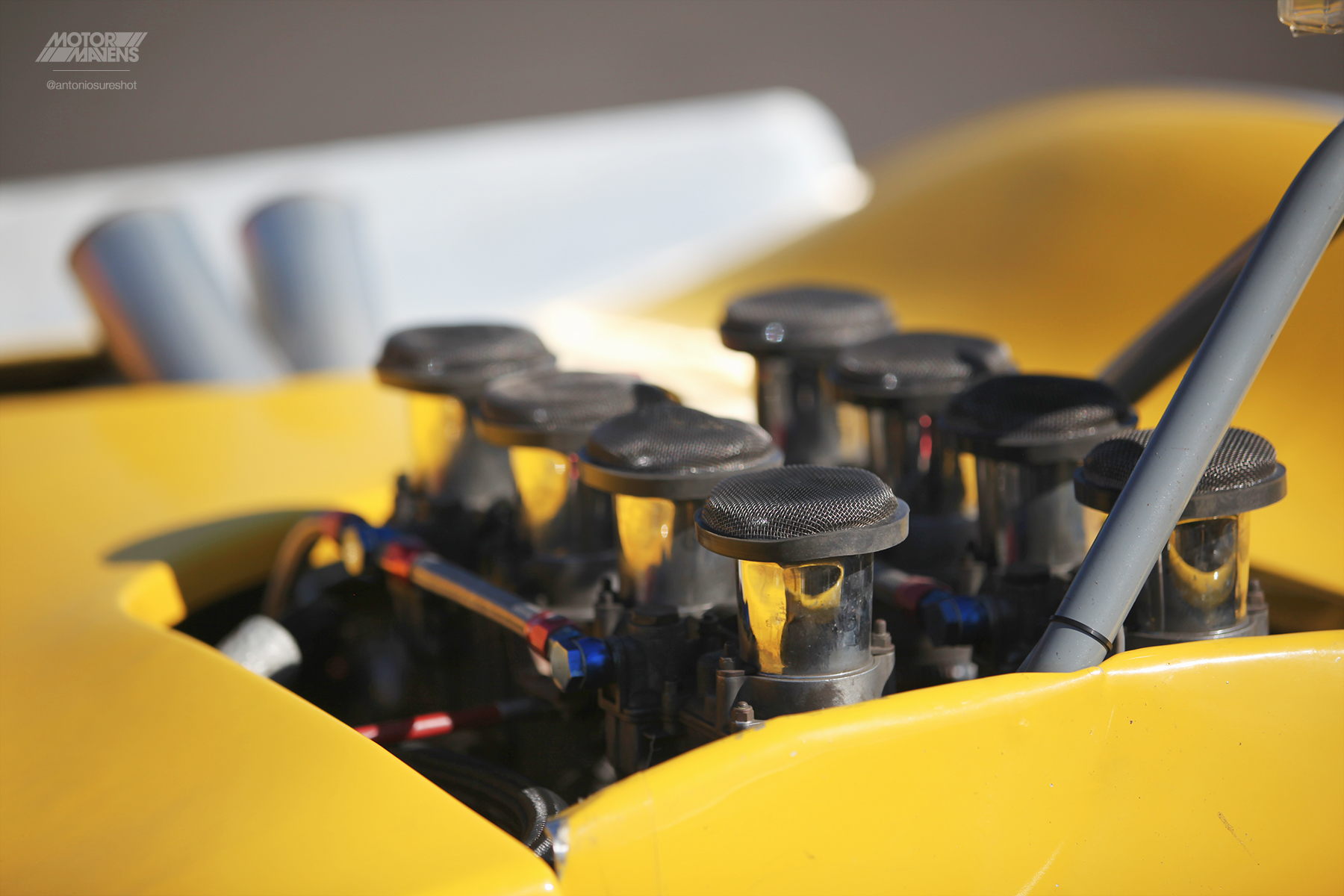 Check out the eight screen-covered carburetor trumpets sticking up past the Genie's fiberglass bodywork. These carbs must sound amazing at wide open throttle, especially right behind the driver's seating position!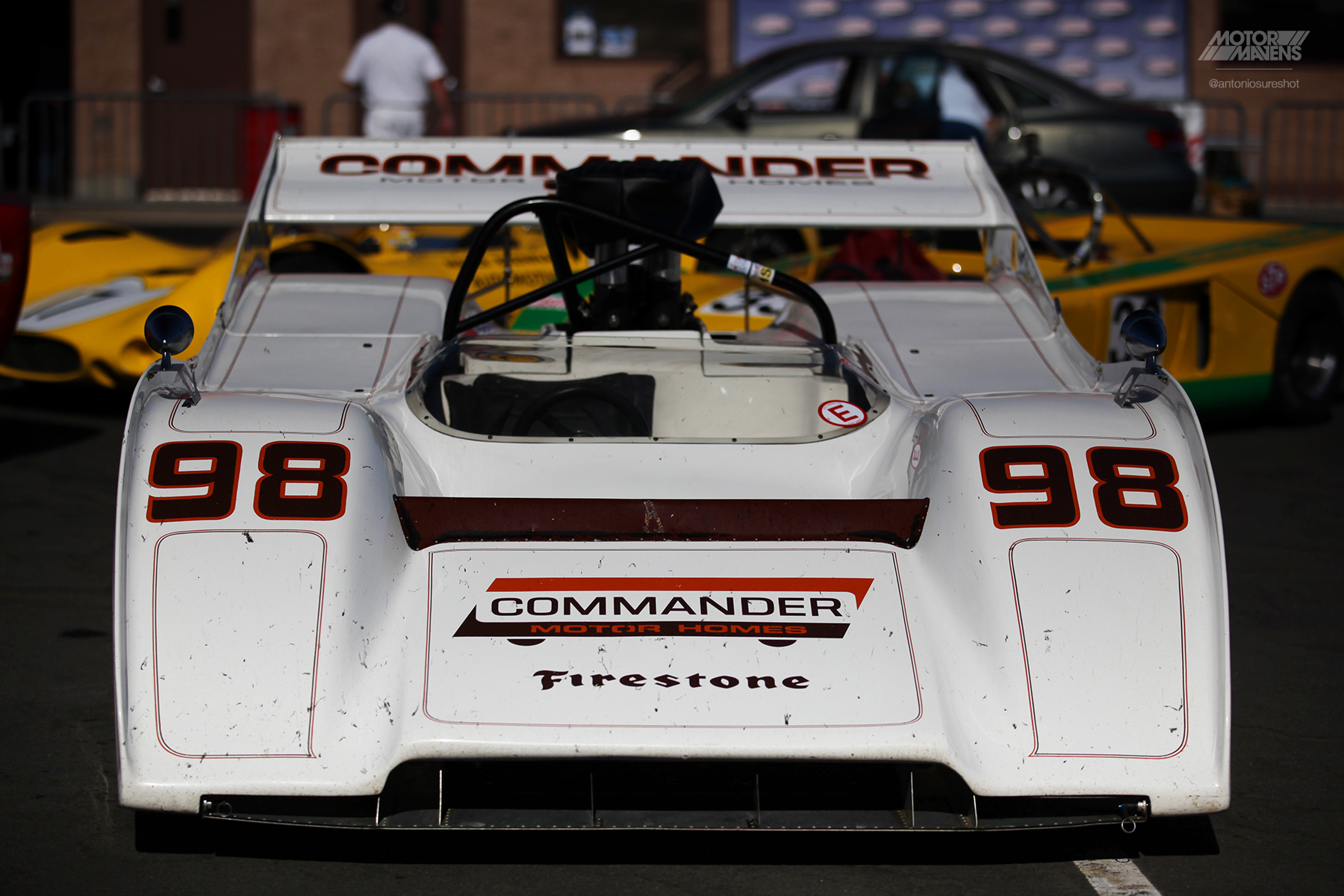 This is the Commander Motor Homes number 98 McLaren M8FP, chassis 72-09, driven by Danny Hopkins in 1973.
The owner of Commander Motor Homes, Mike Slater, teamed up with car dealer Charlie Agapiou to create a three driver program for the Can Am series, buying five McLaren M8F sports cars. Two of these cars had a special racing pedigree – they were the exact same cars that Bruce McLaren Motor Racing's own legendary drivers Peter Revson and Denny Hulme used to dominate the 1971 Can-Am Championship, ending the season in first and second place respectively.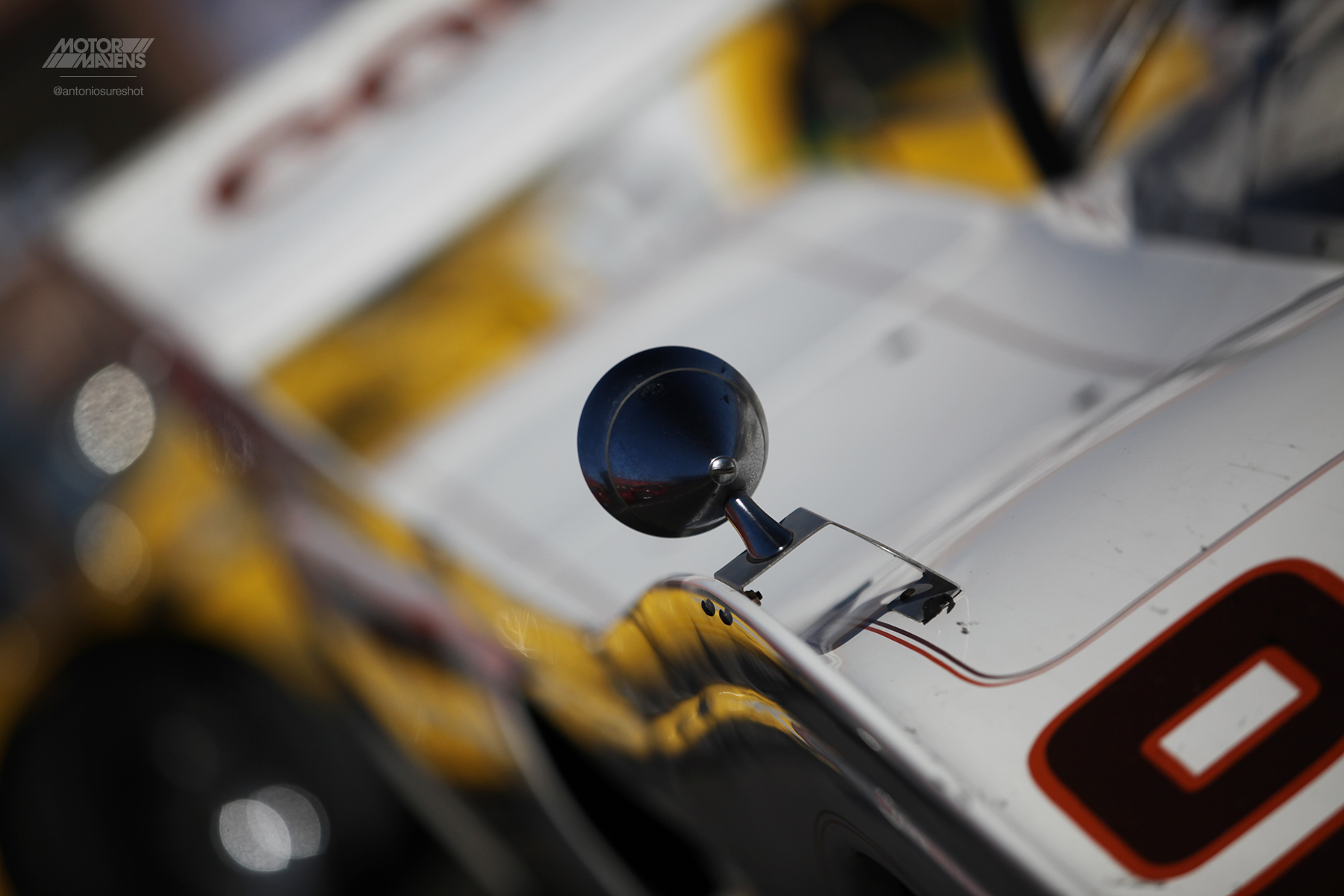 Man, this McLaren has some pretty amazing details.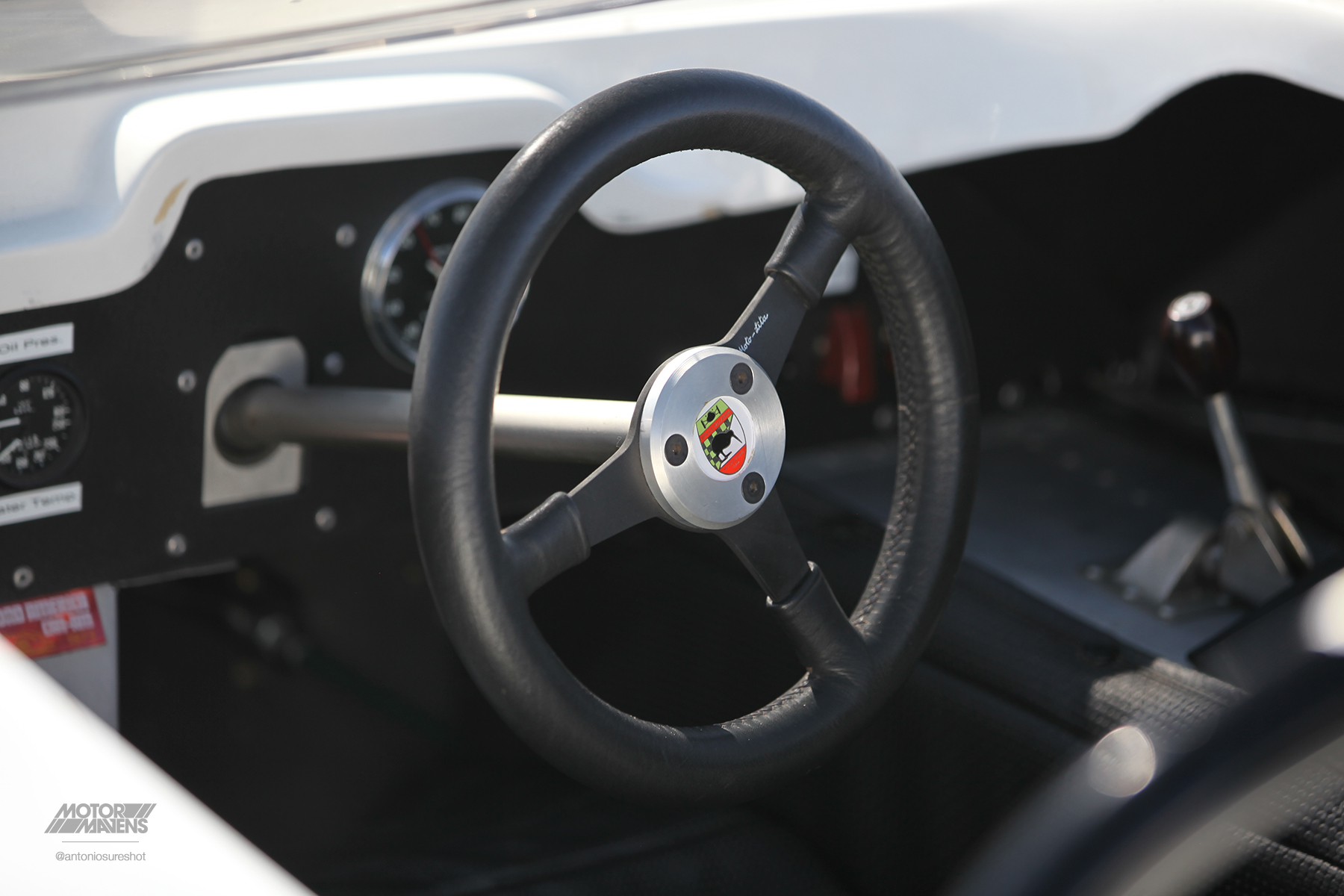 Check out the interior of the McLaren – it looked pretty high end and polished compared to the other Can Am cars on the grid on the day I shot these photos.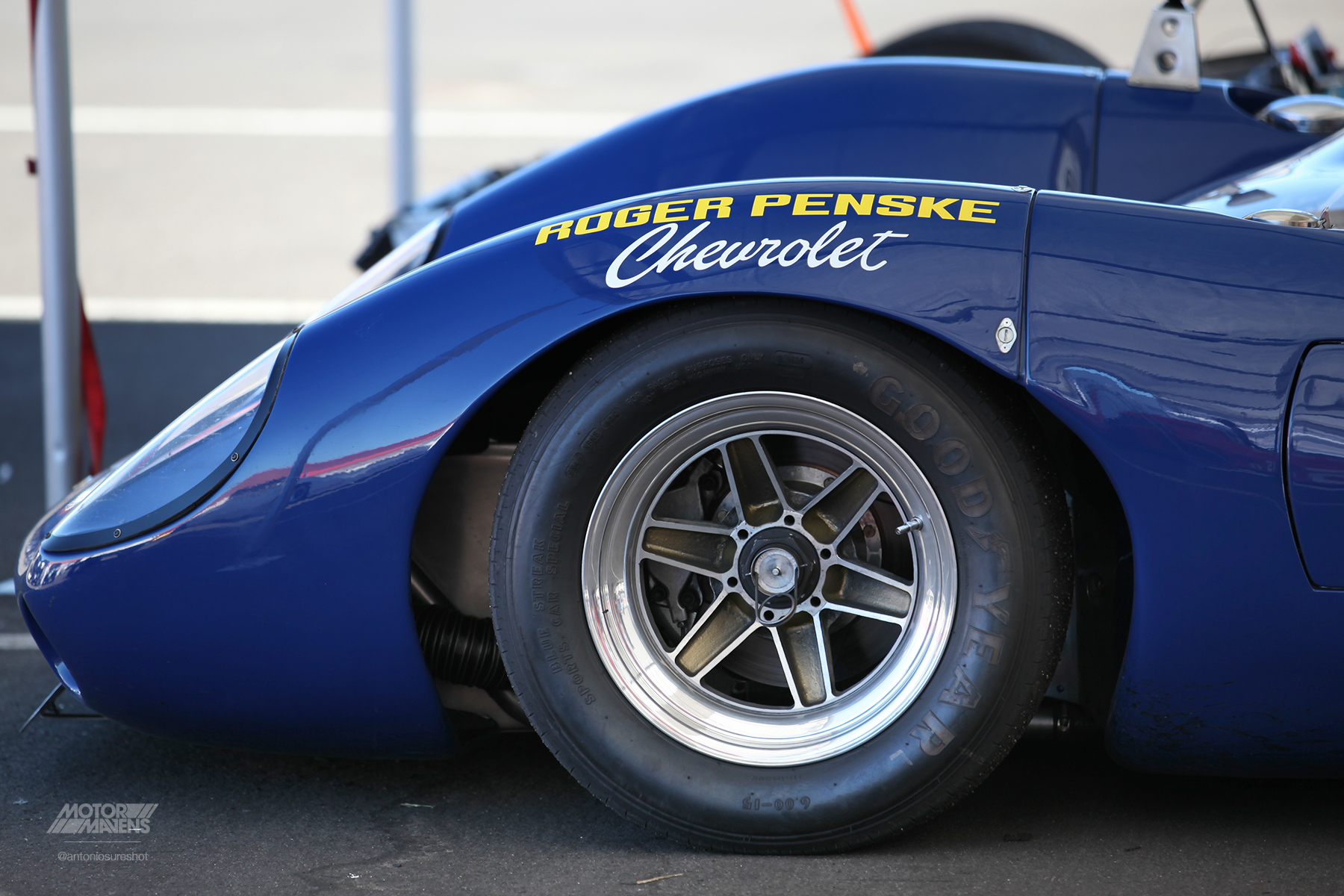 Just look at this awesome Lola T70 in Roger Penske's team colors! It sits low on a set of 6 spoke wheels that look like a mix between SSR Longchamps XR4 and Enkei RPF1. LOVE THEM!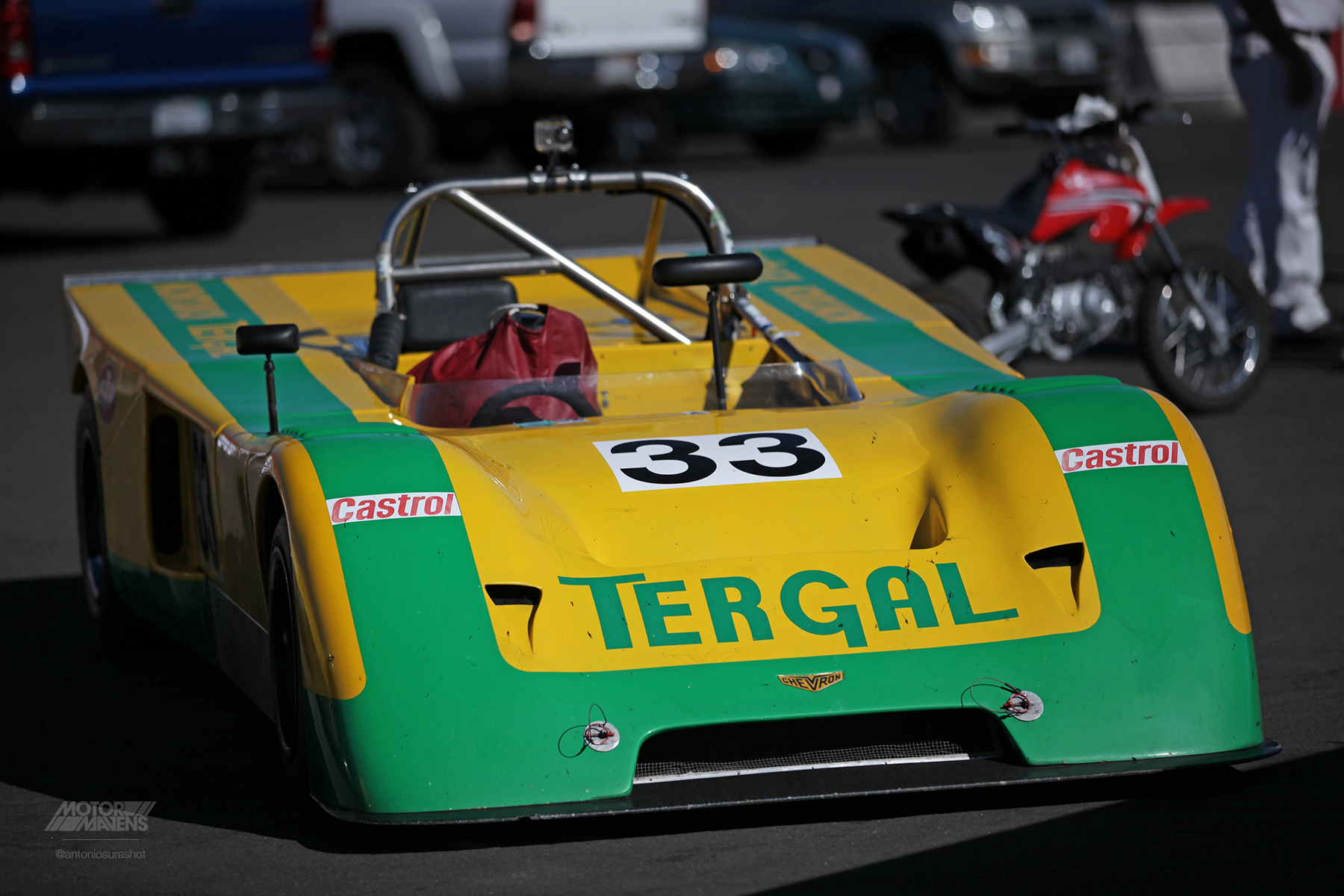 The racing livery on this Chevron B19/21 race car looks so cool! I don't know too much history behind this particular car, but many of these old Chevron race cars used Ford Cosworth engines when they raced in Europe.
These photos are just a taste of the classic Can Am race style. I plan on publishing more photos (and hopefully, video content) related to Can Am history after I'm able to link up with the original mavens of the Can Am scene, Rod Campbell and photographer Pete Lyons again.
Until next time, stay tuned to MotorMavens!
:: Antonio Alvendia
Instagram: @AntonioSureshot • @MOTORMAVENS
MotorMavens on Facebook  •  MotorMavens on YouTube
www.antoniosureshot.com
MORE CAN-AM CARS ON MOTORMAVENS

Autosport Magazine
,
Bernie Ecclestone
,
Bruce McLaren Motor Racing
,
Can-Am
,
Chevron B19/21
,
Commander Motor Homes
,
Denny Hulme
,
Doug Stokes
,
FIA
,
Genie MK10
,
Group 7
,
homepage
,
HSR West
,
Huffaker
,
Huffaker Genie
,
Huffaker Genie MK10
,
M8FP
,
Mark Donohue
,
McLaren
,
mclaren M6B
,
McLaren M8FP
,
Nigel Mansell
,
Pete Lyons
,
Peter Revson
,
Raydyot
,
Roger Penske
,
Sir Jackie Stewart
,
Sir Stirling Moss
,
Toluca Lake Motorsports
,
Tom Stahler
,
Townsend Bell
,
United States Road Racing Championship
,
VARA
---