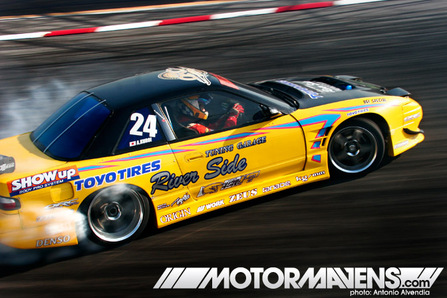 I awoke this morning to the buzz of my iPhone, and struggled to wipe my sleep-deprived eyes so that I could read what was on the screen. Apparently, the text messages were from my friends Stephen and Mayumi, who regrettably informed me of bad news that was delivered via email from D1 driver Kazuya Bai in Osaka.
Last night, D1GP driver Atsushi Kuroi from legendary Osaka drift team Tinker had a deadly accident while he was riding his motorcycle. Although there aren't too many details known about the accident, Kuroi san's kohai (apprentice) Kazuya Bai says that Kuroi's thigh was apparently injured from the accident, and even though the hospital staff worked diligently to stabilize him, Kuroi san's wounds were too severe, and he passed away within four hours of arriving at the hospital.
Everyone in the Japanese drifting industry is obviously saddened and shocked by this news, and most likely we'll see some sort of memorial ceremony for Kuroi san at the next  D1GP round in Japan.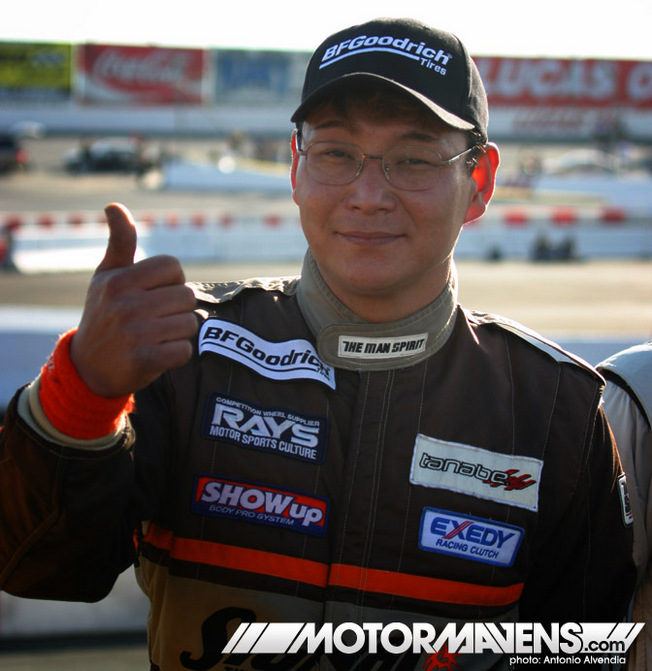 Atsushi Kuroi was well known in the drifting community as one of the Kansai region's best drivers. He came from a rough and tumble background… some insider rumors say that he was previously involved in illegal gang activity when he was younger, but left that lifestyle to pursue drifting, and eventually became one of the top drifters in Japan.
I remember meeting and hanging out with Kuroi san several times throughout the years… but the first time, it was because Kazuhiro Tanaka from Team Orange/Rough World fame conned me into talking to Kuroi san in Japanese, using a bullhorn that I brought to Irwindale D1.
The reason I say Tanaka conned me is… I didn't realize it at the time, but Tanaka basically tricked me into saying some choice words to Kuroi san in Japanese… "damare Kuroi! kurosuzo bokeh!" Tanaka made me practice my pronunciation a couple times, then had me yell it over the bullhorn at Kuroi san as he was walking by the Team Orange pit area.
Everyone who was walking with Kuroi san turned around and looked at me, with eyes bulging, like "WTF it's time to kick this guy's ass, let's go!" but then (luckily for me) they saw Tanaka standing behind me laughing his ass off… which made them stop, roll their eyes and bust up laughing, shaking their heads at the stupidity of Tanaka the prankster.
Later on, I asked Kumakubo, "WTF did Tanaka make me say?" and repeated the words to Kumakubo. The leader of Team Orange started busting up laughing too, shaking his head… it means, "Shut up, I'm gonna kill you, fucker!" OMG. (Stupid Tanaka! What an IDIOT!!! LOL) Sorry about that, Kuroi san!
Still shaking his head, Kumakubo explained with a smile, (in Japanese) "Tanaka is always doing funny stuff… but chotto be careful, Antonio. Kuroi san is a little bit dangerous," hinting at some of Kuroi san's past. Damn, lucky for me, I didn't get dealt with. Stupid Tanaka!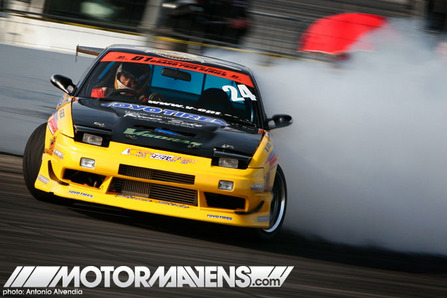 Maybe it's fitting after all that Kuroi san was rumored to be a former gangster in Osaka. The way he drove his S13 Onevia was always gangster as f*ck; with supreme amounts of angle, big smoke, and aggressive transitions that always looked cool as hell.
No wonder all the Osaka Bay Area (futou) drifters respect and admire the infamous members of Kuroi's legendary steet drifting team, Tinker.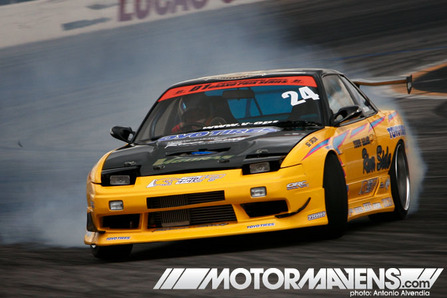 In the style department, Kuroi has one of the best looking S13s in the D1 series in my opinion. I used to always shake my head and say, "why can't privateer S13 owners just clone the S13s built by Kuroi, Fukuda, Koguchi, Naoto Suenaga, Hiraoka, and others… then all the S13s at American drifting events would look a lot more stylish and inspiring."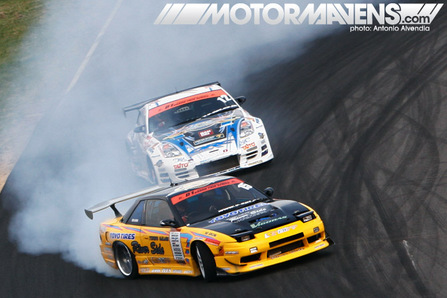 I'll close this photo gallery with a photo of Kuroi san leading Youichi Imamura through the turns at Sugo Raceway. The drifting community as a whole is saddened by the loss of one of its legends. Godspeed Kuroi san. Farewell, friend.
*chiiiiiiiiiiiiiiing*
:: Antonio Alvendia
---