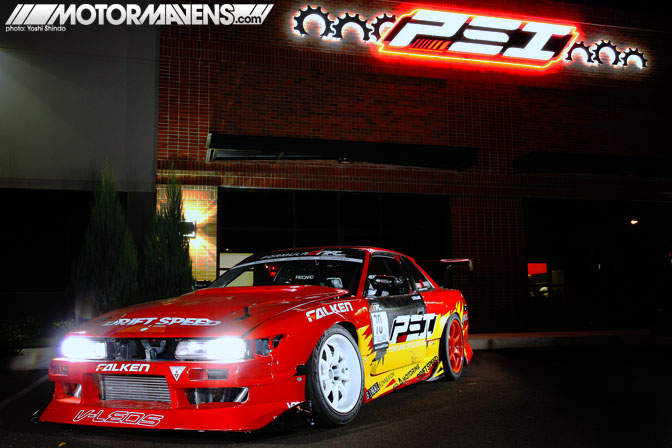 During the 2010 Formula Drift Pro-Am Nationals, up and coming drifter Kyle Pollard from Portland, Oregon earned his Formula D license behind the wheel of a white F20C-powered AE86 Levin – in tandem with guys like Pat Cyr and Walker Wilkerson. Since then, he has opted to build a car that is fully Formula D legal and more easily competitive. Because of all the aftermarket support available, he chose an S13 Silvia… of course!
When Kyle and I finally worked out a good time to shoot his car, Walker Wilkerson and I drove down to Portland to meet up with him. An added bonus was the group that awaited us – Joe Ayala, Justin Shreeve, and Ryan Davis. I was excited to actually hang out with these guys outside of a track! Besides, Ryan from YAER Productions was kind enough to lend me some of his equipment to shoot Kyle's car. I had fun experimenting with off camera flashes – I just need to get some of my own now! And if you haven't seen the brilliant viral video (Stuck) that Joe shot with Larry Chen while "stuck" overnight at the Dallas/Fort Worth airport, I'm strongly suggesting that you want to do that. We are MotorMavens and we endorse this message!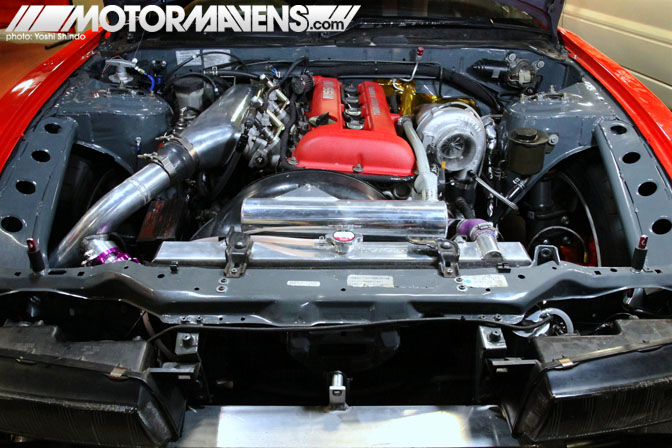 Kyle wanted to keep this S13 true to the roots. He kept the SR20DET and built it to accommodate the high level of competition in Formula D. He ended up using a Tomei 2.2 Stroker kit, Ikeya Formula Throttle Bodies, HKS 264 cams, Garrett GTX3076R Turbocharger, DOC Race exhaust manifold, and Motec standalone to name a few parts. Portland Speed Industries tuned the car to make 560whp and 490 lb/ft of torque.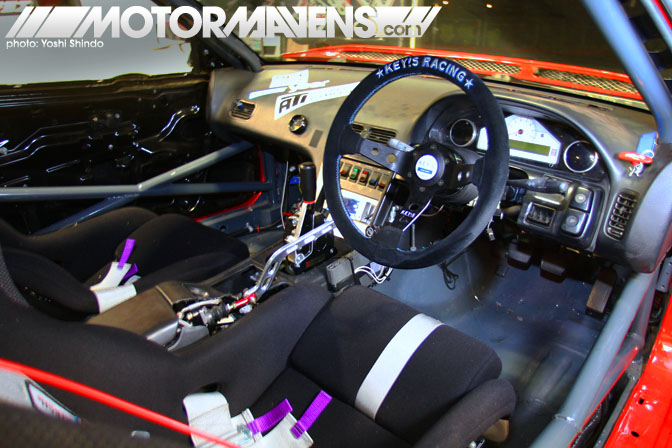 This isn't a RHD converted 240SX. This is a real S13 Silvia. The interior looks like most drift cars – which is not to disparage the car in any way. It's very simple – this car is constructed with an emphasis on competition within a motorsport and, as you know, all motorsports involve speed to some extent. Read: excess weight = not good. Thus, the minimalist interior. Also, as in all motorsports, there are regulations and rules that need to be followed. To comply with these rules, this car has a Formula D spec roll cage, fire suppression system, kill switches, etc. I also like the Stack cluster and Ikeya Formula sequential shifter and transmission.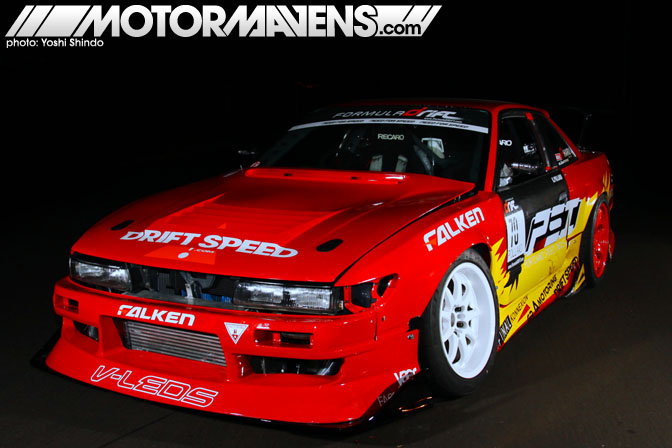 I think this is one of my favorite S13s. I've always loved how the BN Sports Type 2 kit looks on S13s – not to mention hard to get Koguchi Power over-fenders. I would be a little hesitant to run these on a track car, though….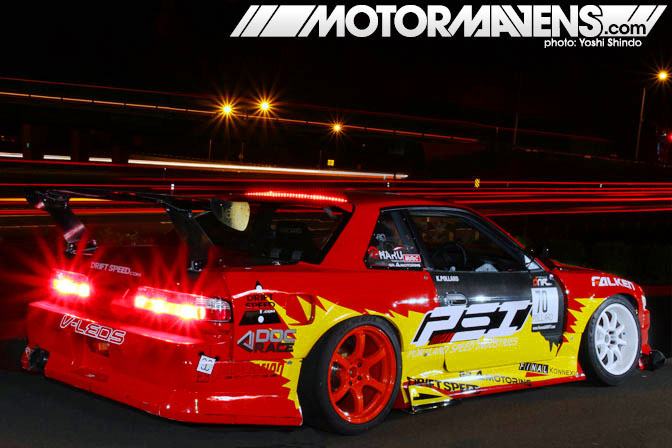 I still can't decide which wheel I think looks better on this car…The Work XD-9 or the Gramlight 57D. I think the contrast of the white XD-9 makes it stand out a bit more. Kyle did a great job with this car and I hope to see this car on track more often!
::Yoshi Shindo
---