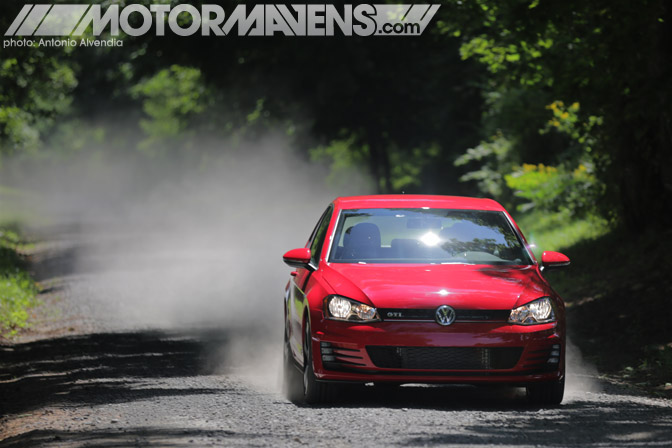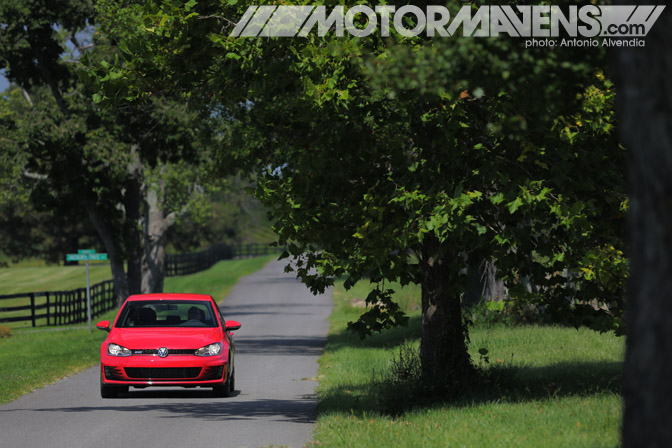 We recently had the opportunity to test drive the 2015 Volkswagen Golf GTI, and we couldn't be more excited about it! Everyone who has seen our previous stories or social media posts related to the Volkswagen Golf knows that most of the MotorMavens staffers are big fans of the car. The Golf is the very first car that defined the term "hot hatch," implying that the car is light, nimble, sporty, and fun!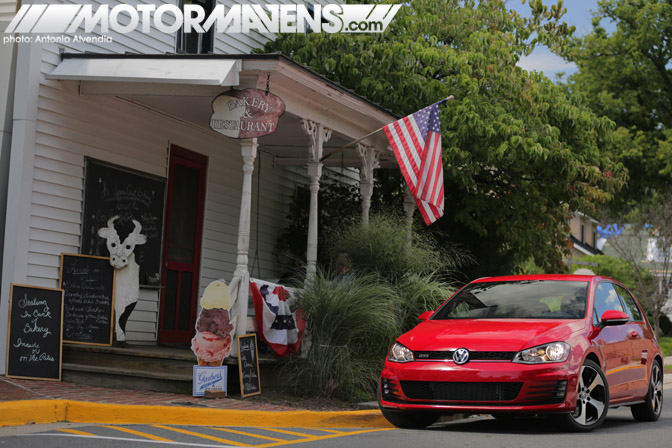 We love going on adventures with our favorite vehicles. We left our home base of Southern California and traveled to the historic colonial town of Middleburg Virginia to take the new Golf GTI through its paces.
The 2015 Golf is the seventh generation of the car (better known as the Mark 7 to Golf afficionados), and this GTI is bigger, lighter, faster, and more fuel-efficient than previous generation. This Golf Mk7 has 10 more horsepower than the previous version, and 51 more pound-feet of torque from the new EA888 TSI® engine. It even has better fuel economy than the Mk 6 Golf (manual transmission version).
Even though the Golf appears to be a small hatchback on the outside, it actually seats five people, and has a larger trunk than any of the newer mid-size sedans on the market.
While we had fun driving through the historic district of Middleburg and the adjacent rolling fields filled with some of America's most regal plantation homes, we are performance enthusiasts at heart, and just could not wait to get the Golf GTI onto a fun driving road! After searching unsuccessfully for some winding roads, we were able to find a backroad that led to this awesome tree-lined dirt path!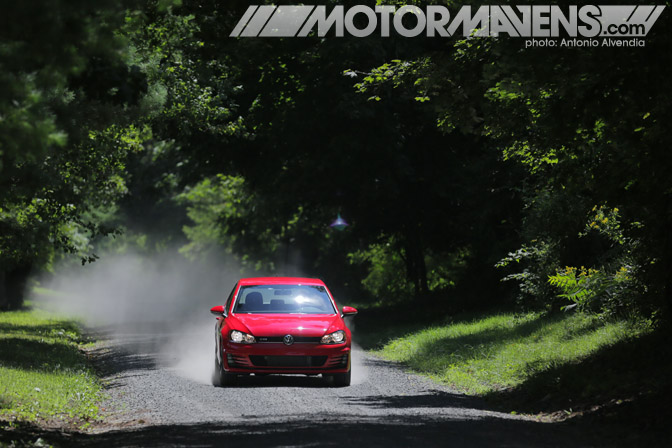 Finding this awesome dirt road was a good stoke of luck! It was time to channel our inner Tanner Foust, as we attacked the dirt roads at high speed, unbeknownst to our good friends at Volkswagen who let us borrow the brand new car with less than 1000 miles on it. ::mischievous grin:: 😀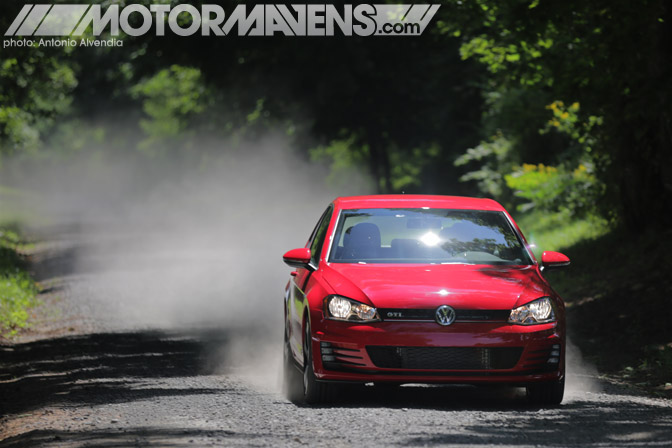 The new GTI handled the moderately high speed turns on the dirt road surprisingly well, with confident grip thanks to good tires and the newly introduced VAQ – an electronically-controlled torque-sensing limited-slip differential that comes equipped as part of the GTI Performance Package. The Performance Package is available on all trim versions of GTI, and includes larger front and rear brakes, the VAQ limited-slip differential, and a 10 horsepower boost over the regular GTI – all for only $1,495.
This electronically-controlled differential works in concert with the existing stability systems (including the related brake-based XDS+ electronic differential lock) and improves traction and performance. Tests at the Nürburgring Nordschleife track have shown lap-time improvements of more than eight seconds on cars equipped with the new differential.
The VAQ acts as a traditional limited-slip differential—which reacts by transferring a set amount of torque to non-slipping wheels when others lose traction—but adds to its effectiveness by monitoring the data from each wheel sensor at all times. Since this data includes both vehicle and wheel speed, as well as yaw and lateral g-force, the system constantly makes precise adjustments to help maintain an optimum torque balance between the left and right front wheels. Up to a full 100 percent of torque can be transferred to either side, as opposed to the fixed "best guess" percentage seen in traditional limited-slip differentials. The result of this proactive (rather than reactive) system is the elimination of the understeer and torque steer that can afflict sporty front-wheel-drive cars.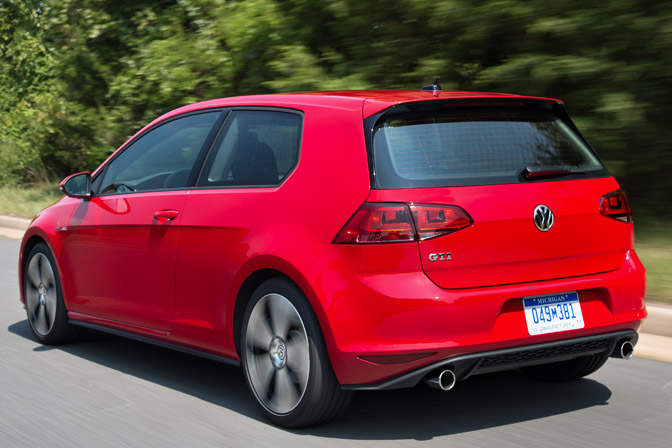 Starting at $24,395 for the S model, the all-new Golf GTI features a highly sophisticated EA888 2.0-liter turbocharged and direct-injection TSI engine that makes 210 horsepower and a healthy 258 pound-feet of torque, figures that are 10 hp and 51 lb-ft higher than in the previous-generation GTI model. The optional Performance Package ups the ante with 220 horsepower, as well as the torque sensing electronically-controlled limited-slip differential and larger brakes as mentioned previously. All GTI models have a standard six-speed manual transmission or an optional six-speed DSG dual- clutch automatic that has a launch control feature.
The GTI accelerates quickly – faster than one might expect from a hatchback vehicle. The shifter feel on the manual transmission GTI is nice and notchy; the six-speed DSG automatic version shifts quickly and responsively, which is exactly what you want out of an automatic transmission mated to a sporty turbocharged engine. Love it.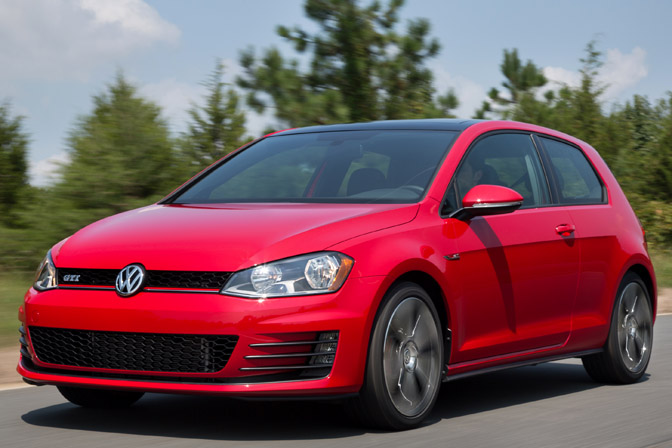 This new-generation Golf GTI has grown in size yet dropped in weight by up to 82 pounds, despite a plethora of new and upscale features. The 2015 car is wrapped in sheetmetal that is totally modern yet equally unmistakable as a Volkswagen Golf GTI. The shape and design elements remain as defined as ever, with a distinctive C-pillar and roofline framing classic Golf GTI side windows, but the striking new front end and steeply sloped hood leave no doubt this is an all-new model.
The new look is further accentuated by the sharper headlight clusters and the narrow, bright-red horizontal redline grill that runs between the optional Bi-Xenon headlights, which now leads to a strongly defined body line that travels along the side and all the way back to the taillight clusters, only breaking for the wheel arches. Just above, another body line can be traced from the rear side window all the way back up to the headlights and front horizontal redline grill. These subtle body lines help create a poised yet elegant appearance.
In addition to the red-colored horizontal highlight on the grille, the Golf GTI has several other visual differences from its conventional Golf brethren. The lower front fascia incorporates standard LED foglights housed within a series of horizontal strakes on either side of a unique mesh pattern grille. Red-painted brake calipers peek behind bespoke GTI wheels and subtle side skirts help to give the GTI a more planted appearance. Around back, bright exhaust tips sit on either side of a unique rear diffuser, and a roof spoiler further differentiate the car.
Dimensionally, the Golf GTI has grown in all directions but up. Overall length has increased by 2.1 inches, while width has gained 0.5 inches. Overall height has decreased, however, by 1.1 inches, making the car look more ready to pounce than ever. Thanks to the MQB architecture, which dictates a fixed relationship between the front-wheel centerline and the pedalbox, the front wheels now sit 1.7 inches further forward, giving a premium "cab backward" aesthetic.
Along with the new design graphics and shape, these updated proportions help the Golf GTI achieve a lower visual center of gravity and a more dynamic stance, helped by a sport suspension that lowers the car by 0.4 inches compared with a regular Golf. The car is more aerodynamic than the previous GTI, with a Coefficient of drag of 0.31. This is good information, but let's face it. Nine of out ten MotorMavens readers will put aftermarket coilovers on the car anyway.
The all-new Golf GTI is equipped with large 18-inch wheels as standard equipment, wrapped in standard all-season or optional summer 225/40 tires… but again, most MotorMavens readers will swap out the wheels and tires immediately upon buying the car anyway.
A stand-alone Lighting Package is available for $995 for all three Golf GTI trim levels: it consists of Bi-Xenon headlights and LED daytime running lights, as well as Volkswagen's Adaptive Front-lighting System. This system swivels the main headlight beams by up to 15 percent as the steering wheel is turned to help illuminate bends in the road more effectively at speeds of more than 6 mph. Automatic rain-sensing windshield wipers are now standard on SE models and above, along with automatic headlights. These are awesome options to have – they add even more sophistication to an already sophisticated hatchback.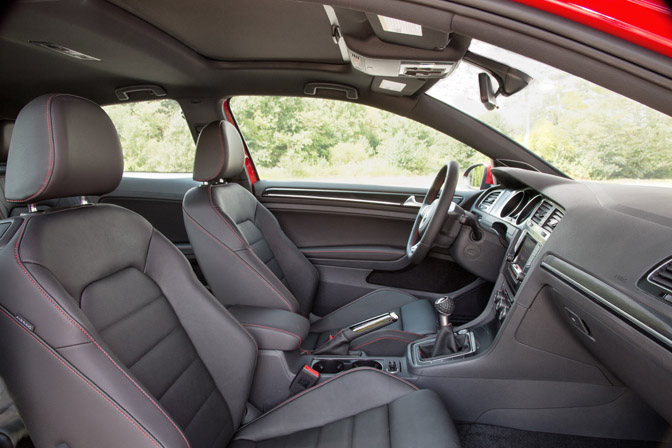 The all-new Mark 7 Golf GTI takes a further step upscale with its interior. In all regards, it's a larger, more luxurious cabin with an emphasis on comfort and a substantial features list. Despite the Golf GTI's lower overall height, interior space has been increased all around, with 93.5 cubic feet of interior room compared with 92.9 for the previous GTI. A panoramic power tilt and slide sunroof is also standard equipment on the SE and Autobahn models.
Shoulder space has been increased by 1.2 inches in the front and 1.1 inches in the back, while elbow room has a slightly more modest increase of 0.9 inches and 0.8 inches respectively. This is PERFECT for big guys – the car feels roomy inside even for guys with 6′-1″ height, with perfect ergonomics, as one could expect from Volkswagen.
People seeking to use the Golf GTI for roadtrips (or packing it full for camera gear for photoshoots) will be happy, because the cargo capacity in the trunk has improved by around eight percent compared with the previous model, to 16.5 cubic feet up to the parcel shelf and 22.8 cu ft to the roof. That's more luggage and gear space than even the largest mid-size sedan. The load area is now easier to access, thanks to a load sill that is 0.7 inches lower and an opening that is 1.9 inches wider. The versatility of the load space has been enhanced by a trunk floor that can be raised or lowered by 3.9 inches, while the 60:40 split backrest can be folded to give an almost flat cargo area that easily accommodates a full-size bicycle. With the rear seats folded, the Golf GTI now has 52.7 cu ft of cargo capacity, fully 15 percent larger than before. We were actually able to fit a coffee table into the back of our Golf that we were loaned!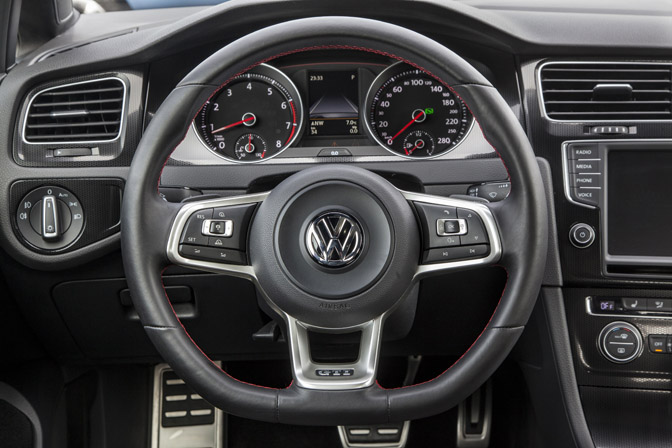 The cockpit view proves that the all-new Mk7 Golf GTI is better equipped than its predecessor, regardless of trim level. The Golf GTI S, which starts at $24,395 (plus $820 destination charge) for the two-door model with manual transmission, adds the following over the previous entry-level GTI: standard 5.8- inch touchscreen infotainment center, a leather-wrapped multifunction steering wheel, VW Car-Net® connected services, ambient and footwell lighting with LED reading lights, LED foglights, and a new Driving Mode Selection feature.
The Automatic Post-Collision Braking System (APCBS) is standard on all Golf GTI models, while new comfort and convenience features include the Fender® Premium Audio System and Climatronic® automatic air conditioning. For the first time, American Volkswagen enthusiasts will be able to order the DCC adaptive damping system as an $800 option on Performance Package-equipped SE and Autobahn models.
In addition to the added space, many of the driver controls have been repositioned for optimum ergonomics and usability. The seat position is now 0.8 inches further back, while the height of the GTI shifter and the spacing between the pedals have all been fine-tuned as well. This new driver-centric design focus is evident from the center stack, which is now angled towards the driver—a trait frequently seen in premium luxury or performance vehicles.
The Golf GTI's premium performance personality is further accentuated by the red ambient lighting and illuminated door sills; black headliner and trim inserts; buttons and switches that are now backlit in white; and the use of premium materials and soft-touch plastics throughout. A GTI-specific instrument cluster, sporty aluminum-look pedals, the unique shifter knob, and the flat-bottomed sport steering wheel also ensure differentiation from its less sporty siblings.
An equal amount of attention has been paid to maximizing comfort and convenience. The standard sport seats, with classic GTI "Clark" plaid seating surfaces, are heatable, for instance.
There are no fewer than six cupholders. The cruise control switches are now housed on the leather-wrapped multifunction steering wheel, as opposed to the previous column stalk. The Media Device Interface (MDI) with iPod and iPhone® connectivity is now in the center stack, while more traditional media such as CDs and SD cards can be inserted into slots in the large glovebox.
One of the most significant advances in the all-new Golf GTI comes in the form of its new touchscreen infotainment center, standard on all models. At 5.8-inches in size, the display utilizes a capacitive touch sensor (as in smartphone and the like tablet technology) rather than the more common resistive touchscreens that require pressure, enabling gesture controls like swiping and even pinch-zooming.
This infotainment module offers an available SD card-based navigation program complete with 3D rendering, as well as the expected audio functions (including standard SiriusXM® Satellite Radio) and car analytics and settings—specifically the GTI's Driving Mode Selection. This display also has a proximity sensor function, which senses when a hand is nearby and automatically switches its display to a more finger-friendly layout.
The Driving Mode Selection feature is new for the seventh-generation Golf GTI. There are three modes on cars with the standard sport suspension: "Normal", "Sport", and "Individual". The DCC adaptive damping system adds a "Comfort" mode. Normal and Sport have a different steering heft and throttle response, while Individual allows a driver to tailor the steering and throttle to their own liking, as well as adjust the front lighting on cars fitted with the Lighting Package. On cars with the DSG transmission, the Sport mode gives more aggressive shifts. With the DCC system, Comfort mode puts the dampers in their softest setting for a smooth highway ride and to their firmest setting in Sport for better cornering performance.
On top of the standard features of the Golf GTI S, all SE models are equipped with a rearview camera, Keyless access with push-button access, and the highly acclaimed Fender Premium Audio System, as well as leather seating surfaces and a panoramic power tilt and slide sunroof. The top-of-the-line Autobahn variants add the navigation system, Climatronic automatic climate control, and a 12-way power driver's seat.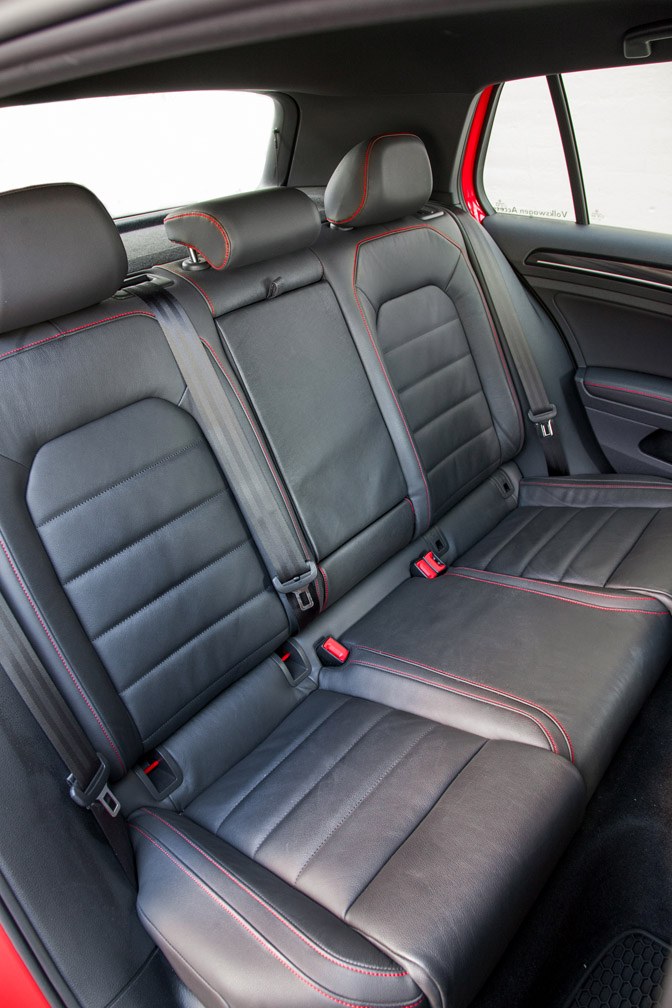 While we absolutely LOVE the classic style of Volkswagen GTI's plaid seat material, premium black leather with red accent piping is also an option for higher end models. Just check out how roomy the rear seats are, with comfortable seatbacks and seat bottoms that were designed to ergonomically cup the occupant's butt. Good job, Volkswagen!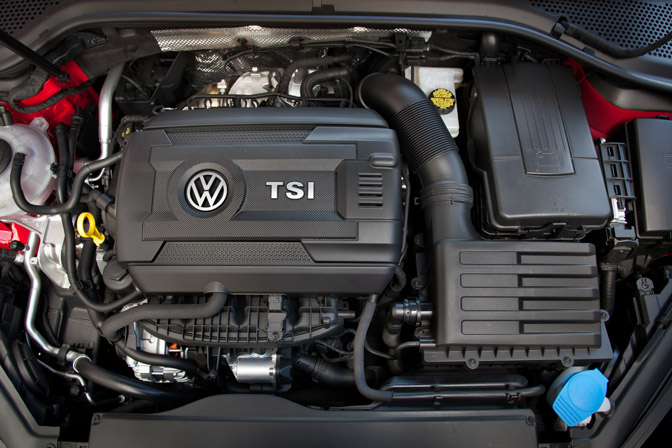 In classic Volkswagen style, the Golf GTI is powered by a compact turbocharged engine. The 2.0-liter TSI turbocharged and direct-injection unit that powers the new Golf GTI is a member of the latest, third-generation EA888 engine family and is built in Volkswagen's state-of-the- art factory in Silao, Mexico. The EA888 engine line is a masterpiece of modern engine design that provides high levels of performance, efficiency, and drivability in a lightweight, compact package.
The new EA888 engine produces 10 horsepower more than the engine it replaces, topping out at 210 horsepower at 4,500 rpm. It also brings a massive boost in peak torque, from 207 pound-feet to 258 lb-ft, beginning at just 1,500 rpm and lasting until 4,500 rpm. The available Performance Package modifies the engine programming to hold peak torque for an extra 200 rpm, enabling the EA888 to produce an extra 10 horsepower for a total of 220 at 4,700 rpm.
Despite this increase in horsepower and torque, the new Golf GTI is more fuel efficient than previously. When equipped with the six-speed manual transmission, the Golf GTI records an EPA estimated fuel economy rating of 25 mpg in the city and 34 mpg on the highway, compared to the previous-generation GTI's ratings of 21 mpg city and 31 mpg highway.
Augmenting the EA888's 16-valve, dual-overhead-camshaft layout is the latest variable cam phasing system, which controls both intake and exhaust valves, as well as a variable lift system for the valves themselves. The single-scroll turbocharger (commonly engineered by IHI and Volkswagen) feeds intercooled air through the aluminum-alloy crossflow cylinder head. Fuel is delivered by the latest high-pressure direct-fuel-injection system at 2,900 pounds per square inch, compared to 2,176 psi on the previous EA888 engine.
The new engine is designed to be both lighter than the old unit and also to reduce friction. Weight is reduced thanks to a combination of compact design, streamlined componentry, and a focus on lightweight materials. The cast-iron engine block uses a wall thickness of just 0.12 inches to reduce its weight to 72 pounds, while a lightweight polymer oilpan and aluminum- alloy screws and fasteners also trim mass. Other changes that help the engine to shed pounds include a reduction from eight to four crankshaft counterweights. Internal friction is reduced due to measures such as roller bearings for the engine's balancer shafts and a reduction in the size of the engine's main bearings.
The engine is also extremely compact, illustrated by the way in which the exhaust headers have been integrated directly into the cylinder head. This not only improves the system coolant operation (aiding rapid warm-up, which helps improve efficiency), but it also allows greater thermal management of the exhaust stream. This, along with a turbocharger that can withstand extremely high exhaust temperatures, means the forced-induction system doesn't require complex fuel enrichments under high load, helping improve both efficiency and longevity.
While the GTI is powerful enough in stock form, if we had one in our fleet, we would absolutely change out the intake and turbo manifold, with an upgraded turbo and a performance tune from APR. Obviously, this would make the GTI even more fun! It's a no brainer.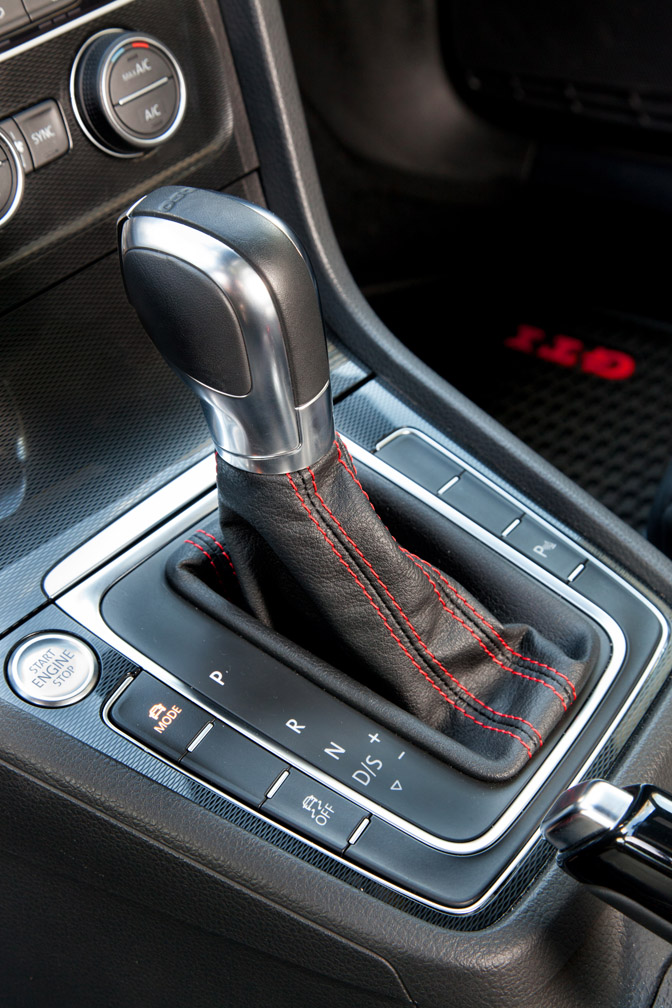 When equipped with the optional six-speed DSG dual-clutch automatic transmission, the fuel economy improves from the previous model's 24 mpg city and 32 mpg highway to EPA estimated fuel economy ratings of 25 mpg in the city and 33 mpg on the highway. The DSG transmission also incorporates a launch control feature.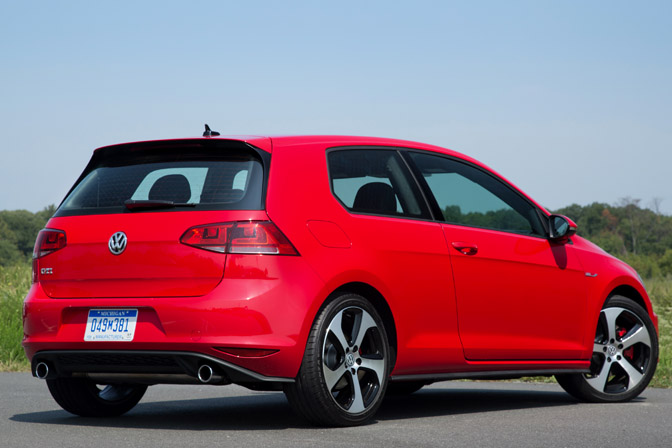 As the first U.S.-market vehicle built on Volkswagen's MQB modular platform, the new Golf GTI features an all-new body-in-white. The unitary construction chassis has two solid-mounted subframes with bolt-on front fenders, and utilizes new technologies such as the laser clamp welder, which produces "wobble seam" welds in a wave pattern to maximize strength in a limited space, offering up to four times the strength of a traditional spot weld.
The all-new Golf GTI's stamped steel body and chassis now boasts 28-percent of its parts in high-strength, hot-formed steel, as opposed to six percent in the previous GTI. This technology—along with the use of newly developed ultra-high-strength steels that weren't available during the last generation's development and now comprise nine percent of the new Golf GTI's bodyshell—allow much of the chassis and body to be constructed from thinner and lighter parts without any loss in strength. Thanks to the use of selective thickness for parts, a single component can be tailor-rolled to have as many as 11 zones of varying thicknesses. The upshot is a body-in-white that weighs 51 pounds less than the previous car's despite offering 10 percent more torsional rigidity. Overall, the new Golf GTI is 53 to 82 pounds lighter than the previous-generation car, despite its larger size and additional equipment.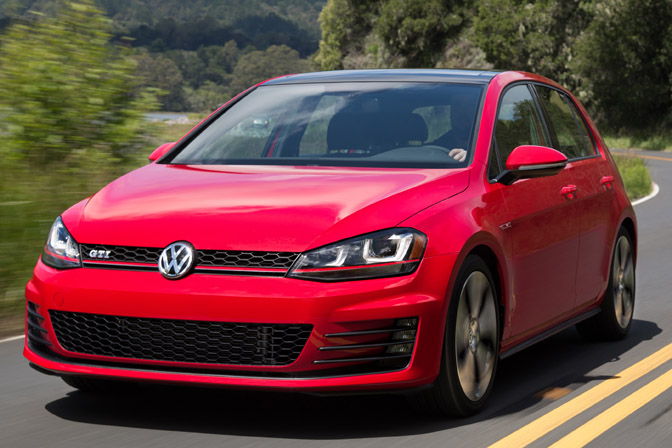 The new Golf GTI features a strut-type front suspension with lower control arms and a multilink rear suspension, both of which are controlled by coil springs with telescopic dampers. The Golf GTI has a lowered sport suspension, which is 0.6 inches lower than the Golf TSI and TDI® Clean Diesel models. The front suspension includes a 24-millimeter anti-roll bar while the rear has a 20-millimeter version, 2 mm larger at the front and 1 mm thicker at the back compared with a regular Golf TSI model.
The Golf GTI can also be ordered for the first time in the U.S. with the latest version of Volkswagen's DCC adaptive damping system, which manages the suspension's rebound and compression rates individually, helping to improve vehicle dynamics. This feature is only available on SE and Autobahn models fitted with the optional Performance Package… but we would most likely opt for a set of KW Suspensions Variant 3 coilovers, which are dual adjustable anyway, for rebound and compression.
The all-new Golf GTI comes equipped with large 12.4-inch vented front discs and 10.7-inch solid rear discs with standard three-channel ABS with electronic brake pressure distribution. Opting for the Performance Package increases brake disc size even further, to 13.4-inch front and 12.2-inch rear vented discs, with single-piston calipers all around.
All 2015 Golf GTI models are equipped with the XDS+® Cross Differential System—an updated version of the XDS system seen on the previous GTI. This technology acts somewhat like an electronic substitute for a traditional mechanical limited-slip differential, working by actively monitoring data from each wheel sensor. If the suspension becomes unloaded, the system automatically applies braking to the driven inside wheel as needed to reduce understeer (the tendency for the front wheels to run wide). This not only helps keep the Golf on the road, but also improves handling and cornering performance.
Another new feature on the Golf GTI is the ESC Sport function for very experienced drivers. The system is activated by a two-stage switch on the center console. If the driver pushes the button once briefly, the ASR (traction control) function is deactivated. When the button is pressed longer than three seconds, Electronic Stability Control (ESC) switches to the ESC Sport mode. In high-speed driving, such as on a racetrack, the ESC system operates at a higher threshold for even more agile handling. ESC can also be activated through the CAR settings menu.
The all-new Golf GTI also features the Progressive electric power steering system. This is an elegant solution to a common problem with steering systems, which is that different speeds and maneuvers ideally require different steering rates. In this case, Volkswagen has spaced the teeth on the steering gear's rack more tightly towards the center. The lower steering ratio in the center means that the car responds more quickly when entering a turn, while the higher ratio at the ends of the rack reduces the amount of effort needed near full steering lock, such as when parking. The steering wheel goes from lock to lock in just 2.1 turns, whereas the standard Golf needs 2.76 turns. Bad ass.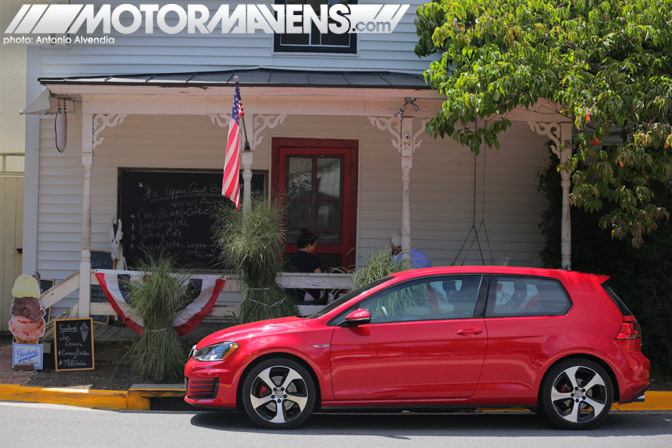 All in all, we absolutely loved driving the Golf GTI through Virginia's best back roads. The car was roomy, comfortable, and an absolute blast to drive. The GTI is certainly a worthy competitor for the other cars in its class – Ford Focus ST, Honda Civic Si, and the Subaru WRX.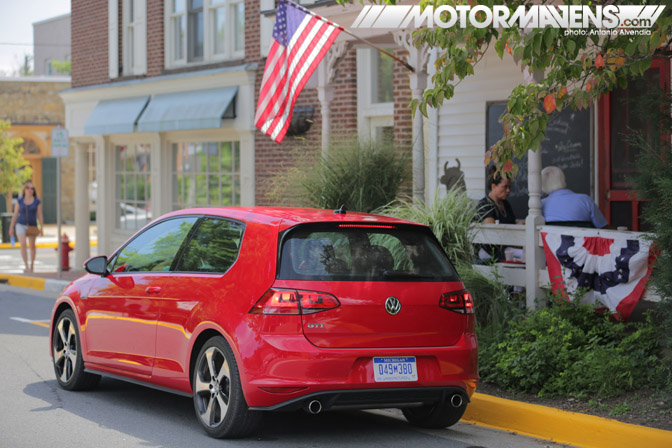 We can't wait to get in the driver seat of a Golf GTI again – or better yet, the turbocharged all wheel drive fire breathing 2015 Golf R. Since our staff will be building off the prior success of 86FEST, and expanding our event offering to include North America's Largest Forced Induction Festival, maybe we should get ourselves a turbocharged Golf as a long term MotorMavens project car? Hmmm… we can definitely see a lot of great possibilities there!
:: Antonio Alvendia
---