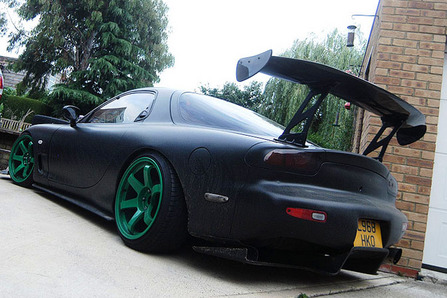 Earlier this week, Antonio showed me photos of his friend Mark's FD3S RX7 in the UK. I've never been there myself, but from what I've been told, I certainly don't think you see a car like this driving on the street every day. I think the rear underbody diffuser and sideskirts look pretty cool on it, and those big green wheels just seem to pop out at you, especially since the rest of the car is flat black. The fitment of the wheels is pretty aggressive too!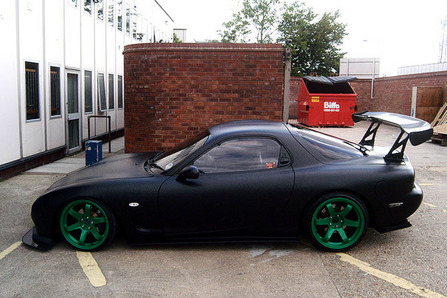 Take a close look though. Those aren't Volk Racing TE37s. They're actually Rota Grid wheels. Wait a minute though… is Rota finally catching up to the aggressive offset game? I know that authentic wheel afficonados like Jay Bryan from JDM Ego would never stand for this, but I wonder what grassroots drifters think about these TE37 knockoffs which cost a fraction of the price of real Rays/Volk TE wheels.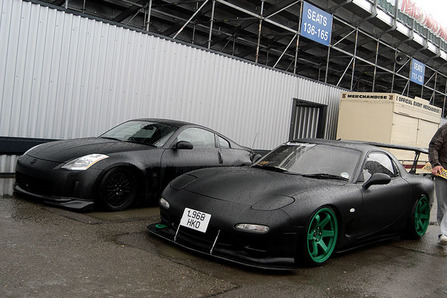 Whatever the case may be on the wheels, I think Mark's FD has a nice, aggressive stance. It looks low and it's a driver so it must really catch your attention when it's cruising the freeway. Or is it motorway? Dual carriageway? Not sure.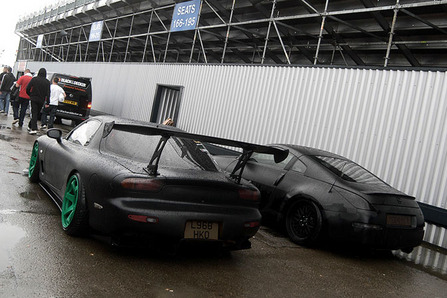 Here's another look at the fitment of Mark's FD from the rear. The Z33 350Z parked next to it belongs to one of Mark's friends, and appears to have that same blacked out look, except for the green wheels.
What do you guys think? If Rota starts making aggressive offset wheels for a low price… would you use them on your cars?
:: Jose Gonzalez
---