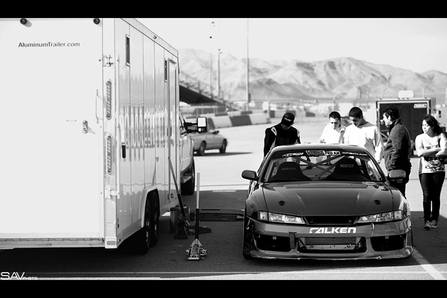 This past weekend was quite a busy one in the world of grassroots drifting. Up in the Pacific Northwest, our boys Yoshi Shindo and Lucas Perez were busy with the Evergreen Drift season opener, as seen in their previous post.
In the Pacific Southwest, many dedicated grassroots drifters made the trek to the very first installment of the Vegas Pro Am Series. I was sick this weekend, and couldn't make it out, but thankfully, I received a link to some event photos on SAV Photo's Flickr page from Sin City local Nick Dizon. Many people know Nick as one of the main movers and shakers of the VegasDrift community, but the Vegas Pro Am brought out drivers from all sorts of places – from Arizona to Pennsylvania, all the way to Canada!
One such countersteering Canuck was David Briggs, the owner of this kouki S14, above. David fought hard, and ended up defeating Addrock Rosin's black Nissan 350Z in the Top 8 battle, earning him 3rd place when the day was done.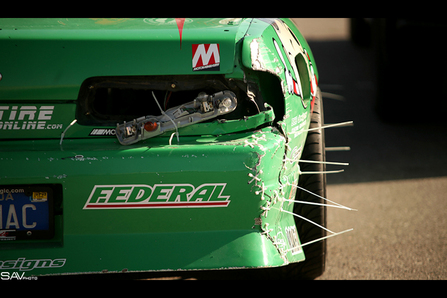 This is a great shot from Farrel Dee at SAV Photo. Words just can't describe how I am whenever I see people rocking our stickers (well, not just me… EVERYONE that's down with MotorMavens is happy to see cars rocking!)… especially because MotorMavens doesn't have hundreds of thousands of dollars in corporate funding to sponsor drift teams or go on fancy trips. As a result, we can't pay people to rock our logos or our blog's URL on their cars.
Instead, everyone who's rocking MotorMavens stickers is doing so because they're either our friends, or they support what we're trying to do. To quote the immortal words of Edward Uche, "Damn. That's love right there."
So big thanks and much love goes out to Mike Bolaños from JustDrift/VegasDrift for repping MotorMavens not once, but TWICE! For more info on Mr. Bomac, check out his blog or watch this awesome video intervew that TFC (The Filipino Channel) aired, featuring Bomac and pinoy dripters in Las Begas on YouChoob (YouTube). My favorite part is when the TFC reporter says, "[Mike Bolanos] loves drifting so much, he's willing to work two jobs to fund his hubby." =D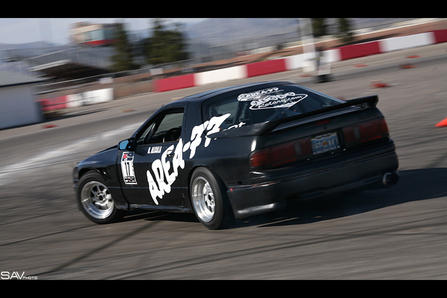 Vegas Rotary lover Angel Alcala looks like he was making good use of his FC3S RX7's stock 13B engine! If RotorMaven Edward Uche would have come to this event, then it's pretty likely that he would have only taken pictures of this car.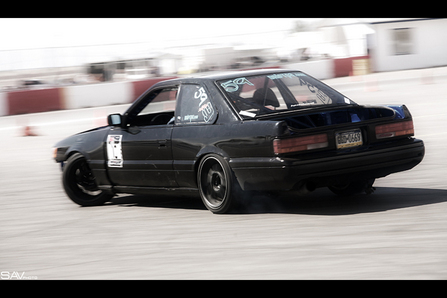 Hey, cool! It's not often you see an F31 Nissan Leopard! Actually, in the USA, they were Infiniti M30s, but for some reason I always think of this car as the Leopard, because the first time I ever saw one in person, I was with my Japanese friend Kenta, who said, "hehhhhhhhhhh… that's REPard. That sh!t is rear wheel drive. More people should drift repard."
According to Nick Dizon, this particular repard bero… I mean, belongs to a guy named Garret Nikolich. This Dirty M30 came all the way from PITTSBURGH PENNSYLVANIA for the competition! Now that is a far drive for a grassroots drifting event! Holy crap. But wait, there's more! This F31 fighter has an RB20DET under the hood! Even better…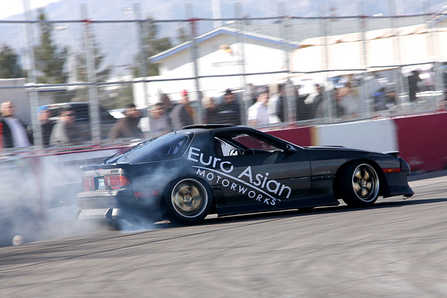 Nice! Yet another FC3S RX7! This particular FC belongs to this weekend's 2nd place winner, Mike "Bucky" Laing, who is sponsored by EuroAsian Motorworks and DDS Performance. This FC looks pretty dope, and obviously Bucky can DRIVE IT too, since he won Second Place. Congrats man!
I also understand that EuroAsian Motorworks is most likely the car's title sponsor, but I sure hope they figure out a better looking/less intrusive way to fit their logo onto the car in the future. A little typography and placement goes a long way. 😉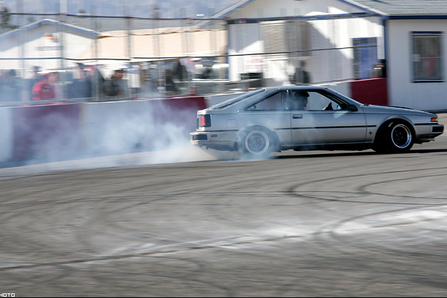 Nice! It's so cool to see clean S12s popping up at events nowadays! Just like the other S12 you might have seen on our site, this particular 1985 200SX is also from Northern California – Marysville to be exact. I'm not quite sure where that is exactly, but it sounds familiar. Maybe somewhere near Berkeley, I'm guessing? I feel as if I've been to Marysville before..? Who knows.
Anyway, this CA18DET powered S12 is being driven by Waylon Deno. I can't wait to see more of this car as it progresses!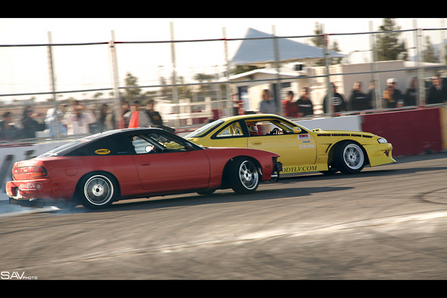 Here's another snap from SAV Photo Farrel… driving the yellow s14 is Josh Guild, who ended up winning 4th place overall at the Vegas Pro Am. According to Nick Dizon, Josh was the #2 qualifier, and was running strong all day. He hit the wall in the Top 4 battle, and Aurimas "Odi" Bakchis took the win in the orange (in this photo, it looks red) RPS13.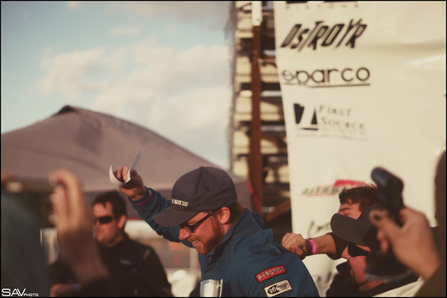 Here's the last photo from SAV Photo Farrel… I love this natural candid capture, which shows Odi Bakchis winning First Place at the event!
Thanks for Farrel for the great photos, Nick for the links and information, and CONGRATS to all the drivers who made it out to the first Vegas Pro Am! RESPECT!
:: Antonio Alvendia
---