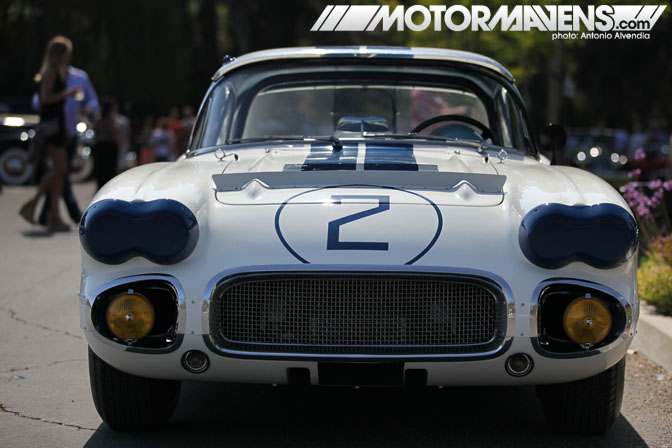 While I was shooting an event feature for the newly launched Driving Line website I'm spearheading, I had the good fortune to meet this 1960 Chevrolet Corvette.  While I walked through the collection of multimillion dollar cars at the Greystone Mansion Concours d'Elegance in Beverly Hills, I was drawn to the vented hood, racing number plate, blue headlight covers, and yellow fog lights on the car. It's not very common to see a 1960 Corvette in person, but it's even less common to see a racing version of the car!
It turns out that this particular Corvette was actually a historic race car, owned by elite car collector and Beverly Hills resident Bruce Meyer – it was one of three Corvettes that actually raced in competition at the famous 24 Hours of Le Mans in 1960, when the cars were still brand new! The cars were campaigned by renown Corvette race team Briggs & Cunningham, and were flown over to France to compete at the legendary Circuit de la Sarthe.
It is already pretty amazing to think about race cars being flown around the world to compete in high end motor racing events, but can you imagine what it must have been like in the 1960s, when airplane travel was much less prevalent than today?!
While searching Google to learn more about this car, I found this AMAZING historic documentary film from the 1960s that tells the story of the Briggs & Cunningham Corvette team and their adventures at Le Mans. It shows actual footage of the Briggs Cunningham Corvette team racing at Le Mans and driving around on French city streets in the 1960s. It even shows historical footage of this actual #2 Corvette! This video actually gives our readers a rare look at what it was actually like to be at Le Mans back then! You NEED to watch this! (Caution: It's 30 minutes long)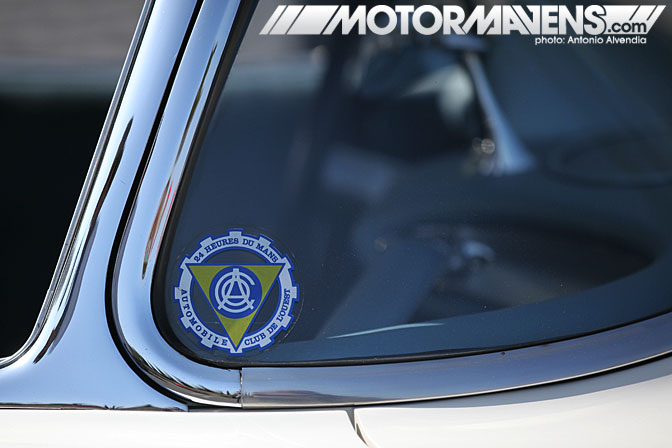 While I'm not an expert on Corvettes or vintage Le Mans cars by any means, I was drawn to this car because of the many interesting details I noticed as I walked past the car. This Corvette has character. It is impeccably clean to the level of a museum display car (well, because it obviously IS a museum car), but one of the small details that caught my eye was this 1960s period correct Le Mans sticker on the car's beautifully curved windshield. I love old racing stickers, so I obviously loved seeing this on the Corvette. What makes it even better is the fact that the sticker perfectly matches the colors on the car!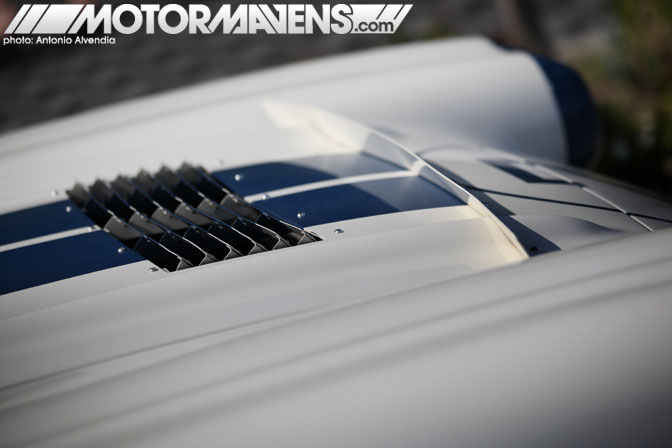 A close look at the car will reveal these beautifully hand crafted metal hood vents and wind diffuser. Nowadays, hood vents like these are found on carbon fiber and fiberglass hoods on race cars, but back in the 1960s, they were hand crafted and made from metal. AWESOME. (Doesn't this remind you of a BN Sports aero cowl hood for an S14 or something?)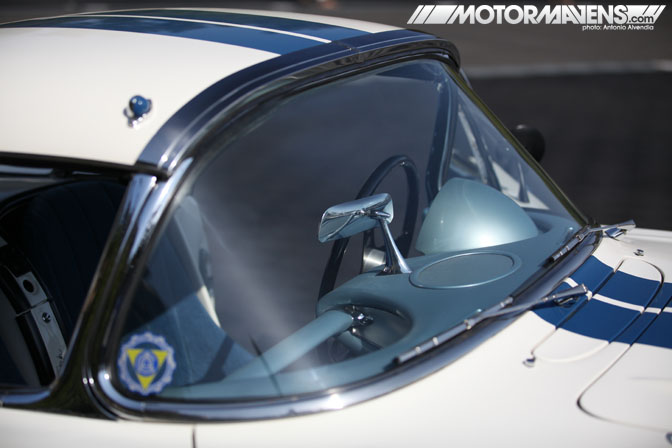 Upon further inspection of the car, the chrome finish on the dash-mounted rear view mirror just pops out. Unless you've actually driven this car, it's hard to tell whether or not it has good rearward visibility. I'm imagining it must be a bit difficult to see out the back, due to the low mounted position of the rear view mirror and the fact that the rear window has a cutout for access to the fuel cell.
The steering wheel is very spartan – a basic, flat wheel with three holes drilled in the center hub, similar to a modern day go-kart. The gauges in the dash complete the racy look of this Corvette's interior.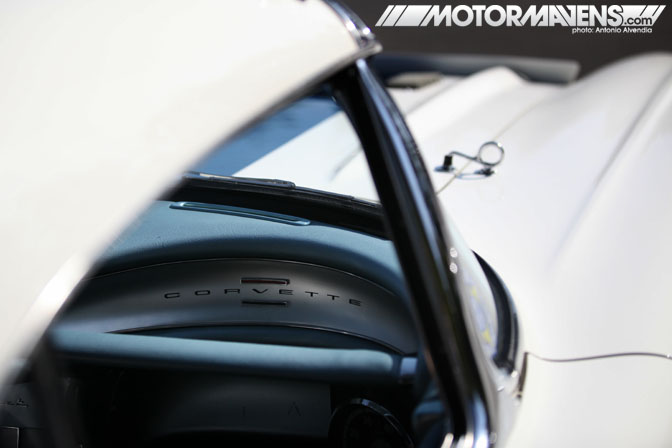 The passenger area of the dash is nicely curved with a Corvette logo on the metallic silver background. Perhaps the dash is curved to make way for the passenger's dash mounted "Oh S#!t handle." I'm pretty sure that Concours level car collectors have a much classier name for this, but I can't think of a better way to describe it at the moment. It's apparent that don't have enough prestige in my vocabulary – I better spend a bit more time watching PBS specials like Masterpiece Theater.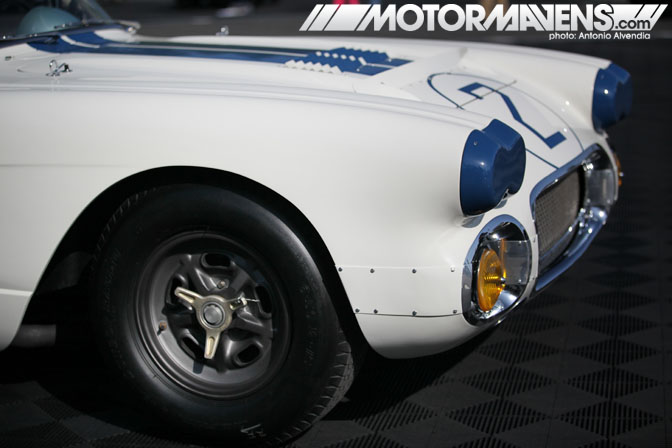 The gunmetallic hue of the wheels really gives this Corvette a distinct, racy look. A closer inspection will reveal that the stylish three-spoke knockoffs at the wheel center have been safety wired to the wheel to prevent them from falling off during the race. Very cool!
Small bubble-shaped air ducts have been cut into the rear windows to provide some fresh air in the cockpit. I love seeing details like this on old racing cars!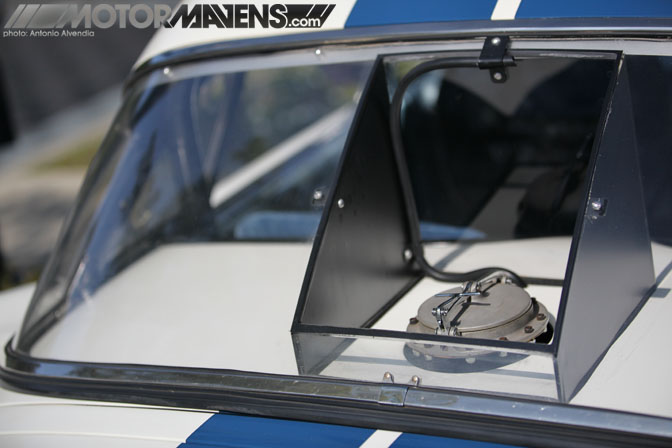 The curved rear window has a cutout for access to the centrally-mounted fuel filler, which is mounted just behind the passenger compartment. What an awesome looking vintage fuel cap – it looks like it's straight out of a military fighter plane.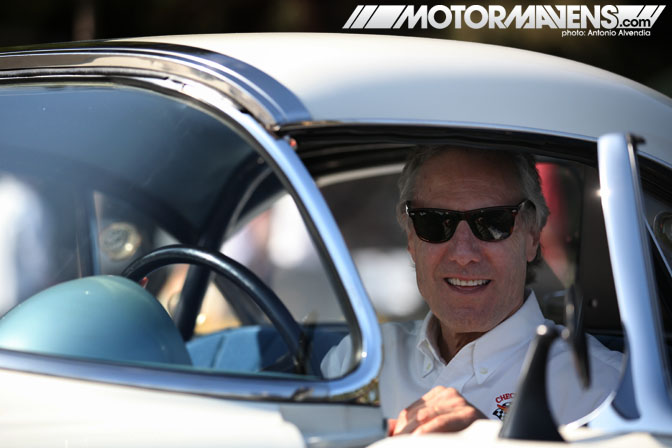 This is the man himself – Bruce Meyer. Can you imagine what it must be like to own some of the rarest cars in the entire world?! Anyone with money can buy an expensive, exotic car… however, the cars in Bruce Meyer's collection reflect not only money, but exquisite taste and deep knowledge of automotive history. This is what I respect most about his legendary car collection, because taste and knowledge are things that money can NOT buy. Bruce is a real car guy, and it shows.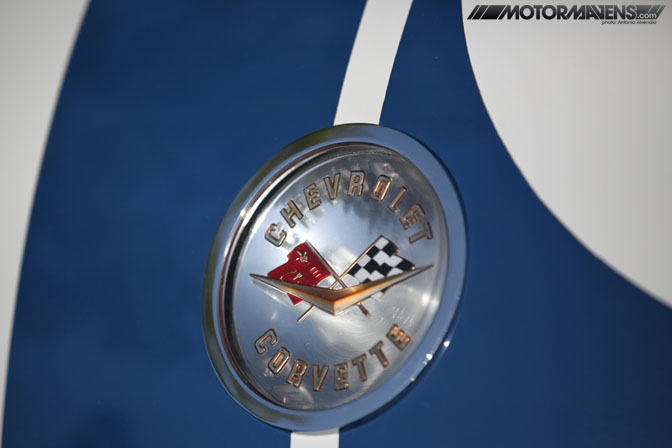 The vintage Corvette emblem on the back of the car has a ton of detail that's really easy to appreciate, even if you're not a fan of Corvettes or Chevrolets.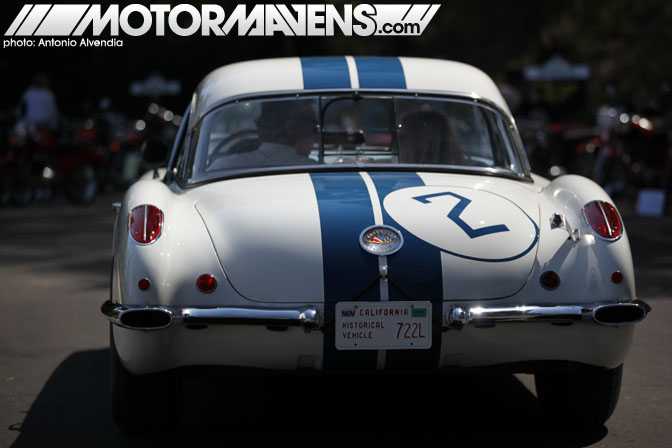 What a gorgeous car! The smooth, curvy lines of the car and the raised rear fenders truly made the Corvette an instant classic even when it was new. Can you just imagine what it must have been like for guys like John Fitch, Dick Thompson, Fred Windridge, who actually raced this car fender to fender with the best cars that Ferrari, Jaguar and Porsche had to offer?
:: Antonio Alvendia
Image Gallery: The cars of the Greystone Mansion Concours d'Elegance
Greystone Mansion Concours d'Elegance on Driving Line
Bruce Meyer's Ferrari 625 250TR on MOTORMAVENS
---