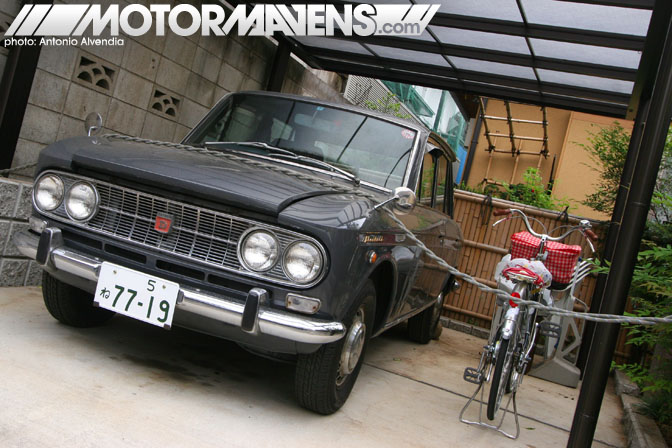 Looking through one of my terabyte hard drives full of photos, I found this image I snapped of a Datsun Bluebird 410 sitting in a carport near my friend Kenta's home in Tokyo. Look at the cool vintage Datsun emblem on the grill! If I remember correctly, I snapped this photo really quickly from the back seat of a Toyota Chaser owned by Kenta's father. (Luckily for me, his dad drives pretty slowly through city streets, so I was able to point the camera at the car really quickly as we passed!)
For me, finding photos like this in my hard drive is cool because it reminds me of why I love Japan so much – there's something interesting on every corner, and you never know what you may find. This is a very typical scene in the suburban area of Tokyo that Kenta lives in, but you don't normally find super clean cars this old just sitting outside in a carport! Most likely, this old Bluebird is a car that's been in the family for decades, while the daily mode of transportation is more than likely the charinko (bicycle) that's sitting right next to it.
This type of Datsun Bluebird 410 was made between 1963 and 1967, and was available with a 1200cc or 1300cc engine, depending on how fast the owner wanted to drive their Bluebird. It's funny to think that you could stand in a Datsun dealership in 1964 or something, telling the salesman, "yeah, I don't quite think the 1200cc engine is going to do it for me. I need more power, so I'll take the additional 100cc." (Haha!) To make the Bluebird sportier and more competitive in circuit racing, Datsun decided to launch a 1600cc sports model under the name Bluebird SSS in 1965.
Perhaps the coolest thing about this car (in my opinion, anyway) is the super old school original Japanese license plate, which only has one number on it. This top number (in this case, a 5) signifies the engine size and/or purpose of the car. In this case, "5" on the license plate designates that the car is a compact car (wait, weren't all Japanese cars during this time compacts?). Nowadays, the designation is three digits instead of one. For instance, if you were to register this type of car in the present time, the designation might be "530." I photoshopped out the kanji characters that designate the area of Japan where this car is registered so that the owner can retain anonymity.
I also liked the vintage metal window visors attached to the top of the window channel. If Japanese window visors for 1980s Japanese cars are rare now, just imagine how ridiculously tough it would be to find clean visors for a 1960s vehicle!
Since I didn't have the opportunity to get out and walk around the car, I wasn't able to take any more detail photos of it. However, I found a cool link to interior and engine photos of a 1968 Bluebird on BringATrailer.com. Seeing photos like this in my hard drive make me excited for the upcoming Japanese Classic Car Show in Irvine CA next month – October 3 to be exact. If you like vintage Japanese cars like I do, make sure to show your support by going to the show and by getting a subscription to Japanese Nostalgic Car Magazine!
::Antonio Alvendia
---