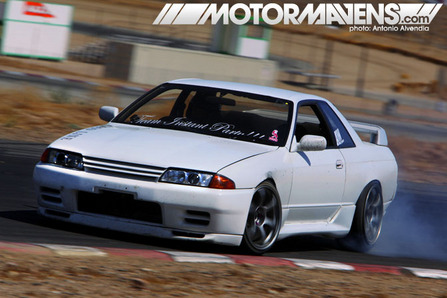 Thinking back on this summer's epic All Star Bash weekend, I've begun to come to the conclusion that it just might have been the best American grassroots drifting event that I've ever been to in my whole life. Now THAT is a pretty strong statement – especially when you've been to as many grassroots drifting events in different states as I have. Of course, one of the things that naturally attracts me to the All Star Bash is the presence of some pretty awesome cars, most of which are S13s and S14s.
However, there was a certain non S-chassis that caught my attention – it was a white R32 Nissan Skyline with license plates from Washington state. It wasn't until the end of the last day of All Star Bash that I met the owner of this car – Jon Jaffe from Washington's own Team Instant Party. When we spoke at Willow Springs, it was hot, so I just gave him props on his car and a couple stickers, and went on my way.
Fast forward about a month – on my way back from the Formula D Seattle trip, BN Sports Raymond and I found ourselves chillin out in Bothell, Washington with Instant Party driver Roland Gallagher and his dad. On the day I was supposed to return to Los Angeles, I asked Raymond if we could stop by Roland's house on the way to the airport so I could check out his car really quick and say what's up. Shortly after we arrived at Roland's house, Jon took a break from his workday to come over and say hello. Perfect timing. I wanted to get a closer look at his Skyline anyway!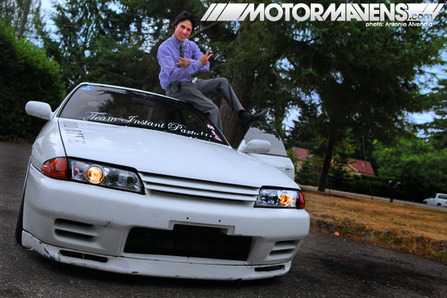 Here's Jon in his work clothes, clowning around with his aggressive looking R32, which looks awesome as it sits low in Roland's driveway with its GTR bumpers and the zenki front chin spoiler. How can you argue with a white R32?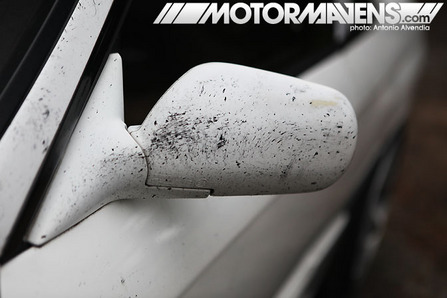 The funny thing is, I noticed that both of Jon's mirrors were dirty with rubber particles. He said he "just got the car back home to Washington from All Star Bash, and didn't even have time to wash the car yet." Not a problem. I think it actually looks cooler with dirty rubber encrusted mirrors.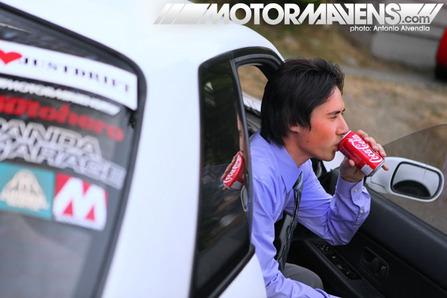 Here's Jon sitting in his driver seat, kicking back a cold can of pop. I didn't mention it to anyone, but I noticed that some of the Washington guys call Coca Cola "pop" instead of "soda." Kind of funny, I never hear Cali people saying the word "pop" in reference to soft drinks… but I bet people in other states must think it's dumb that we call it "soda." hah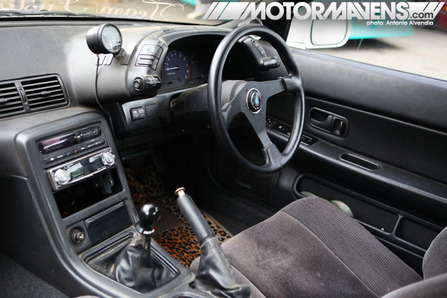 Jon's interior looked like it was straight out of Japan. The presence of a leopard print floormat, spin turn knob, Nardi steering wheel, gauge mounted on the dashboard with double sided tape, and the missing DIN panel under the radio… this looked straight up Japan to me. The reason I say this is because most Japanese drift cars aren't "overthought." They just use whatever parts strike the car owner's fancy and are convenient at the time. Not a big deal – real drift cars don't need matching Bride fabric interior, red racing seats and Takata harnesses. If your interior looks gaudy like that, chances are you're trying too hard.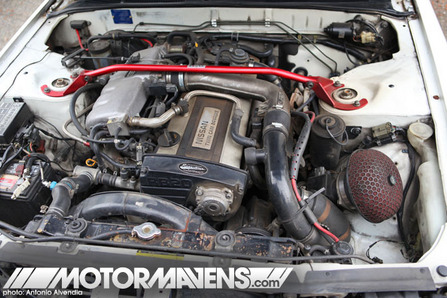 Same thing under the hood… Jon's engine bay might look pretty sparse, but to me it is exactly an engine bay befitting to an authentic street drifting car. Engine mods are simple – Jon's Skyline pretty much has a stock RB20 engine with a GTR oil cooler, HKS air filter and exhaust. Oh yeah, and underneath the strut towers are JIC Magic coilovers.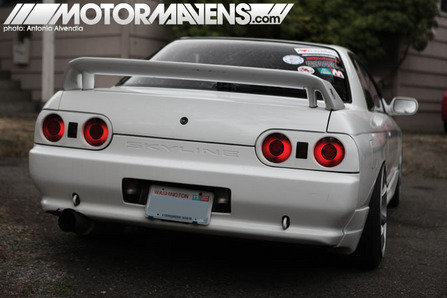 Aside from GTR bumpers, an OEM GTR rear wing has been added for the sake of bad ass looks. Very nice… it's simple and clean.  Not "too much" to attract unwanted attention.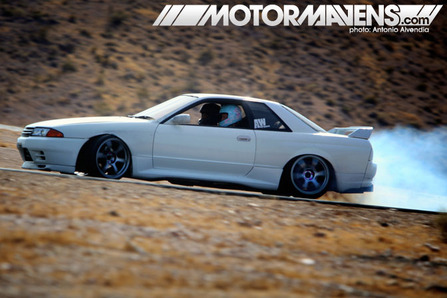 Either way, Jon's Skyline still attracts a hell of a lot of attention because of the way it looks, and even more so because of the way he drives it! Here's Jon ripping through Horse Thief Mile at All Star Bash, on his way past the house and down the hill to the left hand hairpin.
Speaking of "ripping," unfortunately Jon got a bit too aggressive at Horse Thief Mile… and he ended up cracking/ripping the outer lip off one of his brand new Advan RGII wheels! Oh no!!! In case you were wondering about his wheel specs by the way, Jon says his car's math equates to 18×9 +22 with 215/35/R18 tires and a 30mm spacer up front, and 18×10 +15 out back, with 225/40/R18s.
Hopefully Jon's able to get a bit of a discount or something from our boys at Mackin Industries when he re-orders some more RGIIs to replace his broken wheel! He sure is repping the hell out of those RGIIs in the Pacific Northwest, and just by looking at Jon's car, I'd feel inclined to buy the same wheels because they make the car look so damn bad ass. If you're trying to get a party started instantly, you just might want to start with a Skyline just like THIS one.
:: Antonio Alvendia
---