I can't remember the last time I was in Las Vegas when I wasn't covering an event or taking photos for work. It seems like an reoccurring thing when it comes to traveling for me, I never have time to hang with friends or just kick back. However my recent trip to Vegas was non-work related and I basically had the whole weekend to do whatever and go wherever my heart desired! After receiving a phone call from my dad asking if I would like to accompany him on his business trip to Vegas for the weekend, it didn't take me long to respond with an enthusiastic "Yes!". Once I arrived in Vegas I wasted no time getting in touch with people, while making sure I contacted a certain Internet celebrity!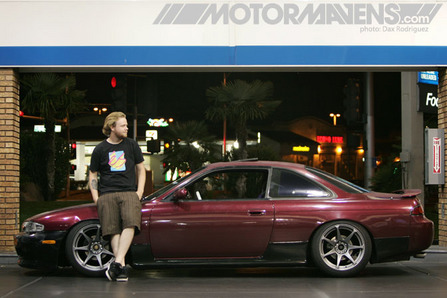 Enter Josh Herron. This young and talented videographer has made some of the most creative drift videos I've ever seen, while also averaging 200,000 views on each video, and reaching the acclaimed Internet celebrity status all before the age of 21. And I thought I was a media prodigy. 😀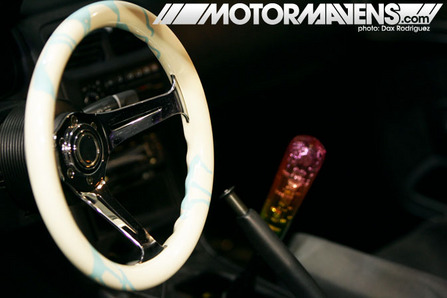 Although the exterior of Josh's S14 is very subtle, when we move into the cockpit nothing brings attention like a white steering wheel and bubble shift knob!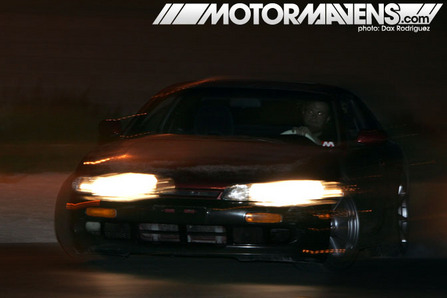 One of Josh's first runs, and me desperately trying to get my settings down. Who would of thought night drifting would be so hard to shoot?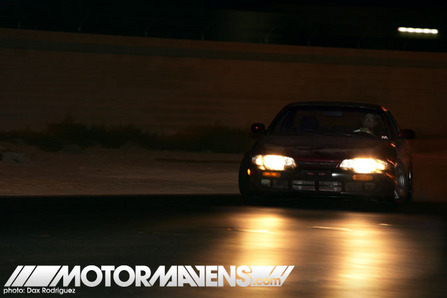 There's nothing better then some night drifting…on a closed course obviously. Of course all driving was done by trained professionals, don't try this at home!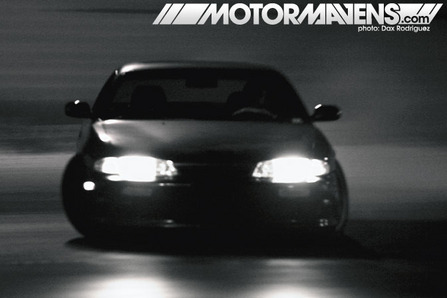 I know this isn't the sharpest shot, but it looked so cool I had to use it. Plus Josh had monster angle!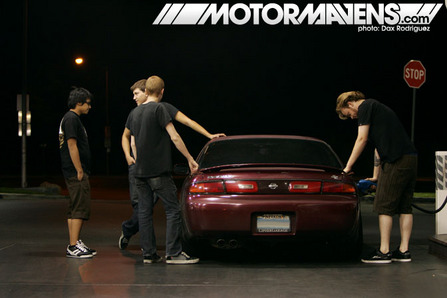 After a good session of drifting, we headed back to the local Chevron to fill up the tank and snap a few photos before calling it a night, or should I say morning? Rumor has it that Ray from Royal Flush (pictured far left) captured the nights session with Josh's camera. Perhaps now like every true celebrity, Josh will have a very incriminating video that he doesn't want ending up on the internet!
:: Dax Rodriguez
---