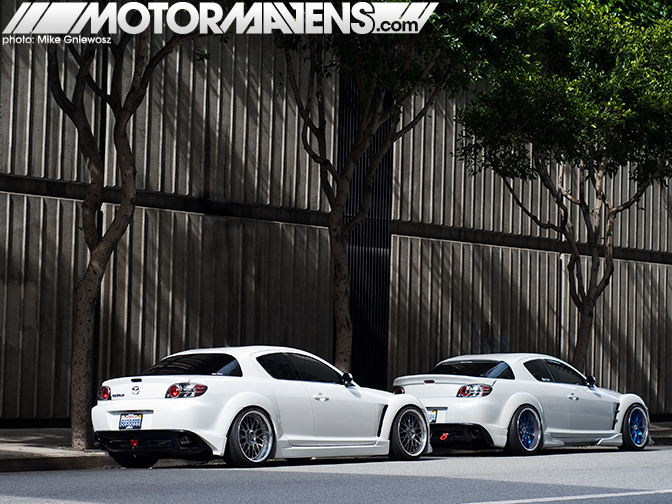 Often overlooked, the Bay Area has always had a thriving car scene. As of late, there have been some crews coming out that are really bringing attention the cars being built in Northern California. One such crew is the @PO Crew (pronounced 'at-po'). Starting out as a group of friends hanging out and getting into cars, the @PO Crew has now come to represent the embodiment of clean cars with proper stance and wheel offsets. And if you are wondering where the name comes from, @PO stands for 'attract police', which I'm sure they do when they get together.
The two RX-8s featured here belong to Carsun Luk and Jack Wong. Good friends since high school, they both got into modding cars around the same time. Carson was the first to pick up an RX-8. Wanting a four door car that could still handle well, the RX-8 seemed like the perfect choice. And once Jack took a ride in Carson's car at a local track event, he went out and joined the rotary club with an RX-8 of his own.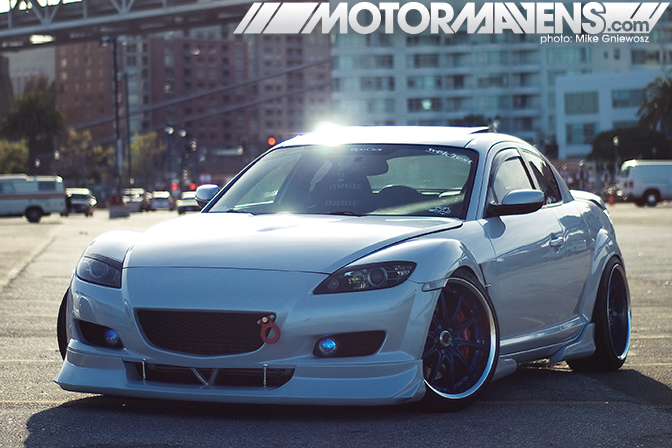 While the two cars may look similar, they are at different stages on divergent evolutionary paths. Jack has kept it simple by working on the stance and handling of the car. Taking a set of Work VS-XX wheels and Endless Zeal coilovers, he has spent countless hours fine-tuning his height and wheel offsets to get as low as possible while maintaining a street-able car. And sitting behind those pretty wheels is an Endless mini 6 pot brake kit.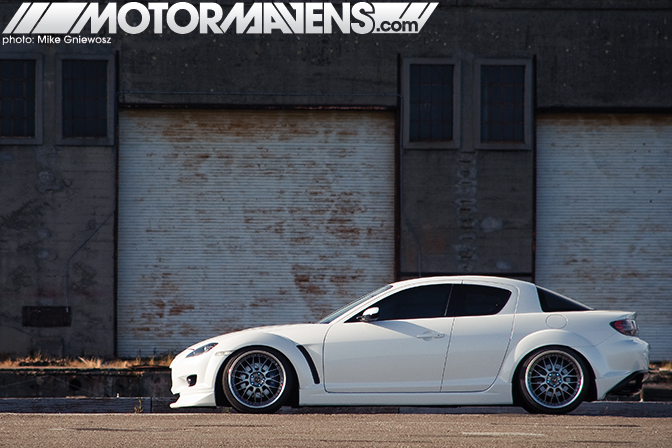 Looks wise, the RX-8 doesn't need much aero to make it look good.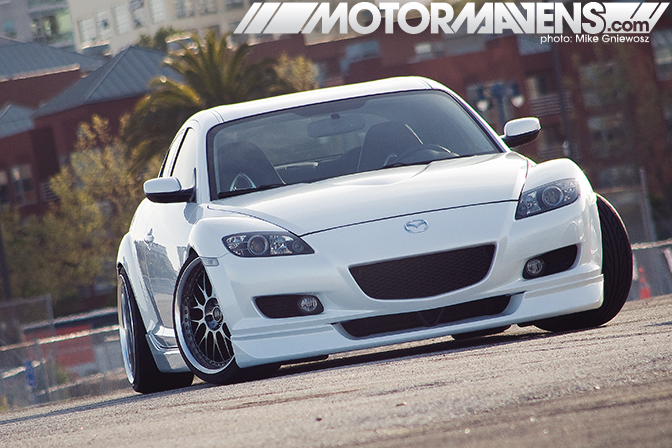 With clean lines and muscular fenders, all Jack needed was a ShineAuto front lip and side/rear skirts to finish off the outside.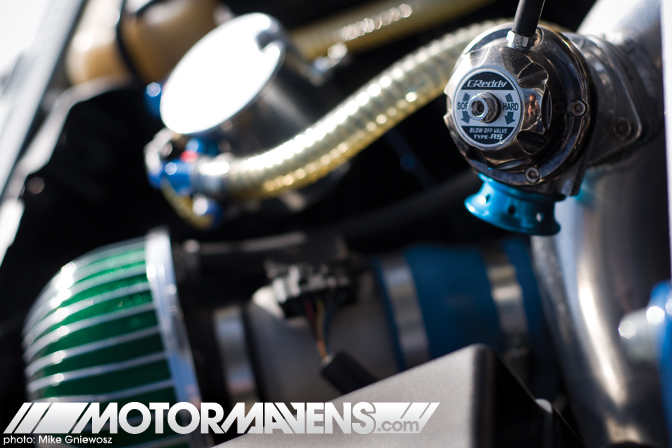 While Jack kept it simple with just an intake and exhaust, Carson went over to the dark side and turbo'd his Renesis rotary engine. Built for high revs and peak power with a 10.0:1 compression ratio, putting a turbo on the Renesis is only for the brave. The Greddy kit puts out around 5 psi of boost and a claimed extra 60HP. While it didn't feel as fast as an FD3S that I used to own, the turbo adds some much needed bottom end to an engine as high strung as the Renesis. And keeping everything running smoothly is a custom tuned ECU using the Cobb AccessPort.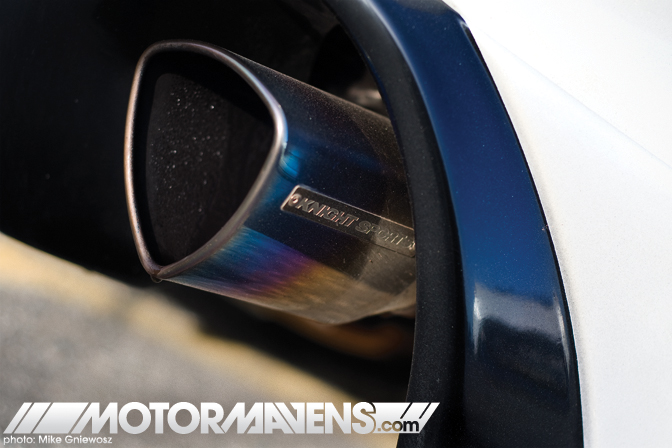 Back pressure is like creeping death to turbo engines, so a new exhaust was needed. Carson went all out and imported a titanium exhaust built by the famed Japanese rotary tuner Knight Sports. Check out the rotor shaped exhaust tips!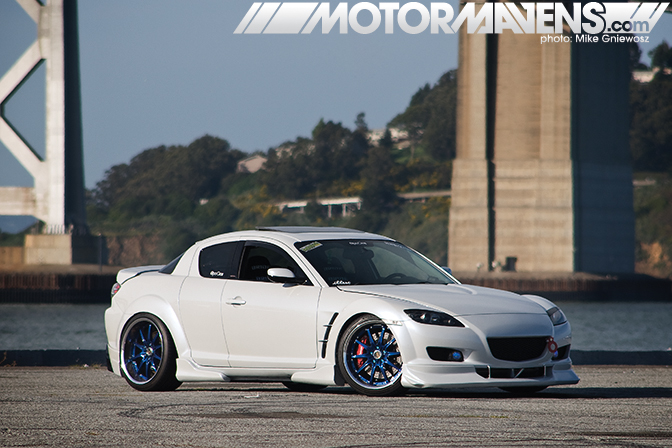 Having gone through 5 or 6 different sets of wheels to get the offsets perfect, Carson has currently settled on a set of Volk GT-F wheels which have been custom painted blue. Rounding out the outside is a Veilside lip and rear skirts. And the car has been painted a white pearl to make it extra fancy.
As we all know, rotary engines are not famous for their reliability. Having owned a few myself, I've done a fair share of engine swaps. Especially if it has a turbo feeding it air. Luckily, the Renesis engine has come a long way to improve the reliability of the rotary engine. With less moving parts and better cooling capacity, the Renesis engine can be trusted to not leave you stranded – a far cry from the 13B-REW that was found in the FD3S. Both Jack and Carson have reported that their cars haven't given them any real maintenance issues.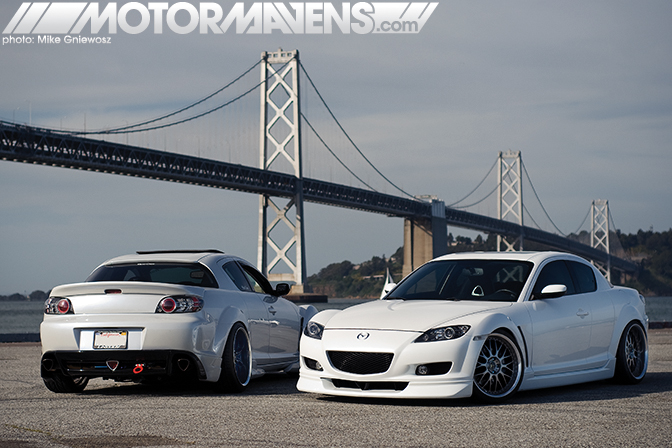 So what's next for these two cars? For Carson, he said he is looking at getting a new set of wheels. And since he bought a Yamaha R6 to be his daily ride, the RX-8 can spend more time being a track car.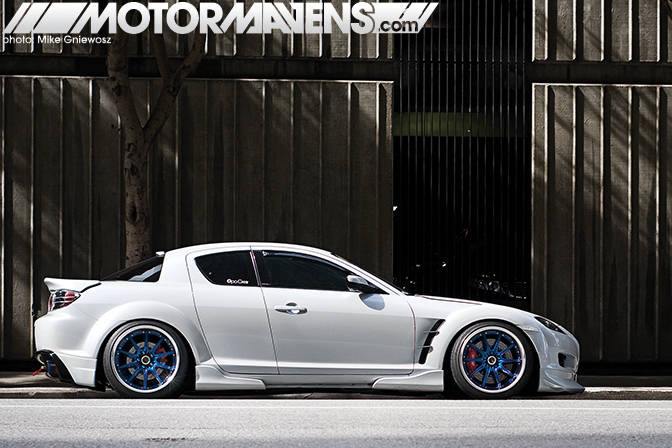 Jack is taking it a bit easier. He's been helping his brother put together a Miata so the only plan for the car right now is a new stereo.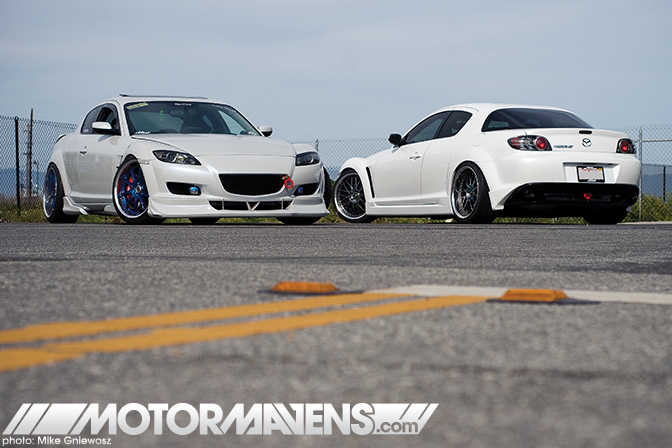 What I love about the RX-8 is that it is a functional sportscar. Not only does it have a solid chassis, a high revving engine, and precise steering, but it also has four doors! How many four door cars can you drive around town in with three of your friends during the week, and then drive down to the track and out-corner a lot of the other cars out there. Chances are, not many. Especially considering it doesn't take much money to get a lot out of these cars.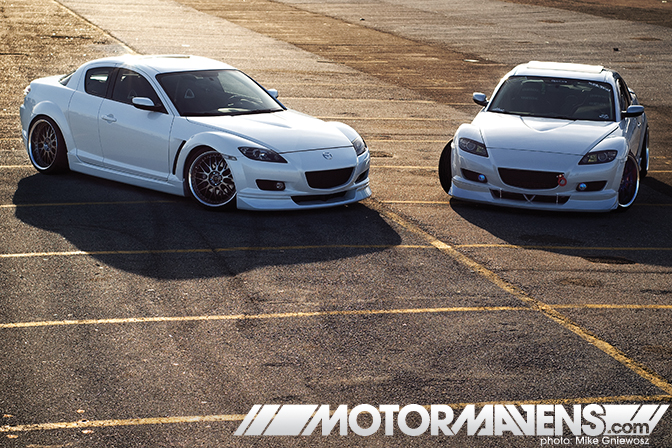 I'd like to give a big thanks to Carson and Jack for doing this shoot and for driving me around San Francisco. At one point they were driving me home to my apartment in downtown SF and were stopping traffic because of how difficult it was to go up and down all the steep hills. Then a police officer drove by and waved at us like he wanted us to follow him. Thank goodness for one-way streets.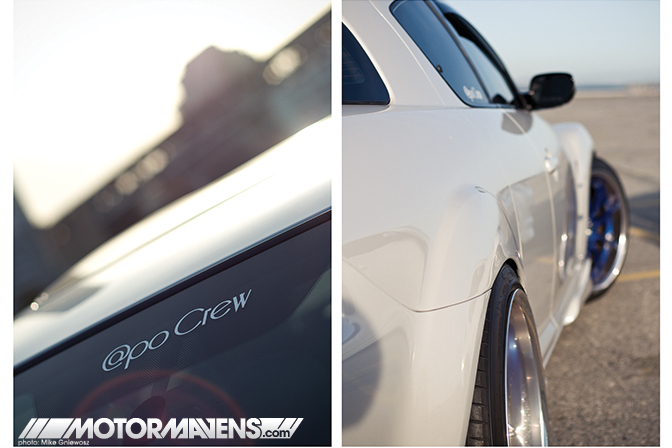 Look out for the @PO crew on the mean streets of the bay area. You'll know it's them by all the police they are attracting. As for me, I'm going to try and convince my wife that the RX-8 is a "family car."
:: Mike Gniewosz
---