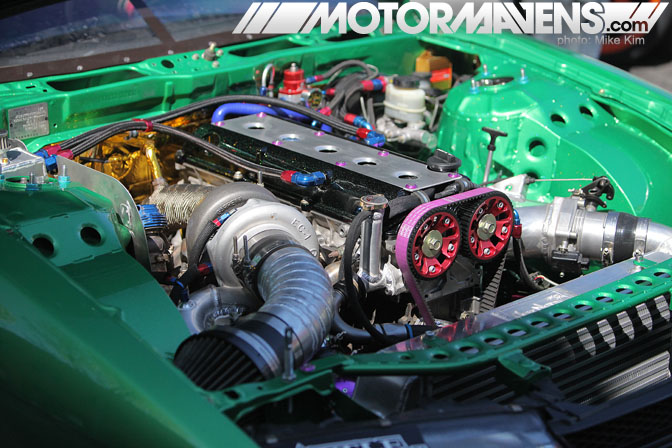 Formula Drift always holds a Preseason Technical Inspection Day before the annual race season starts. The objection of the tech inspection is to go over each car to verify that all safety equipment and chassis modifications are fair and accounted for. When it comes to building a race car, whether its for drift, drag, road racing or rally, safety has to be a high priority for any team.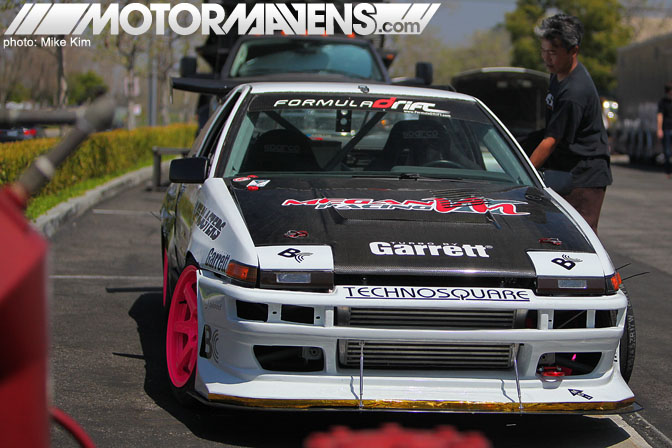 Source Interlink Media was the host of this year's tech day. This was a free event to attend for those enthusiasts and fans who want to get up close and personal with the cars and drivers. They had food trucks, free energy drinks, and of course, lots of local car show enthusiasts and their rides in attendance!
Taka Aono debuted his car this year with an all new look. One of the few remaining AE86s and 4 cylinder cars in the series, the 2AZ powered hachiroku is definitely going to be one to contend with.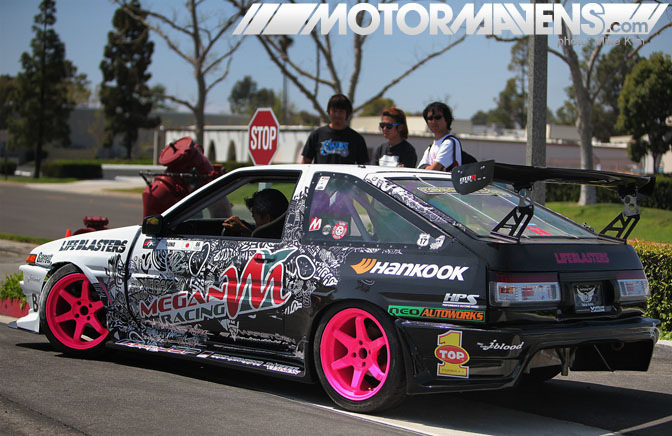 Taka's AE86 sports all new liveries and pink wheels designed by Andrew Bohan from our friends at LifeBlasters. The car certainly looks better than in previous years but I do have to say those wheels are rather bright. I still respect the fact that Taka is still rocking the MotorMavens decal on his rear quarter window… the same sticker from when the site was first launched back in 2009! Thanks for your support, Taka!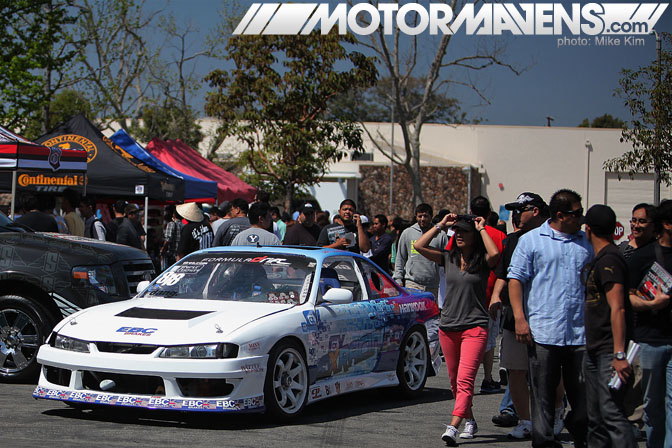 This year had far more attendees to both the car show and tech day than in previous years. The parking lot was so packed that it was a bit tricky for the drivers to navigate the crowds to get into the inspection area.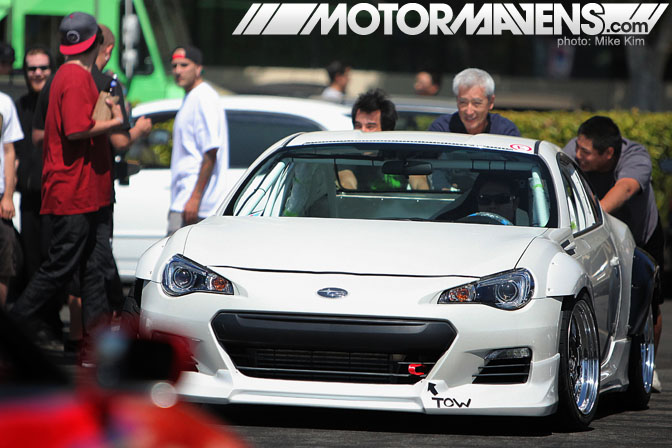 Especially those who had to push the car in, such as Toshiki Yoshioka's crew. He debuted his Tomei Powered, Yoshioka Racing,  2013 Subaru BRZ at the tech day.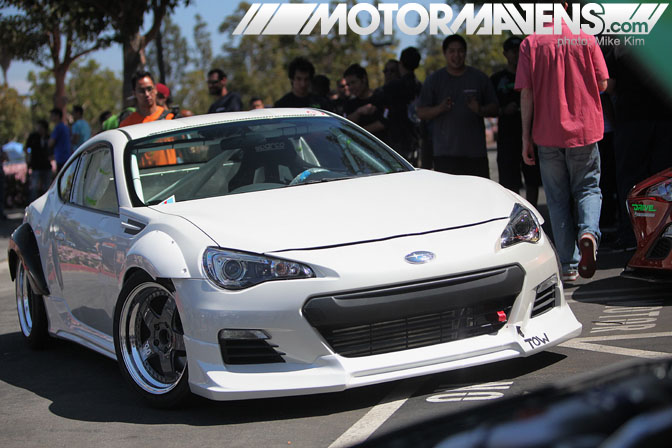 Instead of going with the same Rocket Bunny aero kit that everyone else has, he was sporting a custom wide body and some custom Avant Garde F130 wheels. Yoshioka has won Formula Drift in an AE86 previously, and he plans on doing it again with his battle ready BRZ.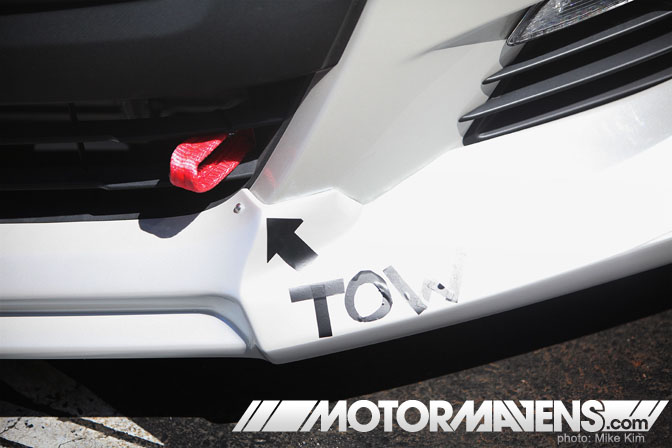 Since he started his own race team, he doesn't have the big budget like some of his competitors. For example his tow sticker was made on a budget. LOL

Just kidding Yoshi!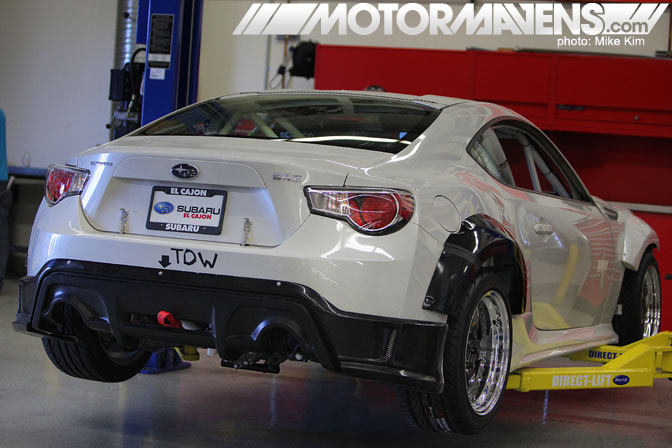 He had a matching decal on the rear as well. This was while he was getting the inspection done. Of course the power plant wasn't on display at the time but I'm sure we'll be seeing the Tomei powered engine soon!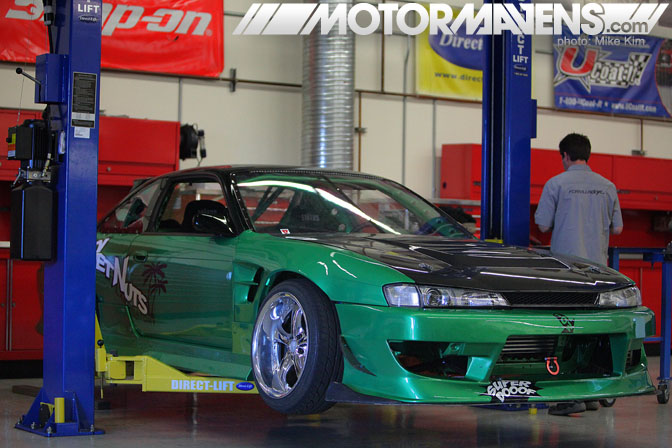 Forrest Wang had also debuted his new setup at the tech day. The Get Nuts Laboratories S14 Nissan 240SX was sitting on some super deep dish Work VS-KF wheels.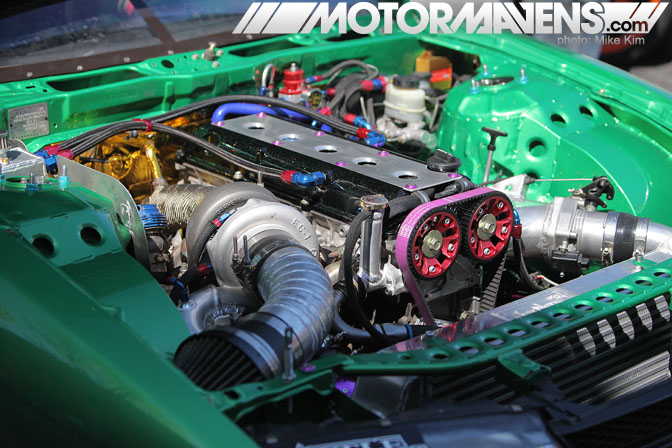 He had proudly displayed his engine bay before he went in for inspection. The 2JZ powered by a Garrett turbo is going to be a beast at the track. This car for a race car had a show quality finish in the engine bay.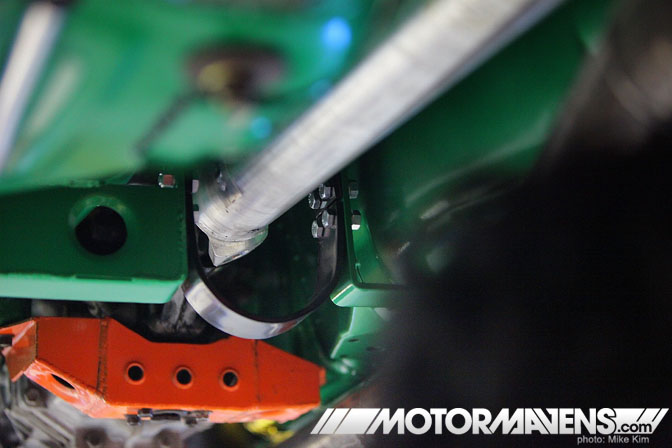 One of the more interesting things I spotted was the new drive shaft retention ring that was mandatory for this year underneath the car. The ring is required for when an accidental drive shaft separation occurs to prevent it from flying up and hitting the floor panel which may enter the drivers cabin. Being something that most fans will never get to see I thought it would be a somewhat of a nifty treat to see what was required when it came to safety devices.
Robbie Nishida's 2JZ powered Achilles Lexus SC300 aka Toyota Soarer what being pulled onto the trailer after its inspection.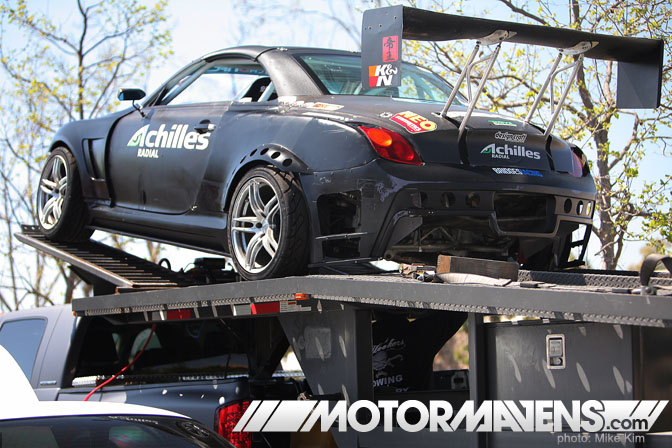 Last years champion, Daigo Saito's Lexus SC430, was nicely put away onto the Emergency Hookers Car Transport trailer. If you look closely you can see Victor Reyes under the car managing the winch to pull the other cars up.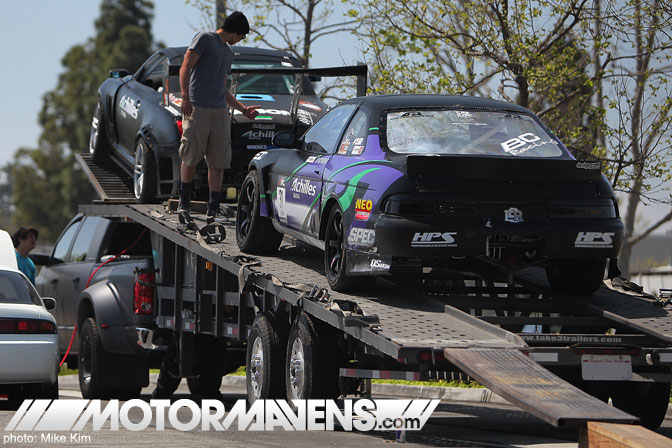 If you are in need of transporting a car whether it be long or short distances a multi-car trailer is the best thing to use. If you have special needs then hit up Victor at Emergency Hookers, and no, its not those kind of hookers…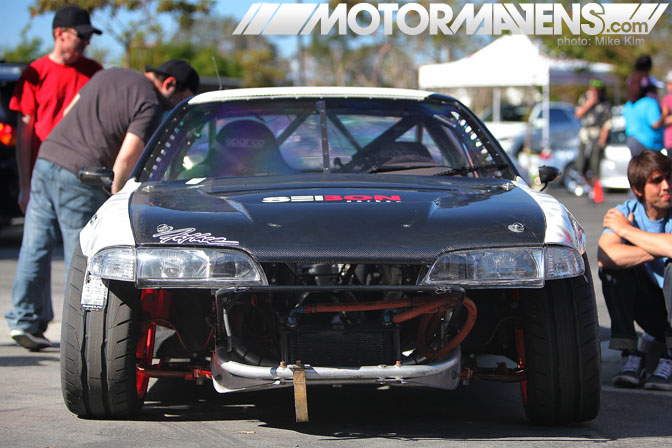 Matt Powers had shown up a little later in the day with his Fatlace Nissan 240SX S14. Here is a little sneak peak of the livery change for this year.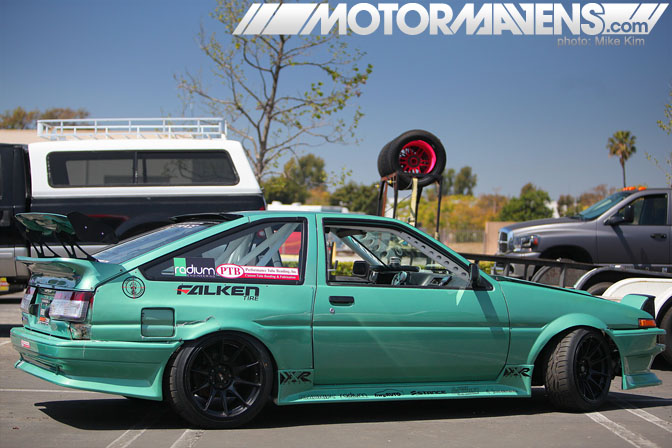 It was nice to see that another AE86 was going to compete this year outside of Taka Aono's car.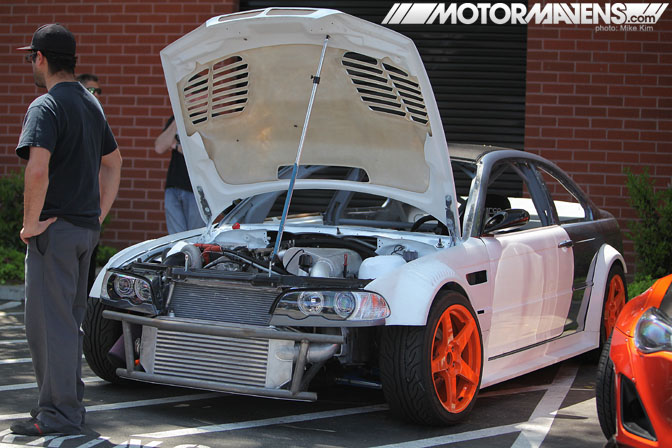 The signature orange wheels, which always stick out, on Mike Essa's GSR AutoSport E46 BMW M3 were provided by Forgestar Wheels. He started a trend a few years back and now everyone is running brightly colored wheels in the Formula Drift series.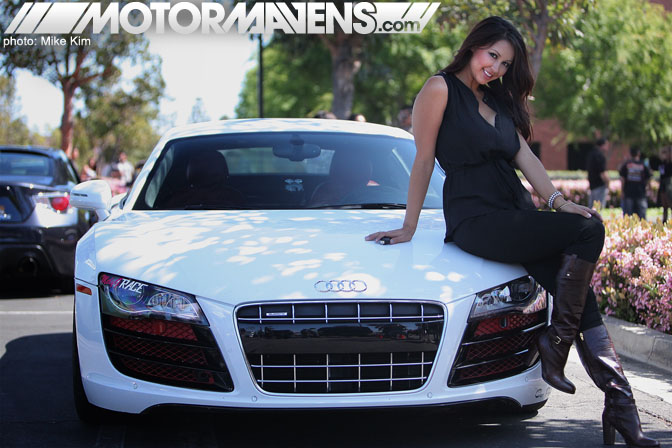 Formula D drivers and car weren't the only ones in attendance. There were several models and cars out as well. For those of you unfamiliar, this is Melyssa Grace, former Miss Formula Drift 2010. She isn't sitting on someone else's car, this is her Audi R8. You can also catch her doing some drifting at several local race track along with her Team MelygRACE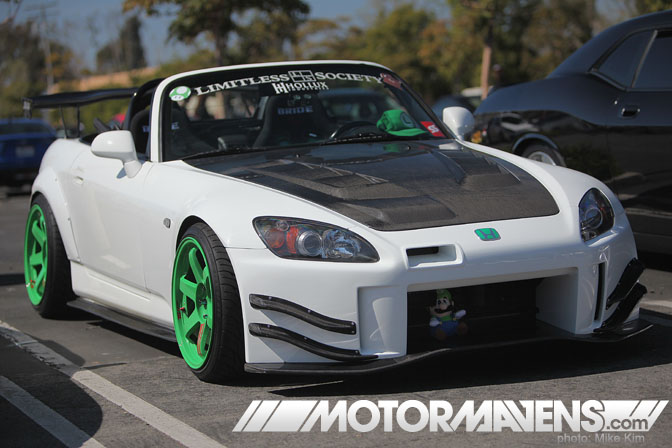 Our good friend, Luigi Arroyo from the Limitless Society crew was out representing his new build with a J's Racing Front bumper and wing along with some Takata Green Volk Racing TE37 SL wheels.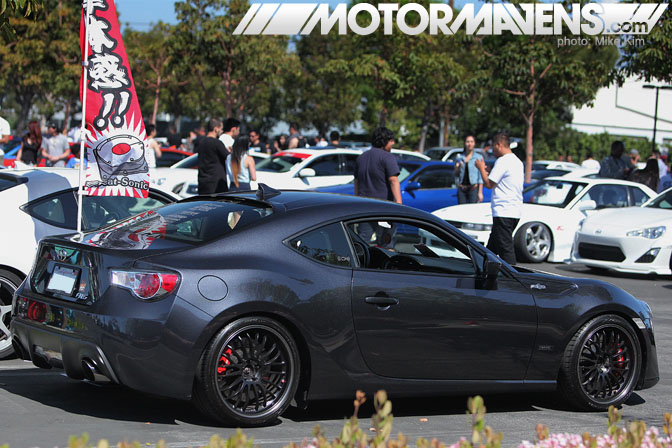 The meet seemed to have turned into another impromptu FR-S meet. There were many FR-S' out including the OEM Audio Plus Demo Car. The OEM Audio Plus System 400 for the Scion FR-S/Subaru BRZ has to be one of the best stereo upgrades you can do. They recently had laced up the 86Fest project FR-S with a System 400 and it is one of the most impressive systems I have heard. Being an Audio-phile, I've dealt with many high end headphones and have built many high end stereo systems and for a full plug and play package it is one of the best I've heard. Look out for a full review coming soon on 86tech.com!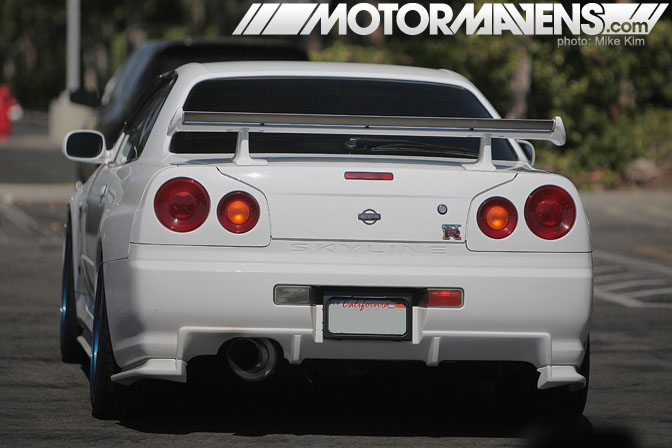 While we were hanging, taking photos and meeting drivers/models, we had a nice visit by the ever elusive R34 Nissan Skyline GT-R. After some drama in its past, it has been one of the rarest cars to see on the roads of California.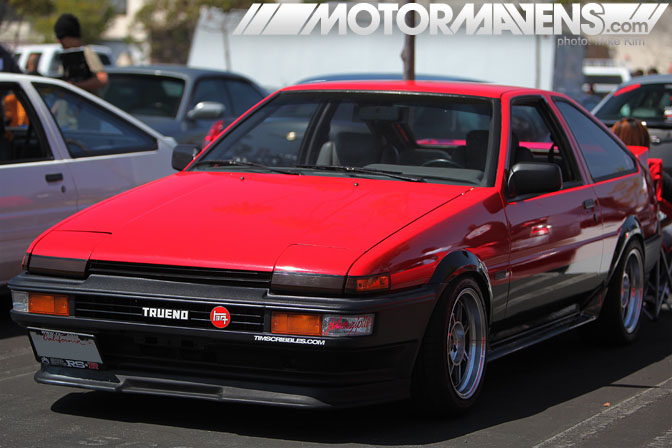 This clean red panda AE86 was out sporting the Hayashi Racing wheels. Who doesn't like a clean hachi when they see one?!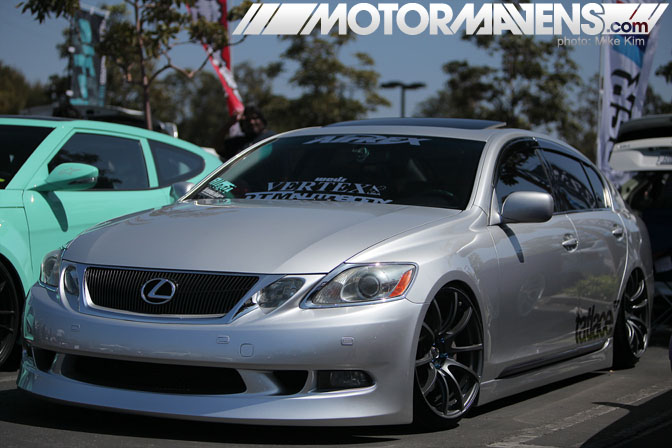 Our friend Yogi from Fatlace had just finished the FTLC GS the night before the meet. Rocking an AirREX suspension and a Vertex body kit, the car had a nice stance with the Weds Wheels.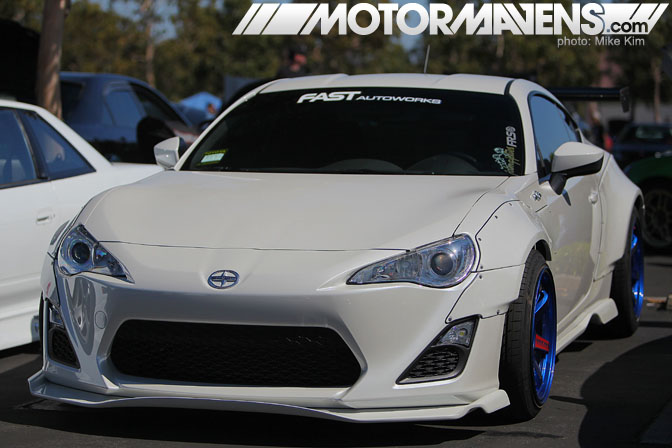 Kei Miura from TRA-Kyoto 6666 Customs has to be a very happy man. People have embraced the $4,995 Rocket Bunny kit right after its debut and has been one of the most popular wide body kits for the Scion FR-S/ Toyota GT86/Subaru BRZ. This one owned by a friend named JJ, made his debut of being one of the first white Rocket Bunny cars stateside.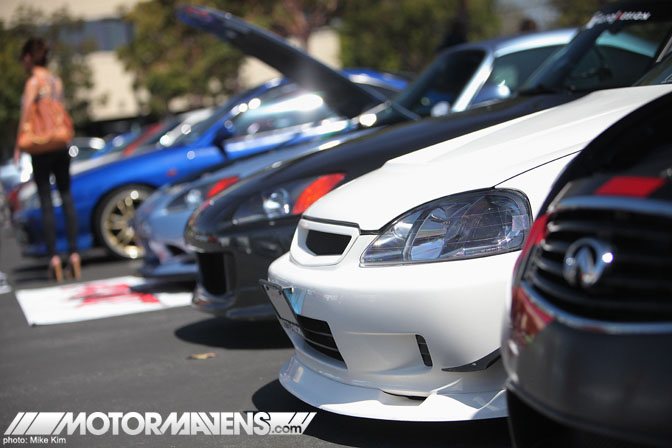 There were many super clean show cars out at the meet such as this EK hatch back.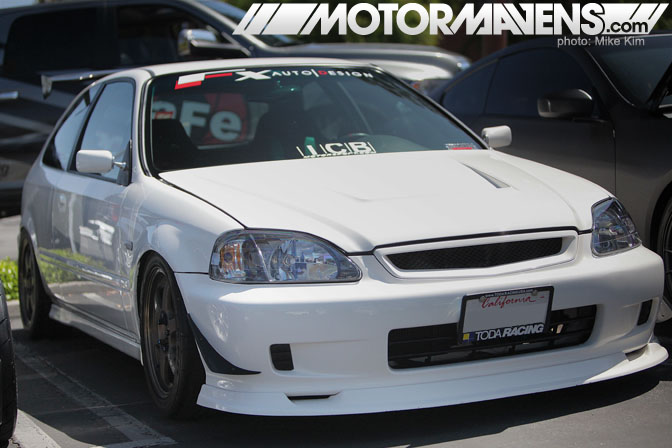 Owned by Teddy from FX Auto Design, the EK Civic Hatchback has to be one of the cleanest civics I have seen on the streets. Sitting on the Volk Racing TE37s and rocking a J's Racing wing the setup is track ready along with his motor build consisting of a fully NA built B16.
When it comes to mini-trucks this was not what i was expecting. This was literally a Mini-Truck! A very unique ride indeed. The wheels look like some old school Revolution wheels, which are very popular for use on British cars and in autocross!
All in all, with the great weather, cars, and people the Formula Drift Tech Day and Car meet has become a 'must attend' event for any enthusiast out there. Its a nice glimpse for whats to come during the next season and best of all its FREE! There are even more photos on the MotorMavens Gallery! And keep following us on the @MOTORMAVENS / @86FEST Instagram and Twitter pages for the latest, photos and updates from the MotorMavens Crew!
:: Mike Kim
MORE PHOTOS from Formula D Tech Day in the MotorMavens Gallery!
2JZ
,
Achilles
,
AE86
,
Audi
,
BMW
,
BRZ
,
cx
,
drive m7
,
E46
,
emergency hookers
,
Falken
,
forgestar
,
Forrest Wang
,
FR-S
,
FRS
,
garrett honeywell
,
Garrett Turbo
,
GSR Autosport
,
Hankook
,
hankook tires
,
Jeff Jones
,
LifeBlasters
,
M3
,
Megan Racing
,
melygrace
,
meyssa grace
,
Mike Kim
,
mini
,
Nissan
,
R8
,
racing
,
Rocket Bunny
,
Scion
,
Source Interlink
,
staycrushing
,
Subaru
,
Taka Aono
,
TE27
,
te37 sl
,
Tomei
,
Toyota
,
Tra-Kyoto
,
Volk Racing
---