Just a few years ago, aggressive fitment wheels were a pretty rare find on cars in the United States. Most people thought that getting wheels that "fit" well meant that the wheels wouldn't have any rubbing or clearance issues. Nowadays, the trendsetters in the scene have completely changed the game, and all the "cool kids" with the best wheel fitment are all about stretched tires and seeing how close you can get your wheels/tires to the fenders.
The owner of this slammed Subaru Impreza WRX STi is a seventeen year old (Yes, I said 17 years old!) high school student named Abbitt Wilkerson from AW Films. Abbitt has been making a name for himself; not only because he shoots some of the most popular car videos up here in the Northwest, but also because he has a driving passion for building Subarus with the common thread of aggressive wheel fitment.
I met Abbitt though his older brother, Walker Wilkerson from Team Instant Party, about a year ago. When I first met Abbitt, he owned a sick GC8 Subaru Impreza with aggressive fitting wheels. However, he has since sold the car to get this white WRX STi. Abbitt has only owned the STi for few months now, but he has definitely gotten a good start at creating one of the cleanest, most aggressively stanced STi Imprezas I've ever seen.
The very first thing Abbitt did to his STi after buying it was install a set of BC Coilovers. He then took his Subie to Ray at Garage Autohero for professional fender rolling so he could fit his aggressive wheels on the car. He quickly followed those modifications by getting a Invidia exhaust. So far, this STi already looks much more stylish than most of the Imprezas of this body type I've seen – even though it only has minimal modifications. I can't wait to see what Abbitt has in store for this car in the future!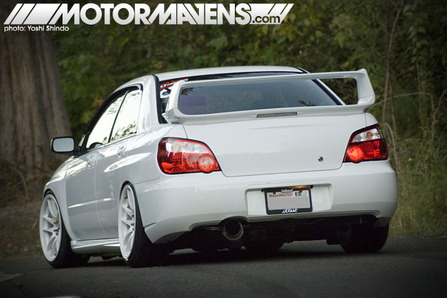 As I walked back to the pits at an Evergreen Speedway drift event, I couldn't stop staring at Abbitt's parked STi. If you look closely, you'll also notice that he shaved all the emblems off the trunk to further clean up the look of his car.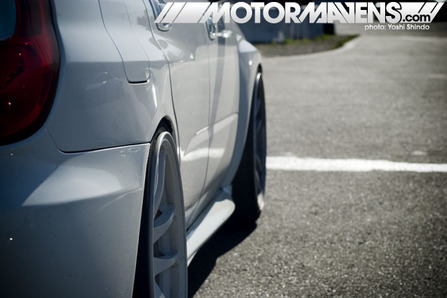 Stretched tires, aggressive offset wheels, and a super low stance is what makes this STi sit different from all others. If any Impreza owners want to write down Abbitt's wheel math, here it is. 18×9.5 +30 up front, and 18×9.5 +35 in the rear, with 215/40/18 tires all around. Abbitt admits though, his car is rocking fake Work Emotion CR Kais at the moment because he just saved up to buy this STi a few months ago and he doesn't have enough money to buy real Work wheels just yet. He tells us he plans to work hard and save up so that he can buy some real Work wheels sometime this winter.
Speaking of work, Abbitt has put in a lot of work to build up this car with the small budget of a full time high school student. After schoolwork, he also has a job at a golf course and also makes stickers on the side for a little bit of extra money, which he spends on his car and the creation of his films. I gotta admit though – for a high school student without a full time job, I think he's done pretty well in building an impressive Impreza so far!
Why do I say that? Well to be honest, I think most Subarus you see aren't low enough, and they use beefy tires mounted onto wheels that aren't wide enough. It's just not every day you see an STi that looks as good as this one.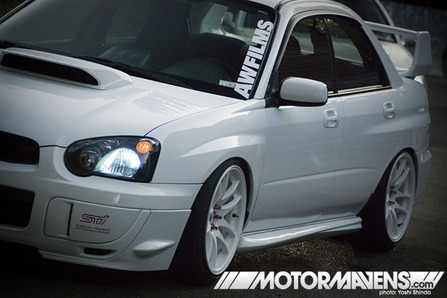 Abbitt's old look – he used to have black Work Emotion replicas. Ive never been a big fan of black wheels on white cars, but this car pulled it off quite well. The black and white was good, but going white on white was an even better choice, Abbitt! It certainly shows off how aggressive the wheel fitment is, and that's what he's all about. I think Abbit deserves props for building such a good looking STi on a small high school budget! I wish I had a car this dope when I was in high school!
:: Yoshi Shindo
---