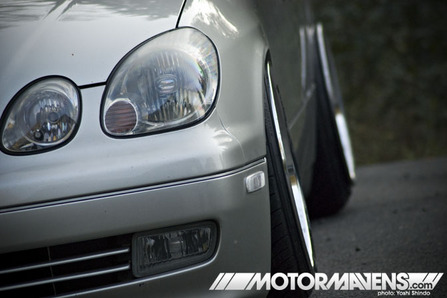 These days any car I see sporting a paint job from the pastel side of the palette automatically reminds of Team Instant Party (TIP). I'm sure everyone who knows or has seen Team Instant Party cars is nodding right now as they envision a procession of Easter eggs with badass offset shooting shaved rubber into their mind's eye. So you can see why this air bagged GS300 had me completely perplexed since the VIP style is the last option I would expect from a TIP member.
This JZS161 belongs to Walker Wilkerson. If you're thinking that last name sounds vaguely familiar, that's because Walker is the older brother of Abbitt Wilkerson of AW Films. I'm sure you all remember Abbitt's Through the eyes of a child video and his Sick Stanced STi?
Walker was "fortunate" enough to manipulate our wonderful capitalist system through the process of buying a few cars and selling them at a profit. He was so "fortunate" that his effort and hard work netted him this beautiful, clean GS300. What a "lucky" guy, huh?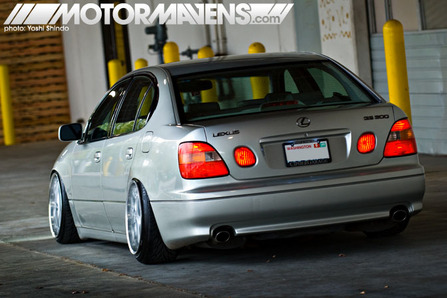 Some might say airbags are "cheating" but for Walker, who uses this car as his daily driver, I think judgment should be reserved. Anyone who knows the Northwest also knows that the roads are truly unforgiving. Coilovers or bagged, it still takes a very involved process to achieve this stance. Props!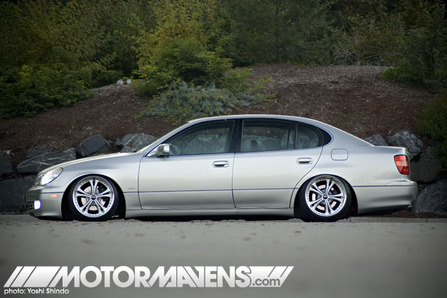 This really shows how low those air bags can go. This choice of wheel (Weds Kranze Cerebus) really does a lot for the car.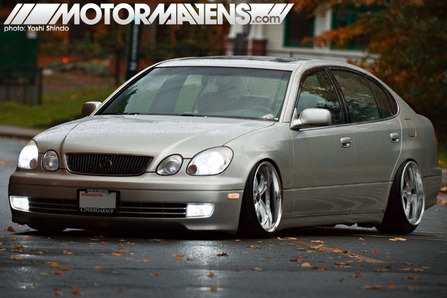 While shooting Walker's car (can you imagine?) it started raining. Who would ever think such a thing could happen in the Northwest?! This Northwest rain season is truly a "love it or hate it" (mostly hate it) thing. But, for once, I think the rain was on my side – it added a little "something" to this photoshoot. Call it "atmosphere". BTW, for you guys who are wondering about Walker's wheel math, grab your pens and write this down: front 18×9.5 +6 and rear 18×11 -1 Weds.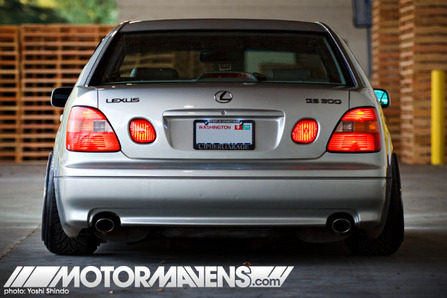 I've always been a fan of the Lexus GS series. It just happens to be one of those series that allows some almost impossibly crazy offsets. It's truly amazing to me sometimes how some cars allow you to achieve stances this sick. IMO, Walker did a great job on this car as his daily driver. Now let's see how long he can keep it. LOL!
::Yoshi Shindo
---