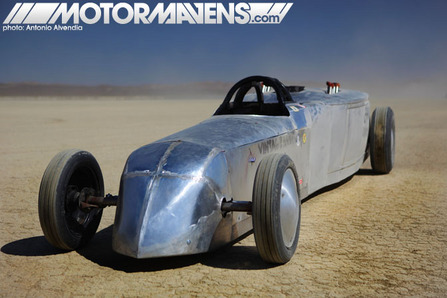 As you may have seen our previous post about land speed racing, this past weekend we headed out to the most famous dry lake bed in Southern California – El Mirage.  We arrived in the afternoon and the weather was hot, but the racing was cooling off. Unfortunately, Mother Nature had been blowing extremely strong cross winds across the desert, which eventually brought the event to an early stop. Undaunted by a little wind and a lot of dust, we continued on through the pit area until the dull sheen of dust covered metal captured our attention.
Strong and resilient with something to prove, this rear engine modified roadster provided contrast to the cracked up surface of the historic lake bed. After speaking to a few helpful guys hanging out nearby, we were told that this roadster was designed and built by an experienced land speed racer named Fabian Valdez from Vintage Hammer Garage in Yucaipa, California.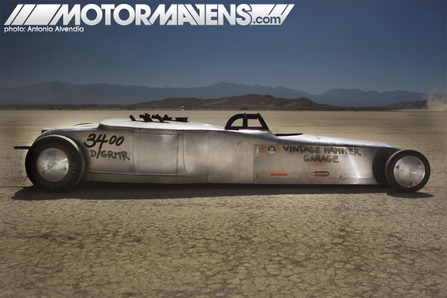 After speaking to Fabian, we learned that the extended wheel base on this mod roadster is 176 inches, but the length from nose to tail is about 216 inches. They are still shaking down the car but they managed to get it up to 172 mph earlier that day. Fabian tells us that he hand crafted this all-aluminum car with a 1929 Ford roadster as his inspiration. Can you see the Ford design elements in this car?
The racing slicks he runs on the front are 22 1/2 x 15 M&H Racemasters. In the rear are a vintage pair of 28 1/2 x 15 Firestones, which actually have a cast date of 1956. They sure don't make slicks like this anymore; these sizes are obviously very hard to come by. According to Fabian, the closest you get to these sizes nowadays are 36×18 slicks by Mickey Thompson. If he can't find more 28 1/2 x 15 tires, he says he'll have to make new wheels for the 18s.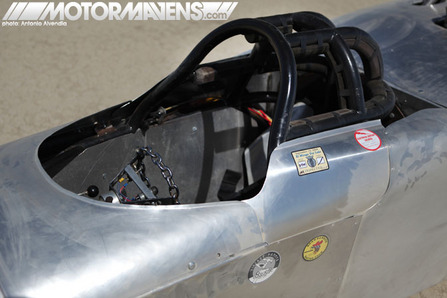 Of course we had to ask Fabian what it was like to drive out at El Mirage and at Bonneville. Most people have never crossed the 140 mph barrier; much less speeds north of 170 mph. Fabian said that a lot of guys say "Dude, I've done over 100 on the interstate, what's the big deal?" but Fabian compares it to driving at 172+ mph on a sea of marbles.
"You're really just skimming along the surface while making small adjustments," Fabian continues, "any over-adjustment will make the car spin… and at speeds over 170 mph, that's probably not a good thing." Weather is a big factor as well. According to Fabian, if it rains before a race and the ground dries just right, the surface becomes like concrete. He said one time the surface was just perfect, and at night you could see the moon reflecting off the ground. With a surface like that you can really get serious speed.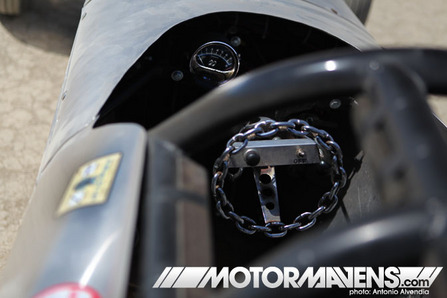 Instead of the typical "butterfly" steering wheel that you would find in most dragsters, Fabian uses this custom round "chain-link" steering wheel. "Heyyyy Vato!" According to Fabian, his theory is that if the car spins he won't break his hand as he fights to regain control. Grabbing on to a chainlink steering wheel doesnt sound too comfortable to us, but as the wheels shift left or right, he can stabilize the car without risk. He tells us that he had this exact same steering wheel in his first record holding land speed car (which he sold), but he didn't include the wheel in the sale of the car..
I could just give you a bunch of stats about the Vintage Hammer and leave it at that, but that wouldn't be very Motor Mavenly of me, now would it? We believe in finding the "why" that motivates the people who pour their passion into their cars. For Fabian, you need to look no further than the legacy he represents – a legacy that spans 60 years of vintage racing which can be traced directly to one racing legend – the great Mr. Joaquin Arnett and his legendary racing club, the Bean Bandits.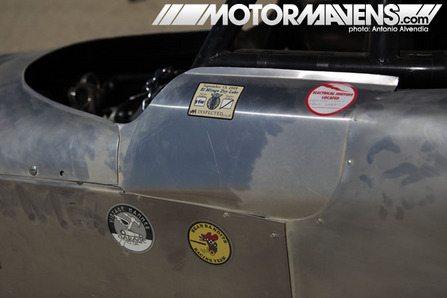 The original Bean Bandits started out as members of a club called the Cam Pounders in 1949, but in 1951, the name was changed to the Bean Bandits. There are many stories about the origin of the Bean Bandits name. Most point to the high ratio of club members of Mexican ancestry, who, at the time, were commonly called Beaners. As you can probably figure out, this was a derogatory slur, but even the prevailing elitist attitudes of the times never stopped the Bean Bandits from doing what they did. The "Bandits" part of the name is believed to have been derived from the varied antics that the club members were known for. To this very day, you can still find a crowd of people who each have their own story of how the Bean Bandits started or how the Bandits beat them (or beat someone they knew) at racing.
Joaquin Arnett was the driving force and passion behind the Bean Bandits. He designed, built, and drove the cars that set and broke many records. I know I said I wouldn't focus on stats but, in this case, the stats do tell a story. The Bean Bandits won between 350-400 trophies between 1951-1954 (many of which were sold back to drag strip operators for gas and food money to get back home).
Joaquin even won THE FIRST NHRA Nationals meet held in Pomona, California in 1953. He was the Top Eliminator, defeating over 300 cars. That's right… THREE HUNDRED. (And here's the part that had me pumping my fist in the air for the underdog …) Although most of the other "well-financed" racers were using brand new parts on their competition cars, the Bean Bandits competed and won even though they were running used junk yard parts on their cars! It just goes to show once again… even with big money and corporate financing, you just can't beat authenticity and passion. As a result of his accomplishments, Joaquin was inducted into the Dry Lakes Racing Hall of Fame in 1997 at Jack Mendenhall's Gas Up Museum.
Due to all the issues involved in a life of racing, Joaquin decided to put things on hold and leave his beloved club in the hands of the next generation of Bean Bandits. The legacy was passed on to two younger club members: Julio Hernandez and Fabian Valdez, who are both well respected hot rod builders and fabricators. The passion was passed on through Joaquin and his legacy motivates them even today. It also shows in what Fabian has created here. To get the whole story, go check out The Bean Bandits Club site. Really cool history.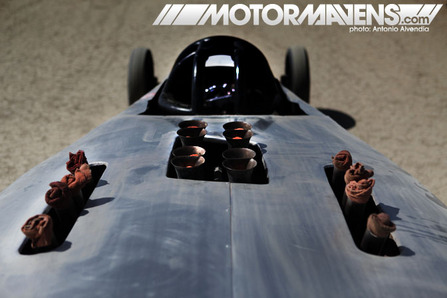 The history that lies just beneath the surface influences the lines of the newer generation of Bean Bandits' fabrications. Instead of using a top scoop intake, Fabian opted for a more streamlined intake, which has the air intake valves in the center cut out, with the exhaust gases escape from the headers on either side.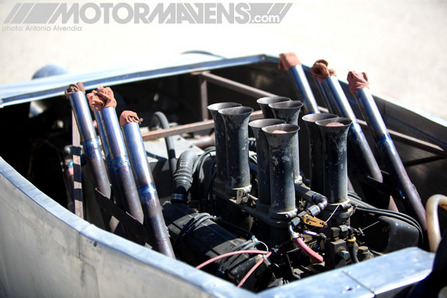 The engine is a stock Chevy small block 8 cylinder 350 CID (cubic inch displacement), with Hilborn mechanical injection. The engine has been de-stroked, which means Fabian installed a modified crank that shortens the length that the piston travels in the shaft. Because of this it is now considered an 8 cylinder 300 CID Chevy big bore. The term big bore comes from the fact that the pistons' travel length are no longer line in with the bore size (diameter of the shaft).
For all of you "mechan-o-philes" who are wondering how one would calculate the Cubic Inch Displacement of an engine, grab your pads and pencils (or PDAs) – it is:
CID = (.7854) x (bore) x (bore) x (stroke) x (the number of cylinders).
Due to these upgrades, instead of shifting at 10,000 rpm, they consistently shift at 8,000 rpm. This shorter stroke helps to increase engine longevity. And, unlike drag racing where you are running pedal down for only a few seconds, you can be pedal down for up to 5 miles – an absolute must for any car running races like Bonneville and El Mirage. They've done some other mods of course, but I was told that those were "trade secrets" (haha) – ya gotta love it!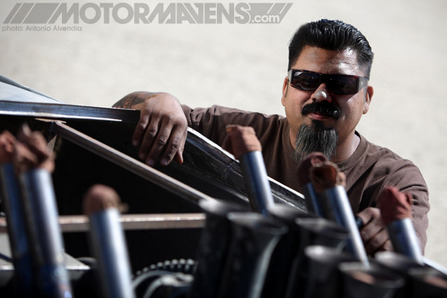 Here's the man himself, Fabian Valdez. He is the owner of Vintage Hammer Garage. Check out his shop and its motto: "It's gotta look good, go fast and be safe!"
Since "it's gotta look good," Fabian likes to stay closer to the old school style of the open wheel roadster. You can't go as fast as the slipstream cars, which hide the wheels inside, but those don't look nearly as good. There is also a challenge in getting a racer like this up to these fast speeds. The wheels themselves create drag.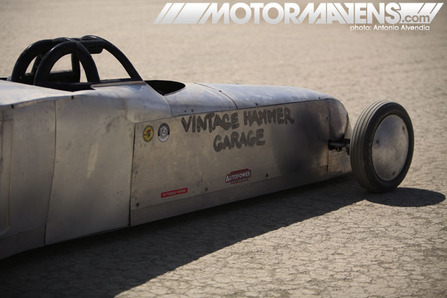 These guys also favor the rear engine roadster class, which was opened in 2005. Fabian started the process of figuring out how to build a new car to compete in this class and in 5 weeks he was at Bonneville with his new rear engine modified roadster. That's less time than it takes a certain MotorMaven who will remain nameless (here's a hint – the name starts with an A and ends with a tonio) to get from one end of a drift event to the other!
Unfortunately, due to weather conditions, Fabian and the crew were unable to make a pass at Bonneville, so Fabian has been working the bugs out at El Mirage, coming within 6 mph of the record. By the end of the 2 day meet and last meet of the season, Fabian earned a record run at 184 mph. The following year at Bonneville, Fabian would set the record with an average speed of 202.964 mph.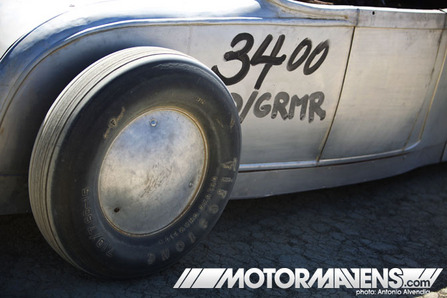 3400 is Fabian's racing number. It's based on his hero Ron Benham's number (#34) whom he credits as the man responsible for the opening of the rear engine class. You just gotta love the way the car's markings have been applied with old school shoe polish. We also like the cool moon disc wheels and the retro drag slicks.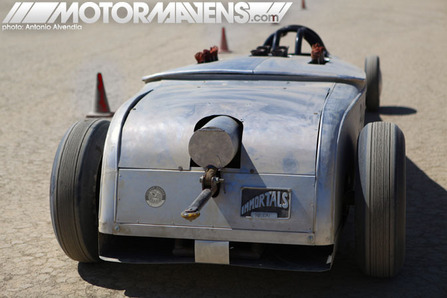 See the bar sticking out of the back? That is a push bar. Fabian uses a push truck to give his race car a rolling start. Holding the clutch down until he gets enough speed, then takes off like a gunshot from second gear. Many land speed drivers work it that way to maintain engine longevity.
This car just looks so cool from the rear. We especially like the Vintage Hammer sticker and the "Immortals" car plaque.
Oh yeah, and did we mention that this car only uses rear brakes? There are no brakes up front.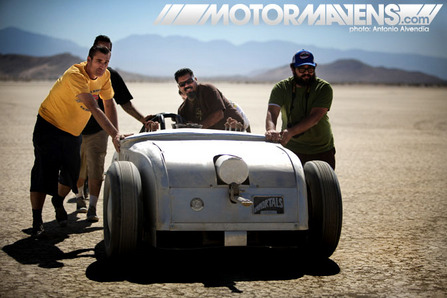 Fabian says one of the things he loves most about El Mirage is knowing that people have been coming out here doing this exact same thing since 1938.
There's history and heritage at El Mirage – just like the good old days of Land Speed racing. People come and camp out the night before, have a good time, and then they get up and race the next day. There is no prize money for being the best in your class. They do it all just for the love.
As we came to the end of what turned out to be a super cool (and super informative) conversation with Fabian, he wanted to make sure we gave a special thanks to his crew – Tom and Diana Branch, Jeff Bachar, Rene Lugo, Jake Hummel, Jose Soriano, and all of the Bean Bandit brothers! What an awesome car and an awesome crew. It's always good to show supporting companies love as well, so Fabian would also like to give thanks to Hop Up Magazine, Originals hot rod club UK, House of Quality Auto Parts and Autopower safety equipment.
And a special shout from MotorMavens goes out to all of you guys out there who sacrifice to race, build, and transform your passion for cars into the automotive magic that we get to witness and chronicle on a daily basis. It is our honor to shine a light on your stories.
:: Travis Hodges
Comments Closed