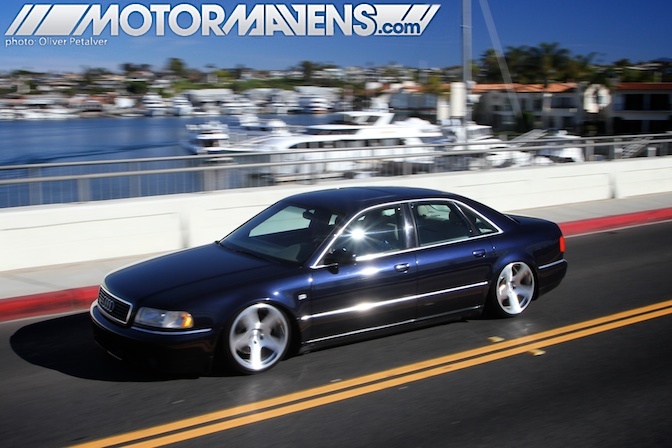 It's been quite a while since the last time we featured a ride from the guys over at Rotiform… Well, you're in luck! I was able to get the full scoop on Jason Whipple's 2000 Audi A8 and, while it's an over-sized, VIP-style automobile, it nonetheless exudes the luxury and class of the $100,000 price tag of its time. A certain song comes to mind when looking at this ride – it almost emanates a certain Oh You Fancy, Huh? attitude…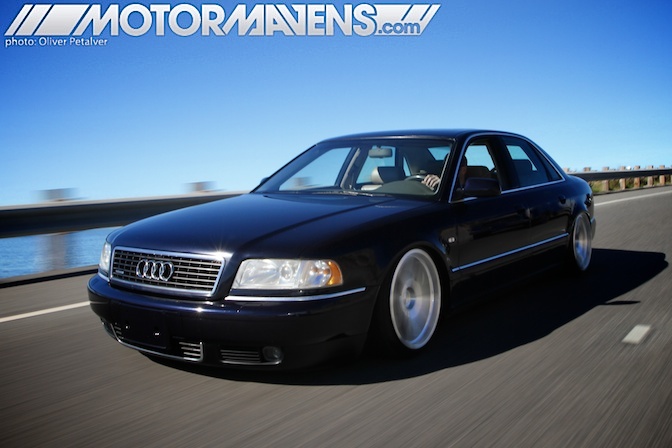 I was able to steal Jason away on an uneventful Saturday morning to do the shoot, which took place in Southern California. On the way to our location, MotorMavens Crew photographer Oliver Petalver opted to take full advantage of the scenery by hanging from the window to take some dope rolling shots. They turned out pretty awesome, don't you think?
Funny thing, though – while photo pro Oliver was hanging out the window of our chase car, Jason aired the car out to get that menacing, low effect… and Jason's face immediately went from smiling for the camera to a certain heightened awareness of the road surface. The A8 was literally scraping on every little dip, pothole, reflector, manhole cover – I mean EVERYTHING. It was quite a sight to behold because the car was sparking, rubbing and making wonderful sounds as it scraped along the Pacific Coast Highway while onlookers gawked and stared. Members of the "functional" crowd may insert your favorite "hella" joke here.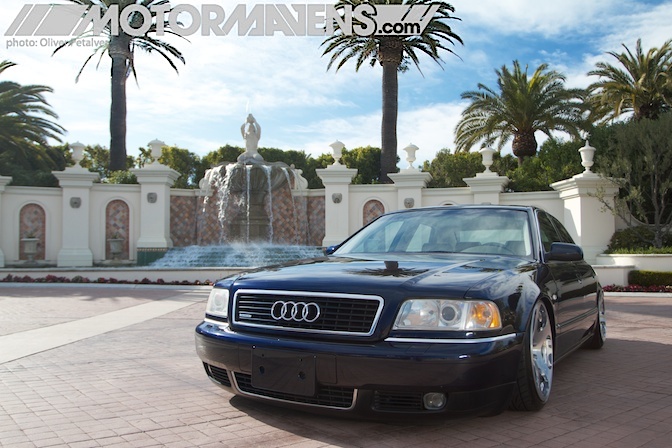 During the shoot, I was able to find out a bit more about Rotiform's latest project. Believe it or not, Jason actually uses the A8 as Rotiform's work horse vehicle – running wheels back and forth from the powder coater's shop. It's a tough job but, as the saying goes, somebody's gotta do it. Recently, Rotiform picked up a work van for shop errands, so you can bet that Jason won't have to enlist the A8 for anymore work duties. Since the car can go back to being his daily driver, it can continue to remain a fine example of Rotiform's keen knowledge of fitment and offset.
Before any camera could capture the A8, I had to do a bit of location scouting in and around Newport Beach, CA. I knew it had to be something of a grand setting, so with Oliver P's help we were able to locate a perfect place to showcase the A8. The car's theme was simplicity with a touch of Baller so we chose a spot that exemplified the understated "Baller Status" appeal that this car oozes. In the end, we chose Dana Point's own St. Regis Resort Hotel and Spa. Thoughout the shoot, people were approaching us for a closer look. Many had no clue what type of car it was or why it was so damn low! It was definitely an attention-grabber, even amongst all of the luxury/supercar marques passing by (i.e. Ferrari, Porsche, Mercedes, BMW, Range Rover, etc).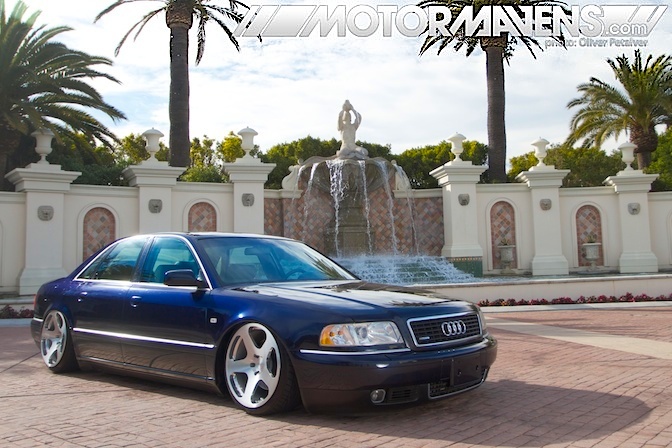 Jason has had the car for about six months now but he had the ball rolling on this project before the keys were in hand. His wheel choice was already being debated among the guys and he was already talking to the boys at Bagyard about a high-quality, hand built air ride system that would be amenable to the task of  "hammering the car on the ground" as Jason would say. I think it looks absolutely gorgeous! I've got to admit this is one of my favorite, larger Audi saloons – in my opinion, preferable to the BMWs and Mercedes of its era.
The interior is all business, maintaining the same look that it received from the factory back in 2000. The lush wood grain surrounds its occupants as they're greeted by its eight-way, power leather seats which seemingly immerse them in a cloud of luxury. Applying more than the normal amount of force on the gas pedal elicits a faint acknowledgment from the 4.2L 40 valve V8 in the engine bay, not even breaking a sweat, and the only proof of your action is the sense that objects are whooshing by a bit faster.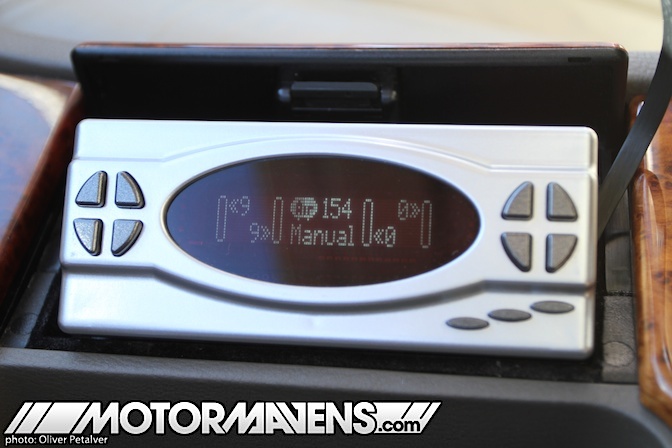 The Air Lift Management digital controller is nestled nicely in the armrest with a retractable cable. This provides easy access to the modular and it's quite easy to use with four presets, which either completely air out the car (lower the ride) or give it that monster truck look, raising the car way past stock height to something more along the line of stratospheric.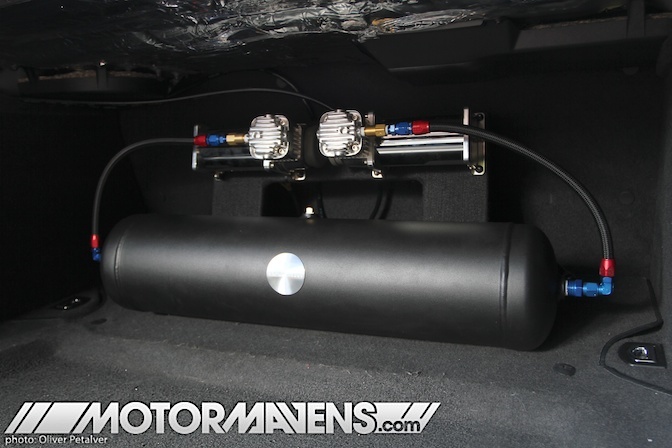 This five gallon air tank, paired with two 380cc Vi Air compressors, really gets the Audi A8 off the ground… or shall I say, keeps it grounded. Wanting to keep the trunk fully functional, while still retaining the trunk space and the use of the spare tire compartment, made the installation a bit tough, Jason tells me. However, he had help from good friend Ford, who came down to visit from Northern California, along with the rest of the team at Rotiform – all lending a hand to get everything just right on the car. Within a few days, the air setup was installed and ready to go. However, despite everything, Jason wasn't satisfied with the stance – call it his "inner perfectionist."
While talking to Jason during the shoot, he admitted to me that getting this car to sit like this took some time in the trial and error department as every couple days, on the drive home to and from Rotiform's HQ, he would listen to anything that would rub, hit, scrape, or make a loud banging sound. He said that for the first couple of weeks, he spent more time under the car than driving it. The things we go through to achieve that perfect stance.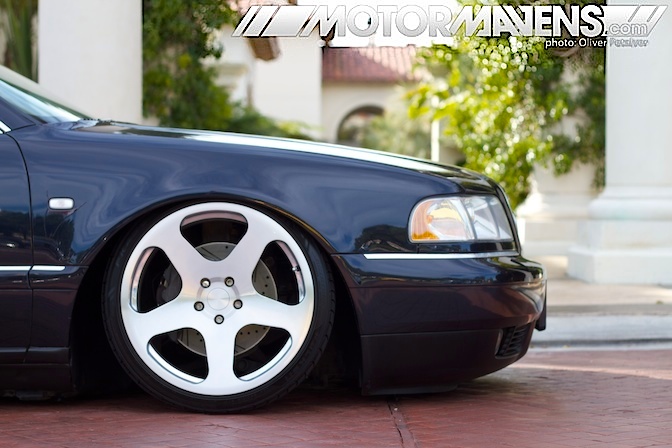 To handle the "low" functionality of the car, Jason opted for a set of Bagyard Supremes, coupled with a customized set of Bilstein shock absorbers. When I say customized, I mean that the Bilstein shock bodies were shortened and modified so that they would sit well with the Bagyard air bags. Readers with a keen eye might have noticed the rotors are a bit different on the car…well, they would be right. Good friend Adam Woodhams of Adams Rotors hooked up Jason's ride with a set of slotted and drilled rotors for that extra bit of stopping power.
Being one of the owners at Rotiform does have its perks when searching for the right set of wheels to put on a project car. Certainly Jason wouldn't choose just any wheel; he somehow lucked out, because he had these just sitting in the shop. After seeing how they would look on the ride with some clever p-chopping on Adobe Photoshop, he knew right away that it was a perfect match for the car. I think the finish is just a perfect contrast to the blue paint coupled with the exterior aluminum trim. That chunky five spoke that you probably have been dying for me to tell you about is actually Rotiform's very own wheel dubbed "NUE." They're sized 19×10 in the front and 19×11 in the rear – wrapped in Falken FK452 rubber. The NUEs really complement the clean styling of the A8, don't you think?
When asked about where Jason and Brian's (Brian is the other important dude at Rotiform, check out his Audi wagon we featured previously) inspiration came from when designing the wheel, Jason told me that the concept originally came from the RUF wheel. Being Porsche fans, both were always fond of the five spoke RUF design and wanted to take a stab at designing their own interpretation of the wheel – with a bit of concave action added to the recipe. Call it a day.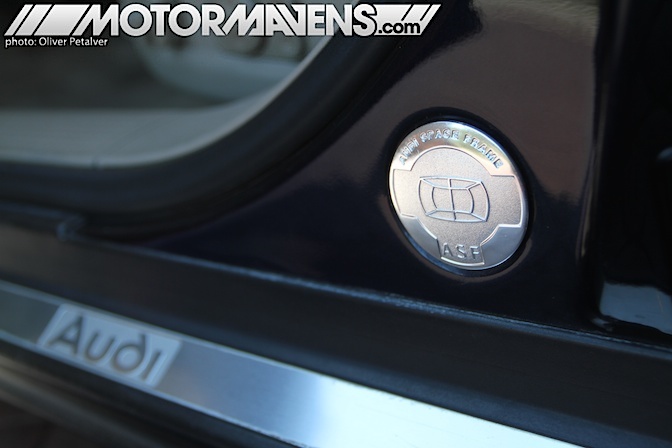 This little emblem may be insignificant to most Audi – Volkswagen guys/girls. It might even be overlooked by most car enthusiasts. However, this emblem represents a giant leap forward in the car world. It represents a technology that may even have become an integral part of the car you drive today – or perhaps in the future.
At this time, for just a moment, class is in session.
The Audi A8 debuted in Europe in 1994, although it was not until the 1997 model that it became available in North America. Unlike its predecessor, the V8 model, which was built on an existing steel platform, the A8 debuted on the then new, D2 Platform – an all-aluminum monocoque, dubbed the "Audi Space Frame" (ASF), which helped to significantly reduce weight, without sacrificing structural rigidity. In addition to being the world's first car built on an entirely aluminum platform, it was also the first to have six interior airbags, making the A8 the first vehicle to be so equipped.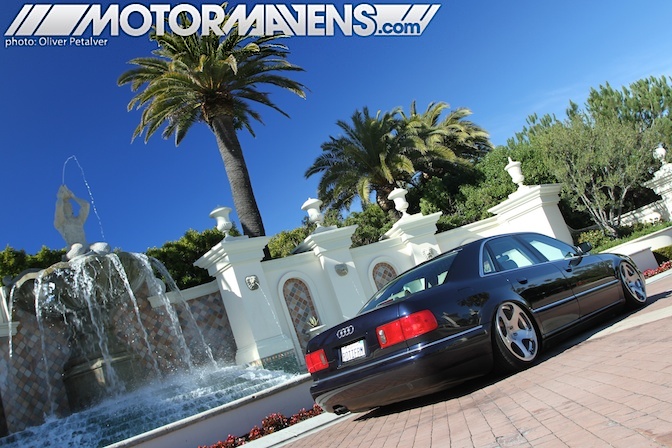 Seeing this car transform from an average stock Audi A8 that your grandpa would drive to a menacing belly scraping, spark flying, wheel tucking, V.I.P saloon was quite gratifying. Jason kept to his theme of functional simplicity and I applaud him for that. Jason tells me that his purpose for this project was to engineer the "grandpa" out of it, and that he gets a lot of confused stares when he airs out at gas stations, grocery stores or just cruising the mean streets of Long Beach, CA. LOL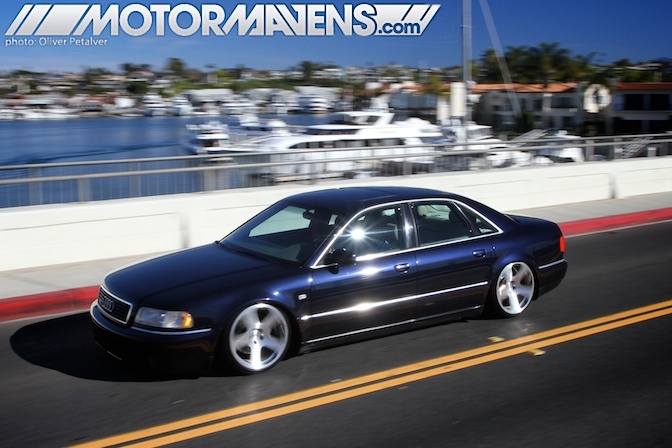 On that matter, I'll leave you with this photo… This was actually shot at another location but I thought it would be rather fitting as an exit shot. Many thanks to photographer Oliver Petalver for the photos!
For more information head on over to http://www.rotiform.com
::Tamer Omran
2000 Audi A8
,
Adams Rotors
,
Air Bags
,
Airlift management
,
Audi A8
,
Bagyard
,
Bagyard Supremes
,
Belly scraping
,
Bilstein
,
CA
,
california
,
D2 Audi A8
,
Dana Point
,
homepage
,
Hotel
,
Huntington Beach
,
Jason Whipple
,
Newport Beach
,
Oliver Petalver
,
Resort
,
rotiform
,
Rotiform NUE
,
Rotiforms Audi A8
,
Spa
,
St Regis
,
Tamer Omran
,
Westminster
---