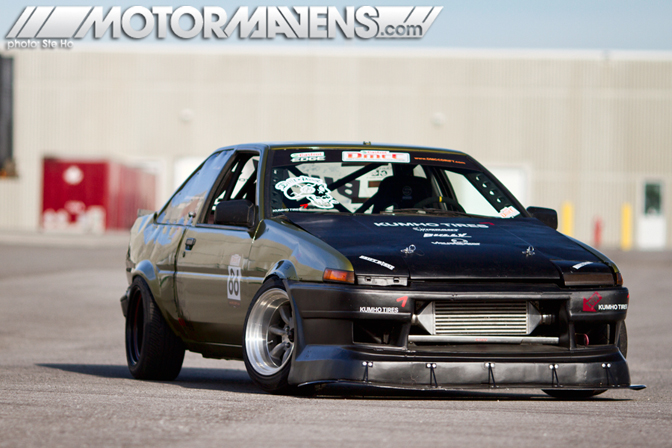 As I write this, Pat Cyr of Drift Posse is sending me a text message from the DMCC – Drift Mania Canadian Championship – Round 2 on Sunday, June 20 informing me that he has won the event!  Congratulations Pat!
When I think of the hard campaigning privateer, there's no one that comes more quickly to mind than Pat. He and his team bring the perfect mix of heart, dedication and style to every event – and it shows.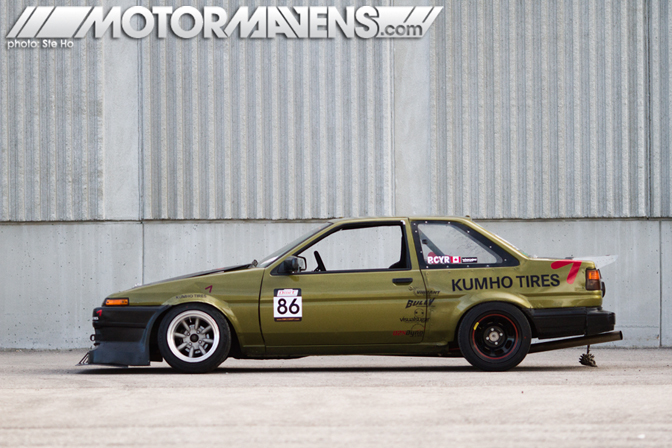 Reppin' hard as always, Drift Posse is taking over, starting with Pat's rough and tumble AE86.  Sure this car looks like it has seen better days but all of my Hachiroku fans love a bit of "boro", right?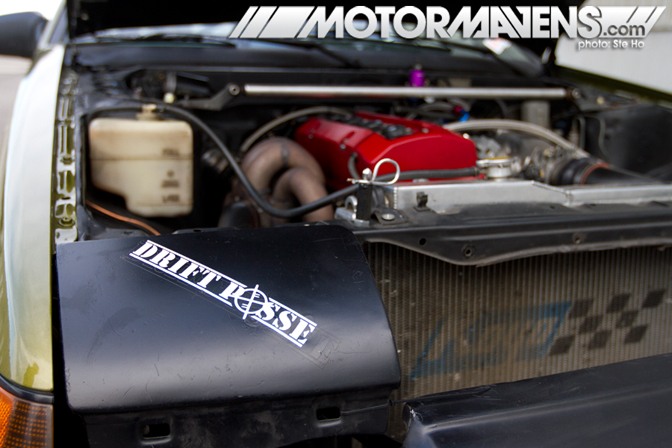 But let's not get sidetracked by looks – as they say "you can't tell a book by its cover". Under the hood, this Corolla has a lot of juice.  Now, I know our resident Toyota Historian Antonio Alvendia and other old school Toyota purists might not like this, but Pat and Drift Posse installed a F20C in the engine bay. I made Pat laugh when I said he should put a 1 </3 (Brokenheart) 4AG sticker on that valve cover.
Pat has fought his way to the podium numerous times in the past couple of years using a turbo 4AG but, because he has to battle it out with the biggest and baddest V8s out there, he had to go big or go home this season…and durability counts (and pays off in spades) when you have to run circles around the competition.
Fast, reliable, cheap… usually, with a bit of luck, you can pull off two of the three at any given time. But somehow Pat manages  to pull off the full triad of gangsterism. It must be the money green paintjob. Yeah. Look. Bottom-line. If you were looking for the embodiment of the term "grassroots hero", here he is you pansies!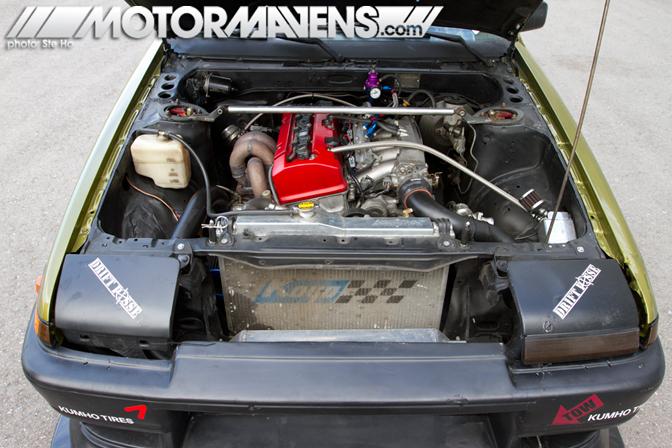 Pat hand-built a custom exhaust manifold with a 16g turbo.  Because the turbo isn't huge, the response is snappy and, by 3000 RPM, it's at full boost all the way to the 9000 rpm redline.  To battle heavy in the corners at full throttle without blowing up, a custom fuel tank with a surge tank was installed, and in parallel, a methanol/water injection system that keeps the intake temps cool – even after several hot rounds. He says that it makes an honest 300HP to the wheels.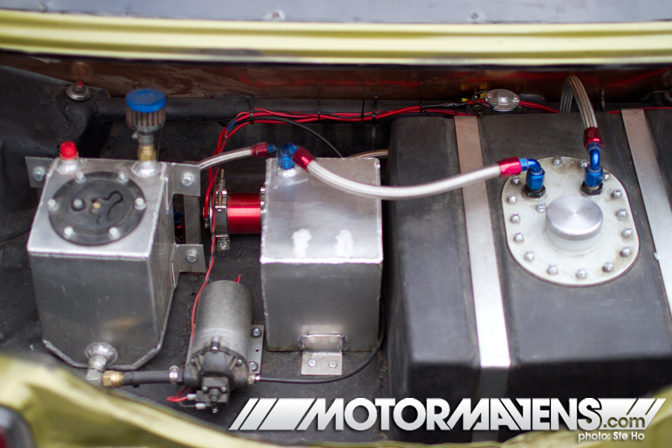 Here's a shot of the fuel tank, surge tank and methanol/water tank in the trunk. Clean and super functional.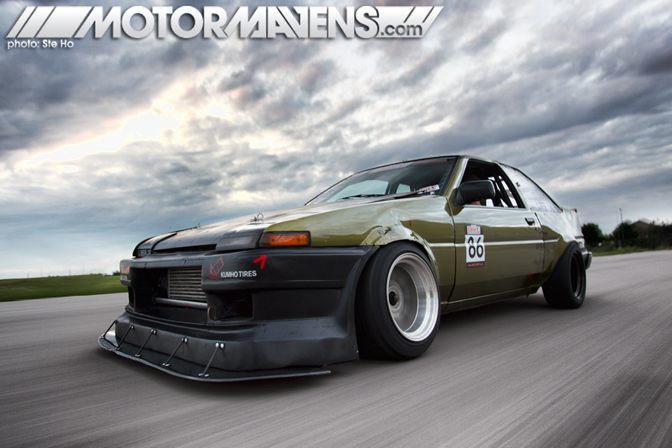 On an interesting note, I was told that some people speculated that the car had over 400 HP and that that's what gets Pat into the winner's circle.  I bet rumors of the car having over 500 HP are circulating already, especially now that he has won the 2nd Round at Montmagny, Quebec.
That's Pat there in the middle. His boy, Mark Bernardo came with his girlfriend just before the sun came down. Good thing since we got a chance to grab a couple of sweet shots of Mark's FRESH-TO-DEATH JDM Zenki Levin. So, now you get two for the price of one. Don't say we don't take care of our peeps over here at Motor Mavens!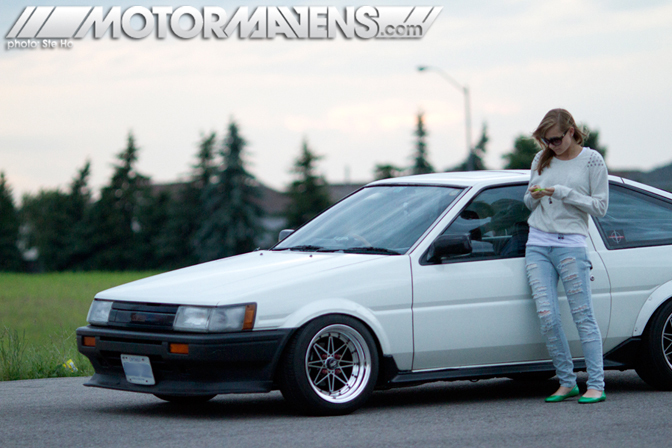 Here's one more of Mark's girlfriend. You know I mean the Levin, right? LOL! Let me know if you want to see more of the Levin! Can you guys spot the difference between the two photos, besides the angles?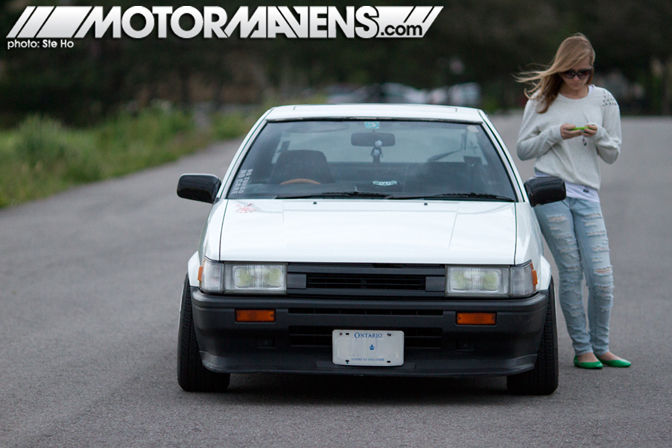 Thank goodness our boy Pat represents with little attitude at all.  He reminds you most of some laid back skater or X Games pro, you know?  I asked him what it was like to be signing autographs at events and he said it was "…weird. Most people don't even know what car you're driving, but there's always a few fans that know what's up." I think the underdog appeal is what Pat and his Corolla are all about. Remember, Pat is still a privateer who's making it in a Pro series.  He races on Sunday… and works on Monday as a fabricator at a Corvette shop.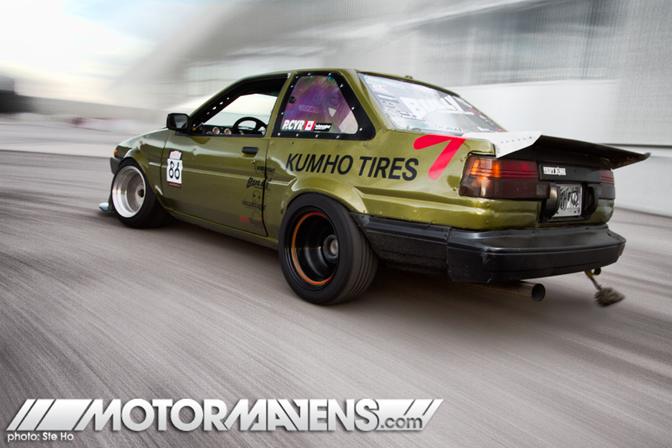 Pat would like to thank his sponsors and friends.  Drift Posse, Kumho Tires, Vibrant Performance, Bully Clutch and Visual Sugar.  Without them, he would simply be another AE86 driver who wouldn't be making it to the top 16 – let alone finishing on the podium!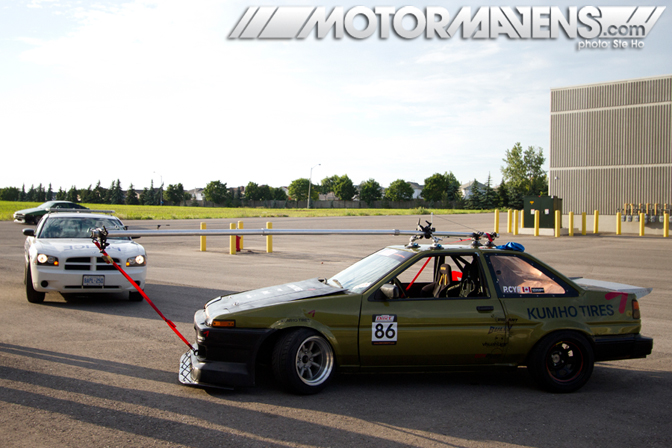 Ste Ho and I had fun shooting Pat's car. Luckily we got the shoot in before he could "potentially" add more damage to his already battle-scarred steed at the second round of DMCC.
Pat drives this car hard to win, so I only expect to see a new battle scar the next time I see the car in person. During the shoot, we even had the police show up and tell us that they were getting complaints from the warehouse residents. Oops! No foul though because he also hinted that "the people probably already went home".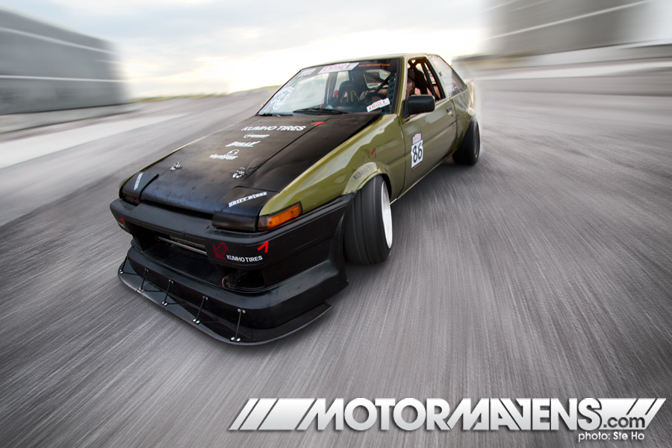 Ste Ho of Shutterlit has been perfecting the art of getting the action/drift "moneyshot"… to me this shot is PURE PORN! Carry this image with you into your daily life – it will help you to be about it while others just talk about it!
Jover Papag
---