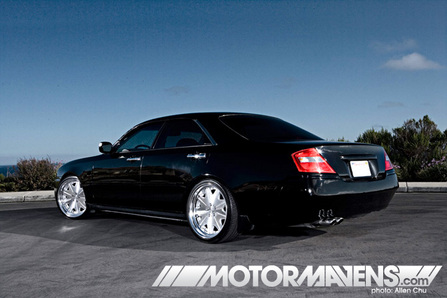 With VIP style cars so popular these days, it seems that everyone in Southern Cali always sees slammed Lexus GS and LS bodies with big wheels… It's even common to see Infiniti Q45s with VIP treatment pretty frequently nowadays. However, it's not often that we see a Y34 body style VIP Infiniti M45, which only came out between 2003 and 2005. The Y34 has got to be the coolest M45 ever made. EVER.
VIP originated with Japanese Yakuza members modifying their cars with dish rims, clean body kits, and limo tint.  Anytime a Yakuza boss rolled down the street you would know to get out of the way!  Justin Wu, the owner of this particular 2003 M45 may not be a Yakuza boss, but he definitely is gangster, and here's why.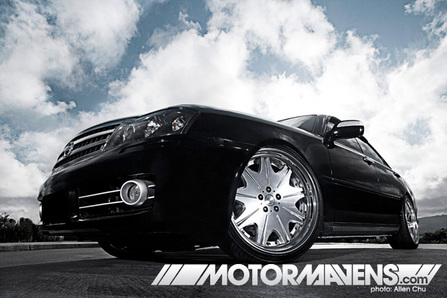 It took months and months for Justin to finally find a used M45  that was clean enough for his liking.  The car was in outstanding condition, but even the slightest wear and tear turned out to be big annoyances for Justin; he is definitely one of the biggest sticklers for perfection that I know.  Not too long after buying it, he sent the car off to the body shop to be repainted.
Always having been a fan of clean OEM body kits, he took this opportunity to install front and rear Japanese OEM Gloria (the M45 in Japan) bumpers, which he found after a long time of searching Yahoo Japan auctions.  With sparking clean paint, he also had the fog light housing and a portion of the bumper painted silver to accent the brand new OEM headlights and the JDM Gloria grill that he bought while he was on a family trip to Japan.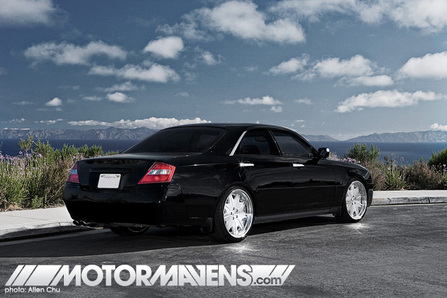 In the back, he installed a set of JDM Cedric taillights, which makes the car look even cleaner and more gangster.  The red and white go perfectly together with the black paint and chrome accents.  The car is dropped ride with a set of Buddy Club Sedan Spec Damper coilovers, which were imported as a special order, since they're not sold in the USA.  He rubs on occasion, but who cares? A good friend of mine always says "if it don't rub, it don't fit" and this is a prime example of that philosophy.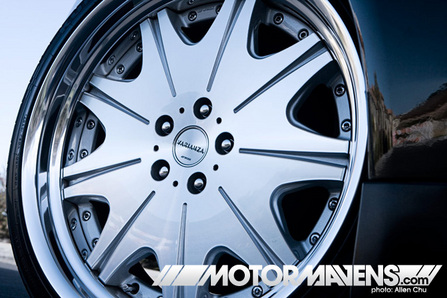 For wheels, Justin ordered a set of Work Varianza D3S wheels in Machine Silver Polish with stepped lips from Logan at Work Wheels USA, which perfectly compliment the rest of the silver and chrome accents on the car.  At 20×8.5 (+20 offset) and 20×9.5 (+25 offset) the wheels are large enough to fill the wheel well, but definitely not big enough to be entering any of DUB's car shows.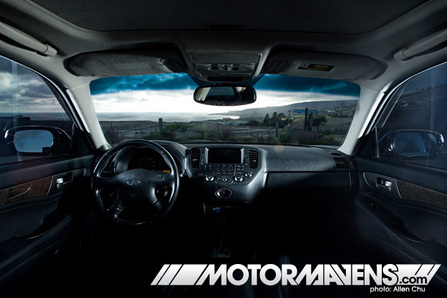 While the outside of the car looks great, one of the coolest features is the audio system Justin wired up.  The stock navigation system and audio are completely integrated with an Alpine DVA-9861 head unit, which means he can use the navigation while he plays a DVD and have the ability to switch back and forth. Bad ass! The stock radio still works and everything works as it should OEM, but a PAC Audio/Video Integration Kit gives him the amazing ability to have a completely stock AV setup without having to take everything apart.  This lets him maintain that clean OEM look that he likes so much – how awesome is that!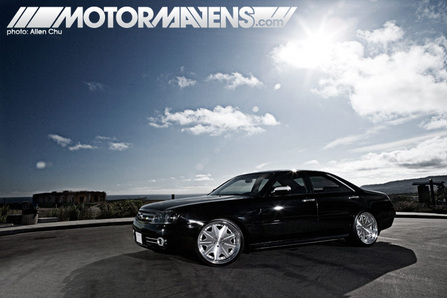 Anyway, as you can see, there isn't much to say about this car in terms of what modifications have been done to it.  This car is not an "in your face" type of ride. Justin's Y34 is not a gaudy curtained and tasseled VIP car prowling the streets and screaming for attention.  This car is not one of the jocks in high school that beat you up and got the girl.  No, this car is reserved and sophisticated.  This car likes to go to art galleries and wine tasting.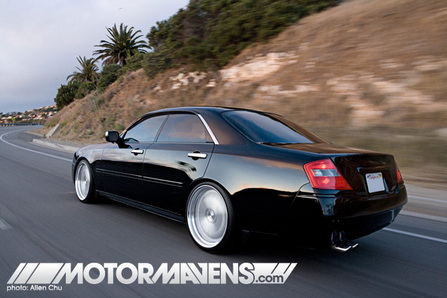 This car captures the essence of the VIP lifestyle; this car is an example of what happens when you mature and lose that urge for attention. Hopefully Justin's M45 and his attention to detail will inspire others to pursue purity and simplicity in their VIP car builds. It probably won't, to be honest. Neither Justin nor his car are in your face about things… neither of them seek the limelight… but Justin's Y34 is a shining example of what can be accomplished when one seeks to cut away all the excess, and get down to basic, pure form – and what an awesome form it is!
:: 4llen Chu
---