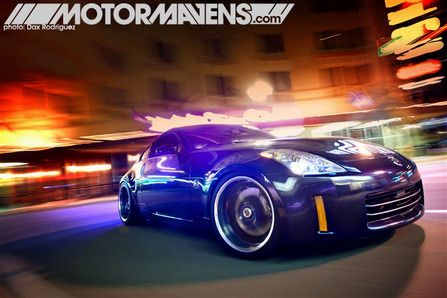 As one of the more prolific tuning platforms on the market today, the Z33 even in stock form provides for an excellent combination of power, handling, looks, and relative value.  The RWD sports coupe can be found in nearly all forms of motorsports and has particularly excelled at drifting, capturing back to back championships for Tanner Foust in 2007 and 2008.
The long awaited introduction of the 370Z has many 350Z fans scratching their heads, however, as Nissan took away the flowing lines and sleek styling in lieu of an overly edgy and incoherent design.  For many of us here at Motor Mavens, the 07-08 Z still stands as arguably the best looking Z of the past generation and for fellow Maven Mike Maez, he unequivocally agrees.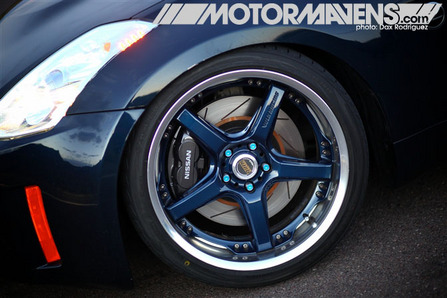 Mike's take on the Z33 is one that caught our eye for a number of reasons.  For one, it isn't too over the top with a flashy body kit or a wild graphics scheme.  There is attention to detail with the fitment and the wheel selection, which is always a plus, but furthermore it represents a very specific paint and wheel combo that we've never seen before on the 350Z.  Combined with a solid ride height, an Akebono brake setup borrowed from the aforementioned 370, and just the right amount of bolt-ons, we were convinced that this was one Z that easily takes Center Stage.
Mike's Z pulls both street and track duty, and as such, had a meticulous formula planned out from the get-go.  After purchasing the car as new from Performance Nissan back in 2007, Mike was fortunate enough to find the somewhat rare San Marino Blue exterior color and mated it with a set of Mag Blue Volk GT-S wheels.  Choosing to go with a more aggressive fitment, they remain the only set of 19×19.5 +4 / 19×10.5 +8 GT-S wheels in Mag Blue that Volk wheel distributor Mackin Industries has ever imported.
With a medium disc in front, as opposed to the high disc that most Z owners run, big brake clearance was extremely limited.  (In layman's terms, it means that Mike's wheels have more lip up front than the weak "high disc" faced wheels that most big-brake owners run.) Fortunately, the 14″ Akebono setup from the 370Z has *just* enough clearance to stuff itself behind the wheels up front.  We liken this setup to the Z32 brake swap for all you S-chassis fanatics out there, as the improvement in overall braking performance is tremendous; props to Concept Z Performance for being fresh out of the gate with this kit!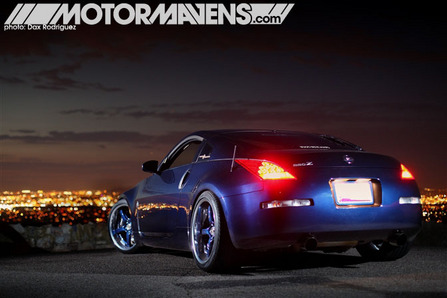 From this angle you can see a significant amount of Yokohama Advan Sport rubber.  Mike opted to go with a 245/275 stagger to retain on track performance and the correct rolling diameter.  To keep things square Mike has rolled the fenders and is running -3 degrees of camber up front and -3.9 degrees of camber in the rear.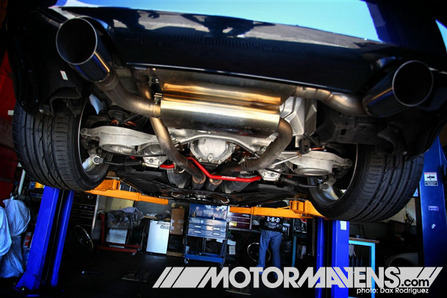 Although copious amounts of camber were necessary to pull of the fit and finish, the remaining alignment settings remain in check thanks to Cusco A-arms and SPC rear camber arms.  From this angle, the Hotchkis sway bar setup is also visible, along with the baller status DG-5 coilovers and Bassani Exhaust.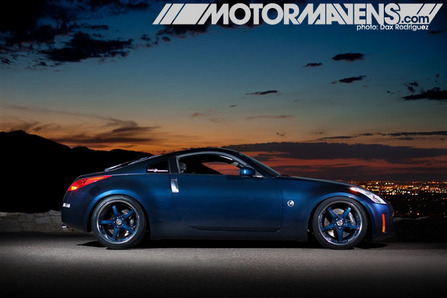 San Marino Blue + Mag Blue Volks seem pretty spot on color wise in this side profile shot.  It isn't a perfect match but is damn close nevertheless.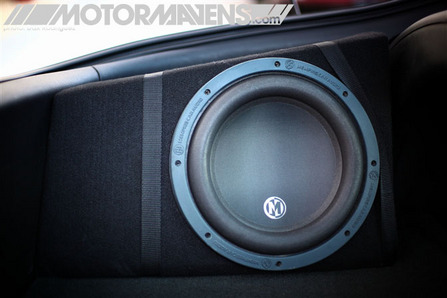 Mike's audio system was also a pretty thought out process as evidenced by the tie down straps wrapped around the custom corner box fitted with a Memphis M3 sub.  Originally opting to place the sub behind the driver's seat, the sound quality left much to be desired and thus a corner box was the next best thing in terms of sound quality vs. space retention.  A Z32 targa top bracket was installed directly behind the sub box with the t-top straps holding the box in place during aggressive street driving.  Quick releases are also fitted for easy removal for track events.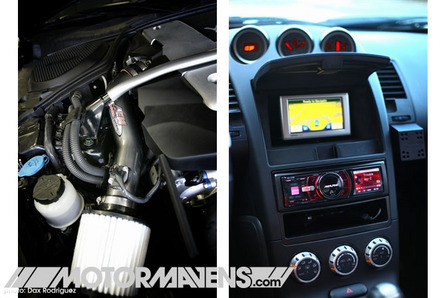 AEM's twin intake system for the VQ35HR adds a bit of grunt to the intake sound and the DRY-FLOW filter can be cleaned and reused, a nice touch.  The intake and exhaust have been complimented by a tune from Technosquare to extract a bit more power, a little extra speed (speed governor removed), and additional breathing room up top (8000 rpm redline).
Also shown here is a custom cubby mount for a Garmin Nuvi GPS unit, a Panavise under-vent Blackberry mount, and Alpine's IDA-x100 iPod head unit.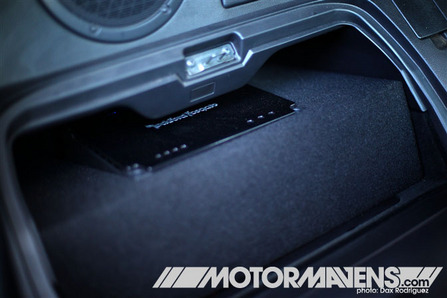 The amp setup in the car was designed to be stealth, space saving, and immovable, thus a custom glove box enclosure from Car Audio Craftsmen did the trick.  The visible Rockford amp powers Focal components up front, while a larger and more powerful Kenwood amp is stacked underneath and powers the Memphis sub in the rear.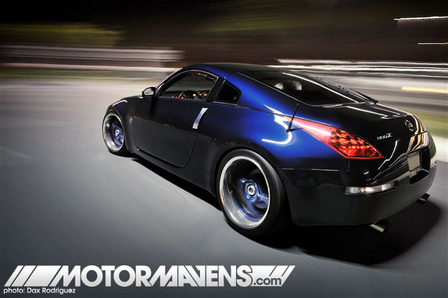 While Mike is holding out on boosting the car, he is eyeing kits from both Greddy and JWT at the moment.  We can only expect the same attention to detail when this VQ35HR gets boosted as the rest of the build, and can't wait to see how it turns out.  Expect to see more of this car in the future and around the scene, as Mike is always in the mix and eager to contribute to the Motor Mavens movement!
::Dax Rodgriguez
---