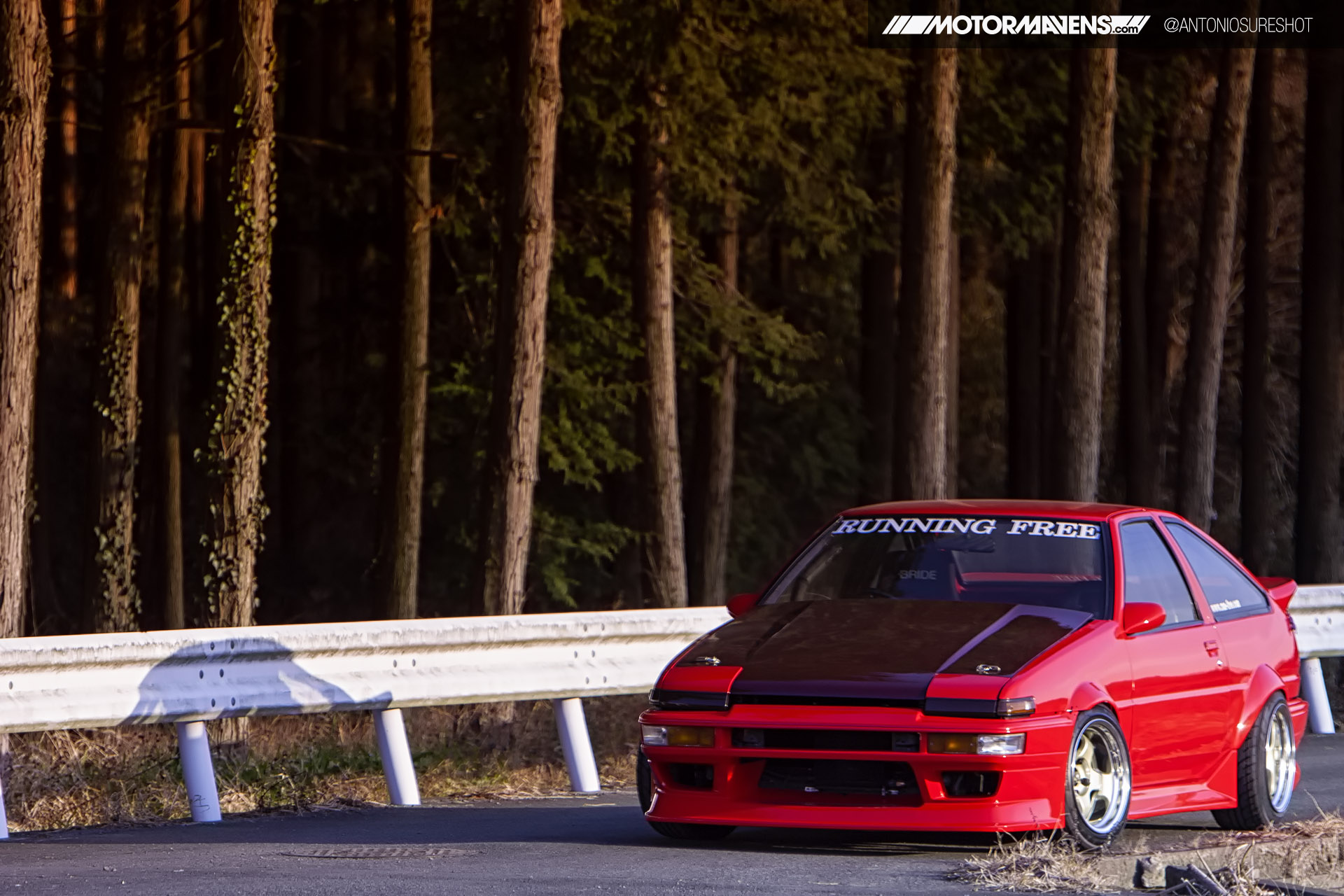 This past week, all the key members of the Motor Mavens Crew have been extremely busy, working on developing some cool new website features that our readers will enjoy. I recently had the opportunity to hang out with some of my AE86 friends from out of town also. AE86er friend Pedro Velado came all the way from El Salvador to hang out at my garage and talk about AE86s; and on the same day, my close friend, Osaka-based AE86er Taku Machida came to visit on his last day in the United States before he and his family moved back to Japan this past weekend.
Since all these AE86 friends have been coming by to hang out and look through my photo albums, filled with old school AE86 photos from over 10 years ago, I felt that it would only be fitting to dig up some old school AE86 photos for our website too. You see, I have to exercise extreme control in order to avoid posting up AE86 photos and stories every day on the MotorMavens site. Hell, if it were solely up to me, I could make it a site that only had AE86 and old school Toyota content… but we wouldn't want to alienate all our readers who own other car marques.
Today though, I'm going to indulge and share images of one of my favorite AE86s from a stash of photos I took FIVE YEARS AGO. Yes, I took these photos way back in 2005. The red Sprinter Trueno in the photos is the famous "Yama red" AE86, owned by hachiroku driver Yamashita Koichi from the legendary Kanagawa-based drift team, Running Free. Running Free has a small handful of original members, but Yamashita is definitely the most famous in the group. (Stay tuned to MotorMavens for more on the other members of Running Free later!)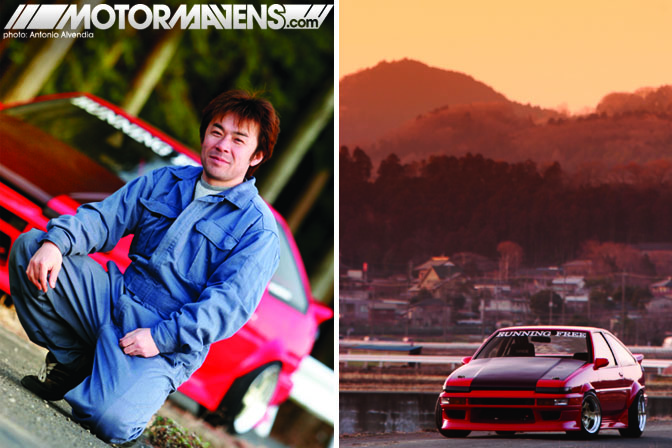 This is Yamashita. As a D1 driver and a person who's achieved god-like status to those who follow the AE86 scene in Japan, I was always pleasantly surprised at how humble and genuine he remains. Those who are close to him call him "Champ." The nickname stems from an AE86 "One-Make" drifting competition he won several, several years ago; top level drifters (many of which were D1GP drivers) had to compete against each other, driving built up AE86s. Out of the many D1 stars that competed in the battle, only one emerged victorious… and that was Yamashita Koichi, who was from then on referred to as "Champ" by his fellow D1 drivers, based on their congratulatory respect for their close friend.
Yamashita's AE86 has gone through numerous stages throughout the years. My personal favorite "stage" in the development of his car was the way it looked back during the 1999-2001 timeframe. I have many photos to show you, but I'll save those for later. Don't fret though, I have tons of photos to show you… from different stages of this car's development. Yep, I'm a fanboy of this car.
I never tire of looking at Yamashita's car. I could just stare at it for days. For me, this car has so much character and so much soul. I just can't stress enough how important this car is to me. For over ten years, this particular red AE86 has been one of the cars that fueled my imagination and unrelenting passion for AE86s most.
In fact, it was Yamashita's red AE86 that inspired me to buy and build a red AE86 of my own. The first time I laid eyes on his car, my daily driver was a 1985 two-tone gray and black AE86 Corolla GT-S, and I dreamed of one day having a panda AE86. However, after I saw Yamashita's car in person and actually sat in it back in 1999, I fell in love with red AE86s. Now I have a mini-fleet of red AE86s… but it was the feeling I got after I was actually able to see and touch Yamashita's car in 1999 that inspired me to begin own my collection of red AE86s.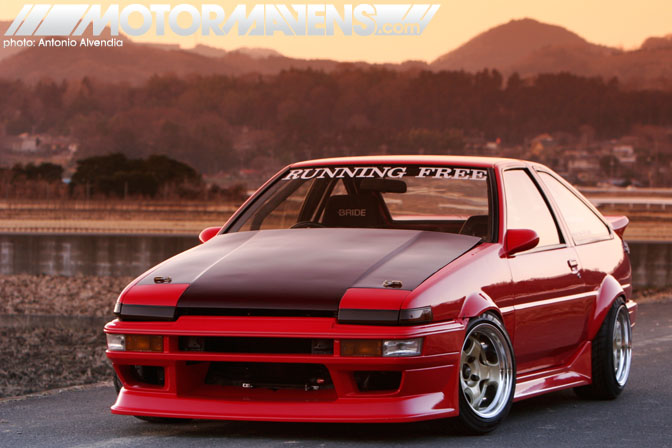 Here's an up close and personal front quarter shot of the car. At the time I shot the car, Yamashita had recently redone the car, which is shown here outfitted with the full line of aero parts from Run Free, which is Yamashita's company, named obviously after the legendary drift team that he so proudly represents.
In this photo, the car is wearing Run Free aero bumpers, sideskirts, rear fender flares, front widebody fenders, rear FRP hatch/wing, aero mirrors, and the unmistakable Run Free hood.
What you might not notice about the hood is the fact that it scoops up to release hot air from underneath the hood, and doubles as an aesthetic enhancement as well – Yamashita thought it would be cool to conceal the windshield wipers with the hood, similar to how higher end car makes like Mercedes Benz do.
In the photo, you'll also notice Work Meister S1 wheels, appropriately sized for the widebody fenders on the car. While I personally love Meister S1 wheels on most cars, I personally think they look a bit new for an AE86, and I'm not really a fan of 5-spoke wheels on most old school cars… but what do you guys think? (I know not everyone is into period correct car builds like I am.) I know that in Yamashita's case, he's always looking to innovate and improve the performance of his car.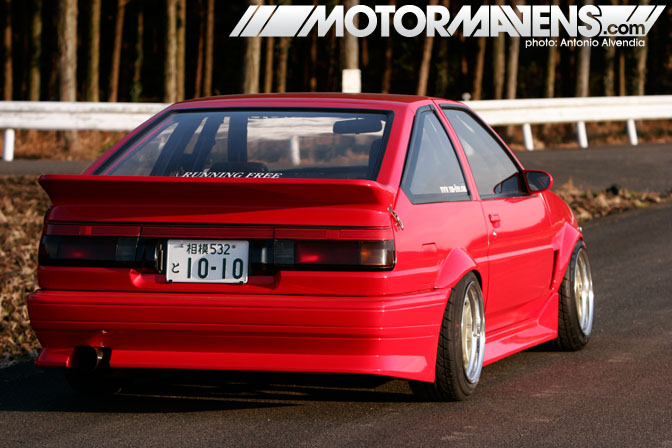 In this rear shot, we see the rear hatch wing more clearly. It's such a good looking, yet simple piece of aero. Damn it, it looks so awesome. I love those aero mirrors too!
Nice stance too, especially for five years ago. Yamashita and Hiroshi from Running Free have always had mean stanced cars though, so nothing surprising about that.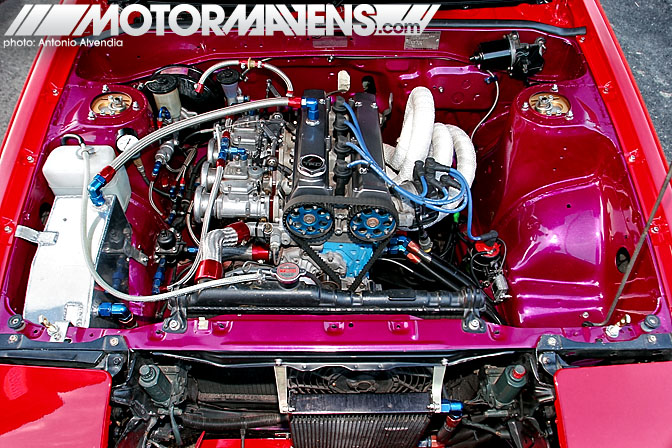 To be honest with you, Yamashita wrote down all the specs of his car on a piece of paper, but it's locked away in a box at the Cipher Garage, and I can't find it at the moment. Therefore, I'm just going to have to look at the photos and spot the parts myself, and try to remember as much as I can from this point on.
The differently hued engine bay sports a fully built 4AG engine, but instead of the fuel injected MAP sensor setup that Japanese AE86s come with, Yamashita decided to use a kouki kyu ni engine (Japanese car slang for AE92 hi-comp motor) with twin carbs. Some people might disagree with reverting this fuel injected twin cam motor back to carburetion, but hachiroku guys in Japan have been doing it for years. There's just something incredibly spellbinding about the simplicity, sound, and feel of a naturally aspirated 4AG engine with twin Solex 44phh (or 44pi, as Japanese car guys would say it) screaming at high rpm.
On the right side of the engine, you'll notice a set of thermo-tec wrapped takoashi, or high rise exhaust headers. The term literally means octopus legs in Japanese, since that's what the equal length, high rise primaries resemble if you're a hungry Japanese mechanic. Takoyaki tabetaiiiii!
Of course, no twin carbed NA 4-valve 4AG engine (hachiroku guys refer to 16v 4AGs and 4-valve engines, and 20v 4AGs as 5-valve engines, by the way) would be complete with a set of high duration, high lift camshafts to make power. Therefore, it comes as no surprise that Yamashita uses a set of san-maru-yon/ni-pa-pa TRD cams in his yonAG. If you're unfamiliar with Japanese "hachirokugo" car slang and need these terms translated, I'm referring to a set of TRD 304 degree cams on the intake side, and 288 cams on the exhaust.
Oh yeah, and notice that huge oil cooler with Earl's anodized fittings up front? AE86ers from the USA take their OEM oil coolers for granted, but in Japan, AE86s do not come with oil coolers from the factory. That's why Yamashita decided to use this nice huge oil cooler instead of the small OEM one that most US hachiroku guys are used to.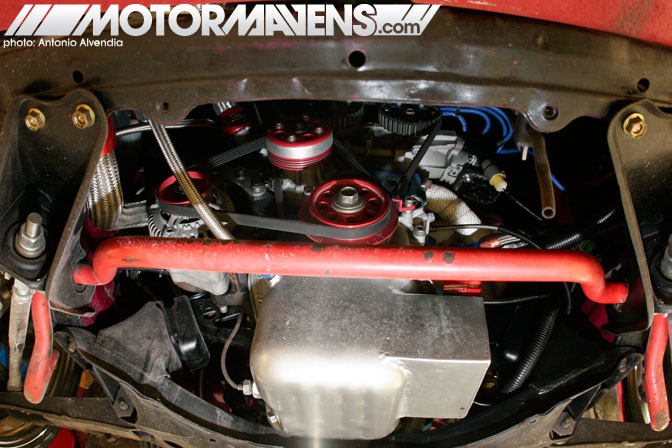 Looking past the humongous Largus front sway bar to view the engine from the bottom, you should notice immediately that the engine doesn't look normal from the underside either. Most will notice the anodized red aluminum underdrive pulley kit, but what impresses me most is the oil pan! The oil pan has been customized with a side sump to hold more oil, which of course has trap doors/baffles inside to prevent oil from sloshing away from the oil pickup. This is BRILLIANT. I don't know why more people don't produce these types of oil pans. I'd buy one immediately… especially since I've personally blown at least four 4AG engines because of oil starvation/oil sloshing away from the oil pickup. This is an AE86er must buy!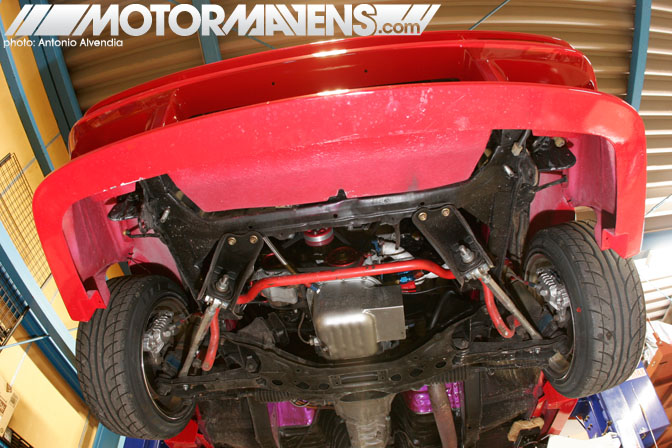 Looking past Yamashita's genuine (obviously, hehe) Run Free aero bumper, you can also notice Run Free adjustable pillow tension rods up front, blue anodized roll center adjusters providing spacing between the bottom of the Macpherson coilover strut and the boxed-in TRD elongated lower control arm. These RCAs restore the original AE86 suspension geometry, providing better handling and steering once the car is slammed to the ground.
If you look inside those Yokohama Advan Neova tires, do you see anything peculiar? A trained eye might notice that the brake calipers are a bit different… those are actually OEM FC3S brake calipers, which are much bigger and stronger than AE86 calipers. In order to do this swap, you'll need an adapter bracket (available in Japan) and some front calipers off a crashed FC3S in the junkyard. I think I'll keep my AE86 all-Toyota though, thank you. =)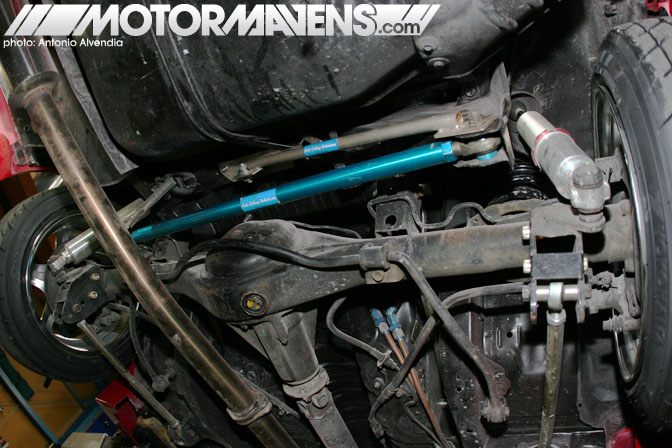 Now THIS here… this is what had me jocking! Sure, we can see the Run Free rear threaded coilover bodies with separate springs sitting on the OEM perches. We can also see Earl's aluminum AN fittings running to the back of the car. Nice. However, the thing that had me jocking the most is the rear adjustable panhard rod setup.
Why? Maybe it's because that's not a panhard rod. What we're staring at here is a super rare piece of Japanese aftermarket AE86 archaeology. Could it be? Is this a WATTS LINKAGE from Auto Gallery Yokohama connecting the live axle rear end to the underbody of the AE86? Let's take a look. (After further examination and discussion with our readers, we've verified that it's not a watts link, but a panhard support brace. The AE86 Watts Link was available from SS Works, not AutoGallery Yokohama. Thanks for the clarification help, guys!)
A panhard rod is simply a lateral bar that connects the rear solid live axle to the underbody of the car. It provides more stability, so that the live axle can only move up and down, not really left and right. When AE86 owners slam their cars to the ground, they need to swap out their OEM panhard rods with an adjustable unit that can be shortened. The reason for this is that when the AE86 gets lowered, the non-adjustable OEM panhard rod pushes the entire live axle assembly (including the left rear wheel) to the left, creating an imbalance in the suspension of the vehicle. The adjustable panhard rod restores that suspension geometry.
Now the Watts Link is superior to the panhard rod design, because instead of just using two mounting points, it actually uses two other bars which connect to one another (one of which is center mounted as a swivel/pivot point), acting as a lever system to automatically keep the rear end centered. For more info, check out this link explaining Watts Linkage on Wikipedia. This is a super cool piece of AE86 aftermarket, and I'm the type of person who would absolutely want to buy it, but sadly… Auto Gallery Yokohama went out of business a long, long time ago. Now these can only be found (yeah right!) on the used market in Japan. Although… I've never ever seen one for sale.
Hachiroku heads might also notice the lower traction brackets bolted up under the axle, and the adjustable pillowball 4-link bars.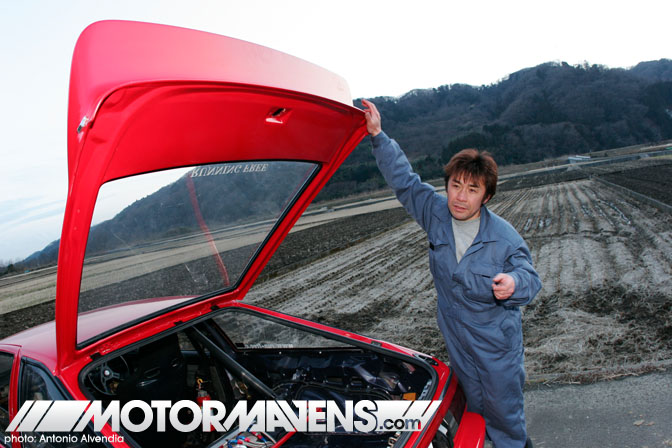 Right before the sun went down during our shoot, I remembered to ask Yamashita to pop the rear hatch open for me. This is the one-piece RunFree AE86 rear hatch, with molded in wing. This rear hatch was designed by Yamashita himself, and from what AE86ers like Yamashita, Ken Maeda (yellow Up Garage AE86 hatchback), and Toshiki Yoshioka (red Droo-P/A-Spec AE86 coupe) tell me, the molded-in wing on the Run Free hatch is actually the longest wing available for an AE86. They say it's longer than a TRD wing or any of the other brands by far. Very, very cool. I need to get one for my own car!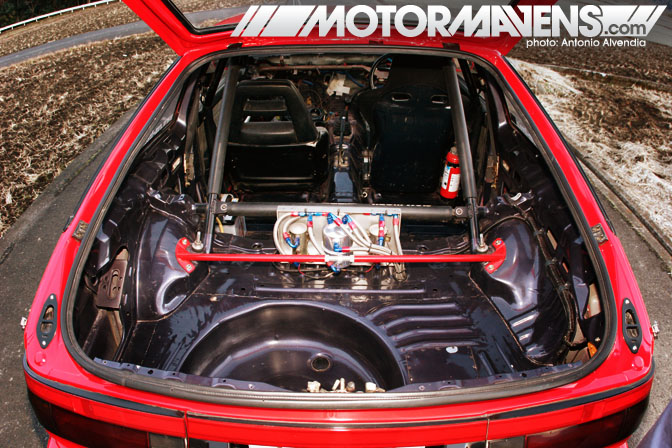 Let's look inside the trunk. You know I'm jocking that OEM Japanese kouki Sprinter Trueno GT-Apex seat, with the A-shaped headrest. Aside from that, the interior of the car was very sparse when I shot it. Yamashita didn't plan on driving around in a fully gutted AE86; the interior was just out because he was still working on renovating the inside of the car when I visited his shop. If you look closely, you'll notice that even the dashboard was out. That's not how Yamashita rolls… his car was definitely "in construction" when I stopped by to shoot these photos, way back when.
I like that black Safety 21 bolt-in rollcage inside the car, very cool.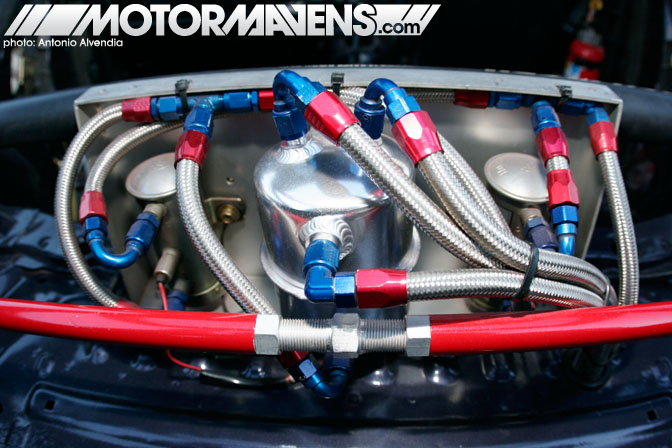 A closer look at the trunk will reveal two fuel pumps to feed the hungry twin carbs, and a custom made aluminum reservoir tank with a ton of expensive AN fittings and Earl's stainless steel braided lines connected to it.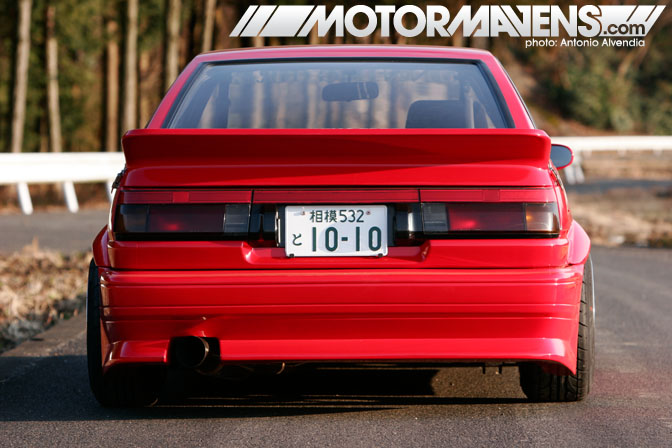 Here's the aggressive look from the rear. As you can see, the wheels clearly stick out on both sides of the car; they even poke out from under the super wide overfenders. For me though, I just can't take my eyes off that Run Free hatch wing. I love that thing soooo much; I don't know why it's taken me so long to order one. I keep procrastinating and procrastinating… but looking at these photos makes me think that I've been putting my cars on the back burner for long enough. I need to finish working on them all and get them all back on the road.
It's just crazy to think that after all these years (13 years to be exact), this red AE86 Sprinter Trueno 3-door from Running Free still inspires me.. and I hope that's a feeling that stays with me forever.
Live The 86 Life!
:: Antonio Alvendia
---