---
---
---
---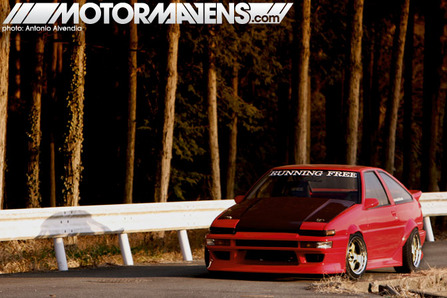 This past week, all the key members of the Motor Mavens Crew have been extremely busy, working on developing some cool new website features that our readers will enjoy. I recently had the opportunity to hang out with some of my AE86 friends from out of town also.
MotorMavens contributor and AE86er
Pedro Velado
came all the way from
El Salvador
to hang out at my garage and talk about AE86s; and on the same day, my close friend,
Osaka-based AE86er
Taku Machida
came to visit on his last day in the United States before he and his family moved back to Japan this past weekend.
Since all these AE86 friends have been coming by to hang out and look through my photo albums, filled with old school AE86 photos from over 10 years ago, I felt that it would only be fitting to dig up some old school AE86 photos for our website too. You see, I have to exercise extreme control in order to avoid posting up AE86 photos and stories every day on the MotorMavens site. Hell, if it were solely up to me, I could make it a site that only had AE86 and old school Toyota content... but we wouldn't want to alienate all our readers who own other car marques.
Today though, I'm going to indulge and share images of one of my favorite AE86s from a stash of photos I took FIVE YEARS AGO. Yes, I took these photos way back in 2005. The red Sprinter Trueno in the photos is the famous "Yama red" AE86, owned by hachiroku driver
Yamashita Koichi
from the legendary
Kanagawa-based
drift team,
Running Free
. Running Free has a small handful of original members, but Yamashita is definitely the most famous in the group.
Read more...
---
---