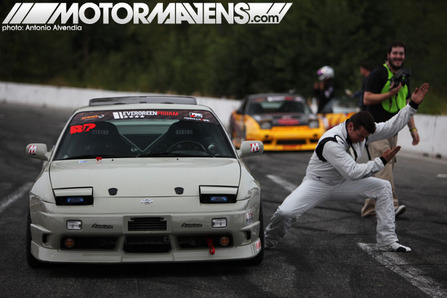 Continuing our MotorMavens coverage with more images from Seattle, I think we should put the Top 32 drivers and points standings aside right now so we can all focus on the real reason why this year's trip to Seattle got me so hyped. The Pacific Northwest has a really strong grassroots drifting scene, and the Evergreen Pro Am really stood up to the hype, or lack thereof. That's right, I said lack – I don't think these Pro Am drivers get enough attention.
Pro Am drivers are the unsung heroes of professional drifting. Most of these guys don't have any sponsors to help with travel or car building expenses. Many don't even have much coveted tire sponsorships. However, they persistently and repeatedly show up time and time again to all the track events, paying their dues and showing what they're made of.
It just so happens that the Evergreen Pro Am drivers impressed me; not just because of their hard work and dedication to drifting, but because their cars have style… and it's the cars that get me hyped. I think I've seen enough stripped out ghetto built, busted up drift cars to last a lifetime. So let's shine a light on the cars and drivers of the Evergreen Pro Am. This is real drifting!
Up above, Nikolay Konstantinov, the owner of this beige RB25DETT powered RPS13, clowns around and strikes a pose on the starting grid.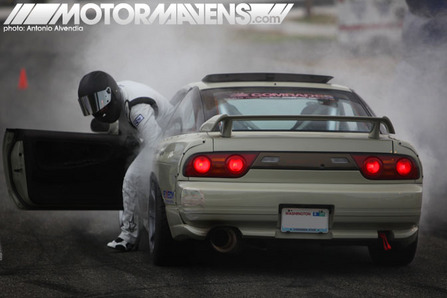 As he gets ready to stage up on the starting grid, Nikolay steps out of his beige RPS13 after doing a burnout to warm up his tires. This car looks hot as hell. The COLOR, the OEM 180SX aero kit, the taillights, the RPS13 middle panel… it just looks dope.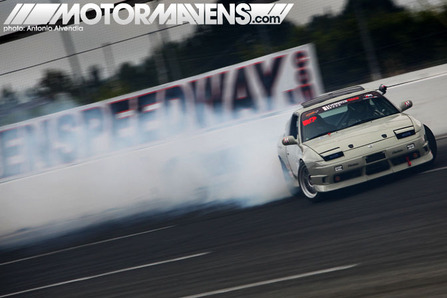 I was impressed with the power this car has, and Nikolay's ability to harness it. With the RB engine powering his RPS13, he was able to rock the bank with big smoke all day long.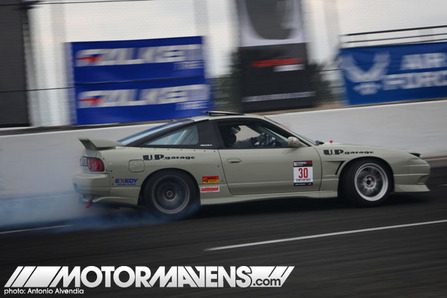 This RPS13 is a super clean, super streetable car. That being said, Nikolay is hoping to get his car featured in Super Street Magazine soon. He says his friend at the body shop had Super Street do a "surprise photo shoot" on his car already (but I didn't see any Super Street staffers at FD Seattle???), so I guess keep your eyes peeled for this car on newsstands?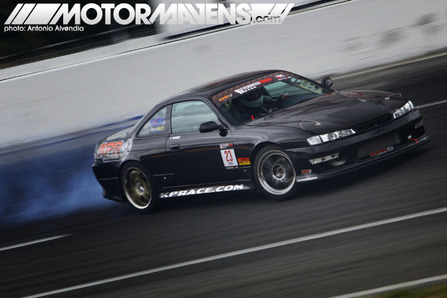 This clean kouki S14 from local Seattle shop KP Race was driven by Victor Moore, who was attacking the bank pretty aggressively and won 2nd Place at the event. Looking closely at this photo, I just realized that I haven't seen those old school hoodpins with safety wire used on a Japanese car in a long, long time.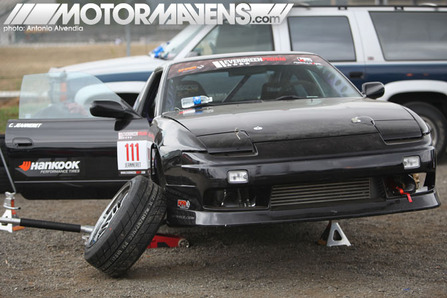 In the pits, I spotted a matching black S13 which was driven by Chris from KPR. Clean as hell, I gotta say! I do prefer the normal Sparco style "latch hoodpins," but that's just nitpicking. The real hotness on this car is the engine setup – from what I was told, this engine has a 2002 FWD VE head mated to the normal SR bottom end, and makes really good power. Don't know about SR20VE setups? Then Google is your friend.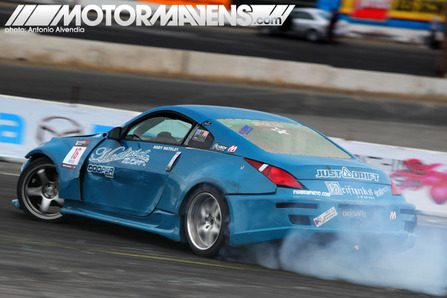 Andy Hateley came all the way from Southern California with his Z33 350Z to compete in the Pro Am. Andy is pretty hardcore; I've seen him drifting at FD events as far as New Jersey with this 350Z! He's pretty aggressive as a driver, so his car looks like it's seen better days… I can remember when it was new and clean though! Crazy to think how much abuse drift cars go through in just a few years…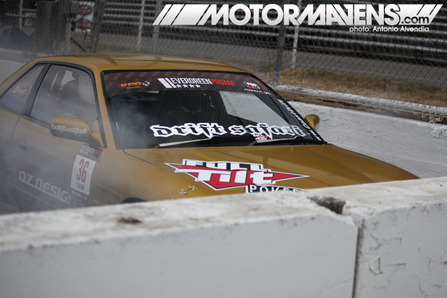 This gold RHD S13 was driven by Chris Scremin from Drift Safari, who normally drives an SR20DET powered AE86 (he borrowed the car from his friend Kohei). This event was his first time driving the banking at Evergreen Speedway, but he was still driving pretty aggressively all day, so it's only natural that it would have a few close calls with the wall!
However, there was one point where the car locked up and understeered REAL hard, sliding forward toward the media K-rail in front of the grandstands and crow's nest! Needless to say, most of the photographers jumped out of the way, while I stood my ground to get this shot. Luckily, both the driver and the car emerged unscathed from this near miss with the wall! I'm talking only a couple centimeters away! That was close! Whew!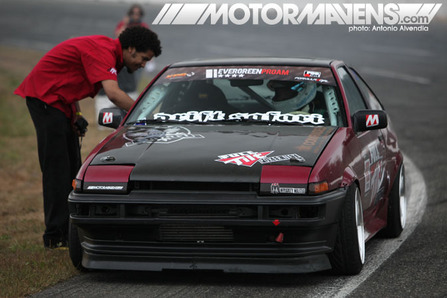 Canada based Cellblock D drifting event organizer Trent Stromkins came down to Seattle with his crew, Drift Safari, to show the Yankees how Canucks get down, eh? I was digging the full rollcage, deep offset wheels and negative camber on Trent's car. Looks good! Can anyone guess what kind of front chin spoiler that is, attached to his kouki bumper?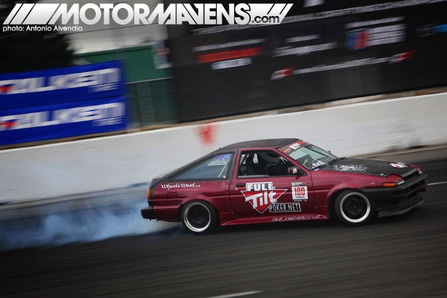 Trent's car is turbocharged, so it was rocking the high speed Evergreen bank with ease, pushing out thick white smoke from his rear end. Speaking of rear end, Trent's turbo AE86 would be blowing AE86 LSDs all day long, so he swapped in an 7.5″ rear end (with a welded diff) from an RA65 Supra. The Supra rear end is not only stronger than the standard 6.7″ AE86 rear, it also allows you to use any 7.5″ ring and pinion from a 4×4 Toyota truck. (There are TONS of ring/pinion options from Toyota trucks, and they're cheap!) Trent's 86 currently runs a 4.1:1 final drive ratio to spin the wheels better than stock (stock Supra is a 3.73:1).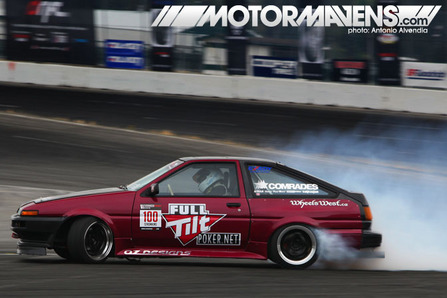 The burgundy Origin 45mm widebody fenders that we see on Trent's AE86 hatchback are actually AE86 coupe overfenders that have been modified for use on the hatchback. The wheels we're staring at are Work Meister S1 16×8.5J (-6 offset front) and 16×9.5J (-16 offset rear). I love how the smoke rolls off Trent's tires! Dope.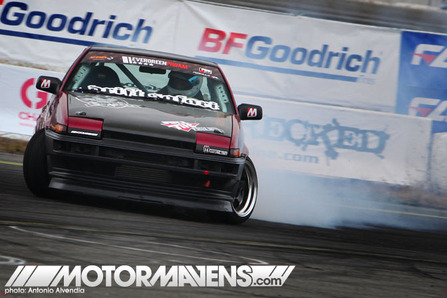 Big angle requires good steering and good suspension. Trent's AE86 uses T3 coilovers front and rear with 8.0F and 6.0R spring rates, T3 lower control arms and rollcenter adjusters, Tanabe F/R sway bars, and KYB AGX shocks. Pretty basic, but Trent's killin it.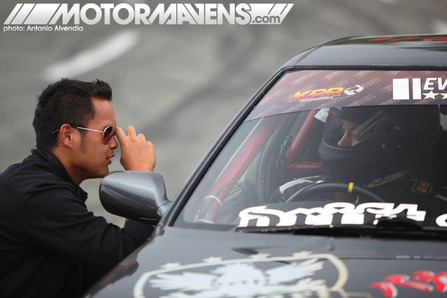 Here's the Earl of Smith, a Seattle based Comrade stopping to talk to Ian Fournier, the Drift Safari R32 Skyline driver from the Vancouver area. I couldn't hear the conversation exactly, but I thought I heard Earl saying something like "hey man, you need to check out MotorMavens dot com for some really hot photos of your car."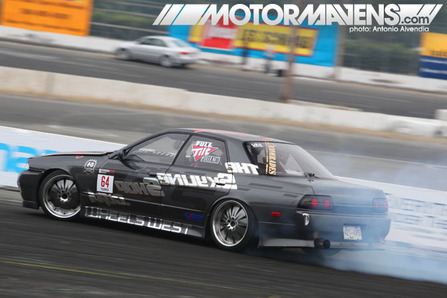 Here's Ian's RB25 powered R32 Skyline 4-door negotiating the infield at Evergreen. Ian's Skyline is rocking Stance coilovers, TSW Nardo wheels, Splitfire coils, and a Kaaz LSD. And apparently, he loves to play Full Tilt Poker. Dot Net.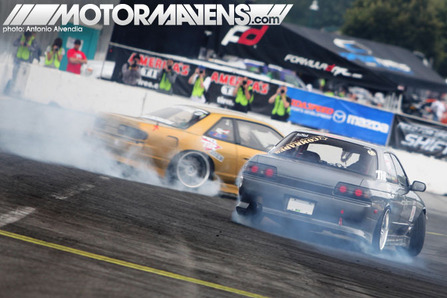 Here's Drift Safari's Ian Fournier again, chasing his teammate Chris Scremin at the end of the course, as a few photographers snap pics. I just realized that both these cars are right hand drive, so with the exception of the stickers and the TSW wheels, you could cut and paste the cars from this scene into a Japanese race track photo, and it would look perfectly normal.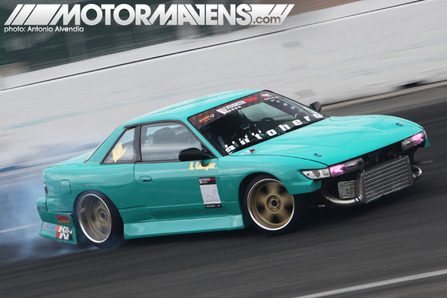 Rocking the bank in this photo is Roland Gallagher, a Northwest drifter who attracts a lot of attention at drift events with his aqua fresh paint job and his super wide SSR wheels! Love this car. So dope.
Big lips, big angle, and big smoke! What else can you ask for? Stay tuned to MotorMavens for more on Roland's S13.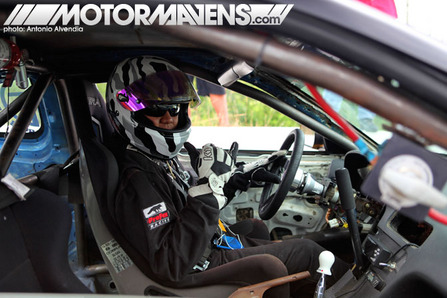 Inside this multicolored RPS13 is Southern Cali's Cyrus Martinez from Megan Racing. Cyrus was originally an AE86 guy from Murrieta CA, but he joined the dark side and switched to an S13! Haha just kidding Cyrus. We give you props for all your accomplishments in drifting – it's nice to see Pro Am guys rise up the ladder through skill and perseverance! Hopefully you guys put a new graphic livery on the outside of the car soon!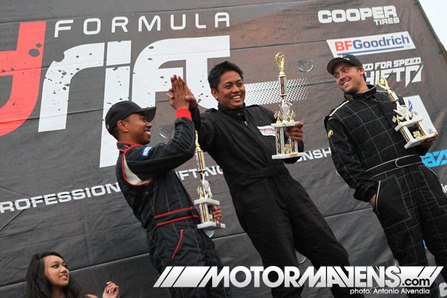 Here's Cyrus Martinez (First Place), Victor Moore (Second Place), and Ian Fournier (Third Place) on the podium at Evergreen. This photo may seem like a completely innocent high-five photo at first, but to be honest, we became kind of concerned after we saw Cyrus and Victor holding hands for so long without letting go. (LOL!!!) The best part though, is that Ian is over there in the 3rd place spot, looking at them with just the slightest bit of envy. You guys should group hug already!!! hahahahahaha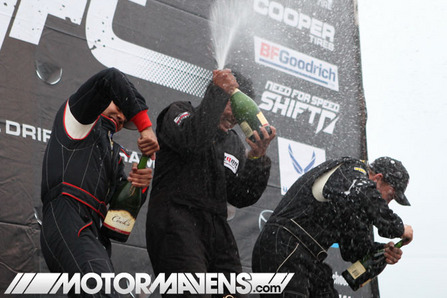 Just kidding… CONGRATULATIONS to the Evergreen Pro Am winners! No sponsor politics, no judging disputes, just pure driving and skills. That's what's up.
:: Antonio Alvendia
Evergreen Drift and Evergreen Pro Am – Pacific Northwest Drifting
---