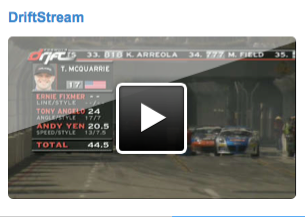 For those of you like myself, who are unable to make it out to the Streets of Long Beach this weekend for Round 1 of Formula Drift… you are in luck! You can soak up all the action right here courtesy of our Formula D Live Stream!
However, for those of you who plan to be at the event, PROUDLY ROCK YOUR MOTORMAVENS GEAR and show everyone at FD Long Beach that you're a supporter of our grassroots movement!
Everyone wearing MotorMavens gear will receive free stickers and other goodies at our booth! (Our booth is in the Fatlace car show area, across the Firestone Bridge.)  Show everyone you know what's up by rocking MotorMavens and CipherGarage gear!
:: Andy Sapp
---