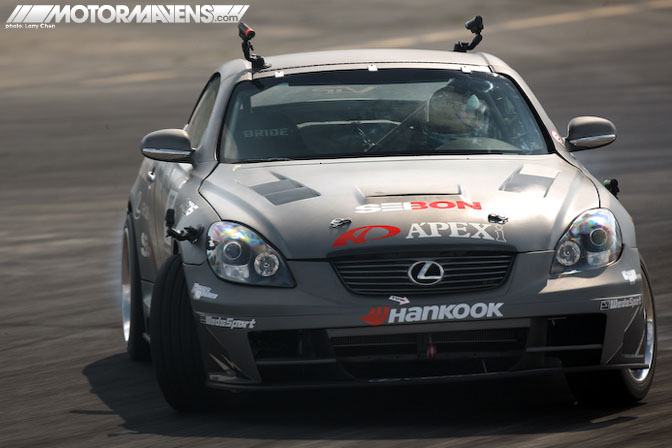 As I sit at my desk late into the night and write this, most of the people that have gathered at Wall Speedway for the New Jersey round of Formula Drift are probably sleeping… that is, unless they're doing some late night wrenching on their cars! I had some other commitments here in Los Angeles that prevented me from making it out to Jersey this year, but luckily for us, we have our sharpshooter Larry Chen planted in the middle of the Wall Speedway punchbowl shooting coverage. (Damn, speaking of punchbowl, I just realized I'm missing out on the outstanding fruit punch at WaWa in New Jersey… and good times with our Dirty Jersey crew, the Eat Sleep Race family!)
We're excited to report that some new cars were debuted at Wall Speedway – most notably, the Apex'i Lexus SC430, being driven by Ryuji Miki. Some people love the way it looks; some people don't. Either way, I'm excited to see a brand new car making its way into Formula D competition. It usually takes an entire year of testing at different tracks and events to go through a brand new competition car and figure out its mechanical gremlins. I hope that Masaki, Chuck, and Keith at Apex'i are able to sort the car out quickly! I can already point out some issues with the car – I don't see a MotorMavens sticker on it… yet! Haha, hopefully we can fix that problem quickly!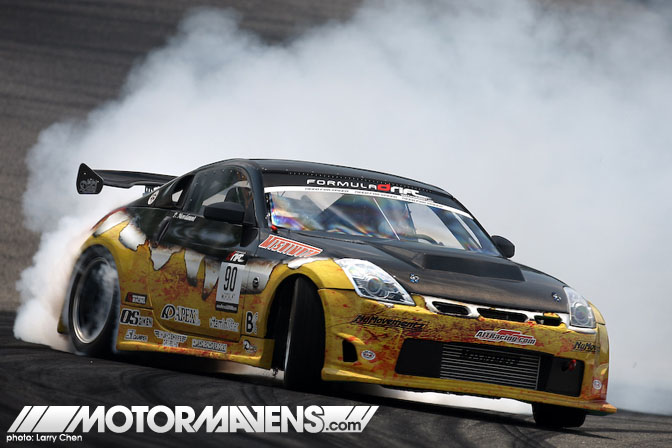 Here's a car that many might not recognize… why, it's none other than Patrick "PattyCakes" Mordaunt, driving a new car… a new Z33 350z? With a newer chassis, which looks like it has more power, I hope our boy Pat will be able to do some big things with this car! He sure has come a long way from the AE86 he started out with!
Pretty crazy graphics scheme on the car… looks like someone took a can of black paint and started spray painting directly on top of a yellow 350Z. I hope the graphics get cleaned up – it would make the car look more professional and make it easier to feature Pat in magazines and on websites. Everyone loves Pat, so I hope this car gets sorted out quickly too!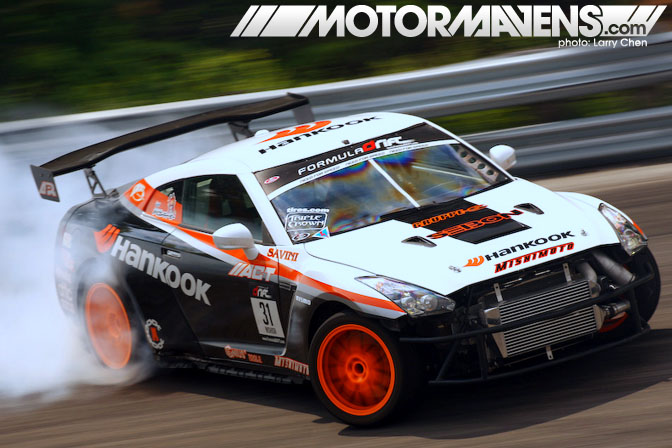 Here's a car that looks like it's well on the way to being sorted out – Robbie Nishida's Dynamic Autosports R35 GTR! I know that Robbie has been struggling with the car quite a bit, as the R35 GTR is much heavier and much larger than the Z33 350Z he was driving last year… however the same exact engine setup lies under the hood. Eddie Kim and the awesome crew from Dynamic have pulled out the R35's stock engine for rebuilding, so they decided to put the 350Z engine in the GTR temporarily. It seems to be doing fine… just look at the photo! It's apparently making big smoke! However, just wait until the Dynamic crew from Lakeforest CA is finished with the GTR engine! Can't wait!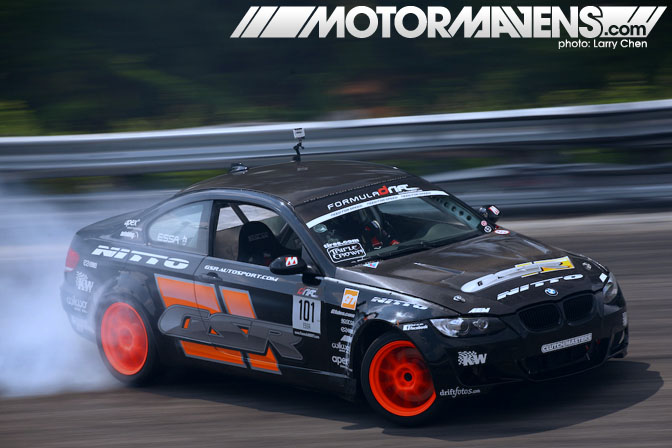 Another orange-wheel-rocker that's quickly rising up the ranks and getting some much deserved attention is Mike Essa, driving his BMW M5 v10-powered-3-series Bimmer. In the beginning of 2008, Mike Essa was a noob drifter, just barely able to drive donuts around cones and connect turns…. and NOW look at him!
Last month in Atlanta, he finished 4th overall, driving a brand new car that had not really been tested or shaken down! Call it luck or call it talent… hell, I'd say he has both! Good luck to Mike in Jersey!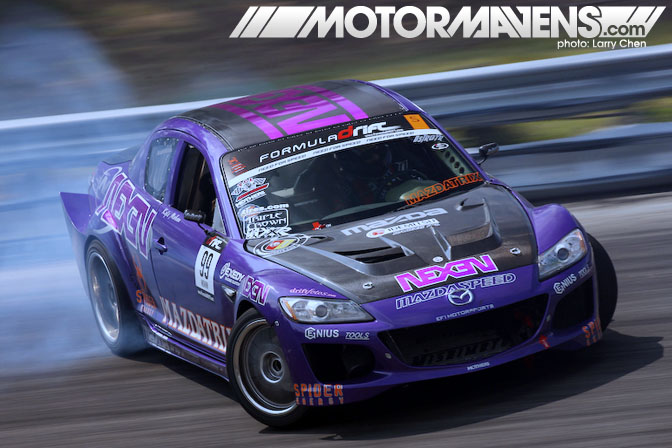 Another guy that people should really keep an eye out for is Kyle Mohan, driving the Mazdatrix/Nexen Tires Mazda RX8. Kyle is an OG rotary head, and he is really driven, motivated, and dedicated to advancing in his career as a driver. I definitely think that people with FOCUS like Kyle's will succeed… not just in racing, but in life in general. I definitely respect those who are determined, hard working, and focused. Never take your eyes off the prize, and you WILL achieve whatever you set out to do. Good luck Kyle! (Gee, do you think there are enough Nexen logos on his car? Too bad the logos don't say Nexen TIRES though! With a name like Nexen, it could just as easily be an electronics company. Hey marketing people – when promoting a newer brand to the masses, you might want to be a little more clear/obvious. Or hire me as a consultant to help you!)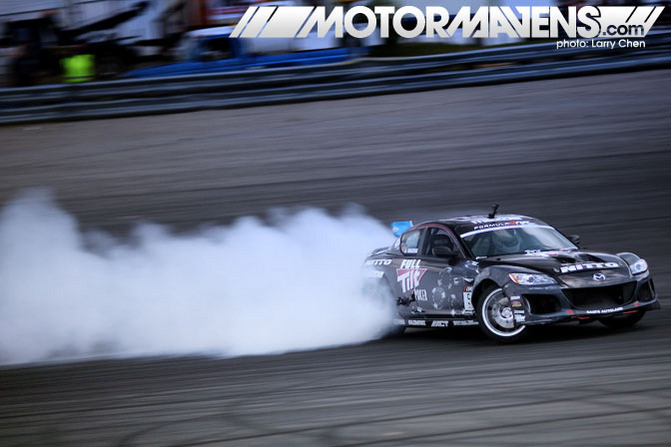 Speaking of RX8s, Joon Maeng was smoking it up in his RX8 as well! It's interesting that there are lots of RX8s in Formula D this year… but I still gotta give props to Tony Angelo for driving one of the sickest looking RX8s in Formula D! (And unlike some others, I'm not even trying to kiss his ass, because I'm not driving for points or anything. I'm just speaking my honest opinion.)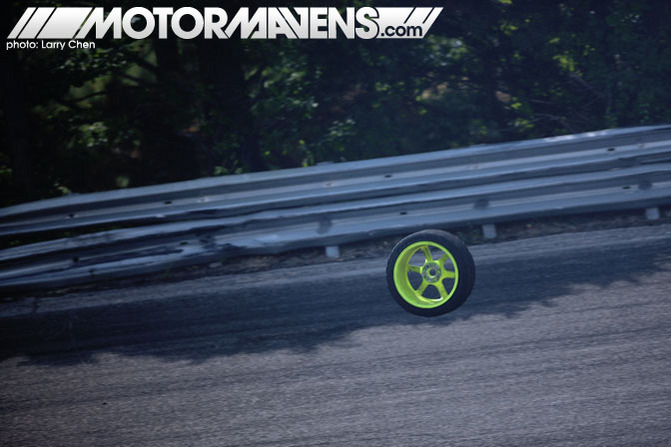 Team Need for Speed was also out at Wall Speedway… although in the photos Larry sent over, it appears as if they had some mechanical trouble unfortunately.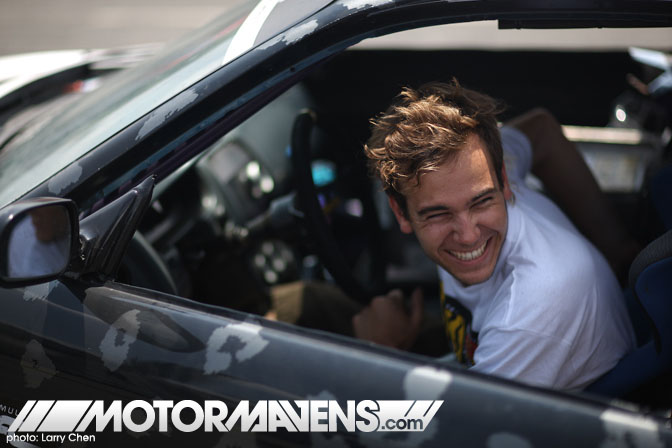 Matt Powers didn't seem to mind though… he is always smiling and in a good mood! Oh, and I'm sure a wheel falling off here and there certainly isn't going to affect his ability to score with the females in Jersey.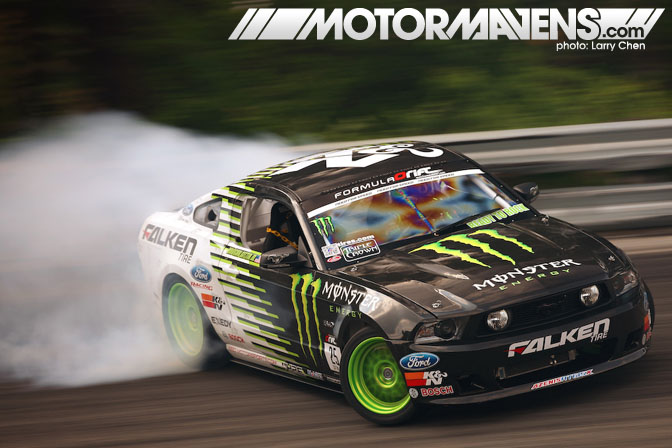 Speaking of fluorescent green wheels, Vaughn Gittin Jr was apparently laying his lead foot down, making some big smoke as usual. I remember a few years back, when JR's Wall Speedway experience wasn't quite as smooth. The Falken team was having some engine trouble with the Mustang, and they had to swap the engine overnight at a Sears Auto Center. In fact, I have photos of all of this stuff, but man… it seems like so long ago.
I think they also might have bent a control arm, which they couldn't get on quick order, so they luckily found a Hertz rent-a-car place that had Mustangs, and voila! Super quick swappy swap, and yes, I'm sure they paid extra for the optional insurance. *wink*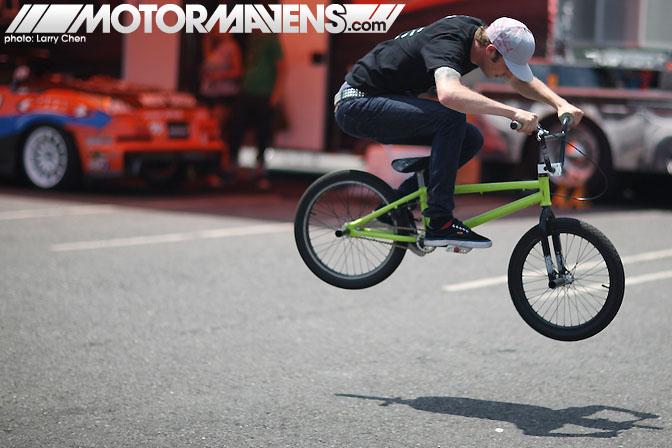 Wow, is hi-liter green the new in color or what? This here is Ryan Tuerck from Gardella Racing getting some air in the pit area. The Tuerck family sure is talented… and apparently not just at drifting.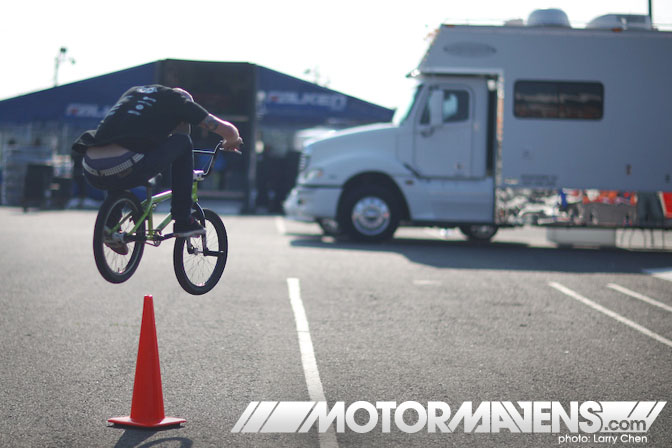 Don't think that Ryan "Hampshaa" Tuerck is the only one who can get up. This is our boy Eric O'Sullivan, the Irish rockstar, showing that he gets hops as well. BMX bikes (actually, bicycles in general) seem to be gaining in popularity with young people in the Formula D scene. Okay, that's it for tonight… STAY TUNED TO MOTORMAVENS and watch our live feed from Formula D tomorrow!
:: Antonio Alvendia
PS: Aaaaaaaaaaaaand, since you all have probably watched 98734523486712348973 drifting videos in the past month, maybe I should link you to another type of video which is just as amazing and entertaining… MotorMavens now presents… Fun on TWO WHEELS! (Just mute the annoying ass music)
---