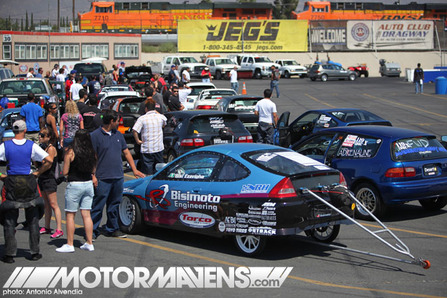 It's been an extremely busy week for those of us working on the Motor Mavens site! We're all making lots of steps toward positive growth for the site, which is exciting! This past weekend, Travis Hodges and I went out to the IDRC Finals at the AAA Auto Club Dragway in Fontana CA. We thought it would be interesting to show a little bit of drag racing content on the site, since our site is just so populated with drifting content all the time (not that it's a bad thing!).
Fontucky was extremely hot while we were there; the sun and Southern Cali fires weren't helping matters at all, burning through our sunscreen like a magnifying glass being held over ants. If you're interested in play by play bracketed info on all the classes, you'll need to check an upcoming copy of DSPORT Magazine. However, if you're like us and you just want to check out the cars at the event, please read on!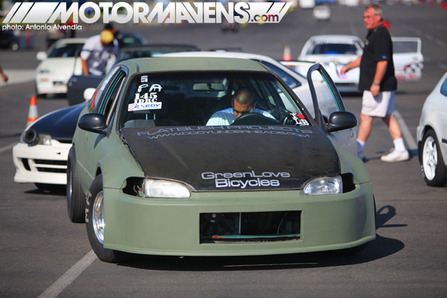 Early in the morning, I spotted this EG Civic with a wide body front end in line for technical inspection. I liked the army green paint, and I noticed it had big drag slicks up front. But wait… it has big drag slicks in the BACK too. Was this some sort of an AWD conversion?!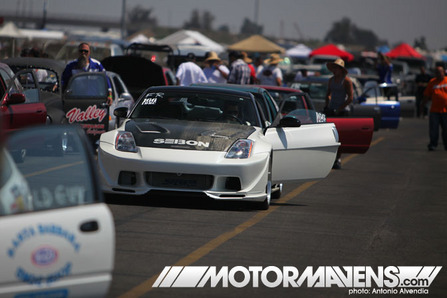 In the line of cars waiting on the grid, I noticed this Seibon kitted Z33 350Z, which looked sort of out of place at a drag racing event such as this, which looked like it was incredibly packed with Hondas of all sorts. Either way, I thought it was cool to see a 350Z giving drag racing a try. It's really not as easy at it looks.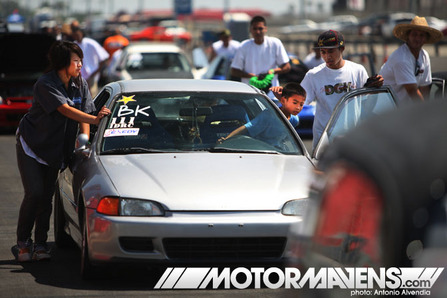 I thought this was a pretty funny sight. This girl was pushing this silver EG Civic, while this little kid was steering it. ??? I think the girl was the driver of the car too, if I'm not mistaken! I didn't watch the car long enough to see what types of times it was pulling in, but I definitely thought it was cool to see some female racers out there doing it up!
Female non-racers get our vote as well though… not an issue. Here's our new friend Lauren from Rehv Clothing using a black E46 BMW to hide from the sun. We're certainly fans of E46 BMWs around here, but we're bigger fans of nice legs.
While there were certainly a lot of cool and interesting cars in line waiting to enter the staging lanes, this particular R32 Skyline caught my eye. I like the "Top Speed" sticker on the bumper. Don't you think it's reminiscent of another 1999-2001 era Japanese team sticker..? Mitto Natto.
This R32 was coated in a similar shade of Mazoora paint that I remember seeing on some of the original Signal Auto Skylines that came to the USA in the late 1990s. Or maybe was it BASF paint on Adam Saruwatari's FD3S drag RX7? Hmmm… I don't remember. Signal? Or Adam? I'm thinking Signal.
Interesting that the car has a GMG sticker on it too. That's a sticker you normally see on Porsches! I spoke to the driver VERY briefly before he ran. Apparently, the car was built by Garage Bomber in Hokkaido Japan before being brought to the USA. I wanted to shoot more photos of this Skyline, but I only saw it run once. Maybe they had a technical issue?
Sitting in the pit area, monitoring his Honda Insight drag machine with a laptop (Okay, you caught us. In actuality, he was reading the newest update on MotorMavens) was Bisi Ezerioha from Bisimoto Engineering. Bisi is a super nice guy with a difficult to pronounce last name. Let's say it together. "Easy-ree-YO-hah." Or maybe we should just call him Eazy Bisi? =)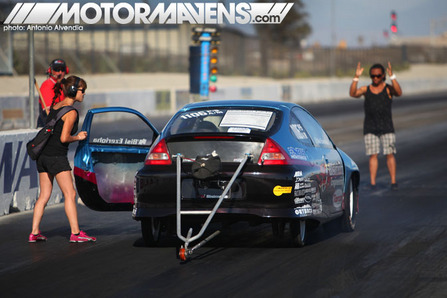 Here's Bisi staging up the Insight with some help from his homie Lil Jon and his gf Hedi. I think it's pretty cool seeing a full race Insight like this. Very cool!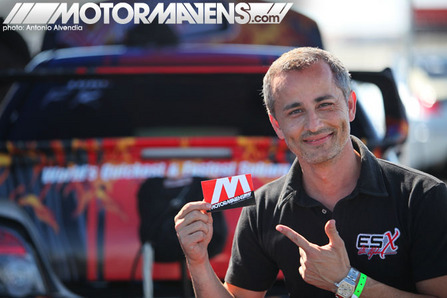 Here's Ali Afshar from ESX Racing – I'm sure you've heard of him or his car by now. If you drove the fastest Subaru in THE WORLD then you'd probably be smiling too!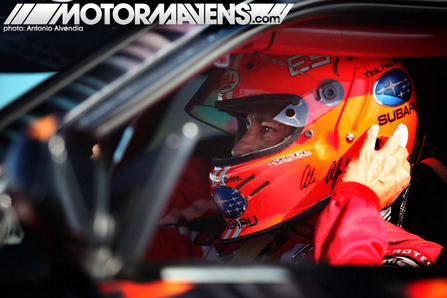 Ali may be all smiles when he's hanging out in the pits, but when he's in the car, it's all about extreme FOCUS and preparation. Fast drivers and fast cars don't win races by accident.
Races are won by superior planning and focus. And that's exactly what Ali is all about.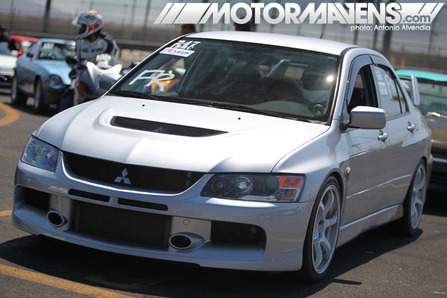 Diverting our attention away from Subarus for a moment, let's take a look at a fine example of an STi's arch enemy – a Lancer Evo. I think this particular car looks pretty good; clean silver paint with white wheels? Nice!  I happen to know of another pretty nice looking Evo with even cleaner silver paint and even whiter good offset wheels. However, it hasn't appeared on the site yet because the owner needs to get some new tires mounted! You'll have to keep checking in with MotorMavens to see the car!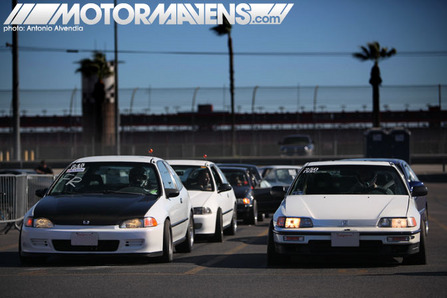 Even though we just saw a Skyline and an Evo, to be very honest, IDRC is Honda City. Most of the competitors at IDRC staged up with some pretty done up Hondas in all sorts of classes. I thought it was real cool to see so many cars with different engine setups and different timeslips. Pretty cool. However, since I don't know anything about Honda engines, you'll have to read DSPORT to get more details. The reason I mention DSPORT is because they were pretty much the only magazine I saw out there. It was DSPORT, MotorMavens, and Bob from UrbanRacer.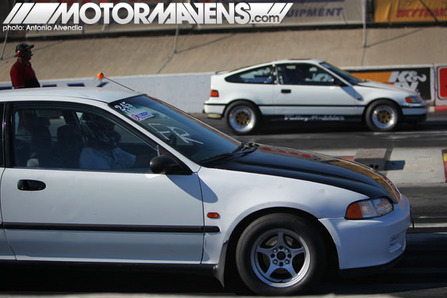 I thought the white CRX in the background looked pretty good. It looks like it's sitting on SSR MkIII wheels from here, but those are actually some sort of drag wheels. Up front, I think those Lenso FF drag wheels look pretty good because of the slight concave design on the face. Don't you think those would look good with a pair of 5 spoke Gram Lights in the rear?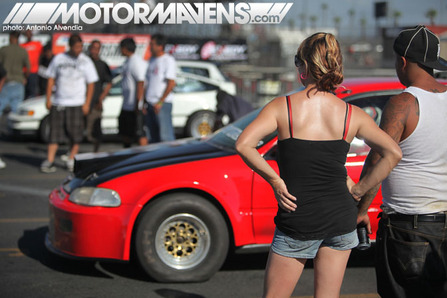 Drag racing events definitely attract a different fan base than drifting events, and they are every bit as hardcore. It's so cool seeing people that are so passionate about their cars. These guys (and girls) actually wrench on the cars they're racing, and I think it makes their hard fought wins seem that much more special for them.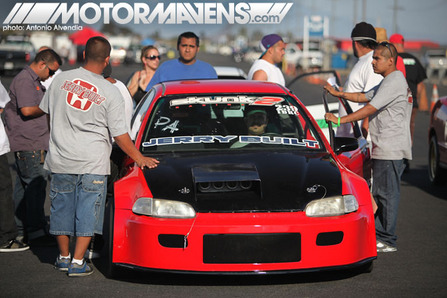 This particular red EG6 Civic seemed to always have a whole crew of homies surrounding it! While other people were struggling to push their drag cars to the staging lanes, this guy had the luxury of just chillin since he had like 30 friends to help him push! Smart. This Jerry Built EG Civic was actually the overall winner of the event if Im not mistaken! Or maybe he was a class winner. Either way, I remember seeing IDRC's Mike Ferrara signing a check and handing it over to him. Congratulations Jerry!
More IDRC real soon!
:: Antonio Alvendia
---