---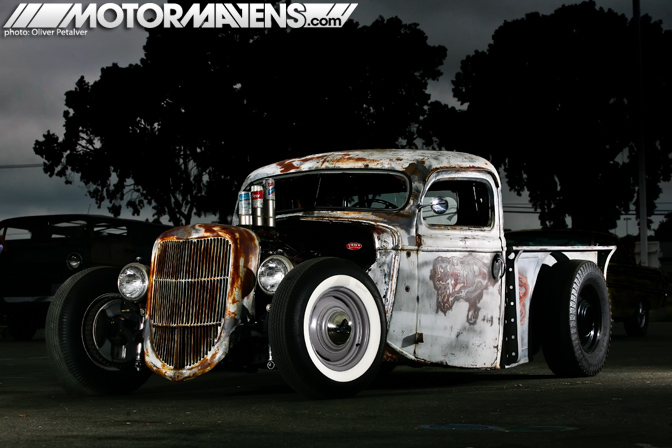 A while back, I attended the world's biggest one-day charity car show,
Cruisin' For A Cure
, in Costa Mesa, CA. It was a great way to get the word out on the prevention of Prostate Cancer. While mandatory digital rectal exams (
finger up-the-butt
in layman's terms for those who may have been thinking there was an app for that) were not part of the admission, the chance to view hundreds of classic, customized vehicles were. This was my first time attending this show and I've got to say, it was THE largest car show I've attended. Many cars caught my attention and, as I was leaving, I spotted this
1937 Ford Truck
owned by Tom and Linda Chorbagian. So I hurriedly grabbed my strobes in the trunk and took a few shots during the festivities.
Its rat-rod look reminded me of a Japanese aesthetic called
Wabi-Sabi
(no, not the green stuff complementing your sushi). Essentially, from an artistic point-of-view, wabi-sabi is defined as "flawed beauty." It refers to beauty as a result of age, wear and tear and any anomalies which add uniqueness. It's a growing trend in rat-rodding and it seeks beauty in the simple and imperfect. Tom's truck is a good example of the embodiment of this principle and has that perfect combination of burned paint, rust, and look acquired from age and weather--it's hardly an eyesore.
Read more...
---
---
---
---
---
---
---
---
---