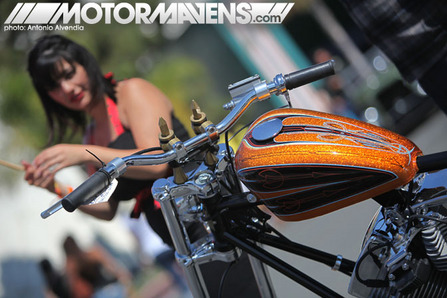 Motor Mavens is a photographic blog site that focuses on all aspects of car culture. This being said, we don't dip into motorcycle culture too much because we aren't too familiar with them. However, sometimes we're at events where certain motorcycles just catch our attention and we can't help but stare and admire them. This was the case at the Ink and Iron show in Long Beach, which melds tattoos, hot rods, kustoms, and custom choppers from all over.
Since we don't have too much information on these choppers themselves, we thought we'd just present them on the site as a photo gallery, so everyone can enjoy the hard work and craftsmanship that goes into creating one of these two-wheeled works of art.
Above, check out the deep glitter painted gas tank, which was then blocked and pinstriped. Outstanding work – I think we might see some of these styles and painting techniques crossover into the drifting scene soon? Wouldn't it be dope to paint an open face helmet like this? Or the back of a fiberglass bucket seat perhaps?! Come on! Sick!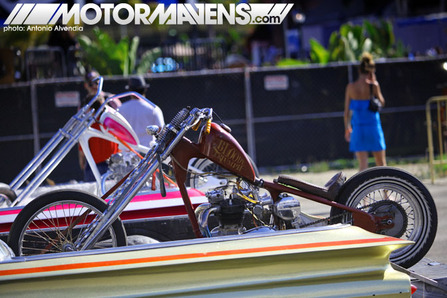 While walking around the back area of the show, I spotted this custom chopper strapped down to the back of someone's El Camino! It looks so bad ass in my opinion! The dark reddish-brown hued paint with the dark gold "Bloody Triumph" lettering on the gas tank… it looks awesome, especially in the bed of an old school Elco!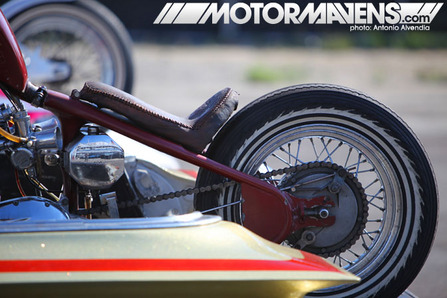 Examining the details closer, check out the the sidewall of the rear tire! Bad ass with the directional whitewalls… and look at that weathered leather seat! If the rider hits a bump too hard, they just might have crotch-on-spinning tire action. Ouch..! Not too inviting of an idea! Looks dope though.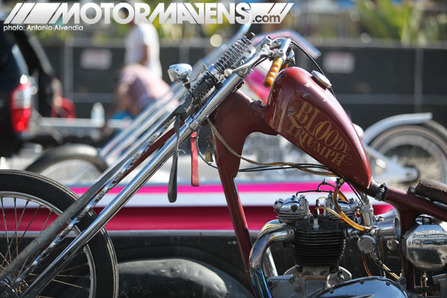 Turning our attention up front, I really really dig the super long front forks and the "Bloody Triumph" lettering on the tank. So bad ass!!! And with the carb screaming right underneath…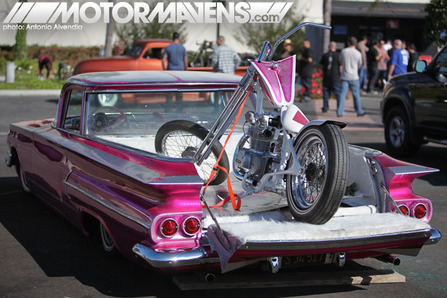 And how about this El Camino, with a matching pink and white chopper sitting in the white fur-lined bed! This is absolutely dope as hell!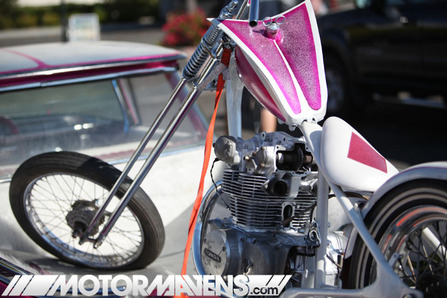 The custom gas tank looks sick! Very stylish for sure with the graduated pink flake paint and white stripes… and just take a look at the customized gas cap! Fresssssh.
Oh and look closely… it's a HONDA! Never thought old school JDM could be this cool, did you?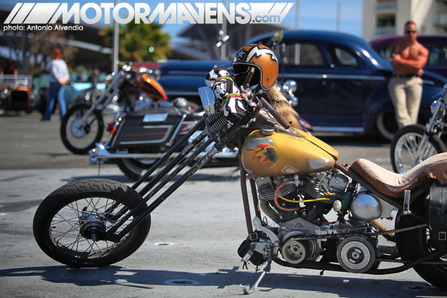 Check out the planned patina on this old chopper. I dig that helmet… with a vintage looking thunderbolt graphic painted over the gold deep flake paint. Some people may or may not like this type of bike. To some it's vintage and cool looking, but to others it's a run down old bike. Let's take a closer look before you pass judgment…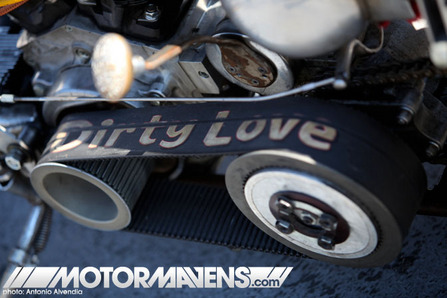 One thing I thought was super cool was this belt, which had the words "Dirty Love" on it. So much personality. So cool.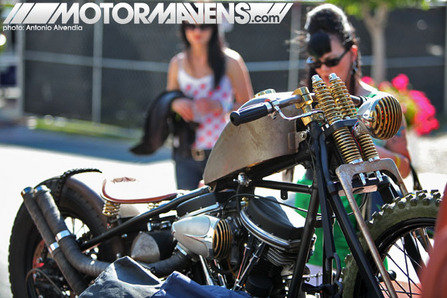 This AWESOME looking chopper was built by fabricator Christian Ferreira at "The Shop" in Lomita CA. This was probably my favorite bike at the show – I loved all the details! The olive green front tire looked cool, as did the brass details on the front of the bike, in contrast to the surface rusted front forks. Elsewhere on the bike, I appreciate the subtle mix of black powdercoating, stainless steel, surface rust, and brass. Very cool.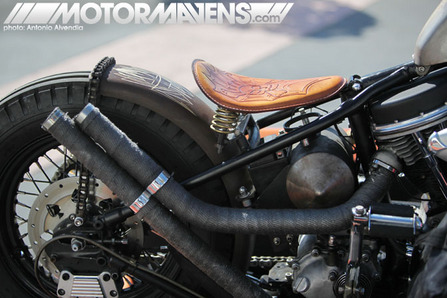 Speaking of cool, let's take a closer look at the seat – close inspection shows the embossed leather, which adds even more character to the bike if it didn't already have enough. How about beige pinstriping over the weathered patina of dark brown surface rust on the rear fender, which is being held down by a drive chain? BAD ASS! It doesn't even stop there… how about the dirty gray header wrap (ThermoTec?) surrounding the exhaust pipes and the spades that have been cut out of the cross drilled rear brake rotor?! Hot sh!t. That's just icing on the cake. I think some Ruckus guys ought to make their Rucks look like this!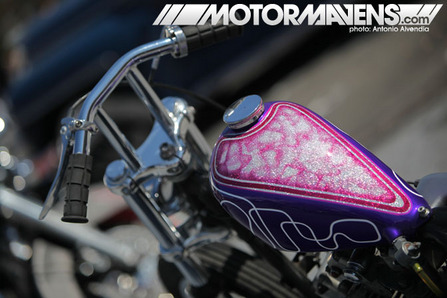 Last but not least, dig the custom paintwork on this chopper's fuel tank. Purple with blocked off sections of silver, pink, and purple metal flake. To all the JDM Bosozoku fans… THIS stuff is the inspiration for bosozoku style!
Over the past couple years, modified scooters like the Honda Ruckus have been gaining in popularity amongst car guys. However, custom choppers have been the "in thing" and part of popular hot rodding culture for many years! So where does that leave the Honda Ruckuses… do you think we should start doing features and stories on modded Ruckuses? (Rucki? haha)
:: Antonio Alvendia
---