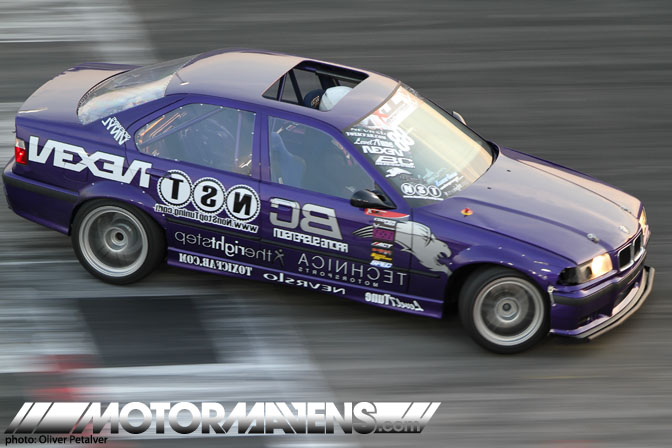 Round 1 of the 2011 Xtreme Drift Circuit (XDC) season was held at the ever-popular Toyota Speedway at Irwindale, CA aka  the "House of Drift." In addition to the drift competition, there was the REMIX Car Show, Cycle Path Bike Show, and the always popular model lounge. Drivers from all over made the journey to duke it out with a number of exciting "One More Time" battles during the last rounds of competition.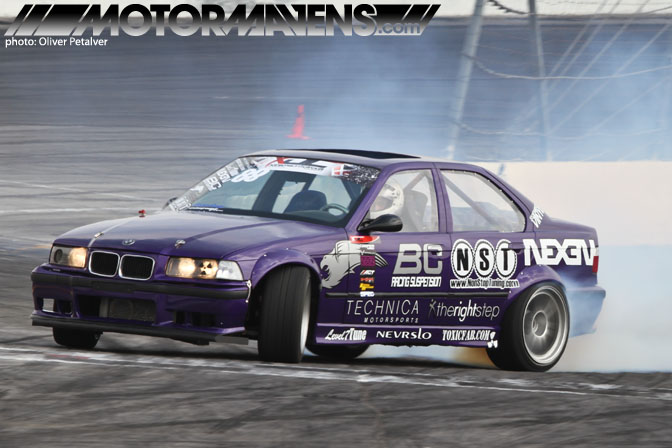 Hailing all the way from Texas is Chelsea DeNofa & his Nexen / Non Stop Tuning / Technica BMW E36. DeNofa went against Aurimas "Odi" Bakchis (below) of Wrightwood, CA and his Forged Racing Radiators / Godspeed Nissan S14 during the final round of competition. DeNofa took the first XDC event of the 2011 season.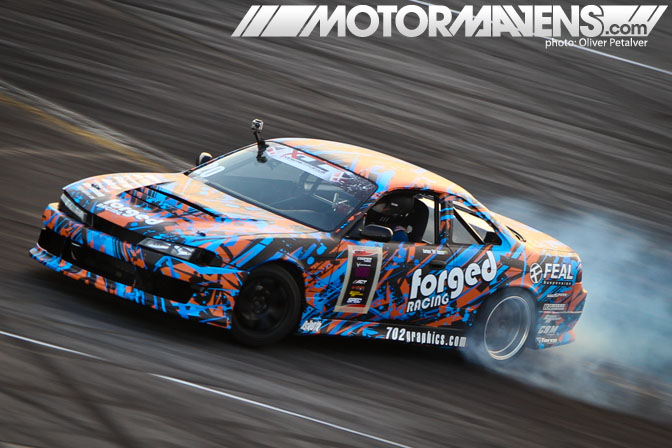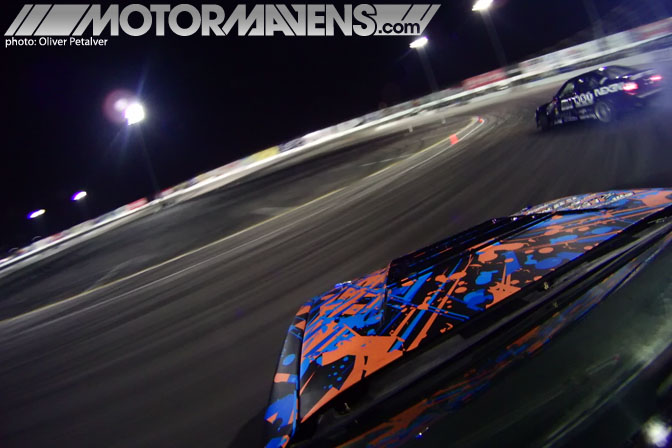 As "Odi" Bakchis followed DeNofa into the inner bank, Bakchis made a mistake during the first run of the Finals. Despite a strong lead run, Bakchis' chance at winning drifted away.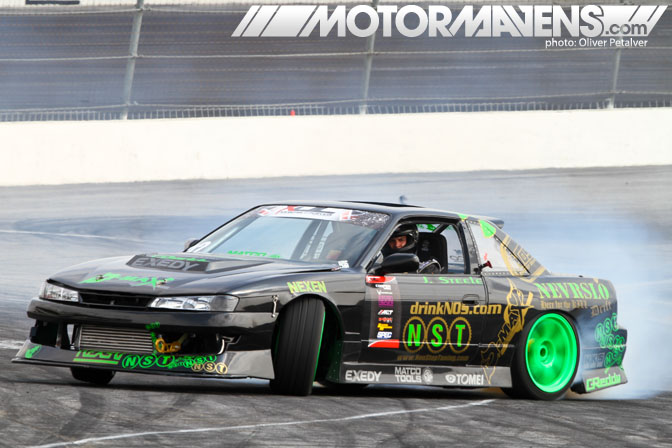 All the way from Houston, TX is Joshua Steele and his S14-faced black S13. Steele went against "Odi" Bakchis in the Final Four where "Odi" Bakchis advanced to the Finals. Steele went against George Marstanovic and his FC in the Consolation Round; unfortunately for Steele, he was unable to make the second run of the round. As a result, Marstanovic finished third overall. DeNofa went against Marstanovic in the Final Four where they had another One More Time battle.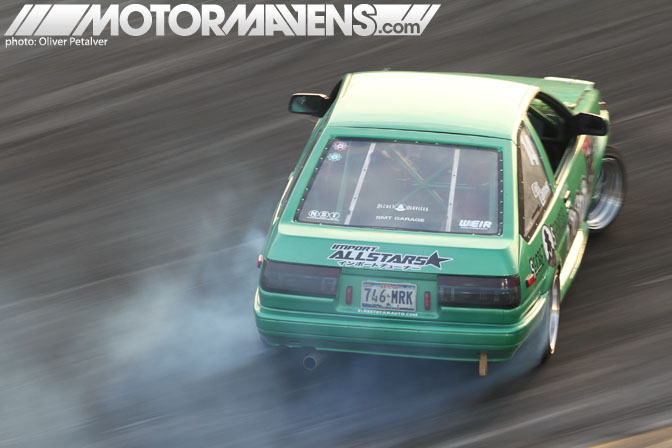 Another Non-Stop Tuned (NST) car is Will Parson's Toyota AE86. From the Lone Star State, Will made it all the way to the Great 8 where he duked it out with "Odi" and his S14. He gave "Odi" a run for his money where they had a One More Time battle.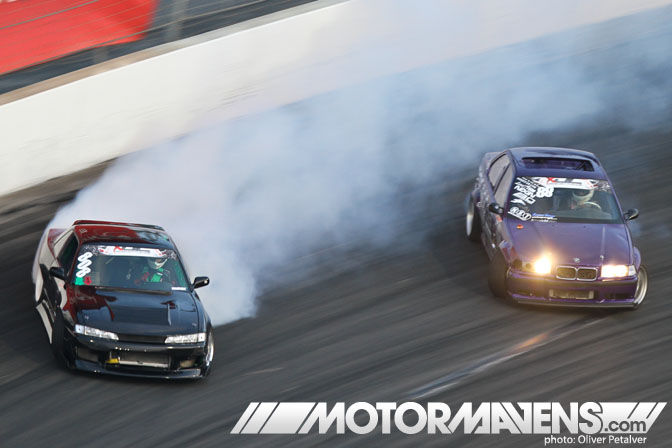 Chelsea DeNofa had his toughest battle of the day against Forrest Wang and his S14-faced S13. They had two One More Time battles before DeNofa moved on the to the Final Four.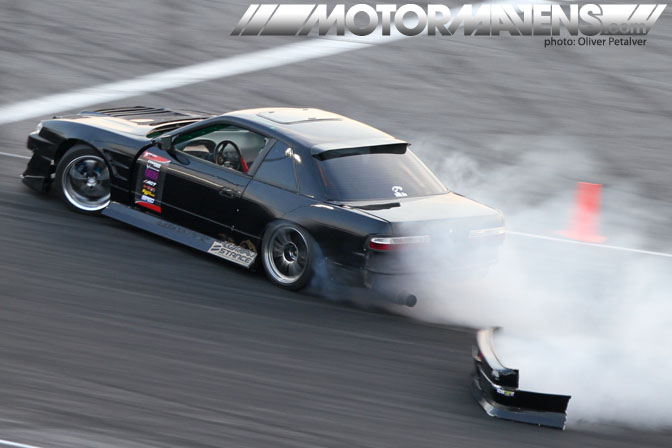 During his One More Time battle with Chelsea DeNofa, Forrest Wang and his S13 slid into the wall and dragged the rear bumper for a short distance until it detached.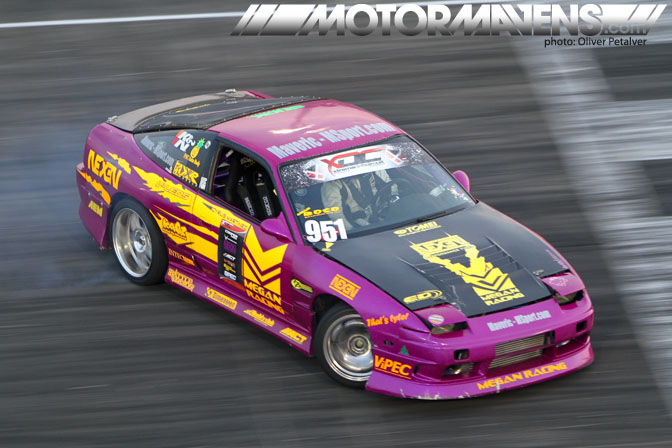 A local Southern California native, Cyrus Martinez and his RPS13 made it to the Great 8 where he went against George Marstanovic.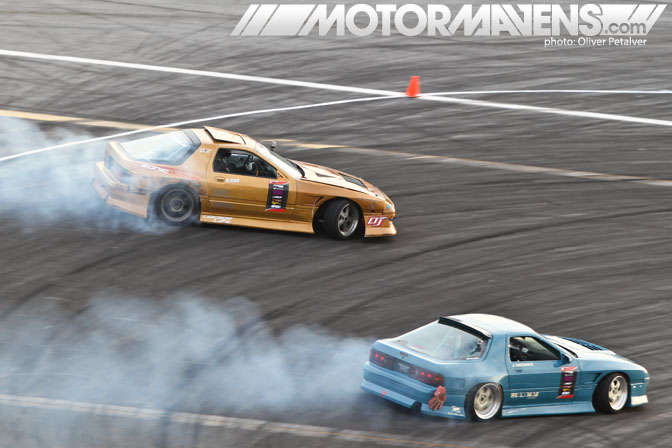 FC3S Battle: Daniel Kuo's Rotary Power vs George Marstanovic's V8 Power! RotorMaven Edward Uche, this photo's for you!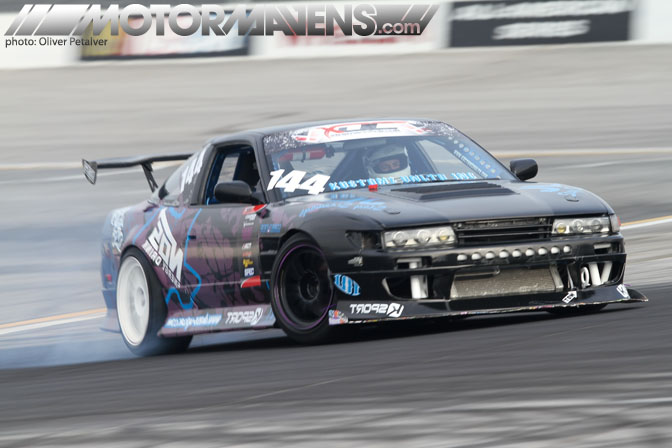 Here you see Nate Hamilton, another Texan, in his Nissan RPS13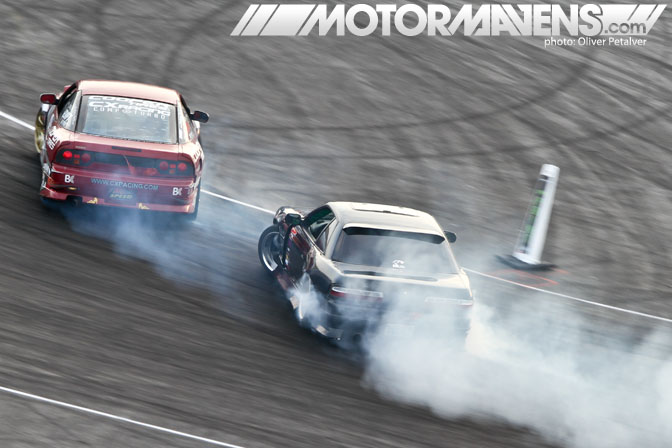 From Sunland, CA, Jeff Jones and his maroon RPS13 leads Forrest Wang's black S13 during the Super 16 competition.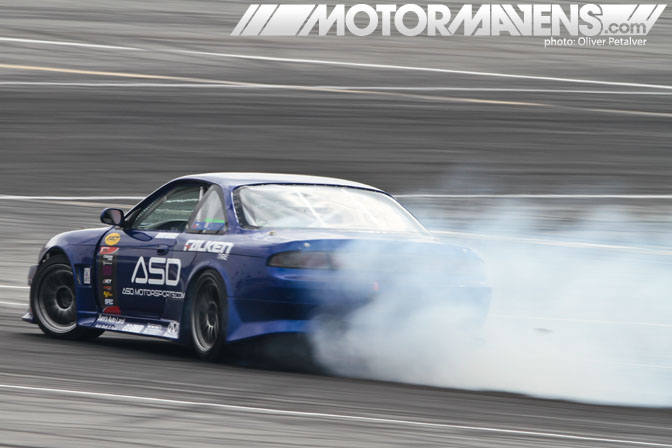 Above and below is Dave Briggs' clean, blue Nissan S14. Originally from Canada, Dave is always "oot" and "aboot" in numerous West Coast events such as XDC, Just Drift, and Vegas Pro Am.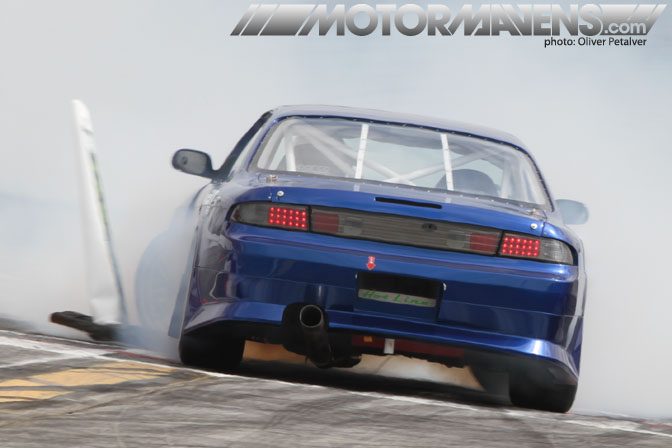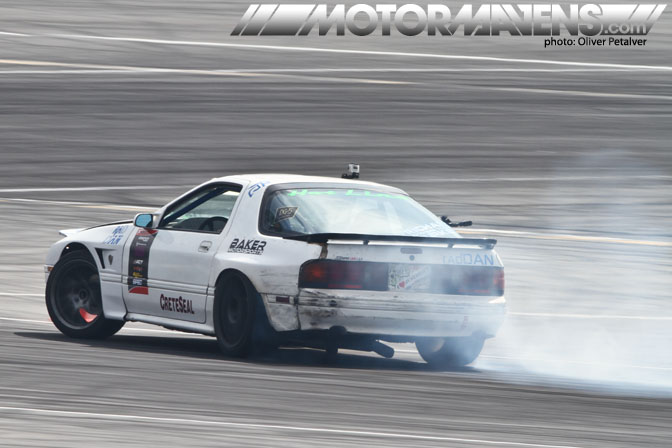 From Costa Mesa, CA is Dan Burkett and his Corvette-powered white FC. Unfortunately, he did not qualify this time. Be sure to look out for him during the future events. If you failed to catch him in action, I hope you saw his bad-ass, black turbo 2JZ-GTE in the REMIX car show.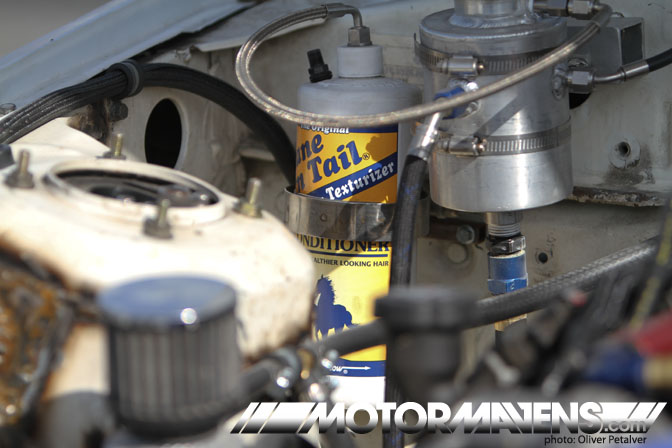 I'm diggin' this "conditioner" on Dan Burkett's FC–especially since he has a mullett.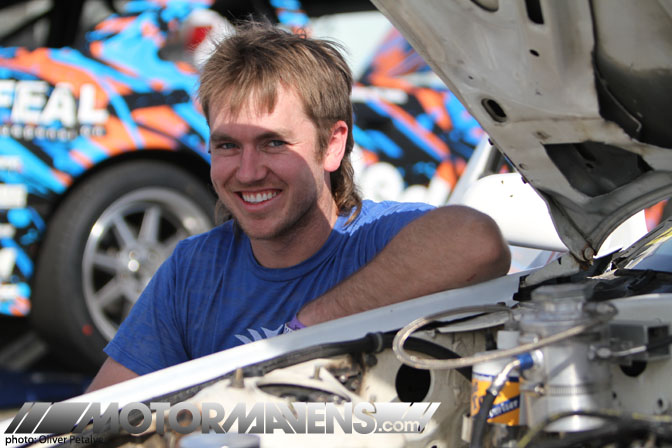 I highly doubt his "conditioner" was the culprit of the engine fire during a practice run-which, BTW, he put out himself with his own fire extinguisher!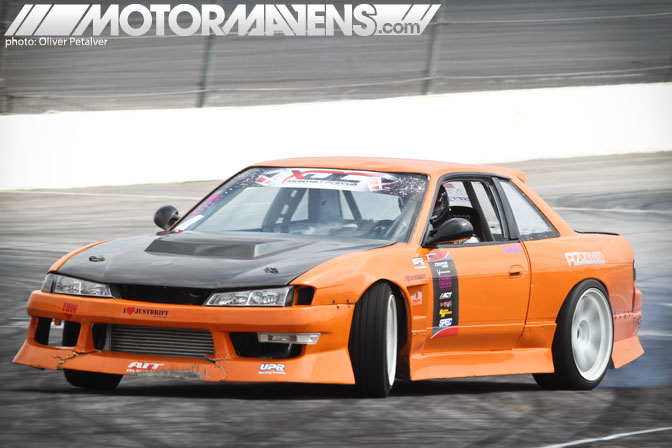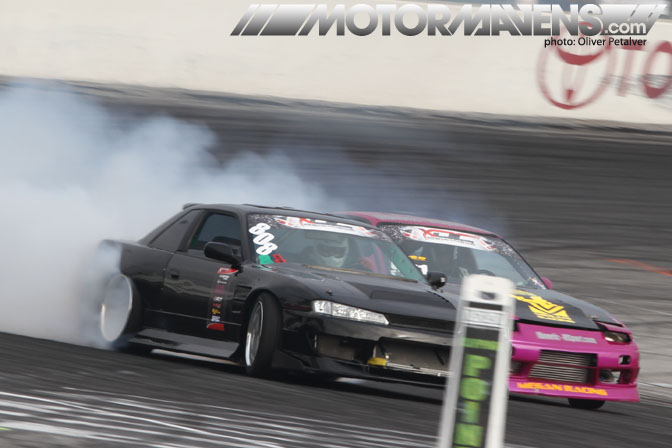 Forrest Wang and Cyrus Martinez toe-to-toe.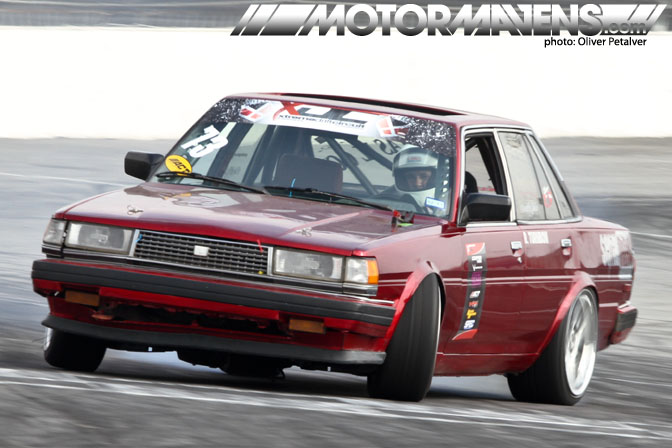 Robert Turnbrow's Toyota Cressida qualified for the event but was unable to compete in the first round against DeNofa.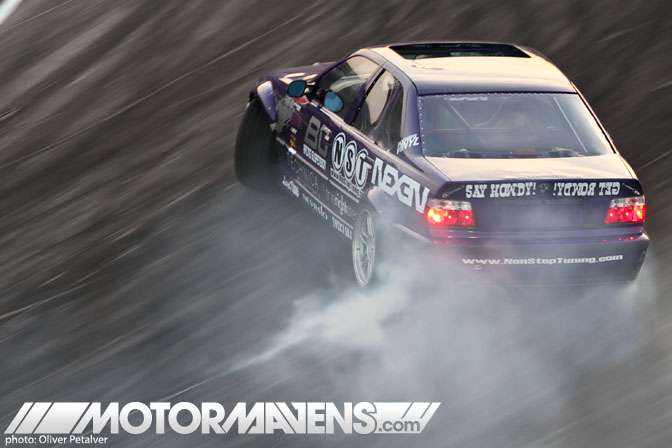 Some of you may remember Chelsea DeNofa's BMW E36 sporting a green color last year sans two doors. I'm digging this color!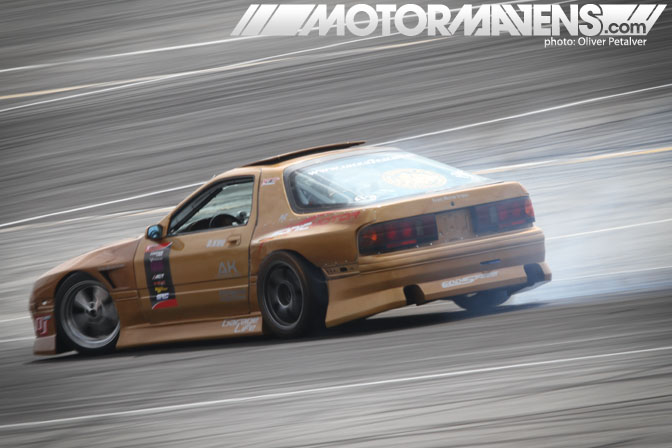 Daniel Kuo and his Rotary-powered FC3S RX-7 slidin' sideways.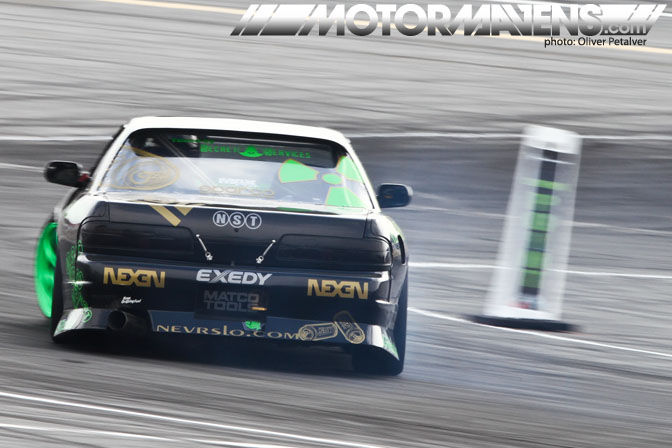 Another angle of Joshua Steele's NST / NOS Energy Drink / Neverslo Nissan S13 slidin' sideways.
The next XDC West championship event will be held at Firebird Raceway in Chandler, Arizona. For more information on the event, check out www.xtremedriftcircuit.com
:: Oliver Petalver
AURIMAS ODI BAKCHIS
,
Chelsea Denofa
,
CHRISTOPHER BILLEDO
,
Cyrus Martinez
,
DAN BURKETT
,
DANIEL KUO
,
Dave Briggs
,
DRIFTED
,
DRIFTED.COM
,
drifting
,
EXTREME DRIFT CIRCUIT
,
Forrest Wang
,
George Marstanovic
,
homepage
,
JEFF ABBOT
,
Jeff Jones
,
JOSHUA STEELE
,
Kelvin Arreola
,
MotorMavens
,
MOTORMAVENS.COM
,
NATE HAMILTON
,
ODI BAKCHIS
,
Oliver Petalver
,
Will Parsons
,
XDC
---