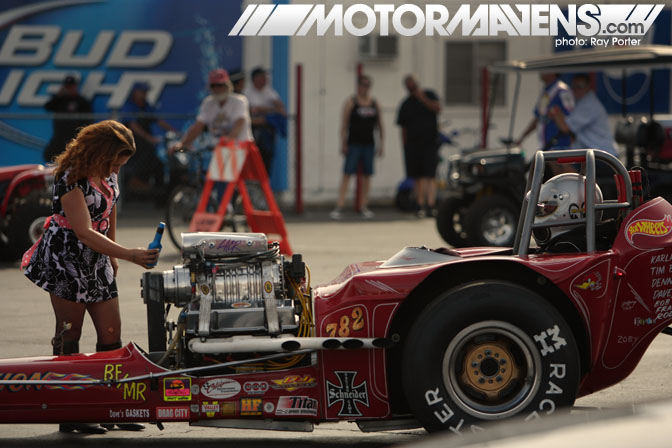 Continuing our photographic coverage of the Rod&Kulture Dragfest in Bakersfield… What's that? Love Potion #9o? Reminiscent of the early days of drag racing it's interesting to see the relationships between the Dragster, his car and his girl. It was cool to see a lot of the racers and their back-up girls dressed up in period correct clothing!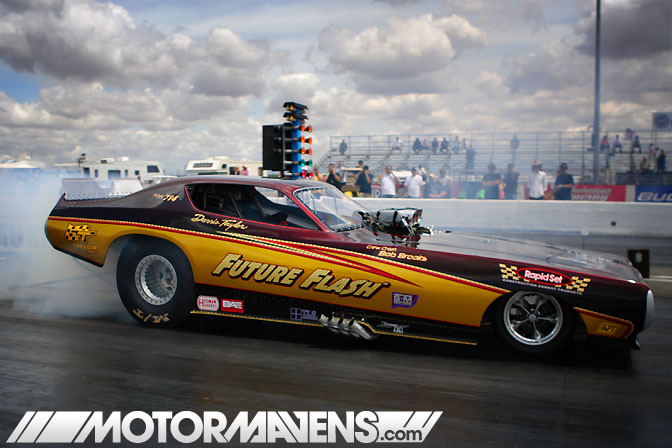 Funny Cars are serious business! But does everyone know where they got the name "Funny Cars?" Apparently in the mid 1960's, the cars were built with the rear wheels moved forward for better weight transfer when accelerating, increasing the traction of the rear tires. When people looked at these types of drag cars, they didn't look quite stock, the looked "funny."
I just love the old school graphics and paint on this car – the Future Flash. And look at those splined lip rear wheels, wrapped in fat Mickey Thompson drag rubber.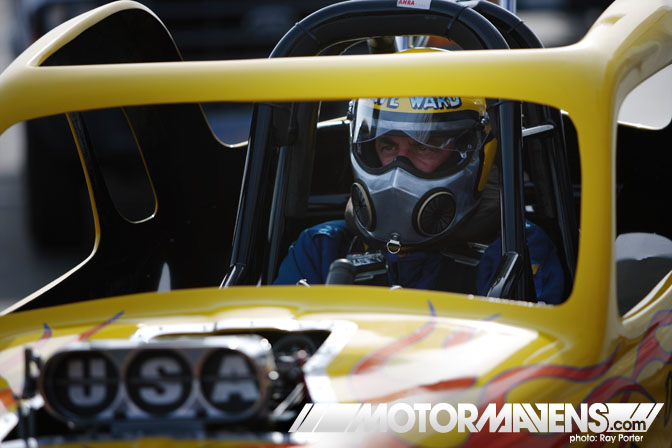 The ventilators on this helmet give a really cool, aggressive look… and after breathing in all the nitro and methanol fumes on the side of the track, I could definitely appreciate the function and form of these driver helmets. The fuel in those dragsters will mess you up!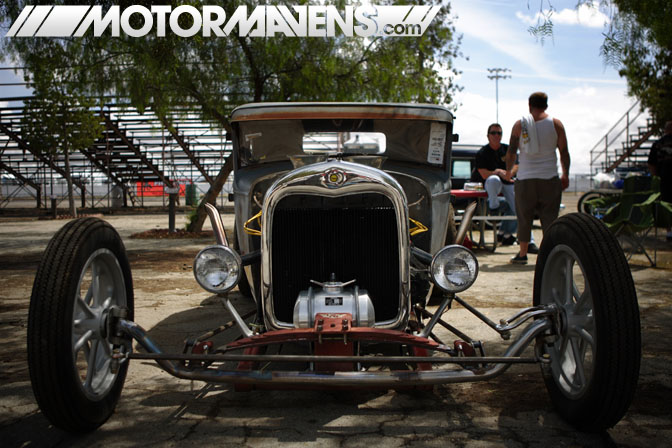 During a break in all the action I came across this hot rod. Its low and wide front stance really set it apart from some of the other traditional rods. One of the things I love the most about this rod and others like it, is how much time and effort (and effort of friends) were put into it. You can just imagine a shadetree mechanic enlisting help from his buddies, as he worked to put together a sweeeeet ride like this one.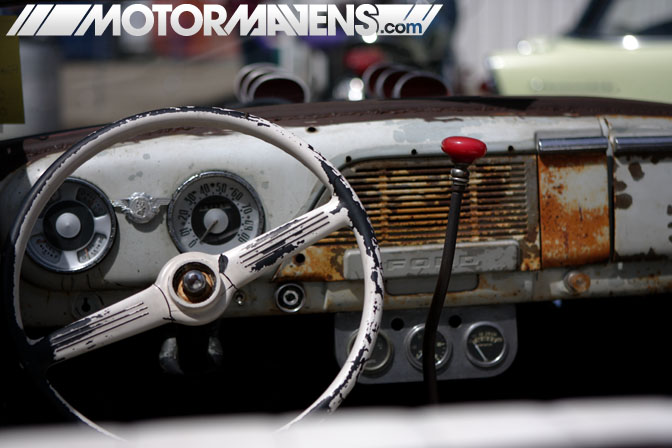 The style of these rods are as unique as the drivers themselves. To the untrained observer it just an old decaying car, but to those who are in the know of hot rod style and power they see a masterpiece. In keeping with the underground style, this rod is distressed on purpose. At first glance you think "Hey! I can totally beat this old piece of junk." Until….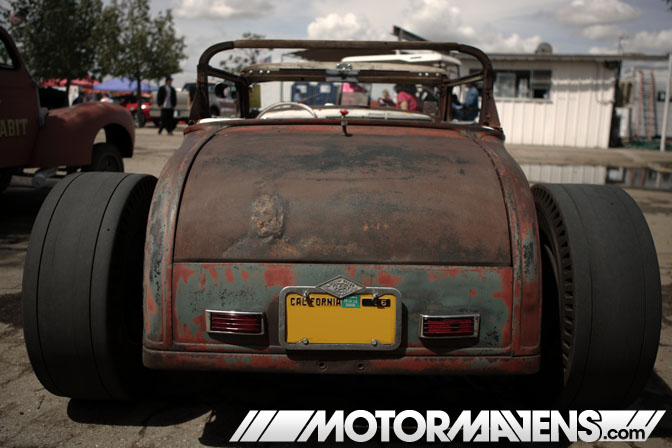 …you race him and this is the only view you see of the car before he is out of sight. Just look at those rear tires! Cool!
Back on the track, I just had to laugh at the scene above. Men in drag at a drag race…..I love the old white guy humor in that! I do find it funny how some of these old timers love to dress up as back-up girls – though I'm not sure how much help these "drag queens" are at backing up the racer,but at least every one gets a good laugh. (I think he wore that outfit the rest of the day, too!)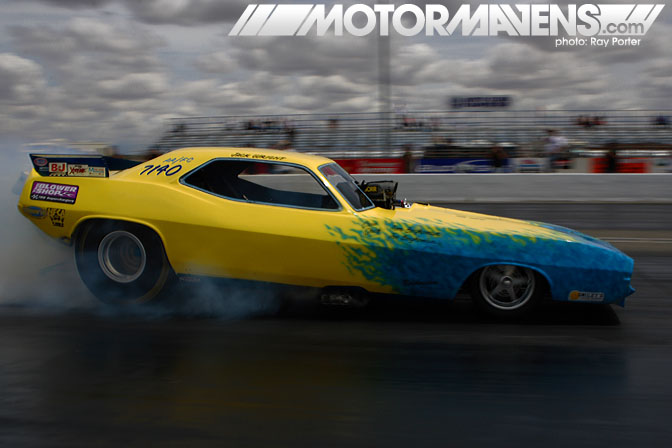 I just loved watching all the retro funny cars as they did their burnouts! I wonder if our readers know what type of car this is?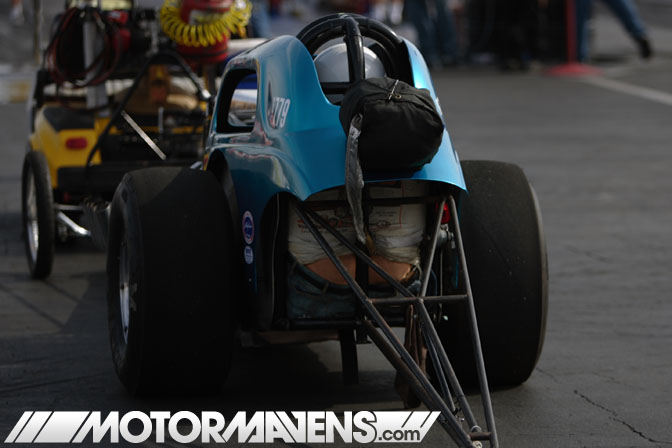 Okay, this one is up for debate. I was there and I still couldn't believe it. Others have seen this photo and don't believe it. Check it, this photo shows the driver sitting there with his BACK up against the bar. It seriously looks like he is racing with just a helmet, jeans and a T-shirt.
Do you guys think he really drove the track like that? Or was this guy just trying to be clever, by painting the back of his seat and putting jeans and a tshirt on top of it? Look closely – what is your guess?
::Travis Hodges
More Rod&Kulture Dragfest on MotorMavens
---