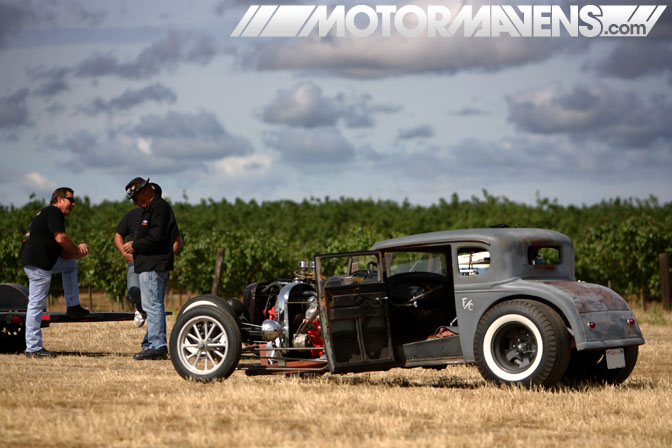 On our first outing to the Rod & Kulture Dragfest, we honestly weren't too sure what to expect. The drive up to Bakersfield seemed to take forever, especially since we had to drive through a bunch of orchards to get to the track. All of a sudden, Famoso Raceway appeared.
Upon arriving at the Rod & Kulture Dragfest at Famoso, we realized that this event felt different than events we've been to at Irwindale, California Speedway, and LA County Raceway. The Rod & Kulture Dragfest felt more underground; it wasn't like other big mainstream drag races we've been to. In fact, it was quite the opposite of a big drag race; it was more like finding the secret hideout of the most hardcore hot rodders and draggers.
As we pulled up to Famoso for the first time, this scene (above) was one of the first things we saw – guys hanging out by their hot rods with friends, reliving old memories, telling stories of power and speed. Some things just never change.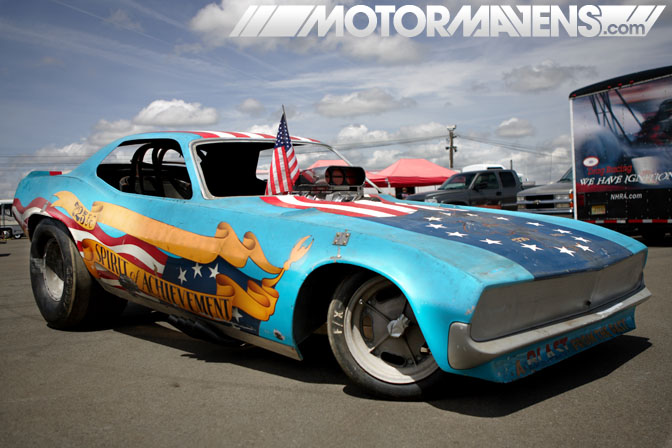 The "Spirit of Achievement" here really put things into perspective. What an outstanding retro funny car -the old school "All American" flavor of fiberglass and steel, with big rubber in the back, taking you as fast as you can go in a straight line. We loved the old weatherbeaten vintage paint job and spindle-type Halibrand wheels!
If you've never had the opportunity to look inside a funny car, it is very, very interesting. Instead of the typical "look at all the gadgets" reaction people normally get when looking at race cars, looking inside this funny car makes you think "Holy crap! there's nothing in here but the seat, rollcage, steering wheel, and the engine. Wait… the engine?!"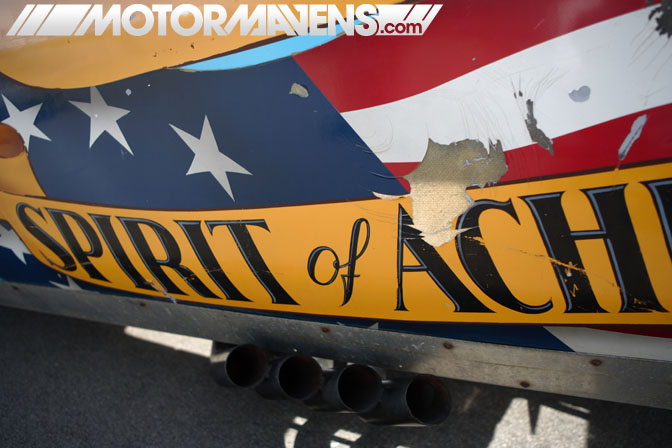 We loved seeing the chipped paint on the body of "The Spirit," exposing the bare fiberglass of the body. The four side-exit exhaust pipes on each side of the car not only deafen you as the car passes by; they also remind  you that this car is in essence, a powerful engine inside a painted shell.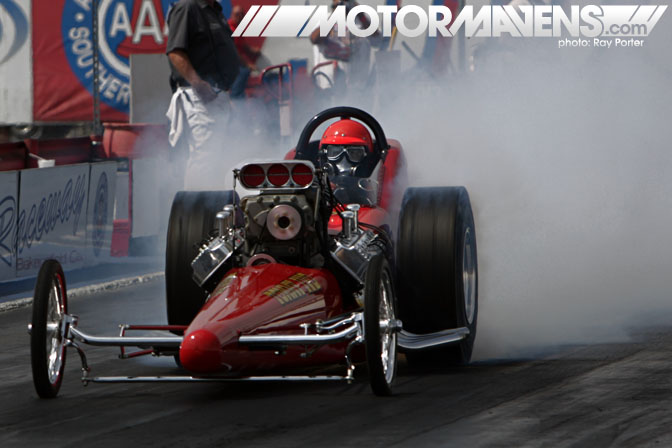 Watching these retro Top Fuel cars from a close distance was pretty intense. Even with the earplugs in, these cars were freakin LOUD! These old school top fuelers are not only guaranteed to make you lose your hearing; when they pass by you, it feels as if someone just punched you in the chest. In fact, the first couple passes took me by surprise and almost knocked me over, haha! I know, I know… just being honest with you all!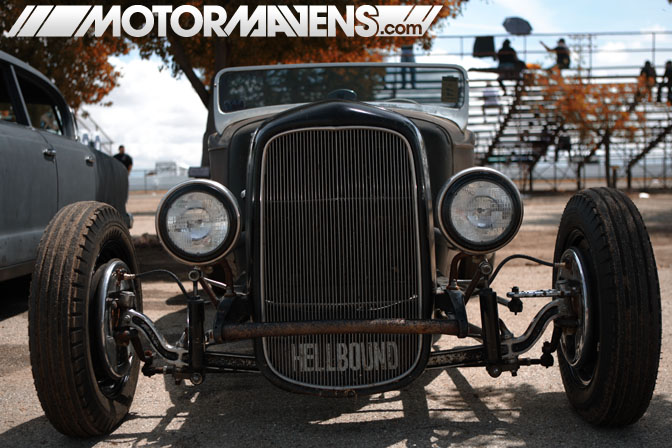 This Hellbound hot rod was parked behind the track. It was set up in traditional down and dirty style, spreading a message to onlookers, saying "I ain't shiny and new, but I could definitely kick your ass!"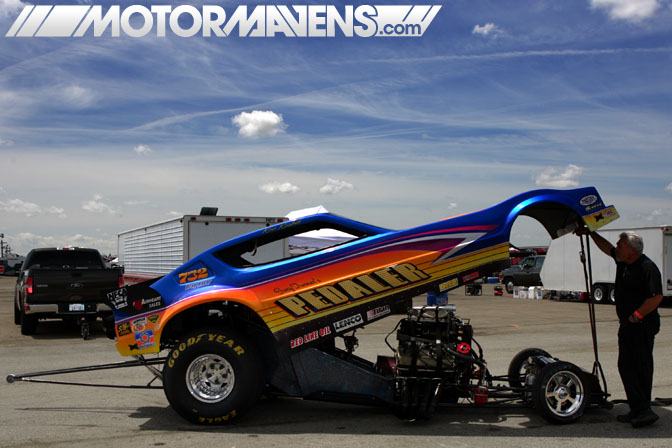 Later on in the day in the paddock area we decided to check out some more of these super cool retro funny cars. When we saw this guy propping up the body of the car, the car itself looked like a big alligator's head, getting ready to chomp into people.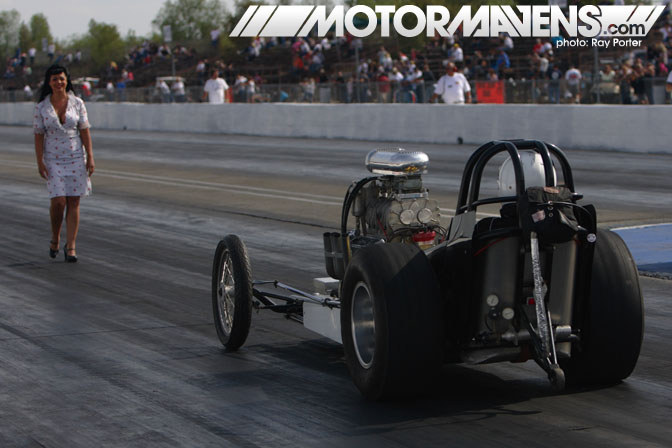 These dragsters obviously don't have rear view mirrors, so back in the day, a lot of drivers had Backup Girls guiding them back to the start line after their burn outs. We love the idea of backup girls! =)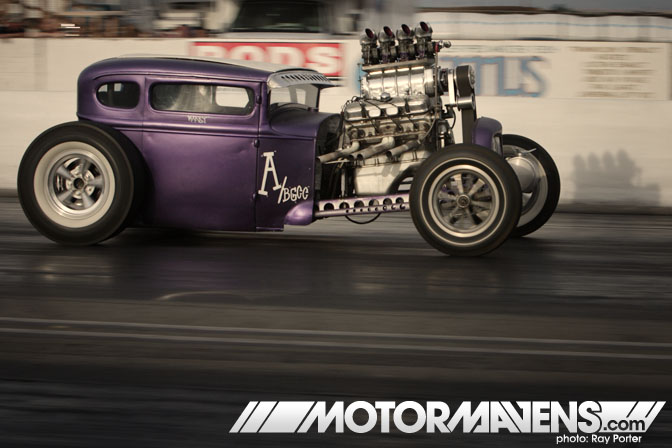 "Would you like a car to go with that engine?" This purple beast definitely attracted a lot of attention all day. To us, it looked like a real life Hot Wheels car, especially with the wheels it had on! Sweet.
The Rod & Kulture Dragfest was definitely a fun event – we can't wait to go back for their next one! Stay tuned to MotorMavens for more photos from Famoso!
:: Travis Hodges
More Rod&Kulture Dragfest on MotorMavens
Rod&Kulture Dragfest Official Page
---