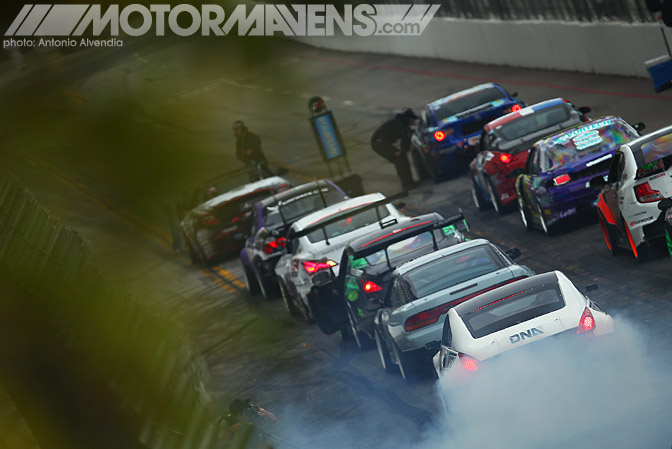 Formula Drift on the Streets of Long Beach is always an event not to be missed! The start of racing season (drifting season, actually) always feels like the first day of school. The drivers have new cars and new liveries, the race teams have new umbrella girls and updated outfits, and even photographers come through with new camera gear to capture the happenings at Formula Drift. This year, we had to contend with lots of clouds blocking out the California sun. We even had a little bit of rain fall at the event, but it certainly didn't dampen out spirits!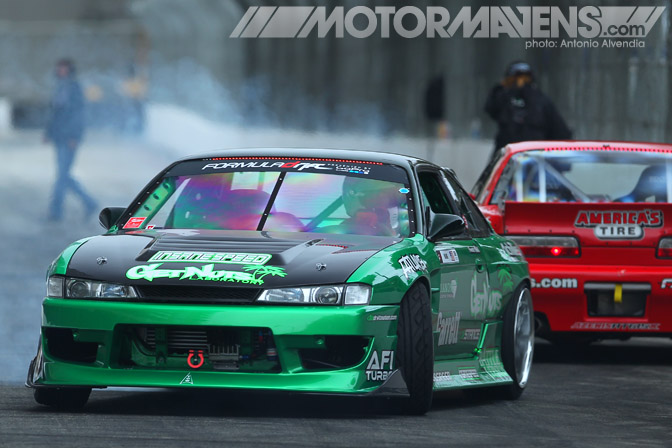 Forrest Wang's mean green Silvia is certainly one of the best looking cars in the entire Formula D Championship. I wish ALL the cars in FD had style like this one!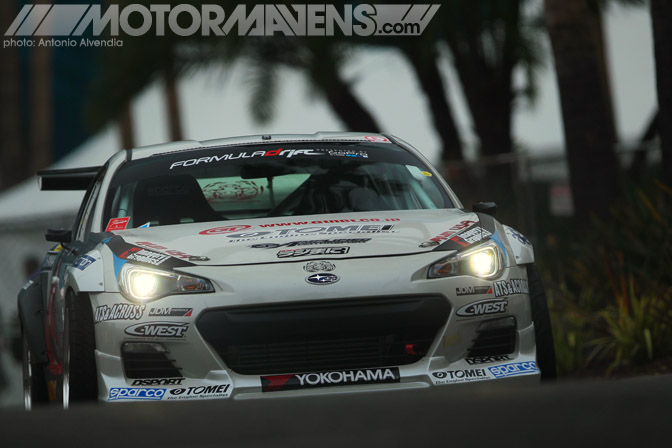 Toshiki Yoshioka's newly built Subaru BRZ also looked menacing as he rocketed down towards the starting grid! It stands out from the other FR-S/BRZs in the crowd because it's not an FR-S with a Rocket Bunny kit. I wonder which one of these aero kits our audience likes more?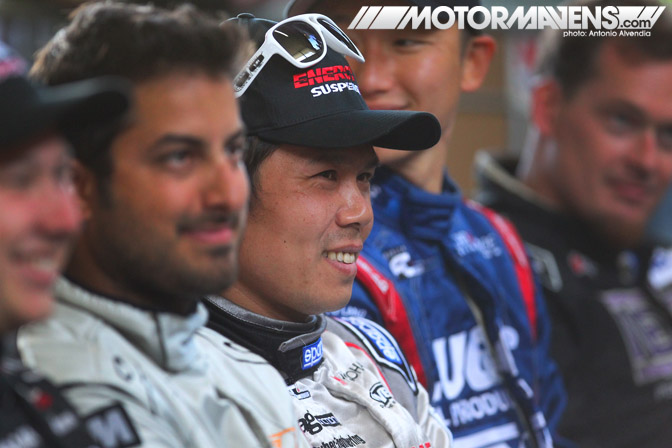 Yoshioka (his friends call him Yoshi) is always super friendly and nice to everyone. He has been living in the United States for the past few years, so it's easy for American fans to come up to him and engage in conversation. He's always fun to talk to!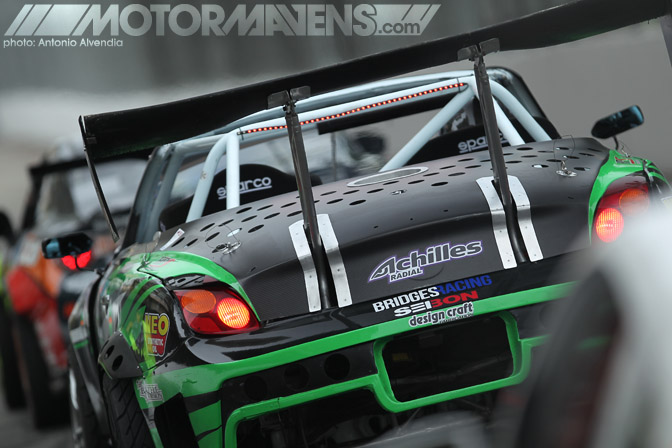 Daigo Saito's Championship-winning Lexus SC430 is back this year, with a new graphics scheme and an all new Infinity ECU from AEM Electronics. Henry Shelley from AEM, a former D1GP USA driver, was at the track with Daigo to help him tune the power coming from the car's monstrous 2JZGTE engine!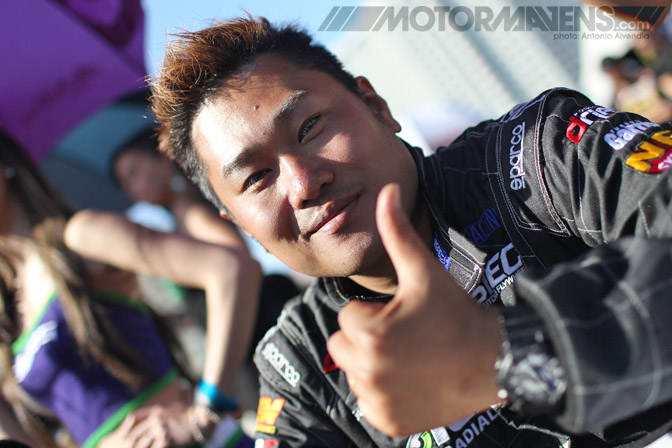 Here's Daigo Saito, Formula Drift 2012 Champion. He is super quiet and reserved for a guy who's on top of the game in the FD series. Being humble might just be part of his Japanese upbringing? If he were an American born Formula D champ, it's almost guaranteed that he'd be climbing the fences and shouting his own name! You know what I'm talking about.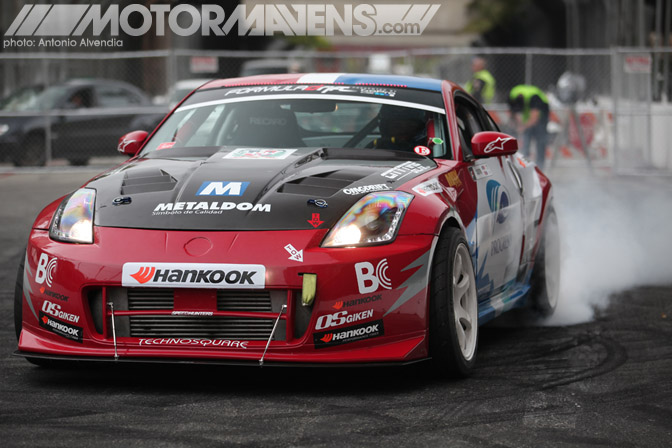 This red Z33 350Z is being piloted by Jhonnattan Castro, a drifter from the Dominican Republic who visited the United States for the very first time in 2012 to compete at Formula D Long Beach.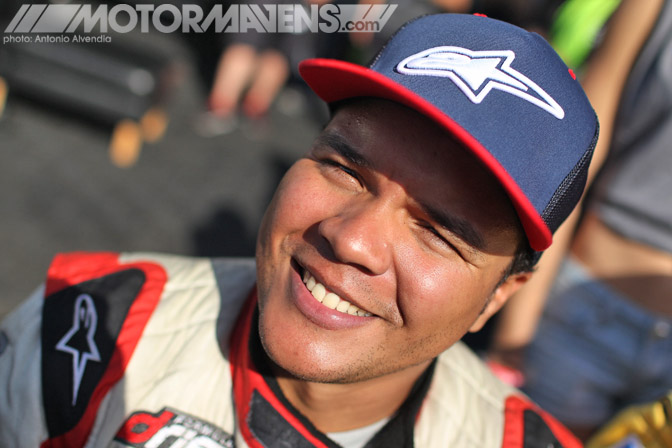 Jhonnattan Castro (friends call him JC or JonCastro) comes all the way from Santo Domingo to compete in the Formula Drift world drifting stage, and very proudly represents his country, and acts as an ambassador for drifting in the Dominican Republic. He is always smiling and always friendly… make sure you say hello to this guy next time you see him at a drifting event!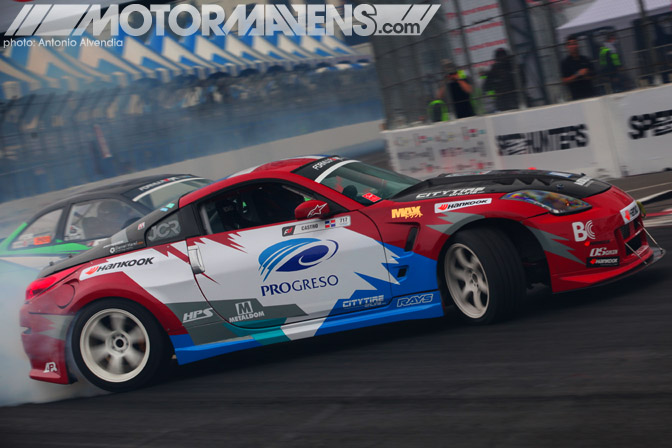 JC says he ran Formula Drift all of last year just to learn what the tracks were like. 2012 was a learning year for him, but this year he's trying to apply what he learned in 2012 so that he can pull strong results all year. He tells us that he's very committed to producing strong results for his main sponsors like Progreso Bank and Metaldom in the Dominican Republic, as well as Hankook and City Tire Online.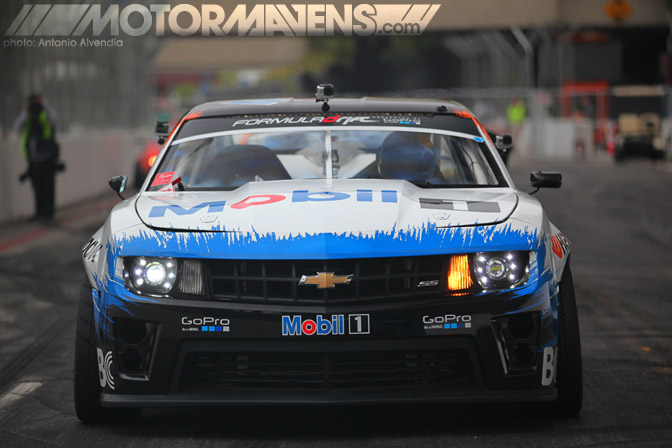 Another driver who is always friendly at the track is Tyler McQuarrie, the driver of this Chevy Camaro SS with Mobil 1 and GoPro logos all over it.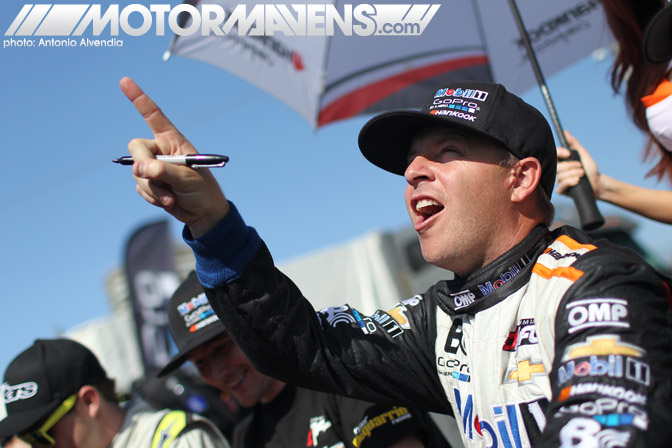 Tyler is a pretty skilled driver. He has worked as a driving instructor in Sonoma CA, so he's experienced at normal road racing and time attack, in addition to drifting. From the looks of his driver's suit, Tyler seems to have more legit sponsors than many of the other drivers in the FD series…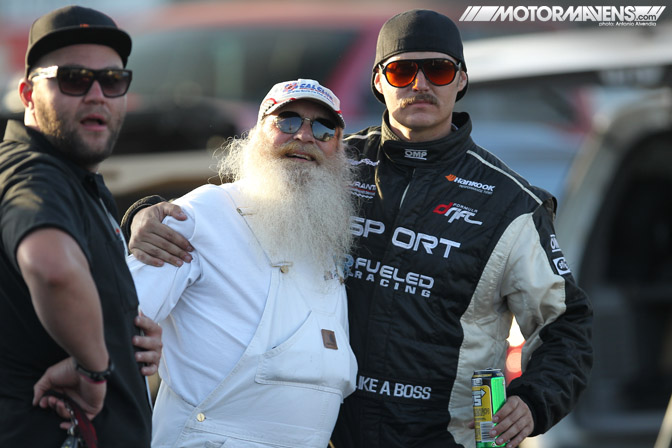 The crazy guys from Arizona, Dustin and Corey Hosford (I don't remember Dustin's last name, so I didn't list it. It didn't mean to type it as "Dustin and Corey Hosford," which sounds like they're married or in some sort of domestic partnership. It's not like that, despite the photos these two post on Instagram where they're wearing super super super short Daisy Duke denim shorts with cowboy boots and cowboy hats. It's not like that at all. Or is it?) were seen here chillin with Bil, the Formula D Santa Claus. This guy has received quite a bit of internet fame because of how close he stands to the rear bumpers of cars drifting suuuuper close to the wall at FD Long Beach…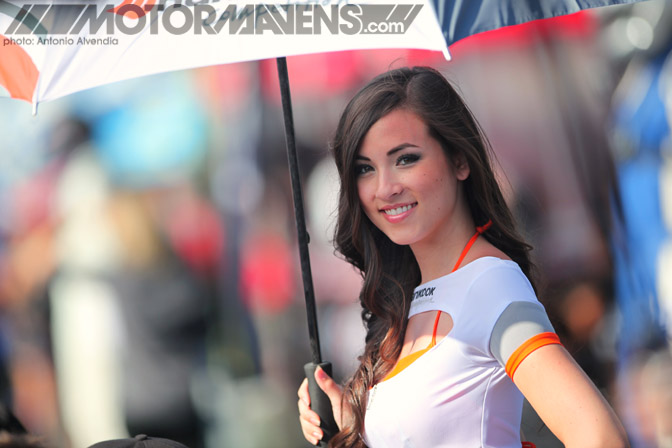 This is Erica Nagashima.

We like Erica a lot because she has a great personality. Her smile isn't bad either.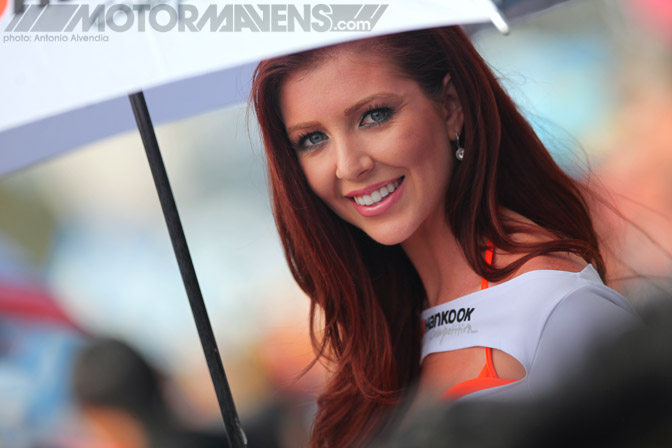 This is Holly Allen, one of the new Hankook girls and former Miss Wyoming apparently.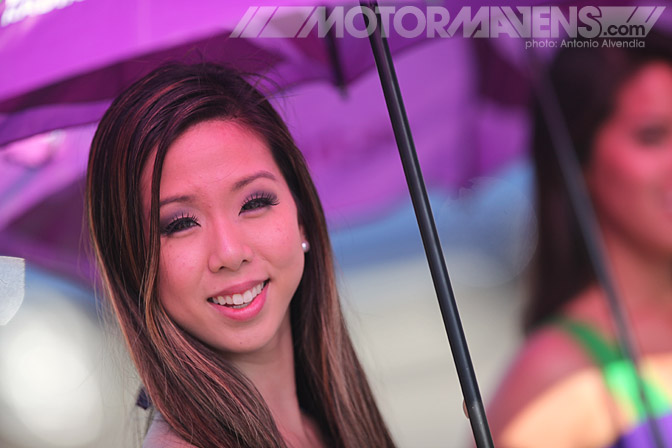 Kaylee Alana from Achilles Tire is always super friendly. Make sure to say hi to her at events!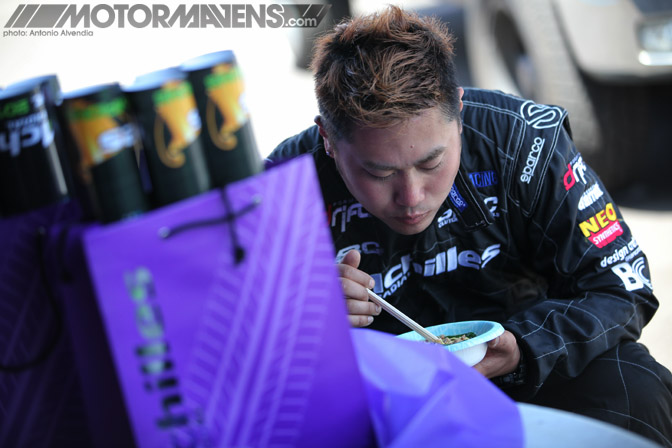 While I was walking through the Achilles pit area, I spotted Daigo Saito having a quiet moment during lunch. Actually this guy seems like he's ALWAYS having a quiet moment. He's just a quiet person I suppose? He's nice though!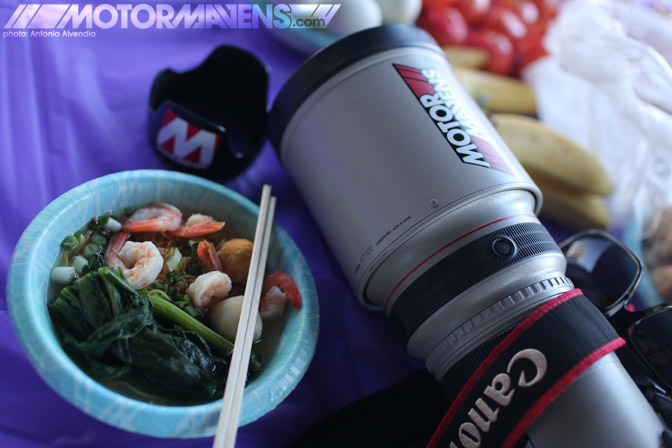 Speaking of nice, I have to mention that the folks at Achilles Tire are super nice and welcoming! I just walked through their pit area to say hello to some friends and to see Henry Shelley from AEM tune the new Infinity ECU on Daigo's Lexus SC430. Wayne from Achilles welcomed me into the pit area, and invited me to sit down and have lunch with the rest of his team, even though he didn't even know me previously and we aren't even doing business together! He was just being nice and welcoming – how awesome! In fact, out of all the companies that I've done business with in the Formula Drift Series, Achilles was the only one who welcomed me into their pit area in this way… what a great group of people!
What they served for lunch was pretty awesome too – legit Asian food! Having homemade seafood noodle soup at the track was awesome! It was a much better choice than the pizza and nachos that the trackside vendors were serving up, and that's for sure.
I wish much success to the Achilles crew as they battle it out with the other teams in Formula Drift this year! We'll be posting much more from Formula Drift and the Long Beach Grand Prix in the MotorMavens social media streams, so stay tuned!
:: Antonio Alvendia
---