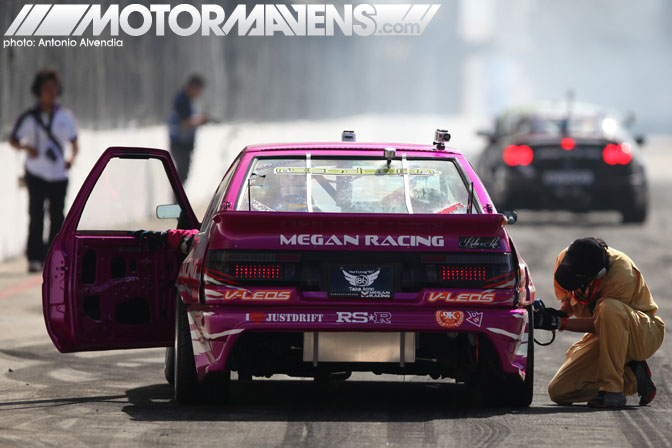 The first event of the Formula Drift Championship season is always something to look forward to. It's always exciting to see the newly built (or rebuilt) competition cars attack the streets of Long Beach on the weekend preceding the Long Beach Grand Prix.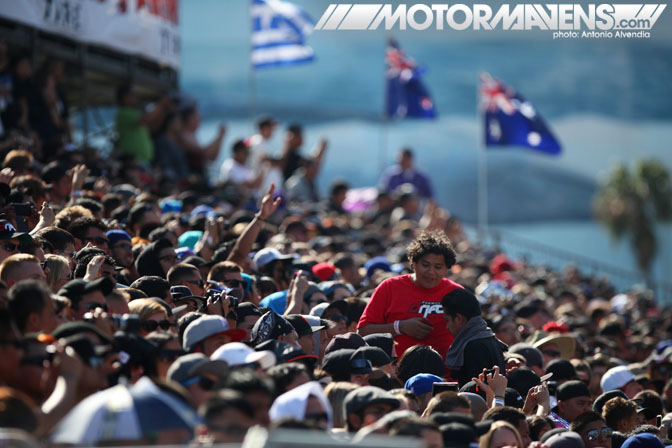 In recent months, I've actually  heard people say that the sport of drifting is in a slump, but I beg to differ. With a first time ever SOLD OUT event at Formula D Long Beach, the venue was packed with plenty of familiar faces (and a ton of new ones) from all over the world! I received a multitude of text messages over the course of the weekend from friends asking if I could help them get tickets, but the event really was sold out and packed to legal capacity. The grandstands were completely full, with only standing room available. How about that, naysayers? Drifting isn't dead just because YOU can't get sponsors. Drifting is continuing to grow, and it's now larger than its ever been!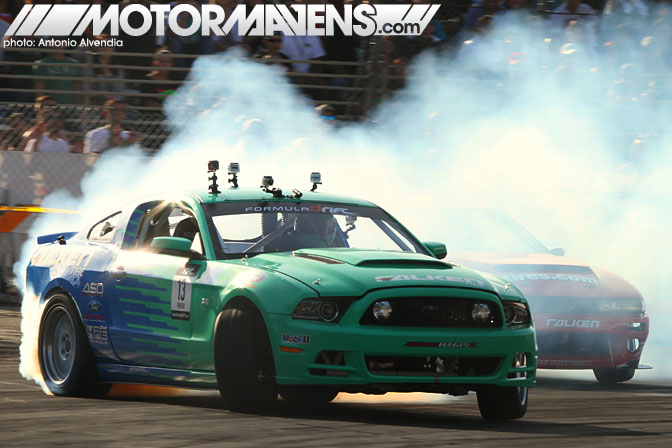 As everyone that's following @MOTORMAVENS on Instagram and Facebook already knows, former FC3S RX7 driver Justin Pawlak won top honors at Long Beach for the second year in a row, driving his Falken Tire Ford Mustang in an intense battle against Falken teammate Daijiro Yoshihara. Congratulations JTP!!!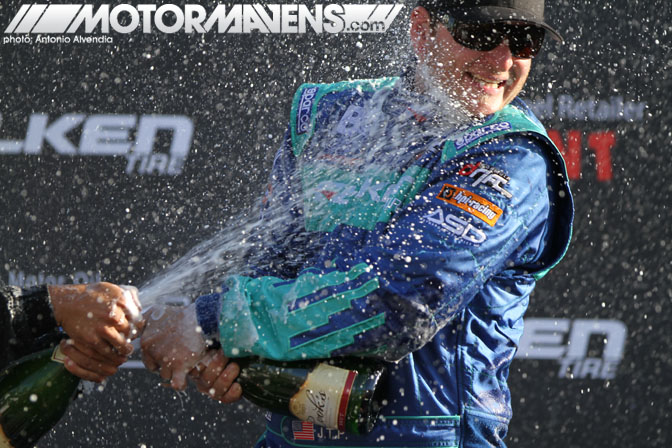 Here's our boy JTP at the podium ceremony, getting sprayed in the face by Dai. Consider it a little payback for beating the 2011 Formula D Series Champion at the first event of the season. I'm pretty sure the folks at Falken Tire were pretty happy about finishing 1-2 at Long Beach. I know they had a big celebratory team dinner after the event!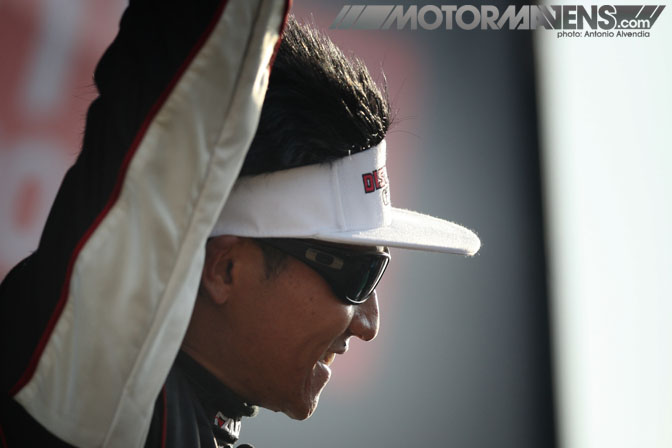 Here's Mr Cool Hair himself, Daijiro Yoshihara, waving to his fans and supporters from atop the podium. I wonder when Dai's going to get some sort of helmet with the top cut off, so it doesn't ruin his pomade work and his hair can stick out as he drives.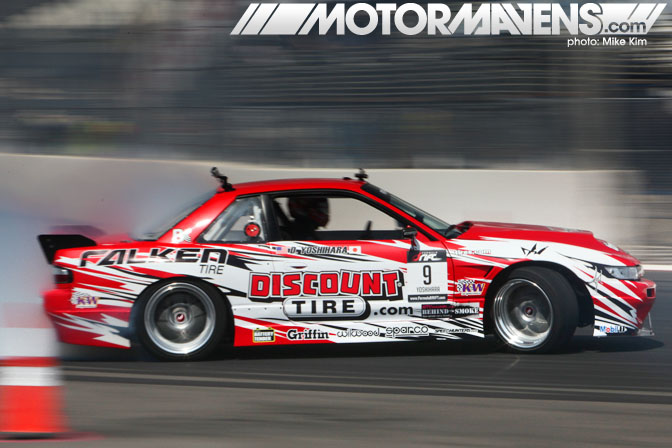 Here's a great panned shot from MotorMavens shooter Mike Kim, with Dai powering through the Long Beach course at maximum speed! I think Dai's S13 is one of the best looking "corporate cars" in the Formula Drift season, and it's all because of the car's bodywork and stance, and graphical layout. Props to the team behind this car for not forgetting that even 'hella functional' race cars need to look good in order to inspire fans. I think a lot of teams in the series don't realize that.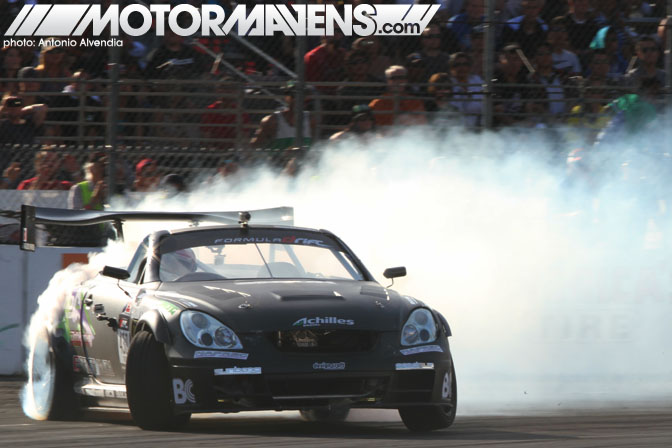 Speaking of inspiring, Formula D Long Beach also marked the first official FD event that D1 Grand Prix Series Champion Daigo Saito entered as a competitor.
In the very first Formula D event he participated in, with a brand new car and brand new tire sponsor that most Formula Drift fans hadn't previously heard of (Achilles)… Daigo made his way up the ranks to achieve a podium finish for his sponsors driving a Lexus SC430, powered by a heavily detuned 1200 horsepower 2JZGTE engine. I'm pretty sure that's the first time I've ever heard the words 1200 horsepower and heavily detuned used together in that context. Crazy!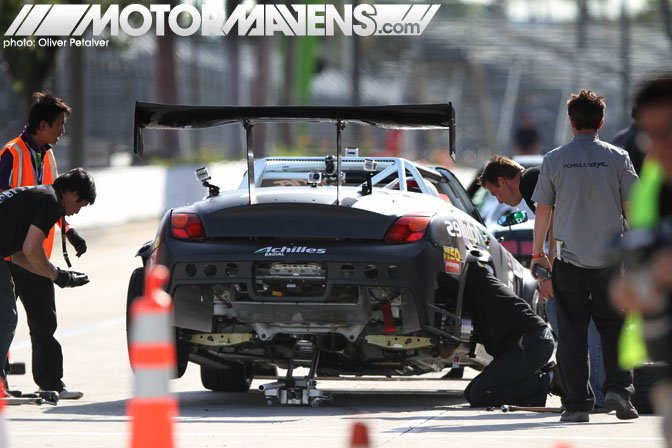 Daigo's Formula D experience wasn't without challenges, though. In his tandem bout with Tyler McQuarrie, a crash with Tyler's GoPro Camaro resulted in damage to Daigo's SC430, and the team had to fix it very quickly in order to finish the tandem battle. Design Craft's Gary Castillo is seen here with his head all the way up in the fender, trying to get things sorted.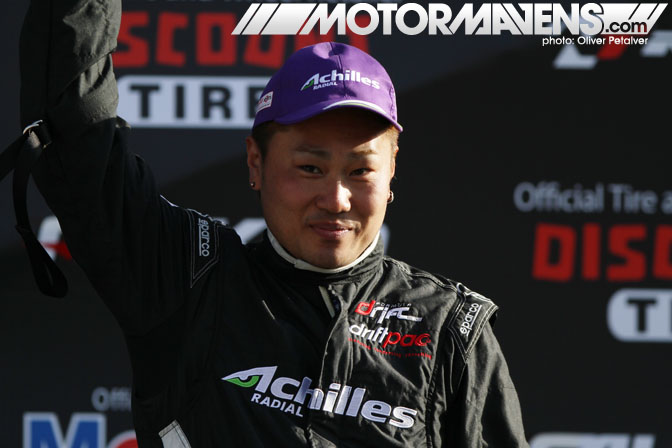 Daigo Saito is a rather quiet guy that lets his driving speak the words that his mouth does not. He stood on the podium in the Third Place position, but I could tell from the look on his face that he's going to be gunning for the top podium spot, and won't stop until he gets there.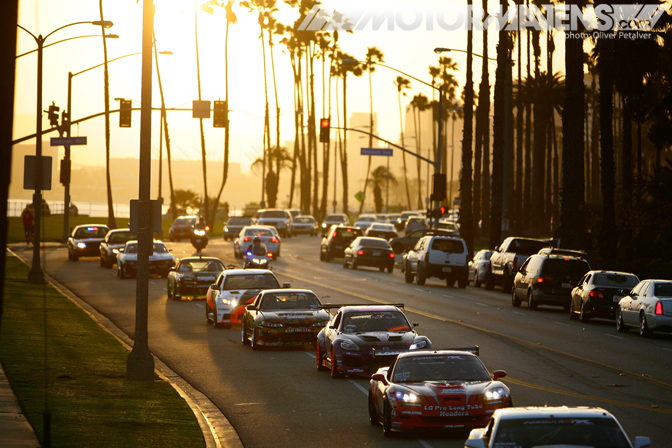 One of the greatest things about FDLB is the fact that we get to spend time in the gorgeous city of Long Beach! Although some neighborhoods can be relatively sketchy, with gangsters sitting out in front of their porches (not Porsches) playing dice games and drinking 40 ounce bottles of malt liquor… the Formula D crowd tends to stick to the more touristy and Caucasian-friendly areas. Drift cars were seen cruising through Long Beach city streets under Police escort just a few days before the event during this promotional event parade. Drift cars, the ocean breeze, and a Southern Cali sunset. What more could you ask for?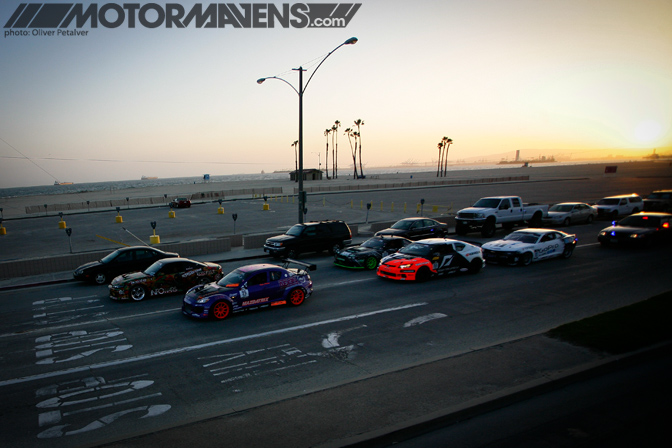 MotorMavens sharpshooter Oliver Petalver captured these photos of the drifters, as he imagined the now deceased singer Nate Dogg singing… rollin down the street, smokin tires, sippin on gin & juice… laid back, with my mind on my money and my money on my mind…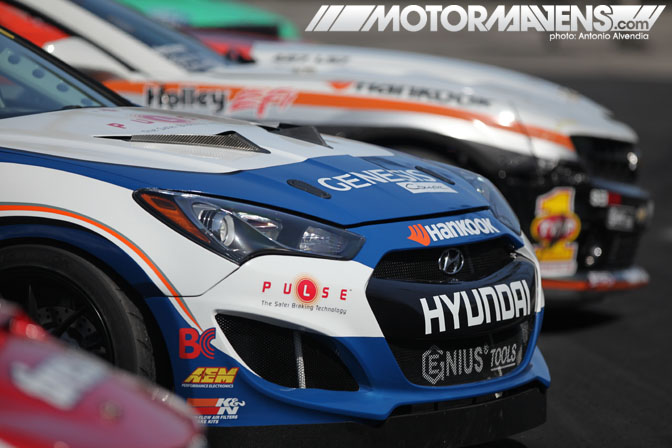 One of our photographers, Mike Kim, was very excited about Rhys Millen's newly redone Hyundai Genesis, with the kouki (late model) exterior changes. Mike is considering buying either a brand new Genesis turbo, or a new Scion FRS. He's been debating this for MONTHS and keeps changing his mind! I wonder if any of our readers can help Mike make up his mind… I wanna stay out of it!
I gotta hand it to Rhys. He always makes his professional race cars look good. Aside from the yellow&gray livery on his old Pontiac GTO in 2004, all his cars have always looked really good and eye catching.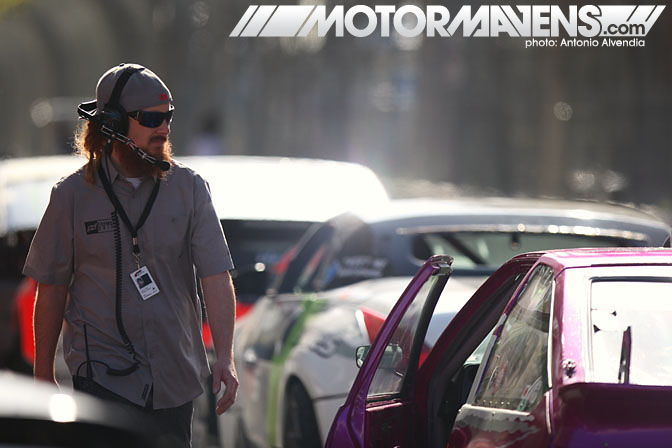 On the starting grid, Luke (@FormulaDread) was walking around inspecting the cars during practice. He can always be found on the starting grid at events, because his Belle-1 radio communicates with race control and tells the drivers when they can start running. There's a lot of work that goes into producing an event like Formula Drift.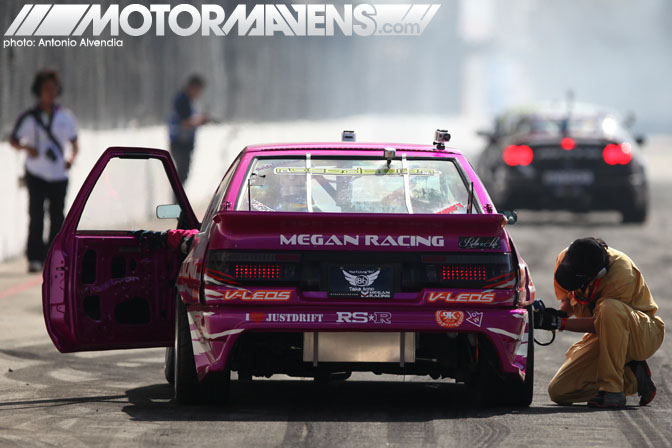 Former Formula D driver Hiro Sumida was out on the grid, helping AE86 driver Taka Aono check his tire pressures in his super cool JDM Toyota Tecno mechanic's uniform. As a die hard Toyota guy, I wish I could get one of those bad ass Japanese mechanic's uniforms, because that's what a lot of the drifters wear when they go to the track. Sadly, they don't make Japanese mechanic jumpsuits in my size. Hell, I don't think they make Japanese people in my size.
For those that are unfamiliar with the name, Hiro is actually a former Formula D driver. He previously drove for Falken in the Discount Tire Lexus IS350, and the Drift Association JZX90 Toyota Chaser, and in his AE86 hatchback before that. I've known Hiro for years! I first met him back in the mid-1990s at an SF Region SCCA autocross event! He had a beat up gray kouki AE86 coupe with stock wheels and a Bride bucket seat in it – it was the first time I had ever seen a Bride seat in person.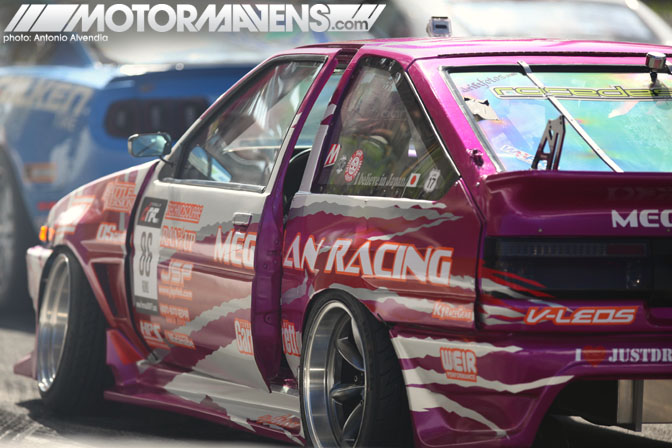 A lot of Formula D fans love Taka Aono because he has so much heart. Even though other drivers have moved on to newer chassis for racing, Taka has been sticking to his faithful AE86 all these years. He recently debuted his car with a new turbo 2AZ engine setup, which is the same engine found in the Scion tC. I think we need to take a closer look at this car!
Thanks to Taka for rocking MotorMavens stickers on his car for the past two years! We appreciate your support!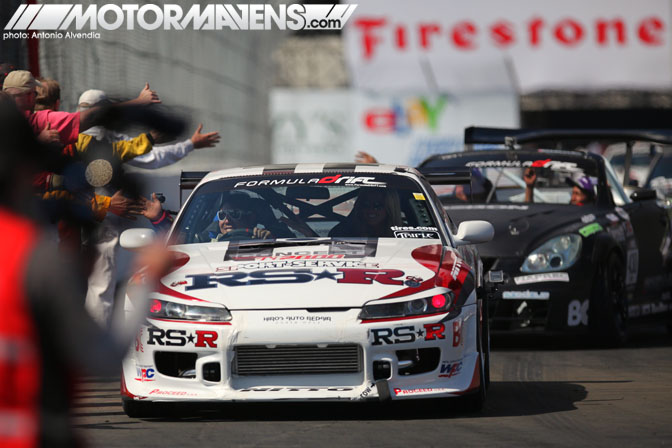 Japanese exhaust and suspension tuner RS*R made a welcome return to the Formula Drift series this year. We haven't seen them on the track for a while, but they're back with their S15 Silvia, with Toshiki Yoshioka in the driver seat. In his first time driving the RS*R S15 in competition, Yoshioka made it into the Top 16 with a huge smile on his face. During the Top 16 parade, Yoshioka cruised up slow so he could shake hands with everyone standing trackside. No wonder everyone loves this guy!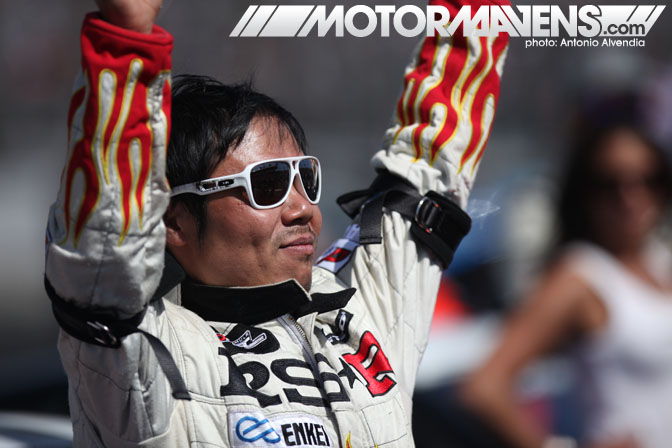 Here's Yoshi waving to the crowd. He loves the USA, and is very happy to be driving in the Formula Drift series. Yoshioka made the commitment and left his home in Okayama Japan so he could move to the USA to pursue drifting. He now lives in Los Angeles, and when he's not drifting, he dedicates himself to learning all the intricacies of how to properly use English street slang and cusswords.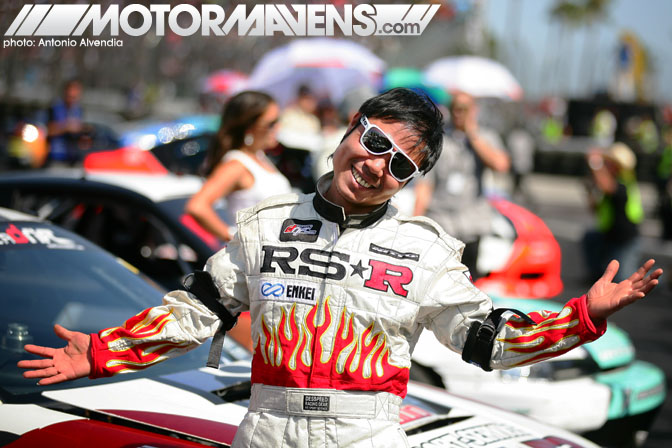 Toshiki Yoshioka may be an awesome driver, but he proved that he isn't very good at throwing tshirts into the crowd for the fans! He must have tried throwing his shirts into the crowd unsuccessfully three or four times before his umbrella girl picked them up off the ground to do it for him. When Yoshi threw the shirts, he couldn't even throw them past the chain link fence! HAHAHA! Good thing his Nitto umbrella girl has better arm strength than he does; she was able to help the poor guy out! Hahaha, it's all in good fun. Yoshi was laughing about it himself. He said, "Come on man, I'm racing driver, not quarterback!"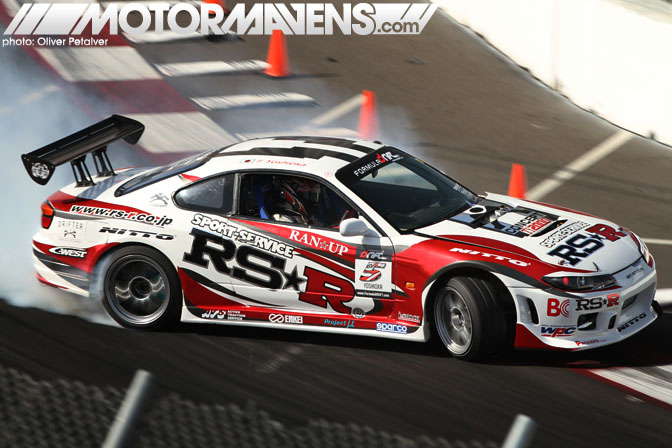 Here's a photo from Oliver Petalver, of Yoshioka perfectly hitting his target clipping point during qualifying. I just LOVE the whole Japanese-style look of the RS*R S15. It looks just like the traditional D1 Grand Prix pro competition cars that all drifting fans know and love. It's such a great contrast to all the Nascar-styled tube chassis silhouette vehicles that are currently taking over the series. It's cars like the RS*R S15 that get drifting fans excited to modify their cars with aftermarket performance parts! These are the cars that got us ALL excited about drifting in the first place.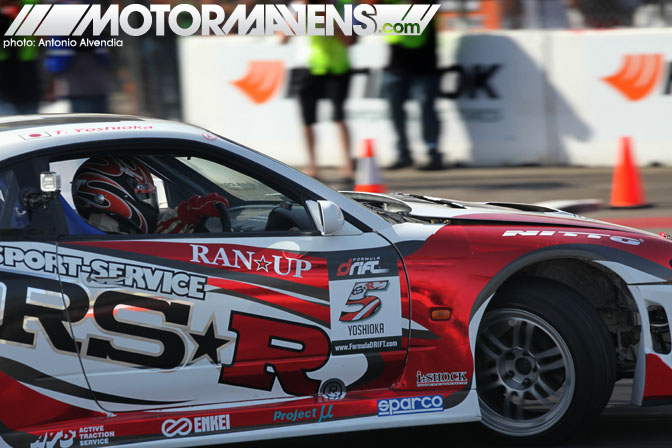 Here's a close up of Yoshioka countersteering as he makes his way through the course. I really hope that we can see more of these types of cars in professional drifting!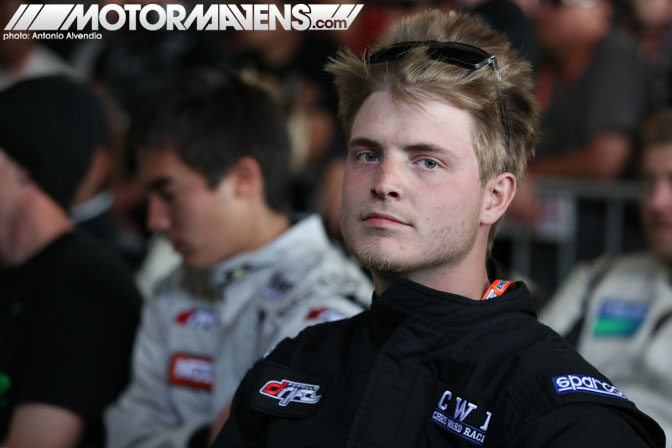 Unfortunately, not everyone had a happy story at Formula D Long Beach. Chris Ward is a Formula D licensed driver from Atlanta GA. He and his girlfriend Jessica trailered his S13 all the way out to the LBC for the season opener, but had nothing but problems during the entire event. During practice, Chris ended up blowing his motor! He had to source another V8 motor locally, buy the new engine, and then had to pull an all nighter just to swap it into the car before qualifying.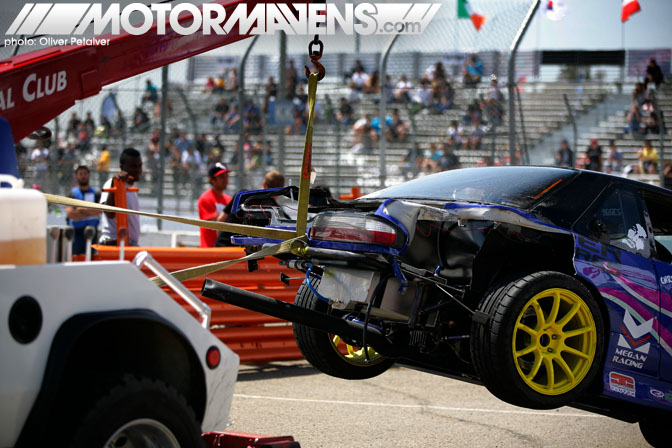 Chris successfully swapped the new motor into his S13 in time, but unfortunately he crossed paths with the wall during qualifying. Even though many of the big name pros make it look very easy, drifting on the streets of Long Beach is really difficult! The course is narrow, and lined with treacherous concrete walls that could end any driver's winning streak with just one wrong move.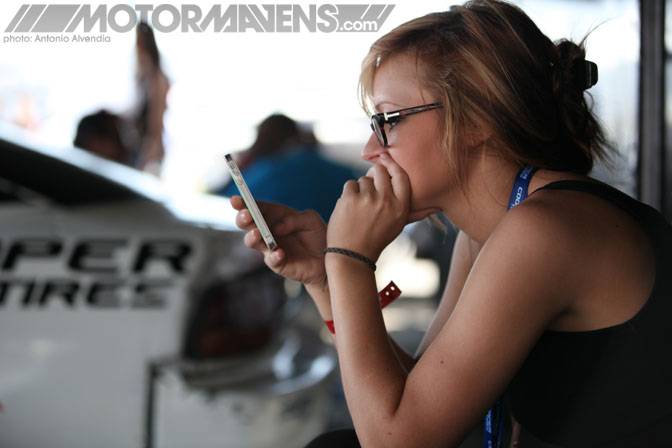 As I talked to Chris at the Cooper Tire rig, I snapped this photo of Jessica as she commented on the photos and live event updates on the @MOTORMAVENS Instagram feed. If you haven't followed @MotorMavens on Instagram yet, here's your reminder!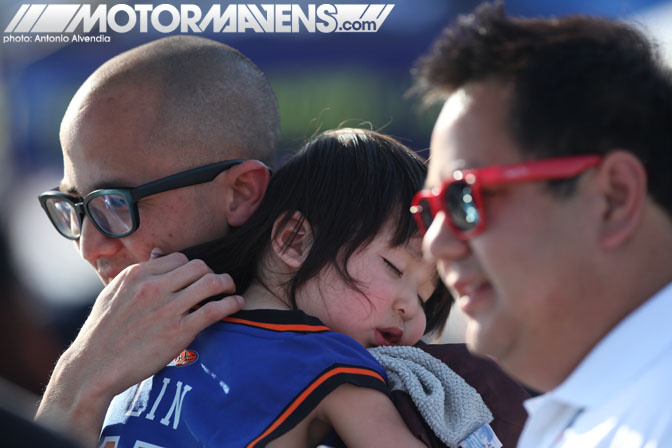 Walking through the pit area with my sniper lens, I snapped this photo of young drifting fan Collin Tjin knocked the hell out on his father's shoulder, while he and fellow Floridian friend Phil Luis admired one of the cars on display.
That's another great thing about drifting. At the track, you'll find drifting fans young…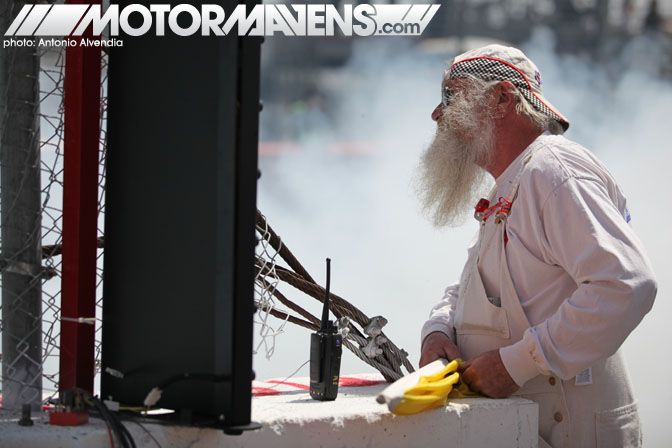 …and old. This is Bill, the "Formula D Santa" at his flagging station on the side of the track. Announcer Jarod DeAnda kept mentioning Bill in his commentary because of how close all the cars were getting to him! He doesn't even flinch!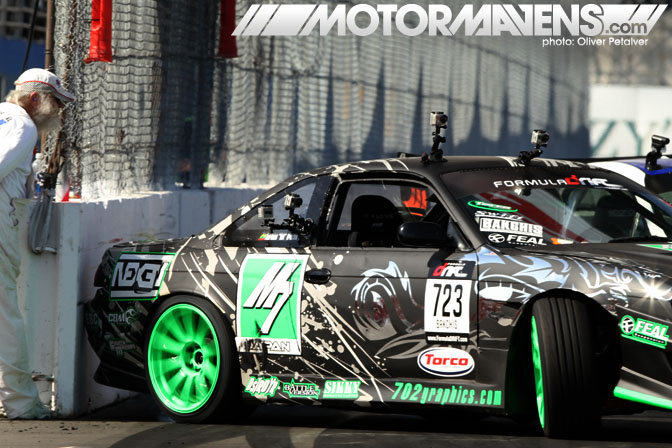 See how close DSTROYR/M7 Japan sponsored driver Odi Bakchis got to "Bill the FD Santa" as he scraped his rear bumper against the wall…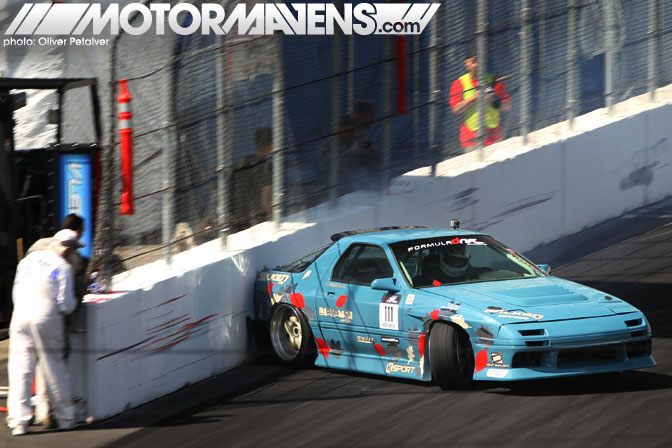 Sometimes going through a near death experience with someone else can make you extremely close to a person. However, I honestly had to raise an eyebrow when I was going through our photos in Adobe Bridge, and I noticed just how close the Formula D Santa was getting to one of the other guys on the side of the track! LMAO! I don't even want to know.
Stay tuned to MotorMavens for even more photos from Formula Drift in just a few!
:: Antonio Alvendia
Photos by Antonio Alvendia, Mike Kim, Oliver Petalver and Yoshi Shindo
---