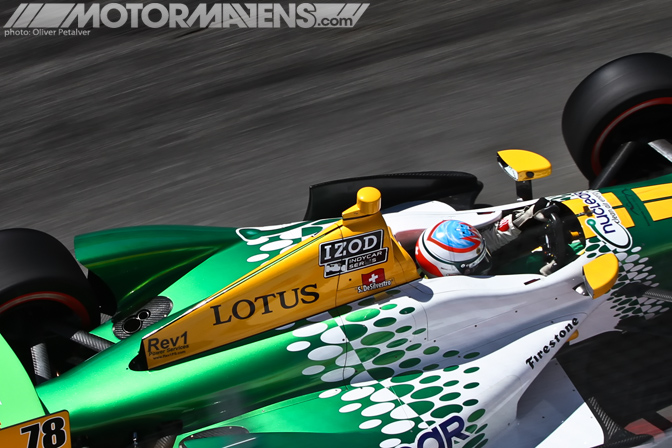 Nearly two weeks ago, some of you saw a portion of the 1.968-mile temporary street course in Long Beach, CA when Formula DRIFT slid into town. Just this past weekend, fans were treated to the full street course with the Toyota Grand Prix of Long Beach. During the three-day event, fans were able to see a variety of races – IndyCar, Firestone Indy Lights, American Le Mans Series, Pirelli World Cup, and the infamous Formula DRIFT team competition. Local Long Beach drifter Kyle Mohan and 2011 Rookie of the Year Aurimas "Odi" Bakchis won the team DRIFT competition.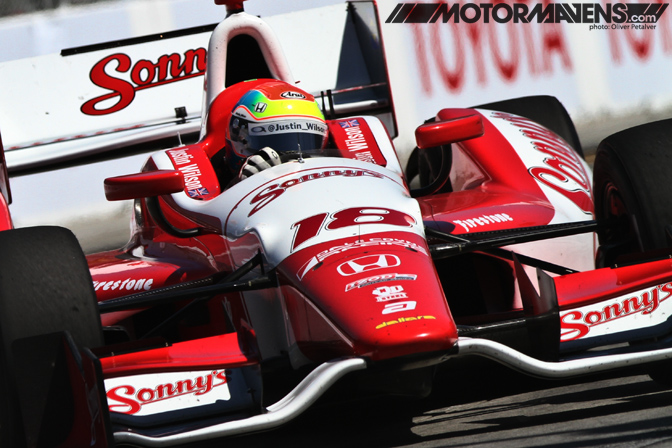 Some of you may have noticed the IndyCars chassis looks different. A new spec chassis called the Dallara DW12 (named in honor of the late Dan Wheldon) has rear enclosures to prevent interlocked wheels during close-quarter competition, a new roll hoop behind the driver that resists 40-percent-higher loads, and an improved driver safety cell. So how much does this new chassis cost? $385K. Tack on another $690K for a full-season engine lease. Next year, teams will be able to use alternative body kits at a cost of $70K.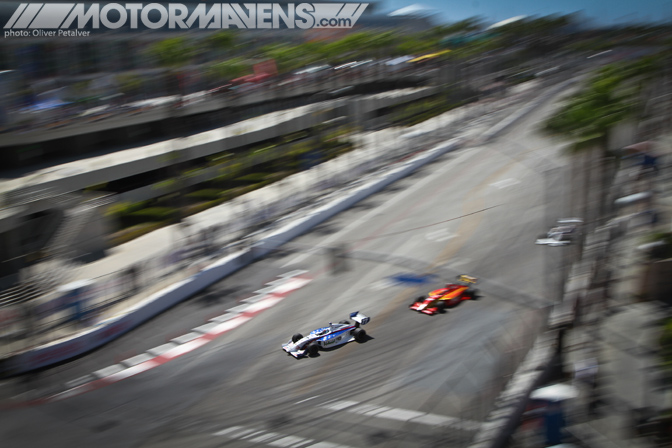 Firestone Indy Lights machines speed on Pine Ave in front of the Long Beach Convention Center. Usually recognizable to local residents as the area next to The Pike – a retail, dining, and entertainment destination, it's better known to us perverts as the nearest Hooters. 😀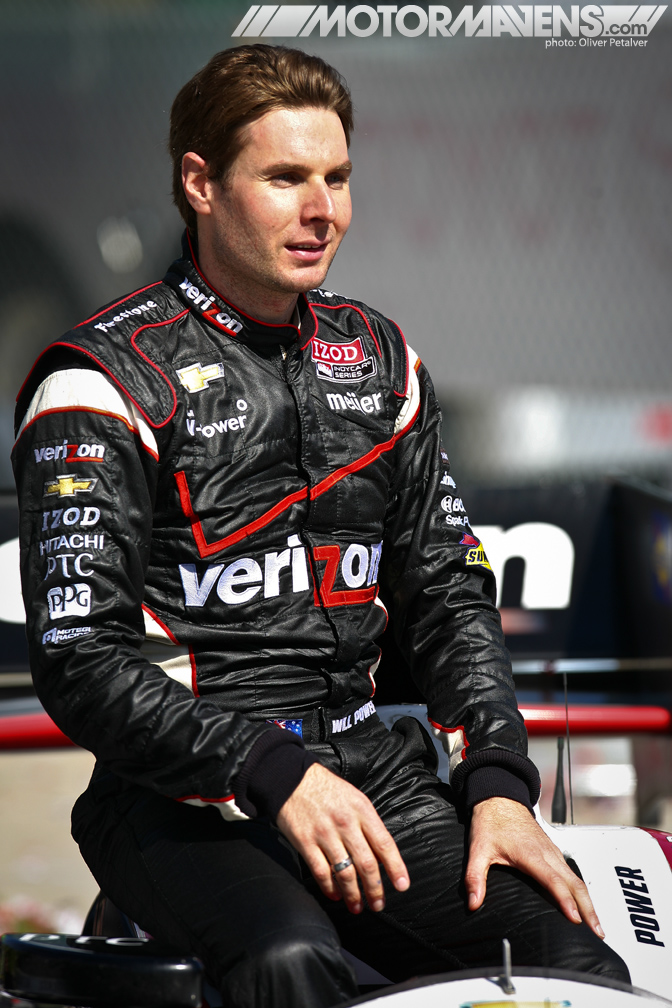 Imagine being the 2nd fastest during qualifying only to find out that you have to start in 12th place on the grid. That's what happened to IndyCar Long Beach winner Will Power & Team Penske.  Power and ten other drivers using Chevrolet engines were moved back ten places after new motors were installed. The engine swaps incurred a penalty for the teams because of IndyCar's cost containment rules. So, after starting in 12th place, he sped past the competition and secured another victory this season.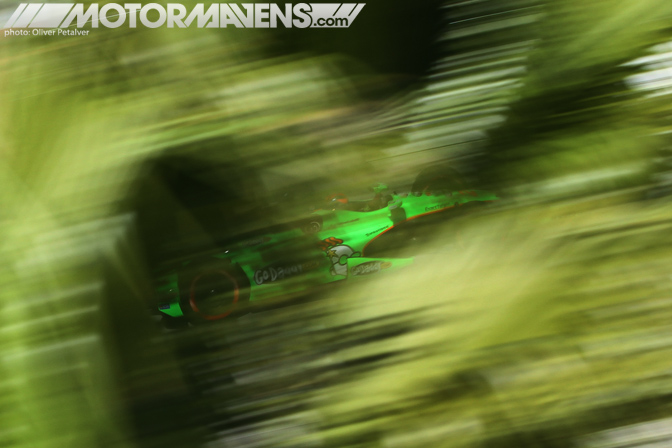 Through the trees – James Hinchcliffe speeds along Shoreline Drive. Hinchcliffe succeeded Danica Patrick in the #27 GoDaddy.com car for Andretti Autosport. The 2011 IZOD IndyCar series Rookie of the Year earned his first IndyCar podium this past weekend placing third.
Here's a close look at Swiss female driver Simona de Silvestro in the HVM Racing Lotus. She almost left IndyCar last year after experiencing a crash that left her with burns on her hands. She was going 220 mph when the suspension on her car broke which caused her to roll the car and slide down the wall…upside down…on fire. Racing is a very dangerous sport.
The new chassis has several features for improved protection for the driver. Energy-absorbing polypropylene material is three inches thick behind the driver. In the previous chassis, the tub floor was made with a single sheet. Now, it is a sandwich of carbon fiber and aluminum honeycomb.
Alex Tagliani's Team Barracuda / Bryan Herta Autosport Lotus left rear wheel bounces off the pavement which caused the car to wobble down the stretch. Lotus has been having difficulty catching up with the more powerful Chevy and Honda engines throughout the IndyCar series.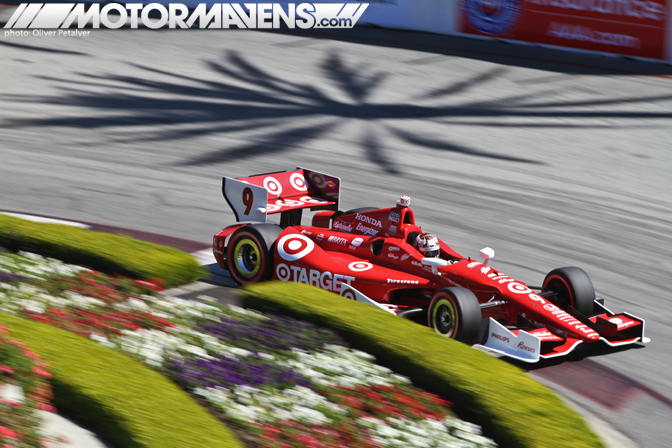 Scott Dixon, in the Target / Chip Ganassi Racing Honda, maneuvers around the famous dolphin fountain with the shadow of a California palm tree in the background. Unfortunately for Dixon, he had engine problems which ruined his day.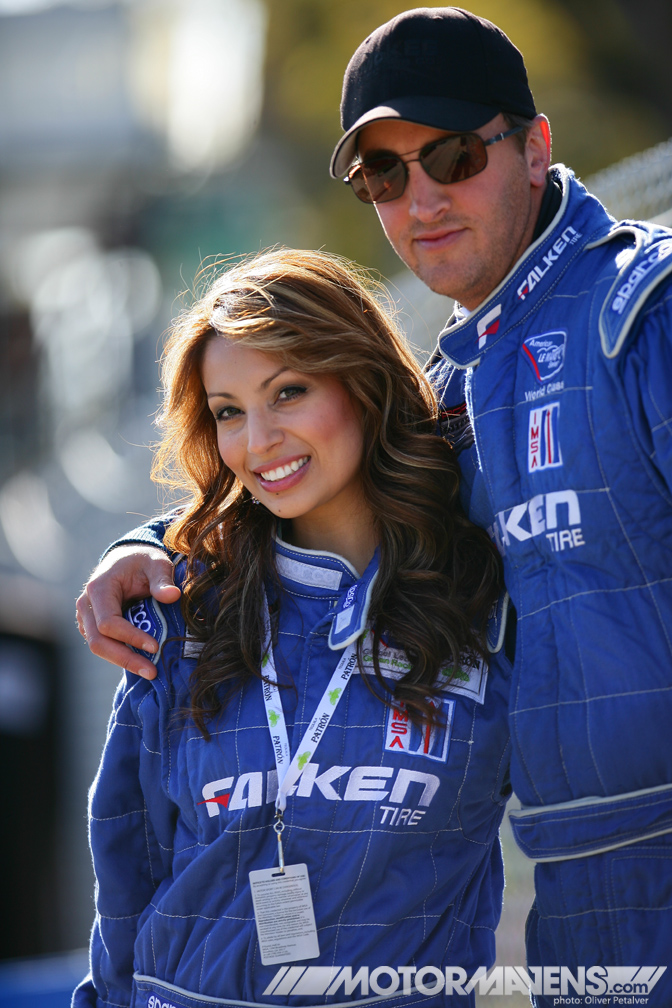 A Falken VIP poses for the camera. Too bad this guy photo bombed it. I think he's some kind of celebrity.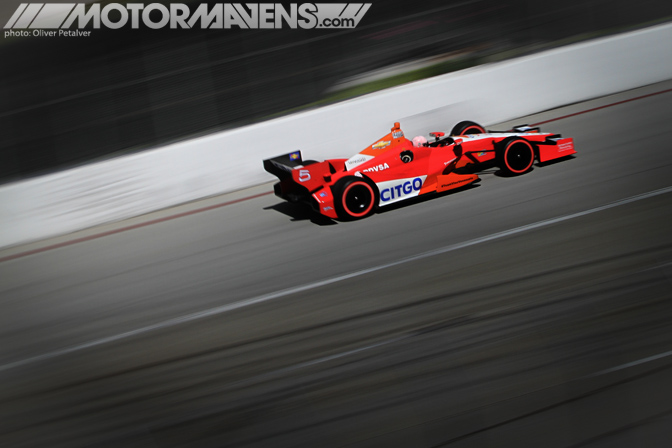 Here's Venezuelan driver EJ Viso in the KV Racing Technology Chevrolet. Unfortunately for E.J., he's known as one the more accident prone drivers in the IndyCar series.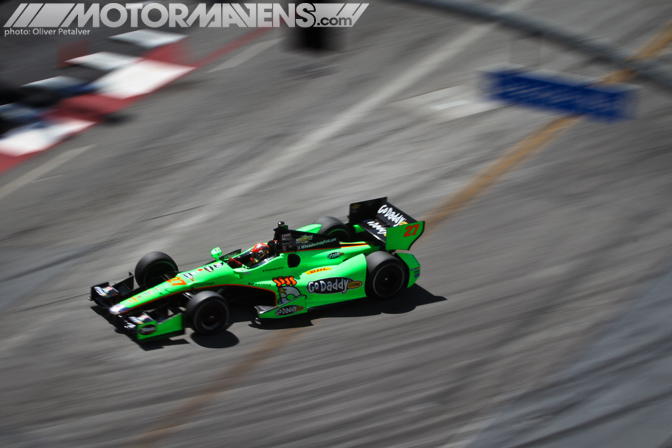 The James Hinchcliffe GoDaddy.com/Andretti Autosport Chevrolet speeds along Pine Avenue. Hinchcliffe entertains fans with his website Hinchtown.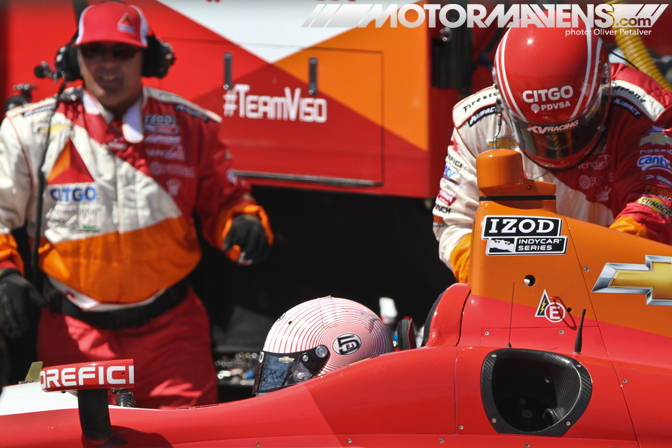 Team Viso during E.J's pit stop. He managed to finish in 12th place this past weekend. Viso races for KV Racing Technology, which is owned by successful venture capitalist Kevin Kalkhoven and 1996 CART Indy Car World Series Champion Jimmy Vasser. Vasser mentors the team's drivers and is deeply involved with the team's operations.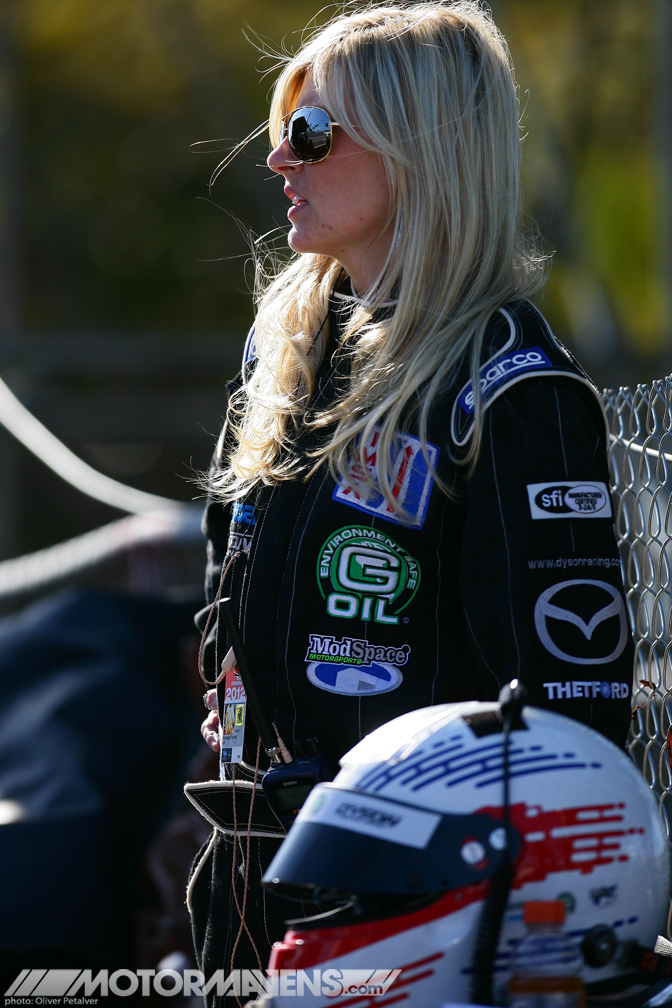 A Dyson Racing VIP watches the team work on the #16 G-OIL ModSpace/Construct Corps Lola Mazda coupe in the pits. Dyson Racing won the 2011 American Le Mans Series LMP1 Drivers and Team Championships.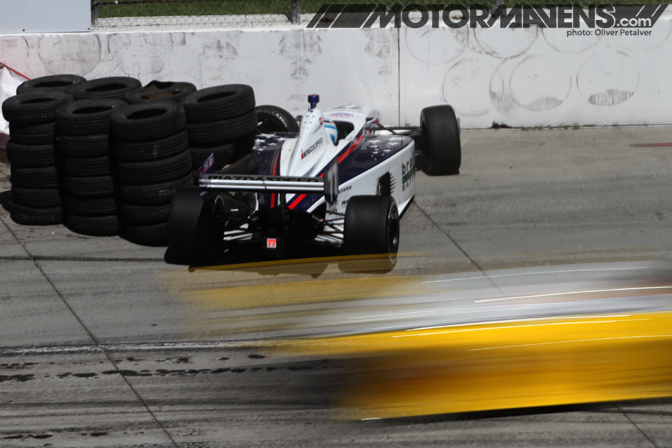 Firestone Indy Lights driver Tristan Vautier crashes his #77 Mazda Road To Indy/SSM car late during qualifying. He started seventh after having his best lap of the session forfeited after being penalized by officials for 'qualifying interference.' He thought driving the damaged car back to the pits would keep the session from being red-flagged, but officials ruled that he affected the qualifying efforts of other drivers on his way back to the pits.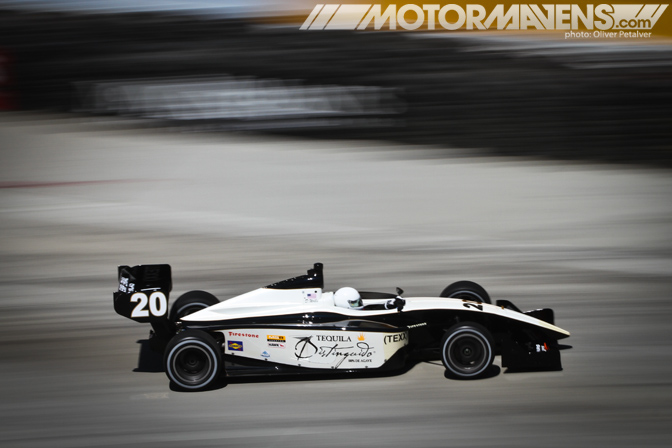 Darryl Willis, in the Tequila Distinguido/Hillenburg Motorsports car, speeds along Shoreline Drive.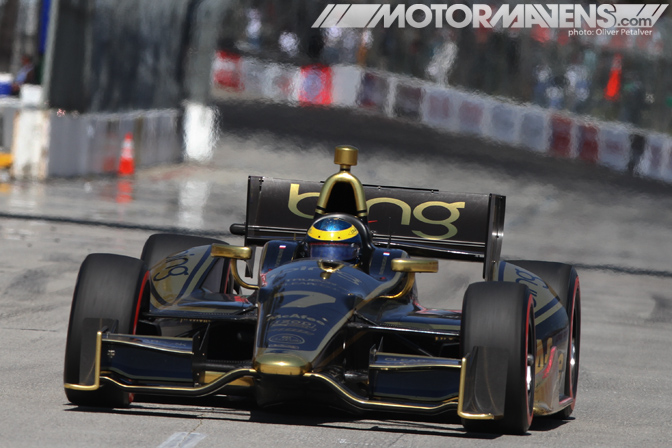 Sebastien Bourdais, in the Lotus Dragon Racing car, speeds down Shoreline Drive while the gases from the exhaust give a nice blur to the background.
So, if you didn't get a chance to see these light, high-revving machines in the streets of Long Beach this past weekend, please make sure you do when they roll into town next year. There's nothing like seeing wide-bodied M3s alongside an Aston Martin and hearing the 12,000-rpm redline of Indycars along Shoreline Drive. Be on the lookout for more photos from this event from Mike Kim and Antonio Alvendia.
For more information on the Toyota Grand Prix of Long Beach, visit: www.gplb.com
::Oliver Petalver
Alex Tagliani
,
ALMS
,
American Le Mans Series
,
Aurimas Bakchis
,
Bryan Herta Autosport
,
Dallara DW12
,
Dan Wheldon
,
Danica Patrick
,
Dyson Racing
,
EJ Viso
,
Falken Tire
,
Firestone
,
Firestone Indy Lights
,
Formula Drift
,
GoDaddy Racing
,
Honda
,
HVM Racing Lotus
,
IndyCar
,
Izod
,
James Hinchcliffe
,
Jimmy Vasser
,
Justin WIlson
,
Kevin Kalkhoven
,
KV Racing
,
Kyle Mohan
,
Lotus Dragon Racing
,
Lotus Racing Dragon
,
MotorMavens
,
Oliver Petalver
,
Pirelli
,
Scott Dixon
,
Sebastien Bourdais
,
Simona De Silvestro
,
Sonny
,
Target Chip Ganassi Racing
,
Team Barracuda
,
Team Penske
,
The Pike
,
Toyota Grand Prix of Long Beach
,
Will Power
---